Famous throughout the country for its bratwurst, thrilling baseball competitions, and beer, Milwaukee remains a beloved town for its residents and a charm for tourists.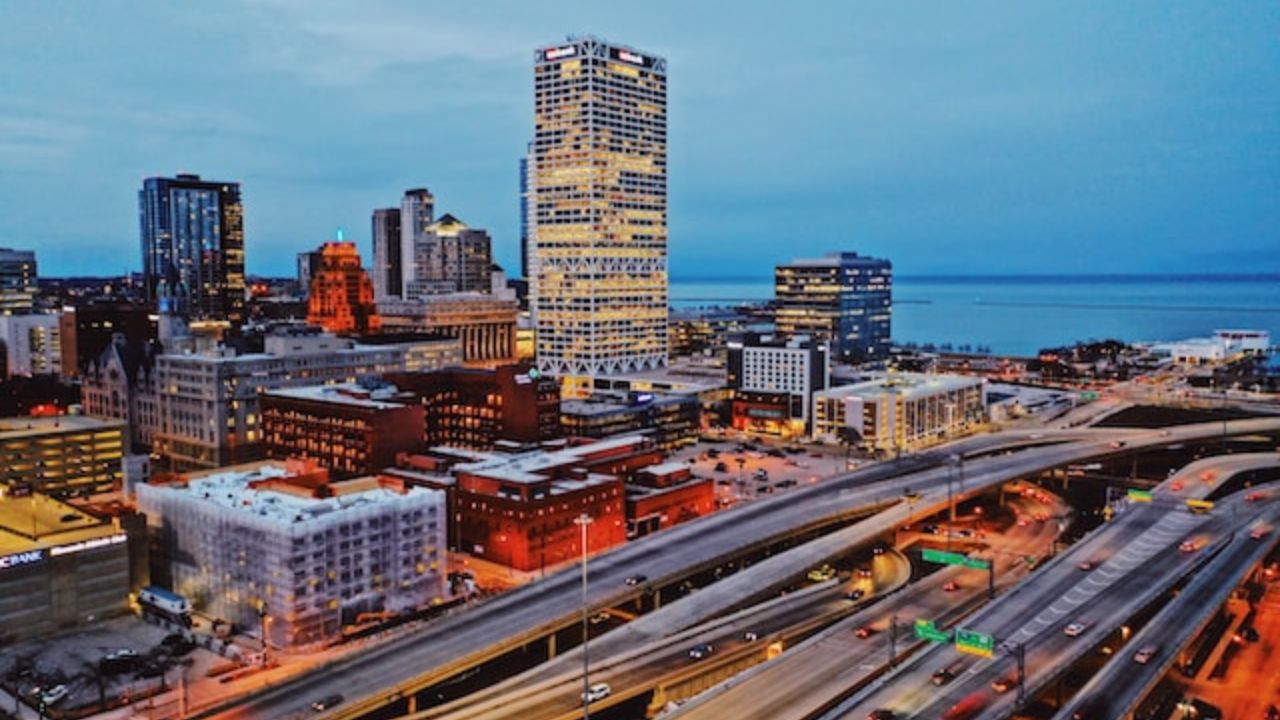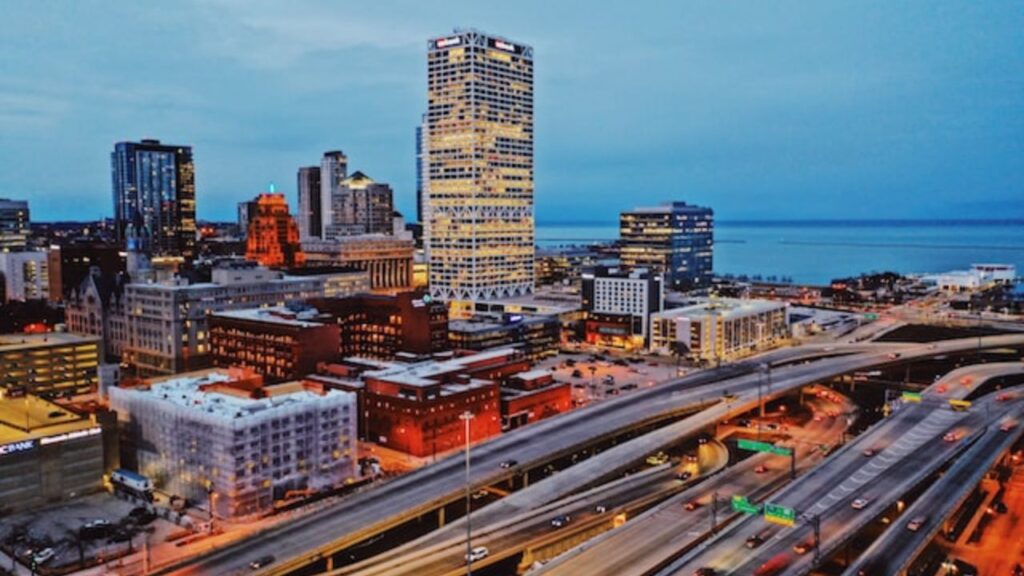 Milwaukee brings a lot to the table for someone looking to get a fresh start or get a job in this city.
But is Milwaukee a good place to live?
To answer that question, we have compiled some facts about Milwaukee to clarify this city's good and bad.
Is Milwaukee A Good Place To Live?
Nestled on the western shore of Lake Michigan, Milwaukee is a desirable place to live for those who appreciate the unique blend of metropolitan charm and midwestern hospitality, all without breaking the bank for the big city experience.
The downtown area and surrounding neighborhoods are lively and welcoming. Access to high-quality healthcare is top-notch. The economy is on the upswing, excellent educational opportunities are present, and there's an abundance of enjoyable activities.
However, the Milwaukee lifestyle may not suit everyone. Not everyone reaps the benefits of this city's advantages.
So, get on board as we give you a tour of some pros and cons of living in Milwaukee!
Pros
Economic Living Costs!
You will be delighted to know that living costs in Milwaukee are significantly lower compared to the other major metropolitan areas of the United States.
When planning a budget, housing costs take up the highest compartment. Luckily for you, housing costs in Milwaukee are very affordable! According to Best Places, the median home values in Milwaukee are 45% lower than the national average.
A low median home value means you won't end up breaking your budget when looking to get a home in Milwaukee. You can expect to have a more flexible budget and an improved quality of life thanks to lower housing costs.
A Great Town for Athletic Spirits!
Milwaukee is a town full of lively people. As you move to Milwaukee, you will explore plenty of fun activities, especially if you are a sports fan.
Milwaukee is home to two major league sports teams, namely, Milwaukee Brewers in Baseball and Milwaukee Bucks in Basketball. You can expect to enjoy a thrilling basketball or a baseball game, depending on your preferred sport.
Apart from sports, Milwaukee has tons of other activities too. TourScanner has a vast list of activities for activities in Milwaukee, with the best ones as follows:
Milwaukee County Zoo
Mitchell Park Horticultural Conservatory
Basilica of Saint Josaphat
Diverse Food Options
Being the 35th most diverse city in the country, it doesn't take much to conclude that the population of this city is very diverse.
A diverse population in a city means a well-connected community and a better society improving the quality of life. Besides a better community, diversity means a wide range of food options too!
Get a chance to explore food from all over the world as you choose to move to Milwaukee. It's safe to say that you will never run out of restaurants to try!
According to Eater, some essential Milwaukee Restaurants include:
Kopp's Frozen Custard
Sherman Phoenix
Lakefront Brewery
No Health Care Concerns
Wisconsin is one of the few states in the US that offer top-notch healthcare, and being a part of Wisconsin, Milwaukee offers good healthcare.
Milwaukee holds significant value as a leader in research and medical training. The city houses health facilities such as Milwaukee Regional Medical Center and the Medical College of Wisconsin.
In conclusion, moving to Milwaukee will allow you to keep your health pristine and lead a healthy life.
Vast Employment Opportunities
Milwaukee is home to many businesses, including the worldwide famous Harley-Davidson Motor Company.
Seeing the presence of businesses and fortune 500 companies in Milwaukee, it's easy to conclude that the job market in Milwaukee is robust. The dominant healthcare sector also procures a variety of jobs.
So, if you move to Milwaukee, finding a well-paying job to make a livelihood will not be a concern.
Quality Education
Education-wise, moving to Milwaukee can be an excellent move for your children or yourself as a student.
The Milwaukee Public school district currently has approximately 160 school options, including 19 in the 1,000 top high schools in the US News & World Report of 2022.
If you prefer private institutions, Milwaukee has those, too, in huge numbers. Residents and employment rates of the city vouch for the quality education of institutes in Milwaukee, which means pursuing education in this city is a great choice.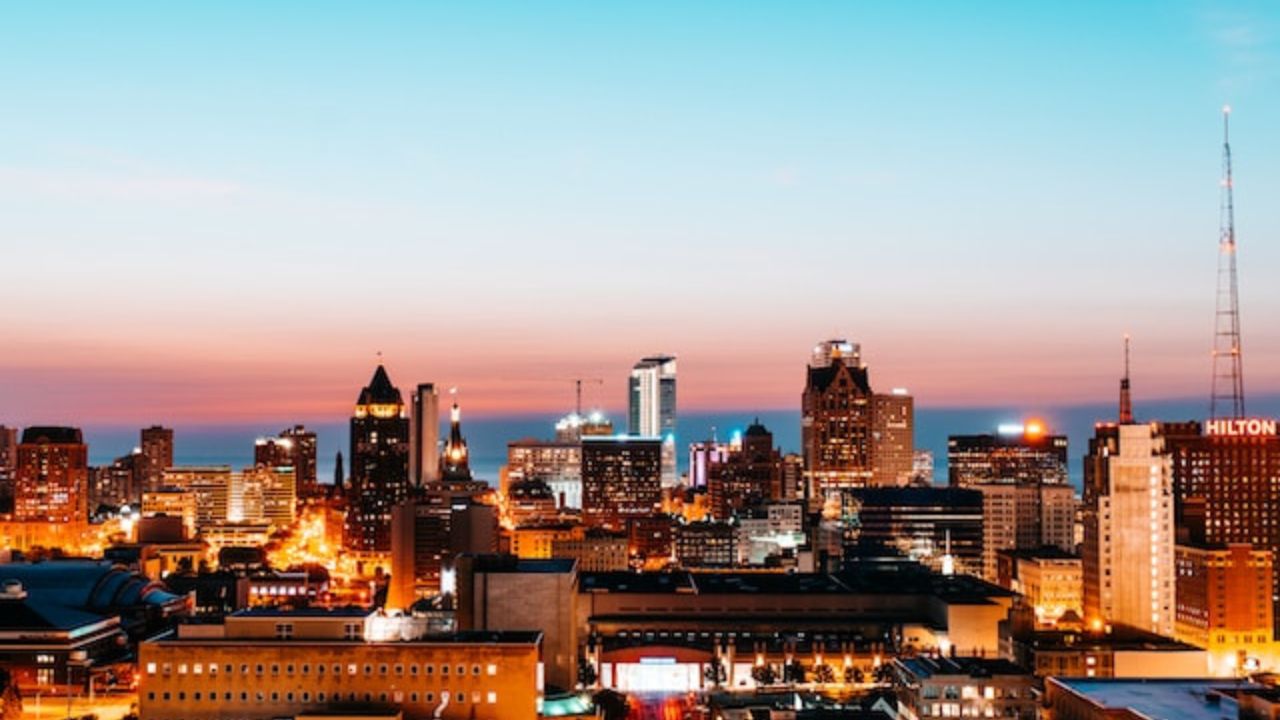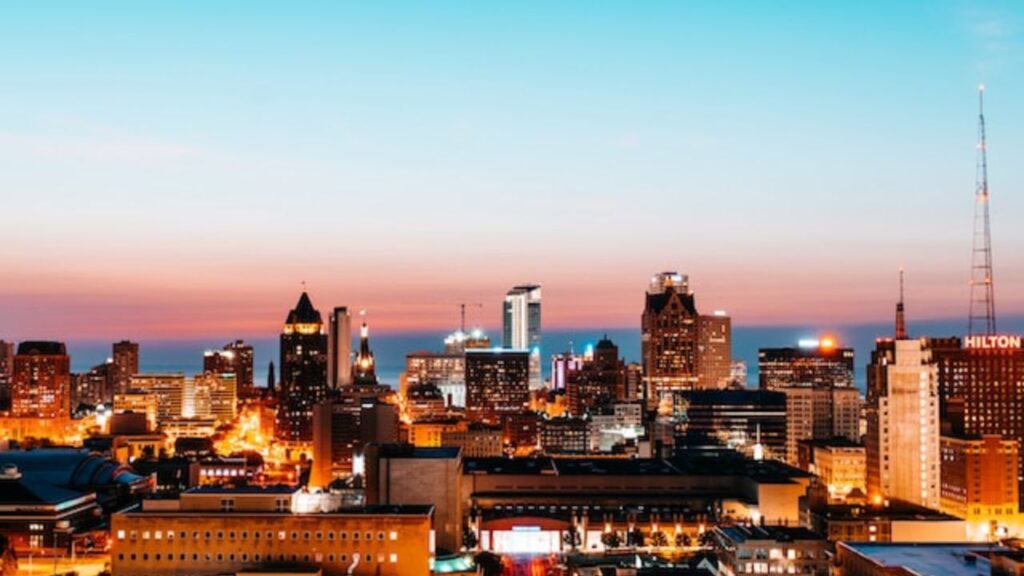 Cons
Crime is a serious concern!
No city is crime free. But some cities are worse than others in this regard, including Milwaukee.
A crime report from Crime Grade gave a D+ rating to Milwaukee in terms of security. This rating depicts the protection offered in a city. Compared to other US cities, Milwaukee could fare better in terms of safety.
However, there are regions in Milwaukee where crime is almost non-existent. Before moving to Milwaukee, ensure you arrange settlement in a secure area. According to Extra Space Storage, some safe and affordable neighborhoods in Milwaukee include:
Bay View
Walker's Point
East Town
Milwaukee has Boreal Winters!
Milwaukee has plenty of sights, facilities, and outdoor activities. However, you need to get some extra winter apparel to get through the bitterly cold temperature of the city!
As the temperature drops to -10 to -15, and the average annual snowfall is up to 46.9 inches, Residents often complain about shoveling snow and extra cold temperatures. Before moving to Milwaukee, you must prepare yourself to endure the mean temperature of this area. Furthermore, the cold weather lasts a while since it starts in October and continues till April.
Nevertheless, the local government takes necessary steps to lower the difficulties of winter, plus activities like skiing give a fun outlook to the weather!
Tough Road Conditions
As the city is covered in snow for a better half of a year, roads in Milwaukee wear out sooner than roads in warmer cities.
Even during the spring season in the city, the government is busy fixing the roads incurred by the cold season.
Before you move to Milwaukee, let us tell you that you will see orange cones more than usual. Due to difficult road conditions, driving in Milwaukee is challenging and will exhaust you.
What Do Other People Say?
So, what do other people think is Milwaukee a good place to live? Let's check different Reddit threads for an answer.
Here's what people on Reddit say about the pros and cons of living in Milwaukee:
Been here about 3 months but visited a lot in the 4 years prior that I lived in Chicago… Pros: relatively inexpensive to dine out and the food is generally underrated – plenty of good restaurants that are on par with Chicago but at a fraction of the price access to the lake is much better than Chicago people are genuinely nice! summerfest Cons: Petty crime is high; we have had our car broken into twice and witnessed a shooting it is still the Midwest – the weather is bad from Jan – April a lot of people who live here also grew up here – it can be hard to break into socially – GreenWaveJake said.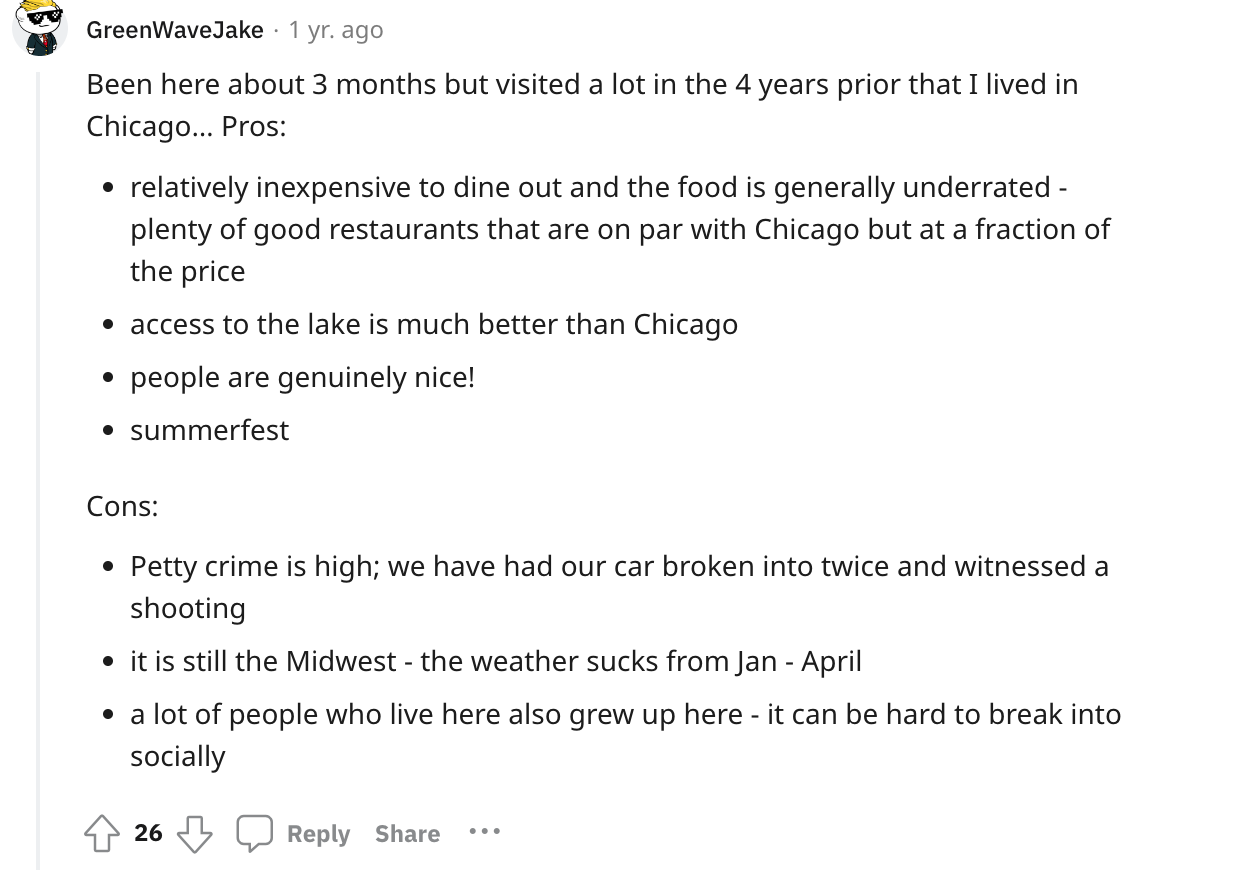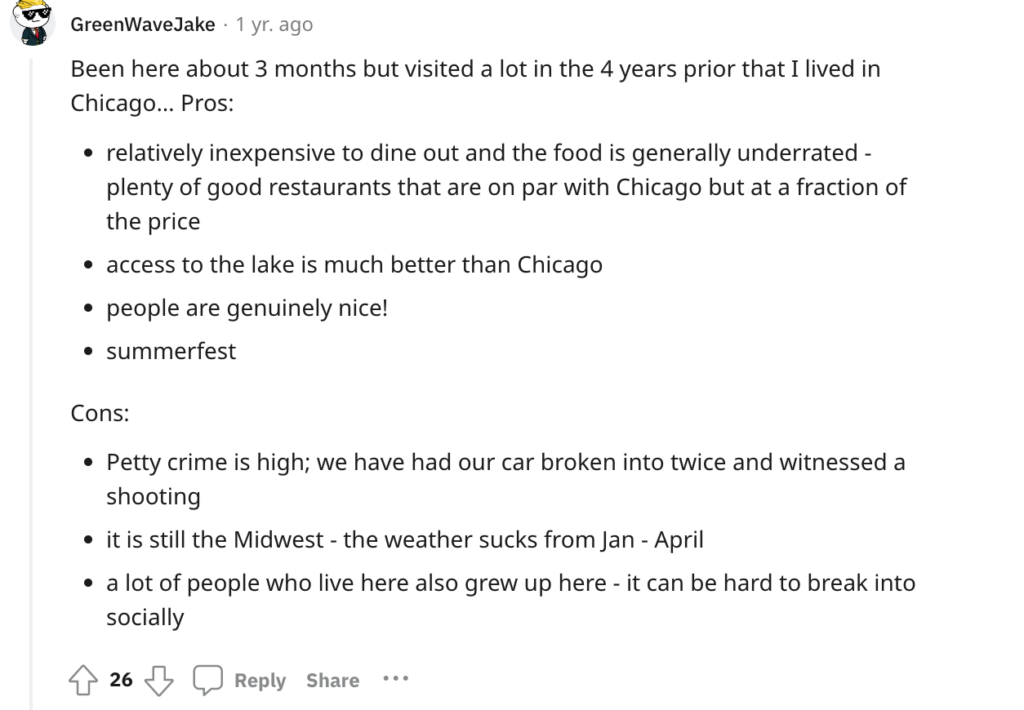 Pros? So many awesome restaurants and bars, the summers are incredible. The lake is incredible. The theaters and sports are great- Brewers, Bucks, Admirals. There's a great concerts almost every weekend. Cons- the crime. I moved from Central Illinois- the reckless driving still makes my head spin 10 years later. Red lights mean nothing, lane markers mean nothing, speed limits mean nothing. If you don't have indoor parking your car will probably get broken into. (Police response is non existent) The property taxes are INSANE. But I still love it here and you will too! – MKE1969 added.
There's maybe like, two months of great weather throughout the year (thinking 60-80 with low humidity). Noticeably cooler in the summer by the lake. Rains are getting heavier and we have some decent thunderstorms, but more severe weather tends to stay in rural areas. Bay View is great for a night out drinking, the east side/downtown have stellar dining options (Bay view has some really good places, too). Lots of parks, some public pools. The art museum downtown is really nice, and if you have kids, I've heard great things about the Betty Brinn museum. Public museum and the zoo are pretty nice, too. The Africa exhibit at the zoo is awesome. Job prospects are pretty good, depending on the industry, of course. Traffic gets bad on the freeway from about 7-9 and 4-6, so check on your potential commute if that affects you. City is pretty segregated in some parts. South side has a large Hispanic population, west side has a growing Muslim community and north side is largely African American. Wauwatosa has a lot of YUPpies. LGBT community and bars around Walker's Point/north Bay View. Politically speaking, the surrounding suburbs lean conservative, especially West Allis, but there are some messed up people there. Tosa/Bay View/ Riverwest are pretty liberal, but theft is rampant in Riverwest, and panhandlers are all over the city. City is gerrymandered like you wouldn't believe, so it's best not to expect too much from state reps and up. Really depends on which neighborhood you're planning on living in, I suppose. If you're a sports fan, the stadium formerly known as Miller Park is nice. No NHL team, but the Admirals are an IHL team and those are always fun. Bucks play at the Fiserv forum, but with most of these, it's best to smuggle in booze unless you're fine with paying $10 per beer. The Milwaukee Milkmen are a semi pro team playing in Franklin and that park is great. – bill10351 concluded.
Final Words
Considering the pros and cons mentioned above, Milwaukee sounds like a great place to live. However, everyone's perception differs, and you may not see things as others do.
In any case, here is a list to help you make the decision. Before you start packing your stuff, we suggest you thoroughly give this guide a read. Hopefully, this article gives an insight into Milwaukee and some things to think about before you make the decision to move!
More from DollarSanity:
10 Pros & Cons of Living in Des Moines, IA
10 Jobs That Pay $90k A Year Without A Degree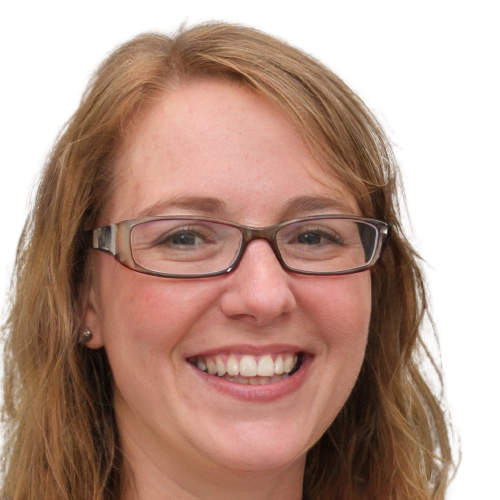 Hi, I'm Ashley a freelance writer who's passionate about personal finance. Ever since I was young, I've been fascinated by the power of money and how it can shape our lives. I've spent years learning everything I can about budgeting, saving, investing and retirement planning. So if you are looking for tips, advice, or just a little bit of inspiration to help you on your financial journey, you have come to the right place. I am always here to help, and I am excited to share my passion for personal finance with you.