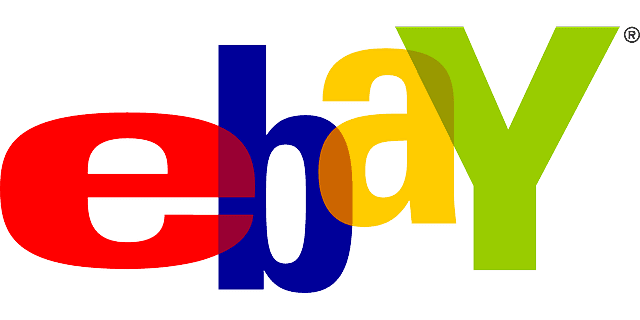 Do you want to know how to sell on eBay?
Making money online has been a hot topic for years, and by now, there are several proven methods and side hustle tactics that seem to work just fine.
You'll have no problems finding a bunch of people who sell on eBay as their primary source of income, and swear by it. When it comes to me personally, I always had a passion for the hustle.
Even as a small child, I used to sell candy, as a teenager, I wanted to learn how to sell on eBay, all the way up to adulthood when I decided to start an Amazon FBA business.
While I was attending college, one of my greatest side hustle ideas included selling DVDs on eBay.
If you're searching for a battle-tested method of making money online, selling on eBay ranks pretty high, and the best thing about it is that anyone can do it.
Even people with full-time jobs can muster up a few minutes every day in order to make it work.
Ultimately, it's also very convenient to sell on eBay, as it will teach you a lot of things you'll need to learn about starting a business.
In case this is your first time on Seller At Heart, and you aren't accustomed to checking out forums dealing with this topic, sit back and relax, as we're about to cover everything you need to know about making money off eBay.
Why do people sell on eBay?
Want to become a highly successful entrepreneur?
As we mentioned above, eBay can be a shortcut to a great pool of knowledge.
You'll learn how to detect a profitable niche, negotiate the highest price you can get, improve money management, develop customer service skills, deal with shipping as well as order fulfillment, and perhaps most important of all, teach you how to grind and hustle.
To put it simply, you'll receive all the invaluable skills and information which will help you later on in life.
So, are you prepared to find out the best way to make money from selling on eBay? Let's jump right into it!
What you're gonna need to start selling on eBay?
Naturally, in order to start selling on eBay, you'll first need to set up an account.
Additionally, in order to successfully run your business, you're going to need some extra services set up as well. Those include:

A PayPal account: in order to sell on eBay, you don't necessarily need a PayPal account, but I would certainly recommend having it, as it's commonly used on eBay as a standard method of payment.
A dedicated bank account: After you earn your first paycheck, you're going to need to cash it in.
This usually includes withdraws to bank accounts, but in case you own a PayPal debit card, you can skip this step altogether.
∙Time and effort you'll need to invest in order to amass the knowledge required.
Don't let the technical side of things scare you. As you can see from the images below, linking your PayPal account and eBay is a pretty simple process.


Product research (what to sell on eBay):
In case you only wish to sell some of the stuff cluttering your garage, and other personal possessions you have no use for, feel free to jump over this paragraph immediately.
On the other hand, if selling on eBay interests you as a legit side hustle business idea, pay close attention, as we're about to dissect how to do product research.
Now, there are many paths one can follow here, but judging from my experience, these three work the best: visit yard sales, go to auctions and check out thrift stores.
You'll be able to find a lot of hidden treasures at these places, but also learn quite a few things about product availability, pricing, and demand.
There are tons of useful apps to help you along this journey, and some of them are:
 Yard Sale Treasure Map: Who knew that yard sales can be this modern? This amazing app contains all of the important information about yard sales close to your place of residence. Check it out.
 StorageTreasures: online auction website
 Shoe Cheat Sheet: If you're not an expert on finding high-end shoe brands, this app does the job for you.
 Tailored Consignment: Similar to the app mentioned above, this one also recognizes classy brands, but in relation to suits. High-quality suits sell on eBay constantly, and this app might be just the thing you were looking for.
By now, you probably have your eyes set on products you'd like to sell, but there's one important piece of the puzzle left: how to price them?
Examining the product value without your computer
If you find yourself visiting auctions, of going through a thrift shop, chances are you'll have to act fast.
This means that you won't be able to Google your way through this and that you'll have to work by feel.
Still, there are some ways in which you'll be able to assess the value of the product at hand, despite being in the field:
Go to the eBay website, or open the app, and search for that item.

Apply filters for sold items only.

Select "Price + Shipping: Highest," and sort the results.

Compare the product you've found to those sold on the website, and try to find the ones that match the closest – brand, size, model, condition, color, etc.

Find a few similar products, and estimate the average price they were sold for. Try to remain as realistic as possible, and don't overestimate yourself.

Make sure to subtract 30% off your total price. How come? Well, you'll have to deal with PayPal and eBay fees, as well as the price of shipping materials.

Don't be afraid to move on from the product if the math doesn't add up. The best investment is a safe investment.
If you follow these steps, the chances of you getting burned on a flip will be reduced dramatically.
Pro-tip: While website shows you the last 90 days of sold items, the app reduces that number to just 30 days. Naturally, the app is a lot faster, so I first go there, but if I fail to find enough results matching my quest, I then switch to the website instead.
Research for interesting items from eBay directly
Let's say your close-by yard sale failed to inspire you, and you are stuck, not knowing which items to search for.
Let eBay do the work for you. What you'll need to do is fairly simple:
Visit the eBay website, and once there, search for items that you know are valuable. For example, search for "Lego Marvel Heroes"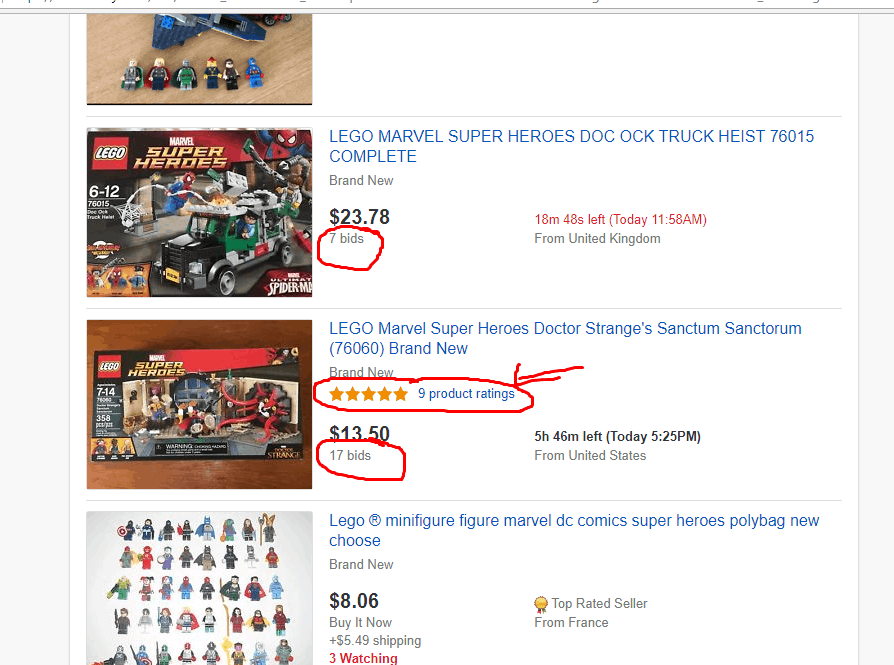 Apply filters for sold items only, and use "Price + Shipping: Highest" to sort the items by.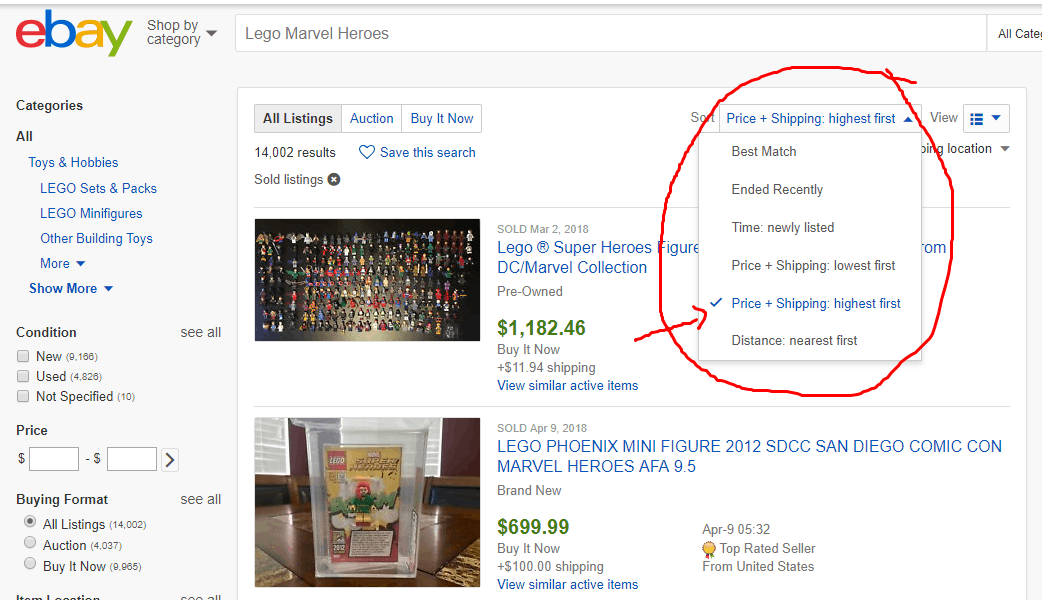 Check out the 40 Top Rated Sellers, and browse their sales history in order to find items that may interest you.
Let's take this example and test our system. The number two result in the incredible Lego figure, which sold for jaw-dropping $699.99!
This seller already has thousands of feedback comments on his profile, which makes him a perfect target to test our "other items" game plan.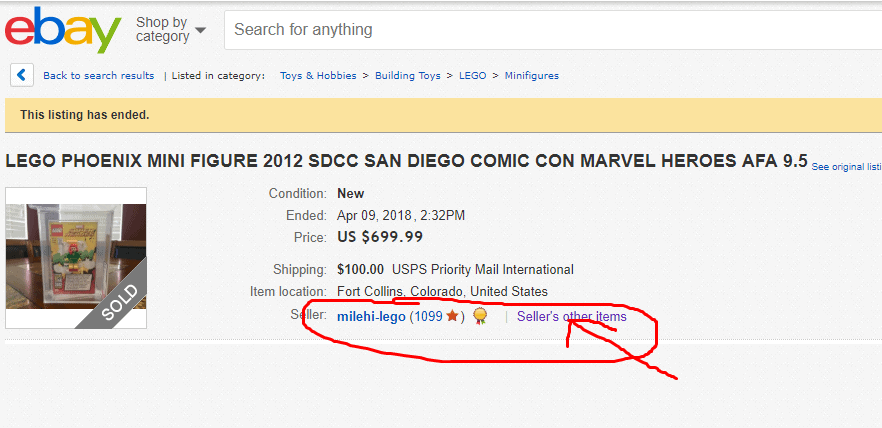 Among other products, this seller also flips Lego replacement parts. This caught my attention immediately.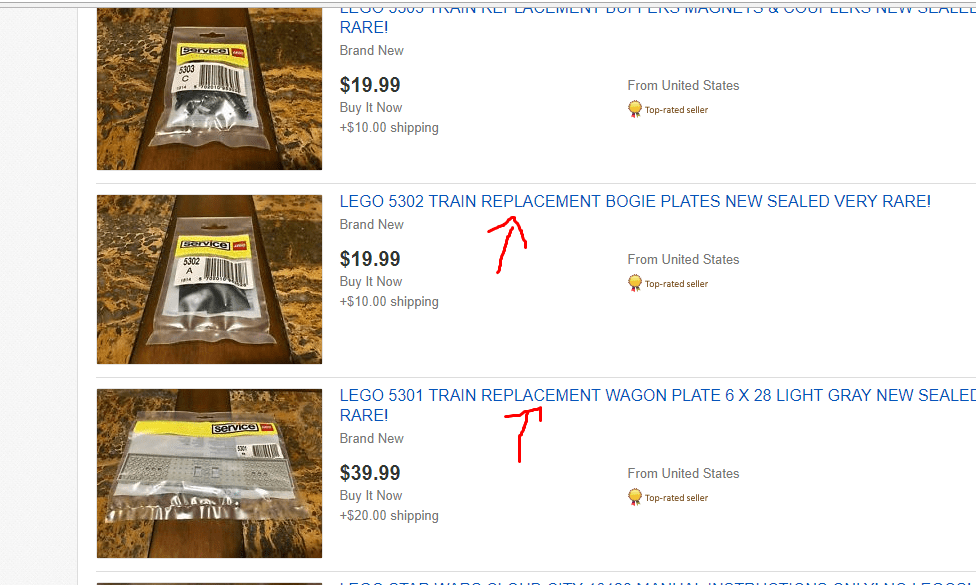 I then apply the "Price + Shipping: Highest" sorting.
Several items jump off the page, primarily replacement parts for older Lego sets.
I see these things on yard sales all the time, but I never paid close attention to it, as I didn't know if they were profitable. But that's about to change.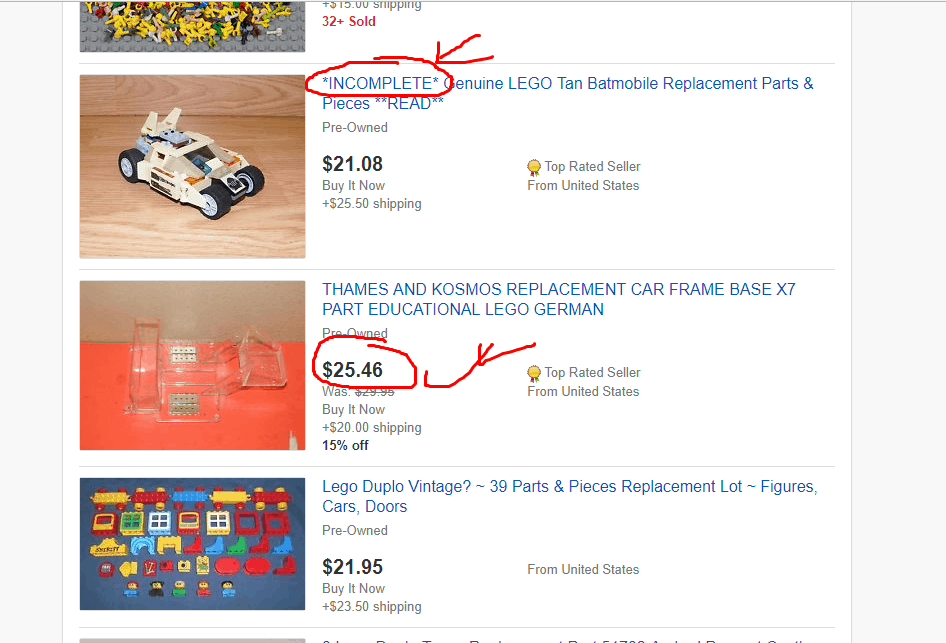 Here's how to find Lego parts that are profitable:
Enter "Lego replacement parts" in the search bar, sort the sold items by "Price + Shipping: Highest."

Pay close attention to the models that keep repeating.

After repeating this process for an hour or two every week, you'll quickly become an expert in this niche, and you'll have no problems with finding items that are highly profitable.
Trust me, it won't take long before you master the game, and when that happens, flipping items on eBay will become your second nature.
Use Amazon to find the items in high demand
Now, eBay is great, there's no denying that, but there are some really interesting alternatives out there as well.
Among others, Amazon stands out as the most popular global marketplace in the world. I would recommend using Jungle Scout as the number one tool for finding out which items are the most popular on this terrific platform.
In case you're interested, please check out my honest Jungle Scout review, and find out more details about this awesome tool.
Product images:
After you conduct the research and find the product you're going to sell, there comes a time where you'll need to focus on getting the best product images you possibly can.
You already know about the famous saying that a picture is worth a thousand words, and when it comes to online sales, this is definitely true.
Trust me, there's nothing that will push the customers away as quickly as having a low-quality image of the product you're trying to sell.
If possible, use a digital camera
Nowadays, most phones and even tablets have great high-resolution cameras, but the end product is not always up to par. This normally leads to tons of time wasted on editing, so it all adds up eventually.
Pro tip: Depending on the product you're trying to sell, it's not a bad idea to sometimes include a quarter or a ruler for scale.
eBay allows for 12 images per product, which can be placed free of charge. Anything more, and you'll have to pay up. In case you're selling a really exclusive and expensive product, this can sometimes pay off.
How to list the products to sell on eBay
First, sign in to your account, and then select "Sell" found in the top left corner and create a listing

The only thing that's left is to follow these simple steps
Choose a category

Depending on the text you enter in the box, eBay will offer you a bunch of categories you can choose from. In most cases, your desired category will pop out, but in case it does not, you always have the option to "browse categories."
Always select at least one category. Selecting more than two categories is not free, so choose carefully.
Create a title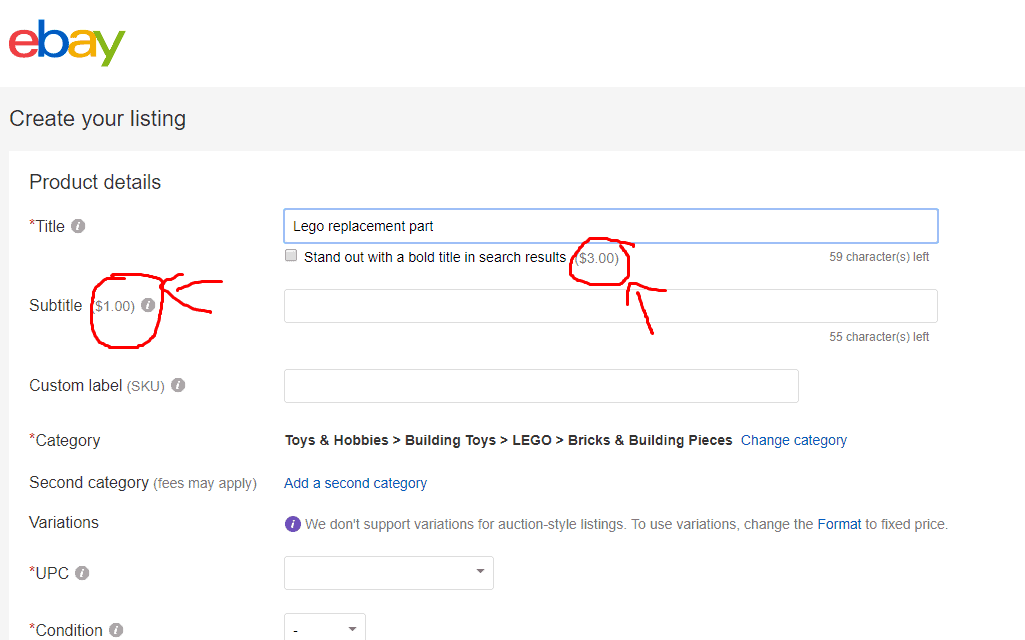 This will serve as your headline. You need to make sure your products are described using the proper wording so that the potential buyers could find them with relative ease.
As you can see from the image above, you can improve visibility but there is a fee.
Describe the condition of the product
If you're selling brand new items, select that option. Otherwise, you'll have the option to describe your product in detail in the "Condition Description" box.
If your item is damaged in any way, make sure to note it, and possibly even point it out in one of the images.
This will let the buyers know you're a trustworthy person they can do business with.
Add photos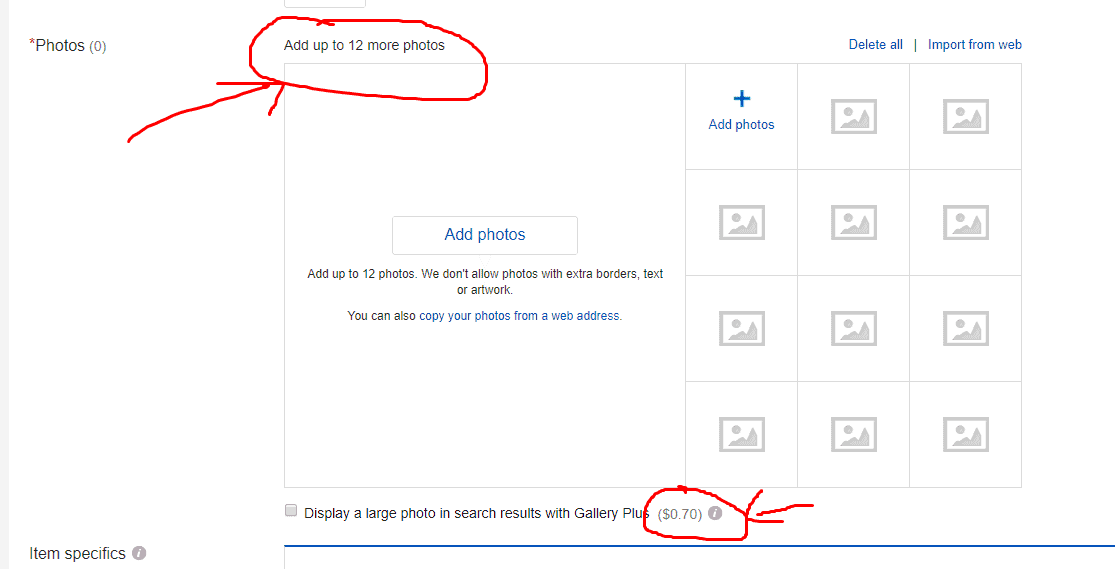 Select the best photo you have as your first one, as that's the image that's gonna draw the most attention.
Details
Don't be afraid to repeat the same information twice, and always be as detailed as possible with your description. Here's what I tend to write in this section:
 

Item's name

 Manufacturer

Any possible defects

Year of its production

Interesting details regarding the item

Return policy
Price and format
You'll be able to choose between "Fixed price" or "Auction." Most of the time, I go with the fixed price, while also including the "Best Offer" possibility.
If you're having trouble with naming your price, feel free to check out the competition, or even better, click on "Sold listings" and check out the prices there as well.
Furthermore, don't forget to include the 10% eBay fee as well as 2.9% and a $0.30 fee from PayPal. In case you select to offer your buyers "free shipping," know that this will also affect your profits. Having these figures down to a science is absolutely vital.
Another tremendous option for calculating shipping costs is the eBay's Official Shipping Calculator, so make sure you check it out.
Ebay's Official Shipping Calculator – Great for calculating shipping cost before listing items.
Quantity
Select how many identical items you have for sale.
Duration
While auction listings generally don't last very long, fixed price ones can last up to 30 days, which means more people get a chance to see them.
Choosing the preferred payment method
Enter your correct Email address and select PayPal.
Shipping
In my opinion, there's no correct answer to this question, it's a matter of personal preference. Still, I always choose a particular method that offers a lot of benefits if you're just starting out. It's fully explained below.
Choose the 'U.S. Shipping Flat: Same cost to all buyers' option
Just to keep things as simple as possible, I always select the "Economy Shipping" method. It will give you the added flexibility, as economy shipping lasts a long time.
Select "Cost 0"
If there's one thing all buyers hate, it's seeing the original price going up, after the cost of shipping comes into play. That's why you should include the shipping costs within the price right off the bat.
Furthermore, to make things easier for you, select the "two business days" timeline for handling, allowing you to have some time before having to ship out the products. Include insurance to cover selling price, shipment tracking and require a signature for added safety.
*If you add insurance from your own pocket (not included in the listing,) your customers will be pleasantly surprised.
Return policy
To avoid any misunderstandings that may come about afterward, I always add my return policy in the description. In my case, I accept returns in most cases, but the buyer is forced to pay the return shipping costs. In some cases, I'm not willing to accept returns, but I always state this immediately.
Pro-tip: Accept as few returns as possible.
Now you know the basics on how to sell on eBay.
What happens after I sell an item on eBay?
After the item is sold, you will receive a notification Email. If this is your first sale, make sure to check your PayPal and eBay account for added verification.
Know that PayPal will delay the transaction for a certain time period, usually a few days after the buyers receive their items.
In time, as you develop a reputation for being reliable, this time frame will shorten. However, don't withdraw all of your funds immediately, as sometimes, eBay won't take their 10% fee right away.
To avoid any trouble, never leave your balance at an absolute zero.
Shipping the items out
Supply yourself with boxes ahead of time. In case you decide to send out items with priority shipping, know that you can get these boxes in your closest post office free of charge.
Pay attention to what you have, as priority shipping has a small, medium, large and regional boxes, as well as envelopes.
However, if you decide to ship regular priority instead of the flat-rate one, you'll be able to use any regular box you can find.
Don't be afraid to visit your local stores and ask the manager whether they have any boxes they planned to throw out. If they do, you got your free boxes right there.
If your items are easily breakable, make sure to secure them as tight as possible before shipping out.
Paying for shipping
You can choose to pay for shipping at your nearest post office. Once you do that, you'll receive the receipt. If you aren't sure where the tracking number is written, feel free to ask the employees to help you out.
After you obtain it, select the "My eBay" option, found in the top right corner of your account. Following that, click on "Sold."
The only thing that's left is to select "More actions" and input the tracking number.
Pro-tip: Pack the item so tight as if the zombie apocalypse is raging on.
Find a label online for eBay shipping
If you decided to pay for shipping through eBay, the beginning of the process is identical, select "My eBay" to check out the items you sold. Once there, select the "More Actions" option and add your print label.
You'll be able to choose from a multitude of shipping options. One thing you'll need is a scale, to find out how much your items weigh.
Don't mess around with this one, as post offices oftentimes reject packages that have wrong information attached.
In case your items weigh more than 16 oz, my advice is to go with "Parcel Select" or "Priority Mail" options.
If the weight of your items under that limit, go with the "First Class Mail" instead.
In case your item is very expensive, I would consider adding insurance as well. If not, simply go with the option that is the cheapest one.
Discount
There's no one single best way for getting discounts, but printing your label online works just fine for me.
Feedback
It's incredibly important to have good, frequent feedback.
When you first open your account, a great way to get feedback is to buy a few cheap items from reliable sellers.
That way, you will receive your first feedback, which will send the ball rolling.
eBay Customer support
It doesn't take much to be polite, and the benefits can be great. Make sure to include little thank you notes with each packaging, and always be kind to your potential buyers.
Pro-tip: apply very strict buyer filtering. Don't even do business with users with problematic accounts.
Furthermore, feel free to instantly ban users who show obnoxious behavior, ask tedious questions, or bring any negative energy your way.
Actually, there is a website where you can search or report bad buyers: Bad Buyer List
How to set up an eBay store
For all you beginners out there, do not set up an eBay store, you'll waste your time!
Still, if you want to know how to sell on eBay in the most successful way, and you're willing to put the time in, here' how you get it done.
When it comes to eBay, there are three types of stores:
∙ Basic – With a yearly purchase, you'll be looking at a $19.95 per month rate. Otherwise, it's set at $24.95.
∙ Premium – If you again go with the yearly purchase, the rate is $59.95 per month, and if just want to try it out, it'll set you back $74.95 each month.
∙ Anchor – With a yearly purchase, the rates are $299.95 per month, otherwise, it's set at $349.95.
All things considered, these are some serious investments.
Still, this comes with some benefits. For starters, your final value fees will decrease.
Additionally, you'll have the option to enable vacation mode, allowing you to catch a break at any given time. eBay also has a free listing limits, and if you break it as a non-store seller, you'll be charged with $0.30 fee with each new listing.
Store sellers will be looking at a $0.25, $0.10, $0.05 reduced fees, depending on their store tier. When it comes to Auction listings those rates are set at $0.25, $0.15, $0.10 as well.
How much can you sell on eBay?
All new sellers are limited by two factors: the sheer amount of items they can have for sale, and their overall value. It goes in the realm of $1000 in total, for 10 items, or so I believe.
As you move up the ladder, those limits will increase, and eBay even allows you to request up your hard cap every month.
If you want to check out your monthly limitations, select "My eBay" found in the top right corner. Now, just scroll down, select "Sell" and the list will expand. Finally, just select "All Selling."
The costs of selling on eBay
It's absolutely vital to know all your fees and potential costs, even before posting any items. By knowing these parameters, you'll have a clear understanding of your profit margins. The last thing you'd want to happen it to lose money on any of these sales.
Just to be sure, I always use the eBay fee calculator and double-check, just for good measure.
Roughly speaking, you can subtract 30% of your total price, and you will realize where your profit needs to be. For example, if you sell an item for $100, you'll need to subtract 30%, which leaves you with $70. This means that you'll have to obtain your item for less than $70 if you're expecting to see any profit.
Is it possible to sell on eBay and make money off of it?
As I already mentioned above, I started my journey with eBay by selling DVDs during my college years. Sure, it took me some time to understand how to sell on eBay in order to maximize my earnings, but I saw the potential right from the start. This being said, it took some time and effort before I was able to reach this point, so don't expect miracles overnight. Selling on eBay is also awesome as it will teach you a lot of important lessons about business. Don't be afraid if you make a mistake here and there, it's just important to learn from it.