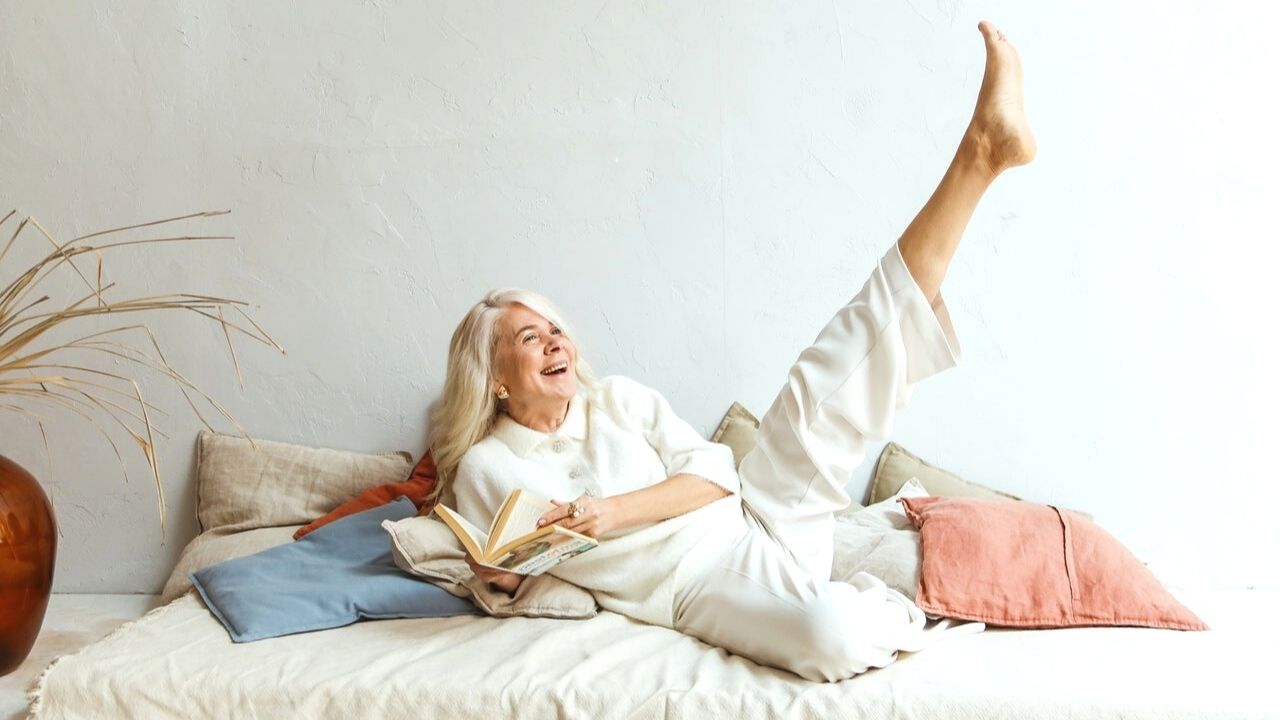 Looking for a quick buck? Whether you're in a pinch or just want some extra spending money, there are easy ways to boost your income.
From selling stuff you don't need anymore to picking up a gig or two, here are some solid options to get cash in your pocket faster.
Take part in surveys to make money easy
While answering surveys online is not the highest-paying side job, it is an easy way to make money quickly if you're in a pinch.
Survey Junkie has been in the industry for a while, and they enable users to make a pocket change by voicing their opinions to brands and researchers.
Users are able to redeem their Survey Junkie points for rewards like gift cards to popular retailers, PayPal cash, and more.
Survey Junkie is totally legit site that has an excellent rating on Trustpilot (4.5/5). They pay up to $75 per survey.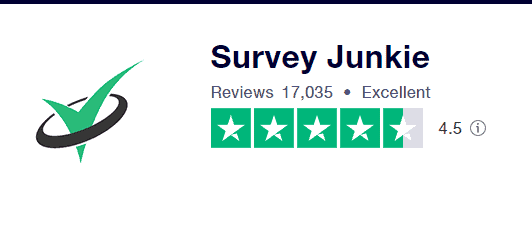 20M+ members
Average survey payout is $.50 – $3.00
Make money in your spare time
Trustpilot rating of 4.5/5 from more than 30k+ reviews
Earn money for simple tasks
Take photos of places in your city and get paid
Over 10M users
Get PayPal cash and free Bitcoin
Swagbucks is another survey company with an "excellent" rating on Trustpilot (4.3/5) that lets you make money right away.
Swagbucks will pay you to watch videos, surf the web, play games, and complete surveys. Basically, you get free PayPal money to do things you already do.
It takes literally 5 seconds to sign up and you'll even get a $10 signup bonus.
PRO TIP: You have to verify your email address to get your $10 welcome bonus.
Other legit survey apps that pay are:
Get paid to play video games
If you're a fan of mobile gaming, you absolutely need to try Mistplay.
Mistplay is a free mobile app for Android (IOS coming soon) that pays users to play games.
And no, this isn't too good to be true. Mistplay is a loyalty rewards program for gamers.
In other words, Mistplay partners with gaming companies to reward users that play their games.
As you play sponsored Mistplay games and level up, you gain points.
These points can be redeemed for a variety of rewards, such as gift cards to Amazon, Best Buy, or free prepaid visa cards.
Granted, you won't make a lot of money, but you'll have fun playing the games in your spare time.
Sometimes the easiest source of income is hiding right in plain sight. You would be amazed at how many companies and apps are willing to award signup bonuses when you register as a new user or try out their products.
If you're looking to earn money fast, there's no better option than utilizing some of the following signup bonuses.
Acorns
Acorns is a spare change app that allows users to invest their extra pocket change in the stock market without having to put in any effort.
The process behind Acorns is simple: when you spend money, Acorns will round-up your spend amount to the nearest dollar and invest the money for you.
So, let's say you buy lunch and it costs you $7.50. If your credit card is linked with Acorns, you will automatically invest an additional $0.50 via the Acorns app.
According to Acorns, users typically end up investing an additional $32/month, which amounts to almost $400 of extra investments annually! Plus, Acorns only requires a $1/month fee and is also free for students.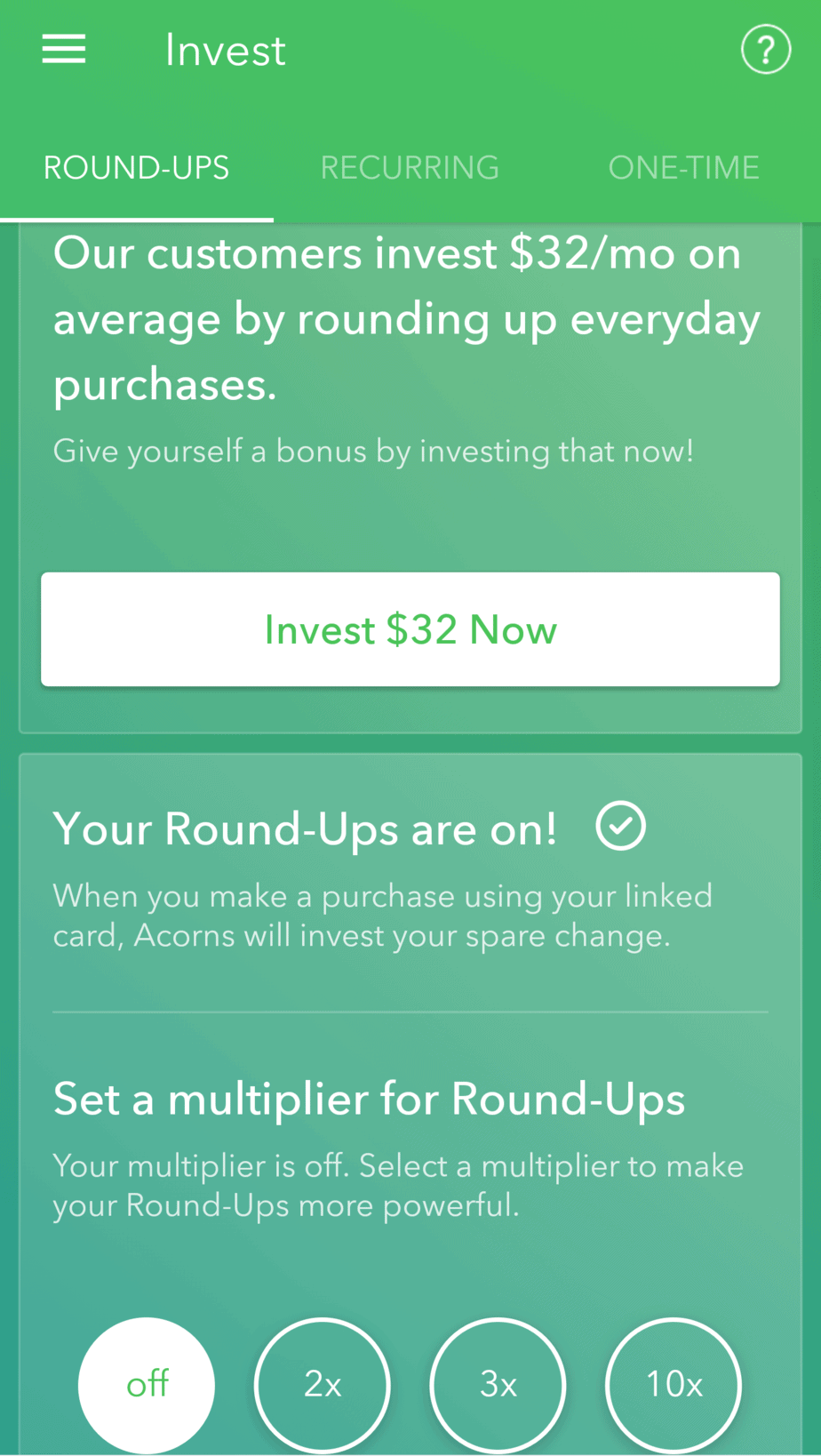 Acorns also offers a signup bonus of $10 once you invest at least $10, so sign up for Acorns to start investing and take advantage of this nice freebie!
Dosh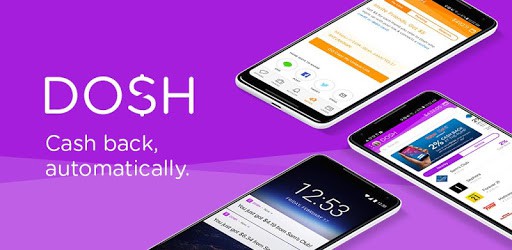 When it comes to cashback programs that also pay signup bonuses, it's impossible to omit Dosh from the list.
Dosh allows iPhone or Android users to earn cashback at many popular stores such as Walmart or Target when they link their credit or debit card with the app.
Dosh also allows users to earn cashback from booking travel arrangements or hotels through the app or even referring other businesses to the program.
Dosh enables users to redeem their cashback amount at $25, which can be done through PayPal or direct deposit. Ultimately, the Dosh app is a straightforward way to start saving more money when you shop.
Dosh also offers a $5 signup bonus, so you can kick start your mission to making money fast with this great offer!
Rakuten (Ebates)
Online shopping is a great way to save time and money, and there is a myriad of tools and services that can help you find the best deals and savings.
Truly savvy shoppers will also know that many online platforms that help users save money when buying online also offer some lucrative signup bonuses.
Rakuten is one of the most well-known cashback platforms out there and enables shoppers to save money when purchasing from hundreds of websites and online marketplaces.
For a more in-depth breakdown of how to use Rakuten and maximize your cashback, check out this post!
If you're just here on a mission to make some quick cash, follow these steps:
Sign up for Rakuten

Shop through Ebate's online portal next time you need to buy something online (the store you want to shop at is probably already partnered with Rakuten)

Receive a $10 bonus when you spend at least $25.
It is that simple! Next time you have to do some online shopping, make the most of your money and earn some quick cash by using Rakuten!
Recommended: Ibotta vs. Rakuten: Which is Better for Free Cash Back?
Ibotta
Ibotta is one of the most popular cashback apps around, and the app is a great way to cut down on grocery costs and even earn free Amazon gift cards.
If you haven't heard of Ibotta, the cashback process is fairly simple. When you shop at stores that are partnered with Ibotta, you can receive cashback on qualifying items by scanning a picture of your receipt and uploading it with the Ibotta app.
Ibotta is very similar to other receipts scanning cashback apps such as Receipt Hog or Checkout 51 and is partnered with pretty much every major grocery store.
However, Ibotta also offers a great way to make money fast by taking advantage of their signup bonus.
If you have never used Ibotta, you will be granted a welcome bonus that helps you earn points faster, as well as a $10 signup bonus that can help you reach your cashout threshold more quickly.
Temp agencies that pay the same day
Temp agencies can be a great option to consider. These agencies specialize in connecting job seekers with short-term or temporary positions in various industries, such as administrative work, customer service, and light industrial jobs.
The application process is typically fast and straightforward, and you can often start working within a few days of applying.
While the pay for temp work may not be as high as for full-time work, it can provide a steady income stream and valuable work experience.
Deliver Food with DoorDash and Instacart
This is how to make money in one hour or less.
Food delivery jobs are all the rage these days, and they present avid side hustlers with plenty of opportunities to make extra cash.
Companies like DoorDash and Instacart pay drivers and bike couriers to deliver food to hungry customers in more than 850 cities across North America.
To become a DoorDash worker, you must be 18 or older, have a clean driving record, and have car insurance.
Once you complete your orientation, you can start delivering food in your city and make anywhere from $10 to $25 an hour depending on demand.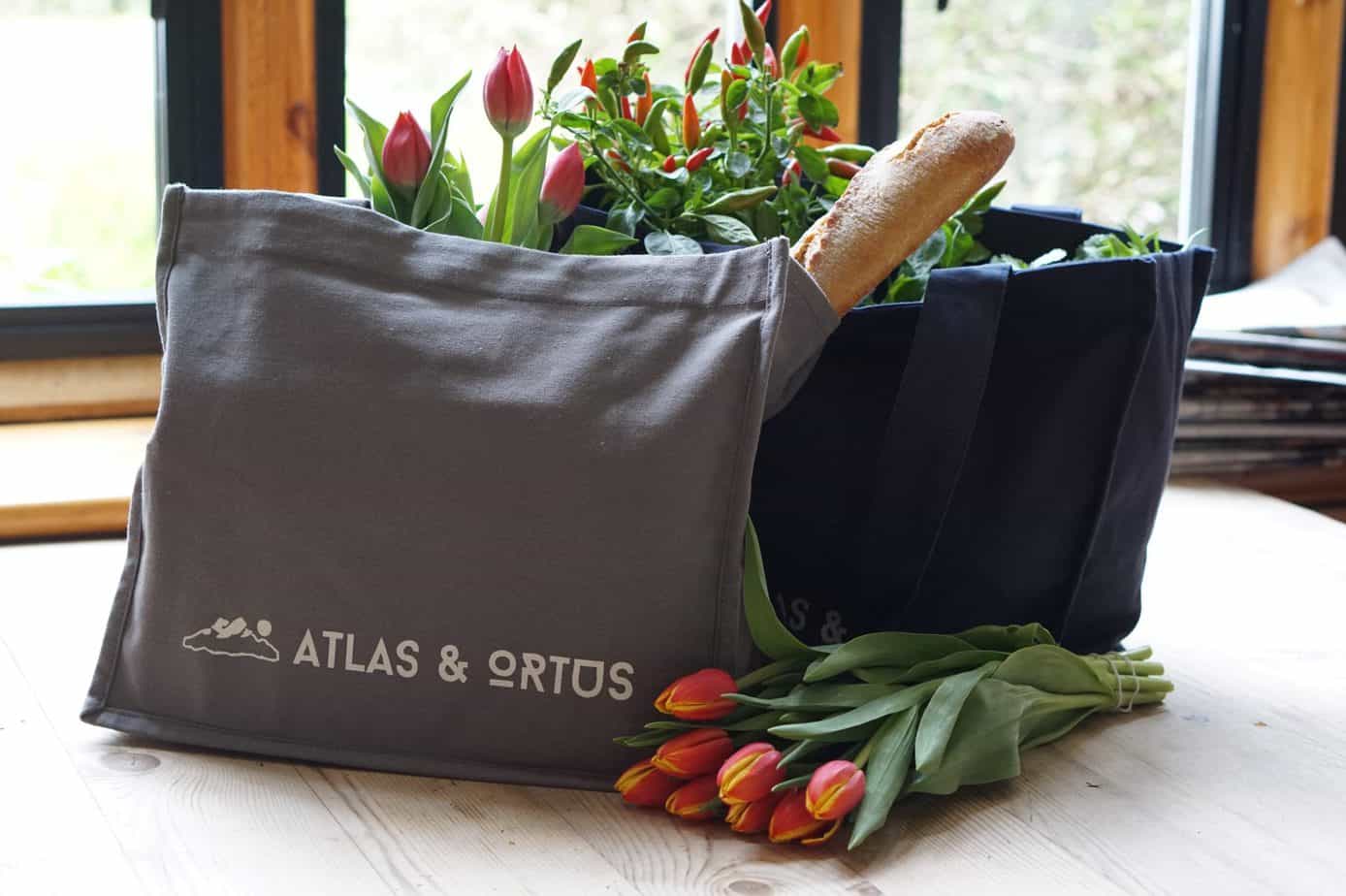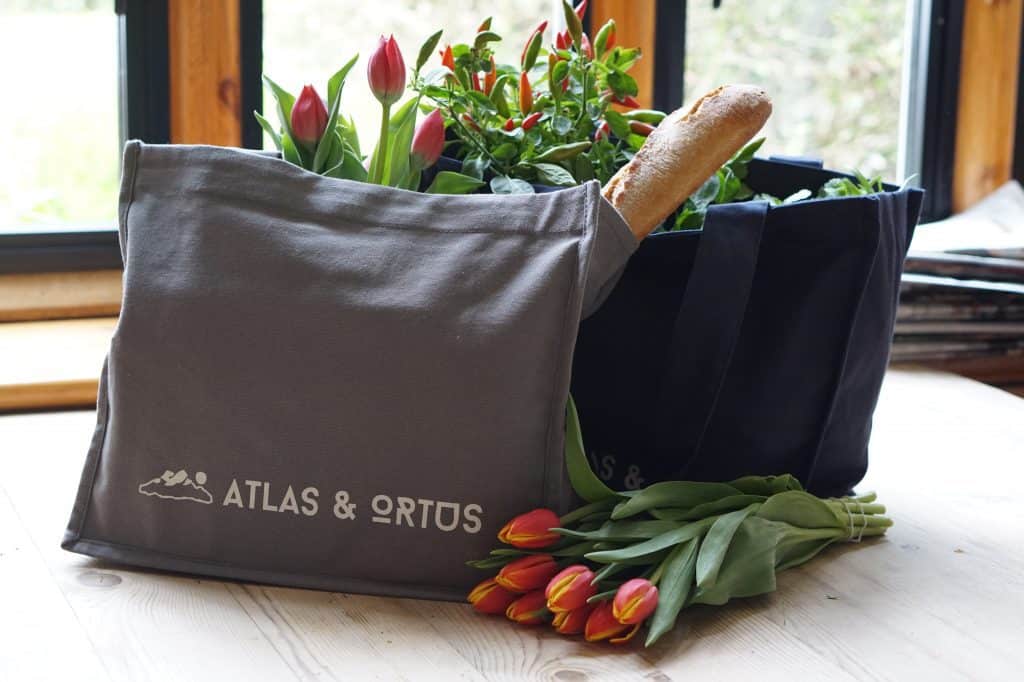 Considering their hourly rate you can see that could make 60 dollars fast, just in 3 hours.
You can also make 80 dollars fast delivering food for 4 hours and possibly over 100 dollars in a day.
Check out: Other apps like Doordash
Walking Dogs In Your Spare Time
Rover is the largest platform for connecting dog owners with trusted dog sitters/walkers and provides dog lovers with a spectacular opportunity to make some fast cash.
Rover states that they accept less than 20% of potential sitters, but if you are good with animals and enjoy spending time with dogs, you have a shot at being accepted into the program.
On Rover, dog sitters make significantly more money than walkers, but you are free to set your own schedule and offerings to suit your capabilities.
Ultimately, if you have some free time and are willing to hustle, Rover is a great way to make extra money on the side!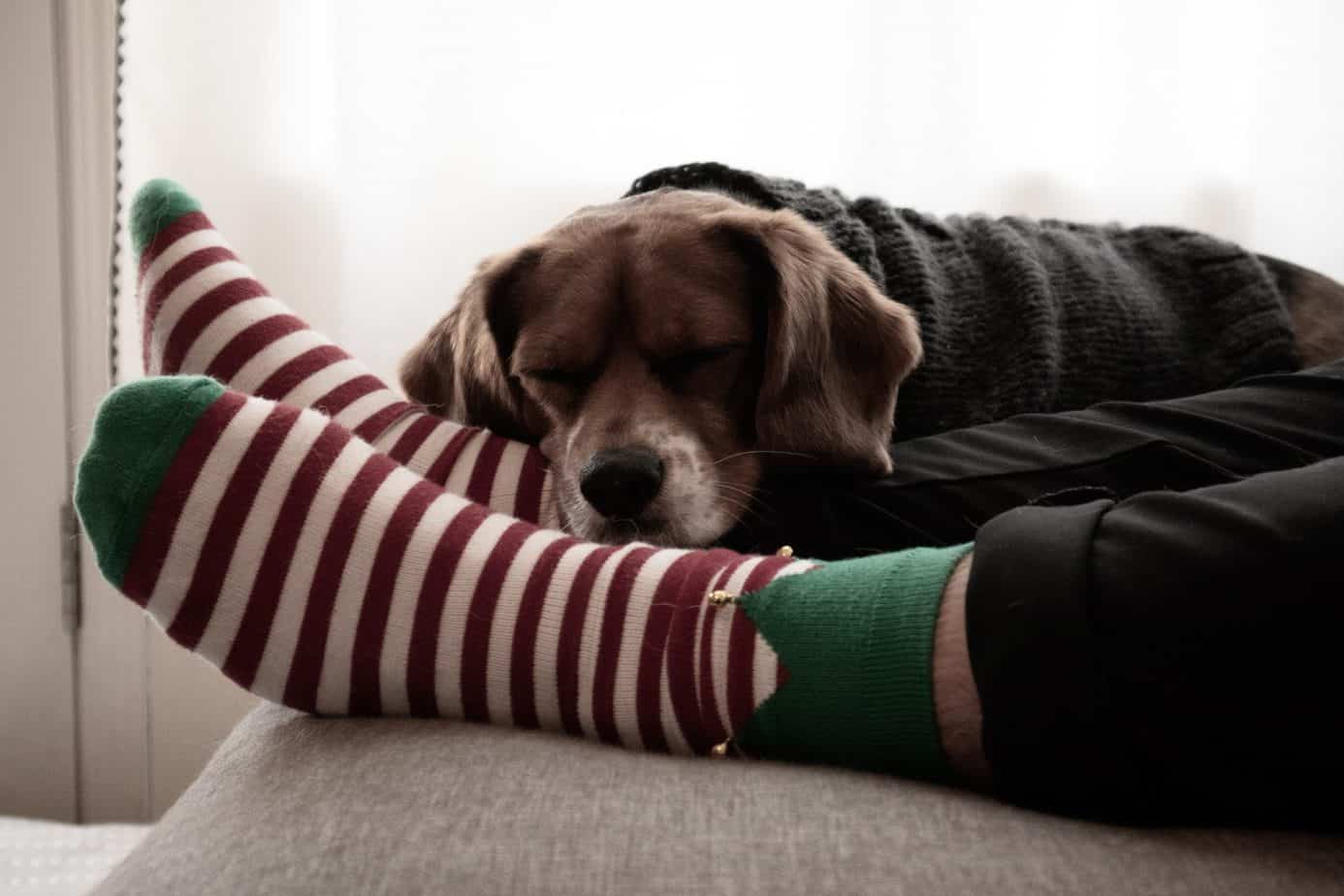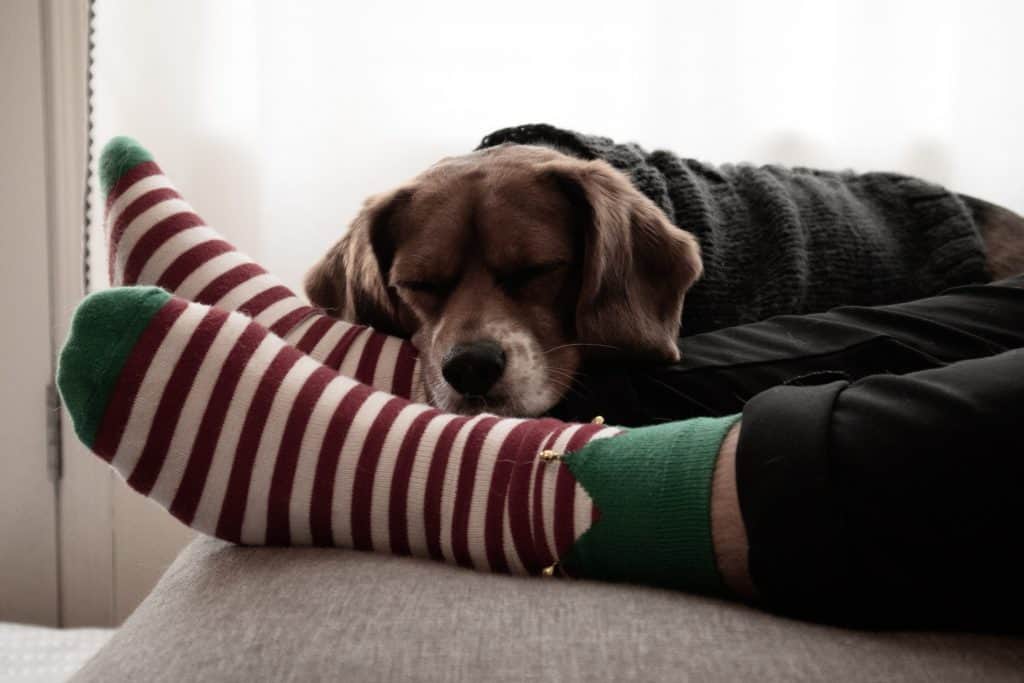 Make $100 a day with PayPal and Fiverr
Fiverr is an online marketplace where freelancers can offer their services to clients for as low as $5.
While the Fiverr economy offers a range of jobs that require different amounts of time and skill, there are also successful Fiverr freelancers who make decent money by completing quick gigs.
For example, some Fiverr freelancers make money by renting out tools or doing voice-over work, and some Fiverr workers even earn semi-passive income by selling courses, guides, or eBooks.
While Fiverr does require more skill and has a higher barrier to entry, you can earn extra income by posting competitive gigs and delivering quality to your clients.
Some quick Fiverr gigs you could consider include:
Offering proofreading and editing services

Designing logos

Creating custom nutrition programs or workout guides

Editing resumes or cover letters
You might think making money on Fiverr is difficult, but just check out the gigs offered under the 'Relationship' tag: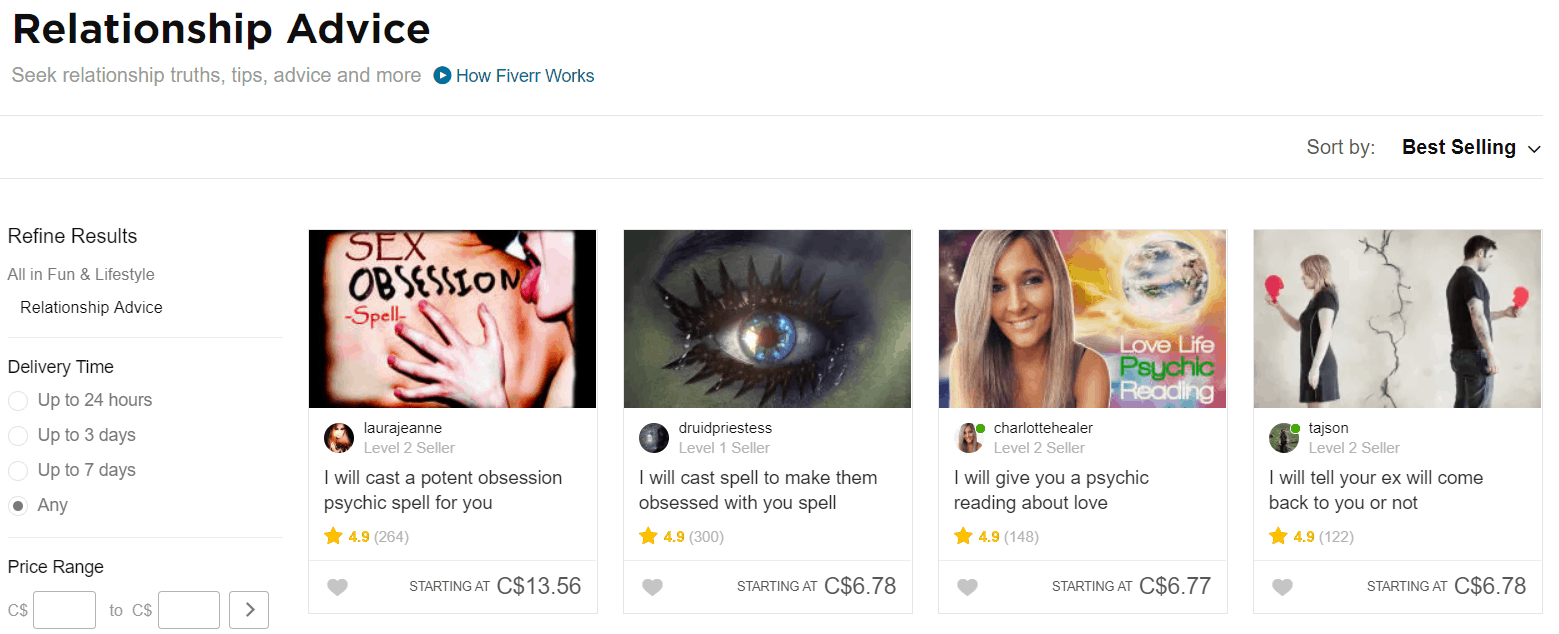 Yes, people are making hundreds of dollars by offering psychic readings/spell casting over the internet. Crazy stuff.
Just get creative, and think of some ways to make additional income on Fiverr with your skills or ideas!
PRO TIP: If you don't have any skills, get some on Udemy. Their courses are dirt cheap or even free. For example, you can learn web design to get basic skills to be able to work on Fiverr
Check out: How to make money on Fiverr
Nielsen Panel
Nielsen is the main company that provides ratings for TV shows/movies, and the company is also interested in collecting data on how people use websites or apps!
Right now, you can connect your personal smartphone device with Nielsen and sell your data to make money quickly.
Essentially, once you connect your device to Nielsen, you will be rewarded for using your smartphone just like you would any normal day.
Nielsen will amalgamate your data with other user data sets to keep your personal information anonymous, and you will be rewarded with points throughout the year which can be redeemed for gift cards or other prizes.
If you use Nielsen for 1 year, you can expect to earn $50! Not bad for just using your smartphone! You can also connect your desktop to Nielsen's panel, and receive entries into monthly sweepstakes of up to $10,000.
While this isn't exactly a signup bonus, Nielsen will start to reward new users with credits fairly quickly, so this is an easy freebie to enjoy!
Sign up for Nielsen's Computer & Mobile Panel and start making extra cash!
MobileXpression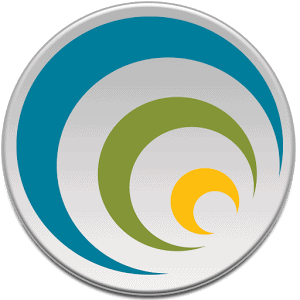 Speaking of making money with smartphones, MobileXpression certainly deserves some attention.
MobileXpression is another data collection app that pays users for their smartphone data.
To make money with MobileXpression, all you have to do is apply for the program (they only accept certain models and operating systems of smartphones) and then leave the app running on your phone. It is that simple.
MobileXpression is one of the most common apps people use to earn passive income with smartphones, and the payouts are both steady and generous compared to many other smartphone-related apps.
Users who leave MobileXpression running for 1 week after installation will receive 10 credits as a welcome bonus.
Users will then continue to earn 2 credits every consecutive week they use the app.
So, what can you redeem with credits?
Well, you can redeem at 10 credits for rewards, but you get the most bang for your buck if you wait to reach the 15 credit reward threshold instead.
With 15 credits you can earn:
A $10 Starbucks gift card.

A $10 Amazon gift card.

A $10 Best Buy gift card.
If you exercise some patience and redeem at 15 credits, your 10 credit signup bonus will be worth $6.66! Not bad for installing a single app!
Join MobileXpression and earn some extra cash in just a few days!
Managing Subscriptions with Trim
If you want to make money fast, sometimes, the best option is to cut down on the recurring expenses in your life.
Thankfully, with Trim, you can automatically save money and even negotiate better rates on your bills without having to do any work.
For starters, the Trim app analyzes your spending habits to look for recurring payments and subscriptions.
Trim then flags potentially unused subscriptions and can cancel them so you avoid wasting money.
Trim can also negotiate better rates for bills to help you save. Bill categories that Trim negotiates include:
Cable

Internet

Medical bills

Phone bills
You have to upload a photo of your bills to Trim to let it get to work.
But if Trim finds savings, you simply pay 33% of your total yearly savings for the convenience of having the negotiation work taken care of.
If you save hundreds of dollars per year through lower bill payments, this fee is certainly worth it.
Trim also has a $99 per year premium membership that provides free bill negotiation, credit card APR negotiation, and perks like financial planner access.
You can also try Trim for free for 14 days to get an idea of how much money you save.
Investing in Cryptocurrency
If you are a cryptocurrency fanatic or simply want to get in on the industry as an investor, you might end up investing through Coinbase.
Coinbase is one of the easiest and most popular ways people exchange, trade, and purchase popular cryptocurrencies like Bitcoin or Ethereum, and it's certainly helped to advance the industry as a whole.
Coinbase has also been offering new users a $10 signup bonus when they invest $100 USD or more with the Coinbase platform, which is a nice 10% bonus for anyone who wants to make an initial investment in crypto.
Cryptocurrency might not be your cup of tea, but this is another $10 that's on the table for anyone who is comfortable investing in cryptocurrencies!
Sign up for Coinbase and receive a signup bonus after investing $100.
Banking Bonuses
If you want to make some quick cash in a short amount of time, you can always turn to more lucrative signup bonuses and promotions that are offered by various banks throughout the year.
Banking is a competitive industry, and if you pay attention to promotional cycles and advertising campaigns, you'll find many major banks or even online-only banks offer generous rewards when you open a chequing or savings account.
Banks are always hungry to acquire new customers. In fact, many banks are even willing to offer lucrative signup bonuses in order to attract new business and beat out the competition.
For example, Ally Invest is currently offering a $3000 bonus cash when you open an Ally Invest Self-Directed account.
Additionally, Chase is offering up to $750 for opening a new savings and checking account, and these are just 2 banks among many others that are offering bonuses currently.
If you're looking to earn some quick cash, be on the lookout for local and online bank promotions.
Check out: 5 Top High-Interest Bank Accounts for Your Savings
Reddit
If you're skilled in a particular area, whether it's graphic design, writing, programming, or any other professional service, consider offering your expertise on Reddit.
Specifically, the subreddit r/forhire is a great place to find people who are actively looking for the skills you offer.
Just make sure to read and follow the rules of the subreddit before posting and engage professionally with potential clients.
Credit Card Bonuses
If you're looking to make more money in a short amount of time, finding credit card signup bonuses is another low hanging fruit you should pick.
The credit card industry is just as competitive as the world of banking, and many credit card companies are willing to pay several hundred dollars to obtain a customer.
If you are able to effectively manage your credit and have a good credit score, you don't need to be afraid about having more than 1 credit card.
Don't go crazy and apply for several new cards at once, but don't be scared to make some quick cash every now and again.
There is plenty of no-fee (this is important) credit card offers that run throughout the year, and depending on your needs, various cards will suit you better than others.
Some common perks of signing up for a new credit card include:
Cash signup bonuses.

Increased cashback rates for several months.

Gift card rewards or prepaid visa cards.

Travel perks and upgrades.
Do some research and see what credit card offers are available in your country.
Try looking into these options to start:
The Chase Freedom cards (earn $200 after spending $500 within 3 months with the Unlimited, Flex, or even get both for double bonuses!)
Chase Sapphire Preferred (spend $4,000 in 3 months and earn 100,000 points worth over $1k). Great if you're making a big purchase soon!
Between opening a new online bank account and signing up for a credit card, you can realistically make a few hundred dollars in just an afternoon of research and work. Just be responsible and pay your bill on time every month!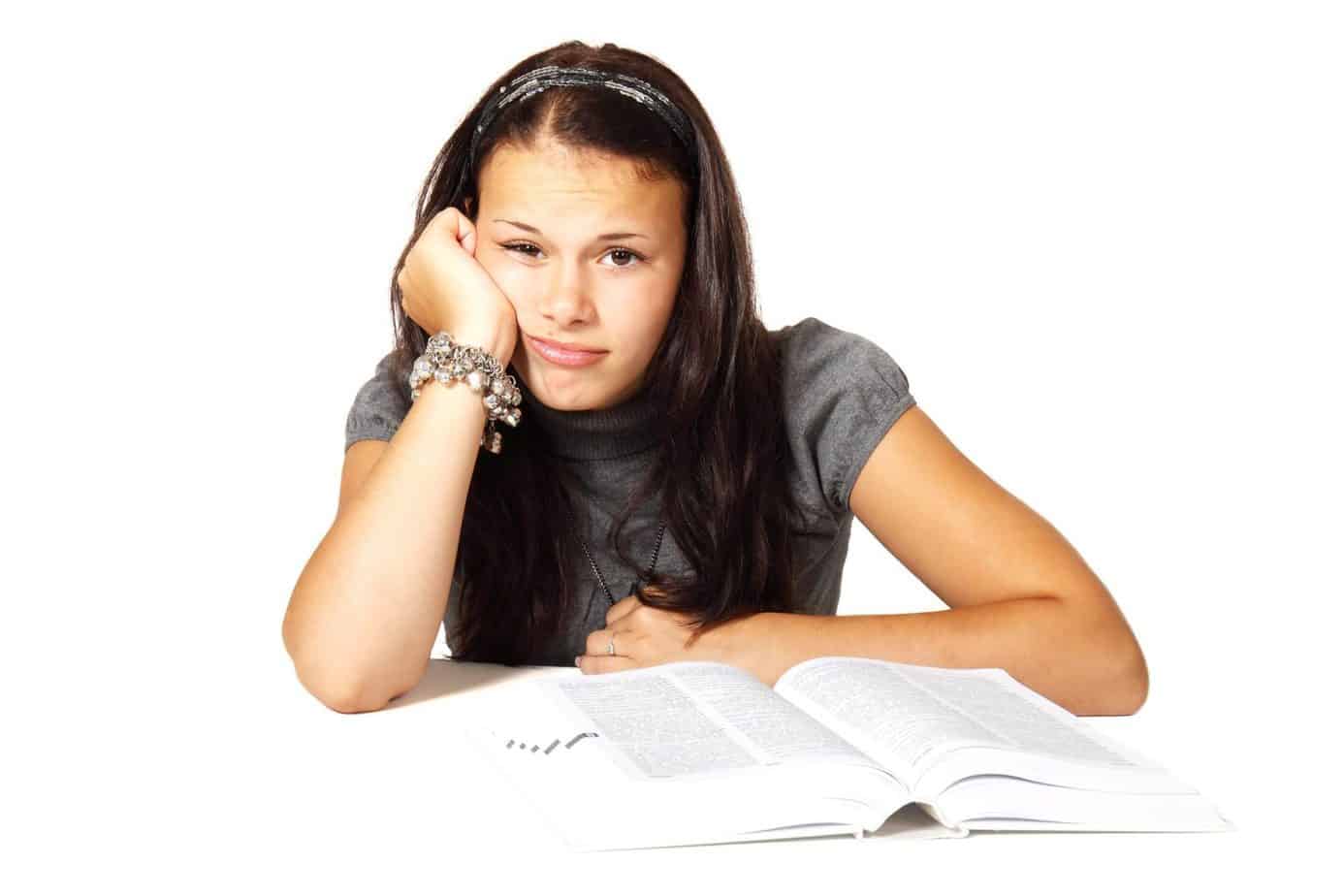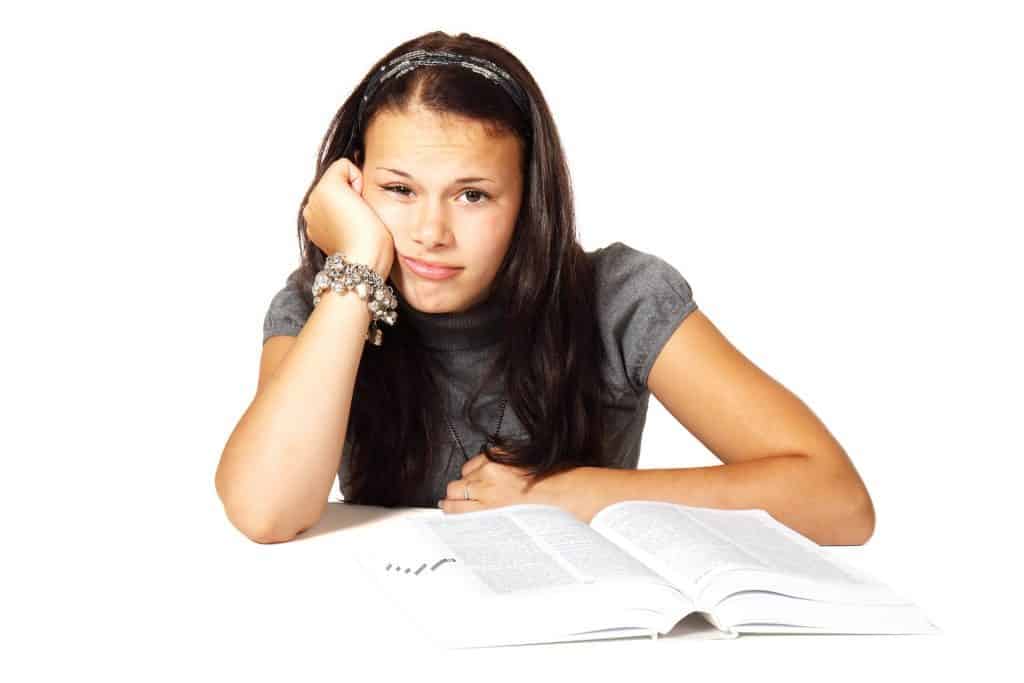 Once you've exhausted your options for making extra money with signup bonuses, you can turn to various side hustle ideas to keep the ball rolling!
The following money-making ideas are also jobs you can start without a significant amount of prepping time, investment, or specific skills.
Driving With Uber or Lyft
Uber and Lyft are the 2 largest players in the rideshare economy of apps, and while many drivers choose to use both Uber and Lyft to maximize their income, the 2 platforms remain fiercely competitive with one another.
Now, there is a mix of rideshare lovers and skeptics when it comes to making money by driving, and the profitability of driving with Uber or Lyft varies based on your vehicle, location/traffic, the cost of gas, and frequency of surge pricing.
However, if you consider the immense signup bonuses Uber and Lyft regularly offer new drivers, both platforms can pay off nicely in the short term.
Here are some of the new driver bonuses offered by Uber and Lyft:
Uber: Get

$2,000 in free money when you complete 200 rides in X city within 90 days. Note: this is an earnings guarantee, and Uber will not pay new drivers an additional 2,500 dollars free money on top of the money they make from driving…they will simply ensure you make at least $2,500 within your first 200 rides. This promotion is also not offered in every city.

Lyft:

Get 500 dollars for free as a bonus after completing 125 rides within 45 days of being approved as a Lyft driver.
Personally, I find the Lyft signup bonus more appealing than the Uber new driver promo, and you could certainly reach your target of 125 rides within a single month if you decided to hustle.
After you receive your bonus, you could choose to continue driving with Uber or Lyft or simply walk away from the side hustle.
However, I would definitely suggest taking a look at existing new driver promos if you are in need of some quick cash and have an eligible vehicle for either program.
Helping People Move with Dolly
I think it is safe to say that everyone despises the process of moving…but that is why there is also decent money to be made by working as a mover.
Platforms like Dolly help connect people who need assistance with their move and people who are willing to lend an extra hand.
With Dolly, you can either sign up as a 'Helper' or a 'Hand.' Helpers are required to bring their own pickup truck or box truck, whereas Hands are just there for the extra assistance. Helpers typically earn $30/hour, and Hands earn roughly $15/hour.
Assuming you don't own a pickup truck or box truck, you can still work with Dolly as a Hand and make some quick cash by helping out with a move!
Learn more about working with Dolly on their website!
Completing Tasks for Money with TaskRabbit
TaskRabbit is an established gig platform that allows 'Taskers' to make an additional income by completing tasks for people who are willing to pay.
TaskRabbit is a great option for starting a side hustle and making some extra money because you can find work that requires no intensive training or existing knowledge.
For example, some of the most common job categories on TaskRabbit include:
Cleaning people's homes.

Assembling furniture.

Completing yard work.

Painting.
TaskRabbit is available in the United States, Canada, and the U.K., and the marketplace is popular enough so you can find work in many major cities.
Additionally, you can also set your own rates, which is great for experienced handymen or taskers who want to receive higher compensation for their services.
Visit TaskRabbit to learn more about how to make some quick cash!
Be a Handyman
If you know how to assemble furniture, complete plumbing jobs, do electrical work, or help with other repair jobs around the house, you can make decent money through Handy.
Handy is an app that connects handymen and cleaners to homeowners who need work done around the house.
Pay ranges anywhere from $20-$45/hour or job depending on the complexity of work involved, and you are free to set your own schedule as well.
Working as a handyman can be tough work, but if you are willing to use your hands and hustle, you can start making money almost immediately once you are approved for the app and you accept a gig in your city.
Making Money with GPT Websites
GPT stands for 'get paid to', and GPT websites are essentially portals where you can earn money quickly for completing small online tasks or microwork jobs.
The GPT space has been heavily covered by many bloggers and news outlets, and GPT referral programs have led too many writers to exaggerate about how lucrative these platforms are.
Just know, you will not earn hundreds of dollars a day/week by answering surveys online.
However, GPT sites do provide a way for people to make money online almost instantly.
All you need to do is register with a popular GPT website that has been verified to pay their users, and then get to work!
Most GPT sites allow users to earn money by watching videos, downloading apps, signing up for trials, and completing surveys.
The work won't be glamorous, and it doesn't pay much, but this is a method to earn quick cash.
Some of the most popular GPT websites include:
Grindabuck

Earn Honey

Earnably

ClixSense
I don't recommend using GPT websites to make a substantial amount of money, but if you need a few dollars and you're in a pinch, these websites can be useful!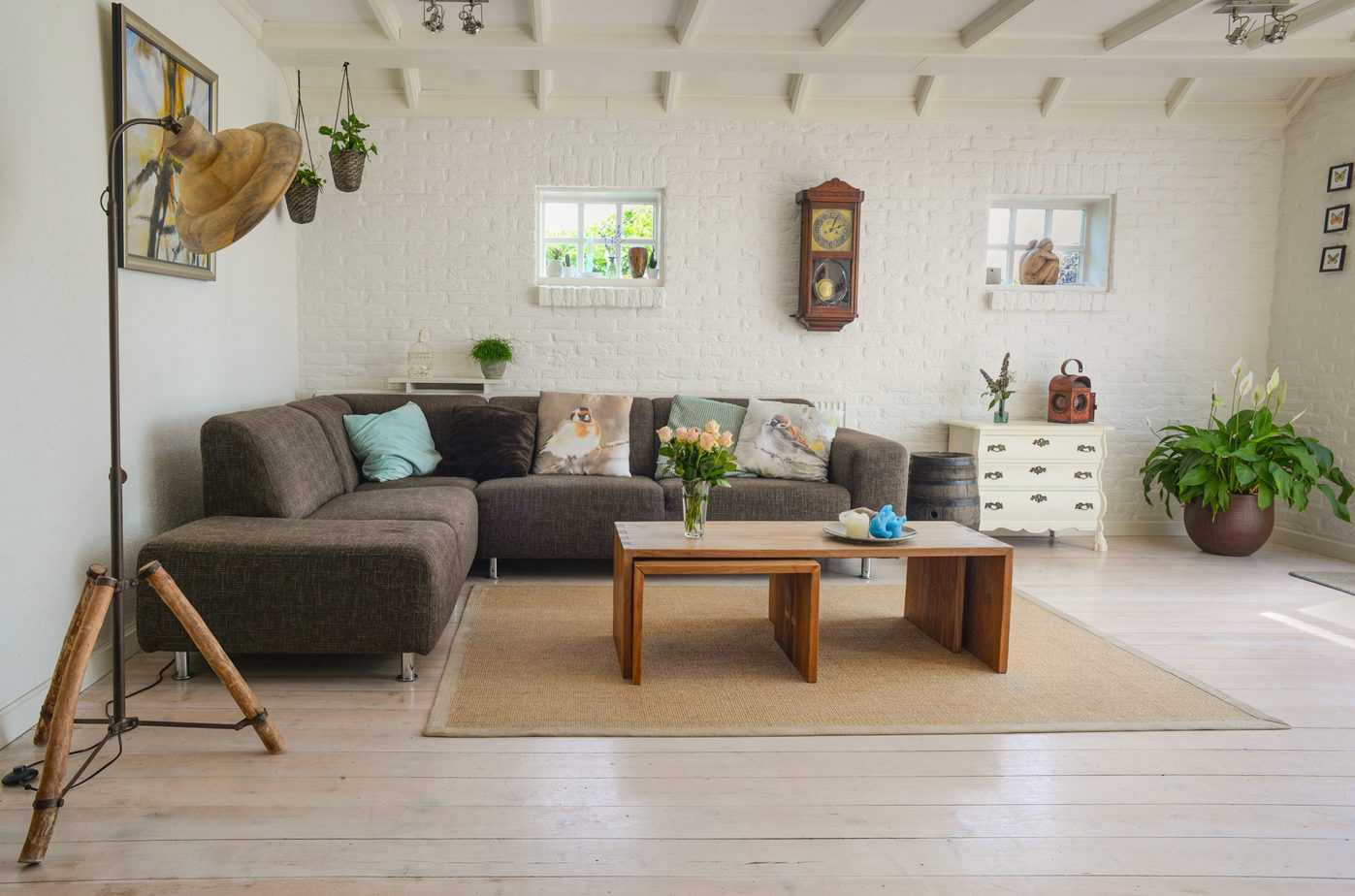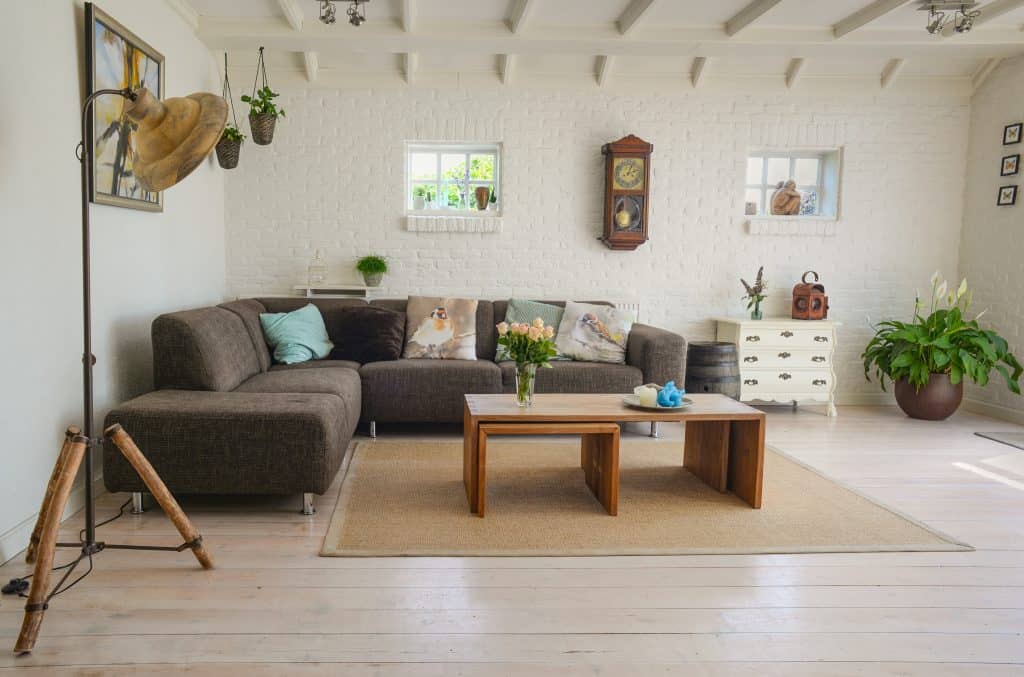 If you are looking to make extra money without much work or investment, renting out objects or property you already own can be one of the easiest ways to make money fast.
Granted, you have to have a certain level of comfort when you decide to lend out some of your property, but the rewards can certainly be worth it!
Making Money by Renting out your Home
I'm sure everyone has heard of Airbnb before, and renting out one's home to make extra money isn't a new concept.
However, if you absolutely need to make extra money in a short amount of time, using rental platforms such as Airbnb or Rent Like A Champion are great options to consider.
Airbnb allows people in practically every city to post their entire apartment, condo, home, or just a room/bed for rent.
If you live in a bustling city or area that receives a lot of tourist traffic, you can earn a significant amount of money by just renting out a room every Friday/Saturday.
Here's our detailed guide on how to become an Airbnb host.
If Airbnb is too competitive in your area or just not for you, you can also try Rent Like A Champion if you live near a sports/college football hotspot.
Rent Like A Champion is the most popular real estate rental platform that caters to sports fans, and allows homeowners to make money by renting to sports enthusiasts who are in the area to watch an event.
Peer-to-Peer Lending
Peer to peer lending is on this list of ways to make money quickly, but it's also risky and offers 0 guarantee of return.
However, if you are in a pinch and are not risk-averse, peer to peer lending might provide a way to make some extra money without requiring any work on your part.
Peer to peer lending is quite simple: you lend money to a person (rather than them having to go to a bank), and they will pay you back the amount of their loan plus an agreed-upon amount of interest.
Platforms like LendingClub or Prosper are more formalized peer-to-peer lending marketplaces, generally offer a 7% annual return, and are less risky than options like using Reddit Borrow (where you lend money to random Redditors who simply promise to pay back their loans).
Whatever the case, peer-to-peer lending exists for a reason: you can make a quick buck by lending out your money to people in a financial pickle!
Renting Other Assets to Make Money
If you aren't comfortable renting out your home or lending your money to generate additional income, the following list of websites and marketplaces can provide you with alternative renting solutions:
Getaround:

Rent out your car to drivers who are willing to pay.

Spot Hero and Parking Panda:

These 2 apps allow users to quickly make money by renting out unused parking spots.

Turning Art:

Enables artists to make money by renting out their artwork to businesses, corporate events, and galas.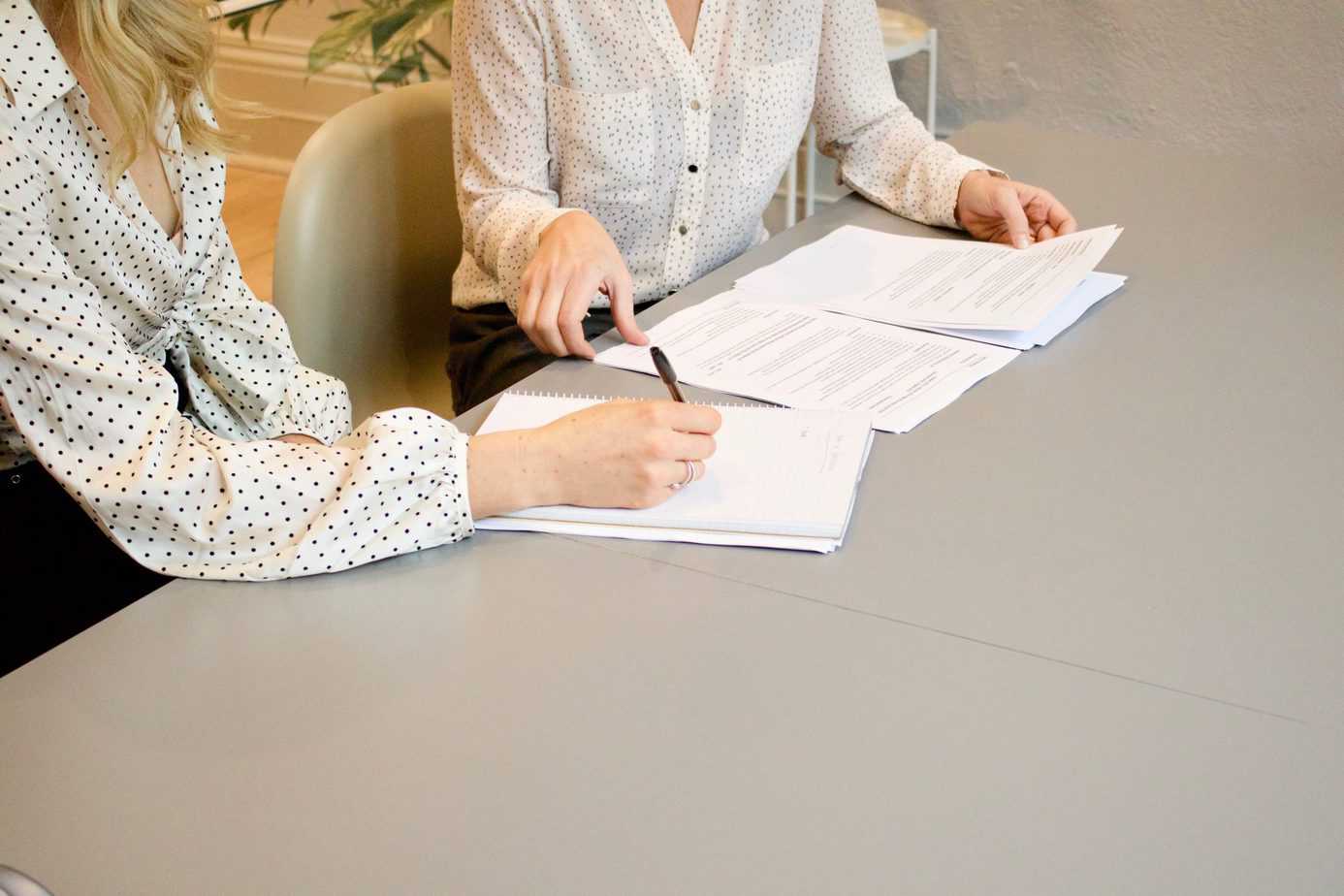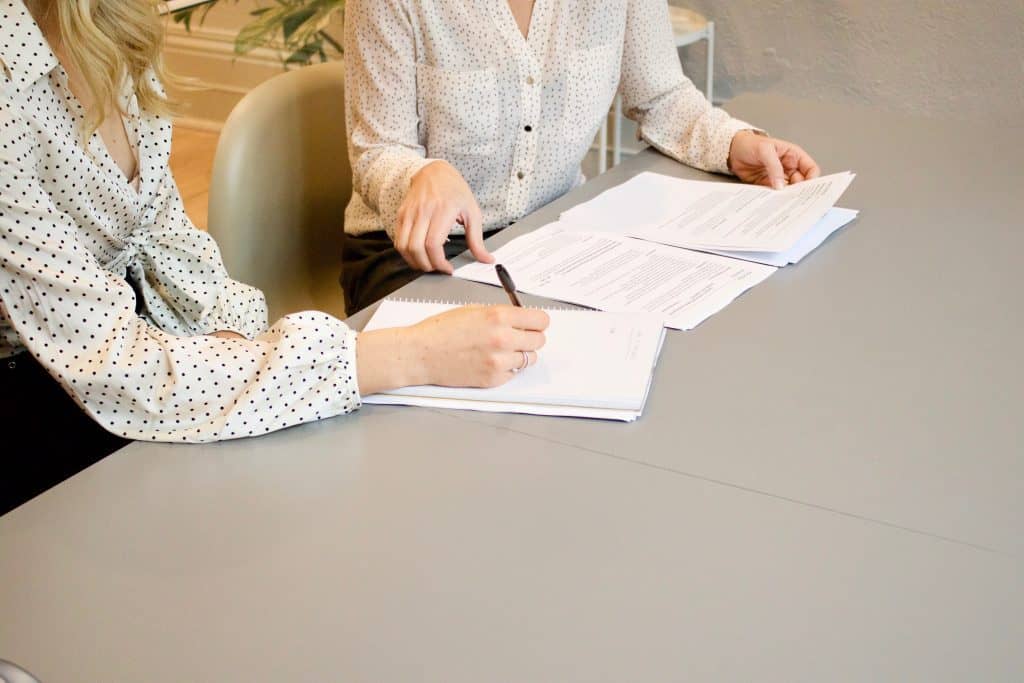 When people decide that they want to make more money, it can sometimes seem overwhelming. Where do you even start?
What side hustle is the right one for you? What if you fail or even lose money?
These are questions that can ultimately prevent people from ever trying to increase their wealth in the first place.
However, not everything is rocket science. Sometimes, the simplest way to make more money involves lifestyle changes or just asking.
The following ideas are some strategies that can help you make more money in fast but sustainable ways:
Negotiate your bills:

If you have been a loyal customer with a particular internet/cable/phone/insurance company for more than a year, you may be in a position to negotiate your bills. Companies want to keep loyal customers, and taking the time to call the companies you regularly pay to ask for perks or competitive price matching can save you hundreds or thousands of dollars over the course of your life.

Negotiating your salary:

A finding by SmallBizTrends.com showed that only 39% of employees attempted to negotiate their salary with their last job. If you are a part of this 39%, consider changing this negative behavior. If you are a hard, talented worker who has remained with the same company for more than a year, begin the discussion of a possible pay increase and working together with management/HR to reach a decision.

Choosing to start a side hustle or picking up an extra shift:

Starting your own successful side hustle or even deciding to make more money is just that: a decision. If you want to make additional income, you need to have a road map, definable goals, and a timeline. Shifting your mentality and deciding you will work more to achieve your goals is liberating, and will ultimately improve your chances of success.

Diligently use cashback cards, reward programs, and price matching:

Many of the apps and services mentioned in the signup bonus section of this post provide people with the ability to save a significant amount of money throughout the year. If you do any shopping for your household, there is no reason not to maximize the amount of cashback you receive annually.

Try a 'no-spend' challenge:

If you have a shopping habit or find yourself spending pocket change on things you simply don't need, a no-spend challenge could be a refreshing way to get back on track. To start, simply decide a period of time where you will not spend money on anything except for necessities, and hold yourself to that promise. Sometimes playing defense (saving) is the best offense (having more money!)
Hopefully, this list of money making ideas will assist you on your journey to making some fast cash!
There are over $300 worth of signup bonuses just through the combination of app signups and banking/credit card signups, and you could earn even more fast money with bonuses from Lyft/Uber or starting a side hustle!
If you simply take some time to register for new programs and look into starting your own side hustle, you'd be amazed at how much additional income you can make every year!
Need More Money-Making Ideas?
I know these to make money fast ideas will keep you busy for a while, but for those of you who want even more, here's a list of similar but still different ideas:
Tom is a Canadian University student-blogger at ThisOnlineWorld. Tom has a love for developing passive income, making money online, and marketing.