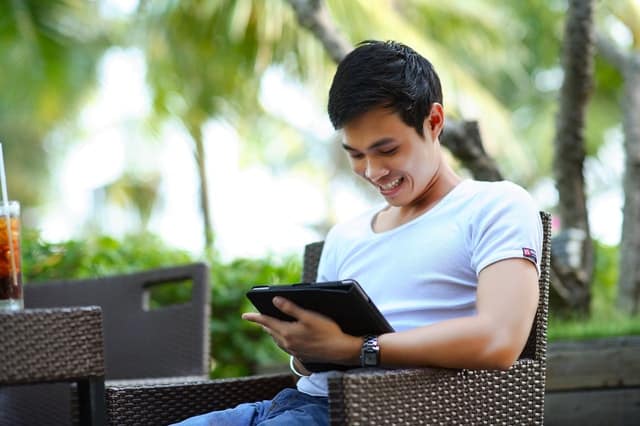 Looking for online jobs as a teen? You're in luck! Nowadays, there are tons of online gigs out there for young people.
Whether you're into answering surveys, helping with social media, or tutoring, there's something for everyone. So, grab your laptop and start making some cash from the comfort of your bedroom!
Survey Junkie
Survey Junkie is a legit and safe way to make extra cash as a teenager. It's probably not going to be an amazing side hustle and you aren't going to get rich doing surveys, but it's something you can easily do, from your phone, in your downtime.
If I can get a little extra for the holidays I'll be happy. All you have to do is to take some surveys from the comfort of your home. They cash out to PayPal or gift cards.
Age requirement: 13 and older
Swagbucks
Install the Swagbucks app and you'll find many opportunities to make money online as a teen.
Do a bit of shopping on their recommended websites, play some video games, watch ads for money, perform a couple of quick surveys, and earn $50 or even $100 a month in gift cards or free PayPal money.
Signing up doesn't cost you anything, it takes less than 5 seconds and you'll get a $5 as a sign-up bonus.
PROTIP: Don't forget to verify your email address to get those $5.
PS. You can do all of these things, when stuck in traffic, for instance, and it will help the time pass faster.
Age requirement: 13 and older
Start a blog
Why waste your talent writing for other people when you can do it by yourself?
Naturally, it will take some work, especially in the marketing section, to get it off the ground, but if you're willing to put the time in, anything's possible.
Just pick a niche that you find appealing, and try not to wander around too much.
You will want to stay in the same niche most of the time and get a core group of readers who are interested in your content, to visit the blog on a regular basis.
Check out: How to Start a Blog for Cheap
Don't be confused here, I'm not talking about huge marketing companies that pay their workers handsomely. Instead, teens should focus on the local businesses in their neighborhoods that don't really have a strong social media presence.
All businesses can benefit from some online promotion, but most smaller ones aren't willing to invest big in doing so.
That's where you can slide in, and offer your services. As my friend likes to say, this business is a tremendous modern-day equivalent of maintaining neighbors' lawns.
Read: How to Make Money in One Hour
Flip items on eBay
Let's face it, most teens don't exactly have a ton of personal possessions. However, almost anyone has at least some stuff they no longer use just lying around the house.
It takes time to list and ship but you'll learn valuable skills by doing it.
Start off with that, and if you discover that you have a passion for it, continue to pursue this side hustle as you expand your knowledge of the industry.
Check out: How To Sell on eBay and read 10 Best Items to Flip on eBay
Fiverr
One of the best side hustles for teens. If you are willing to perform all sorts of tasks that others find tedious, Fiverr is the place for you.
Most of the time, you don't even need to possess any particular skill in order to do so, sheer will and determination will be more than enough. Ie you can remove backgrounds from images for $5 or so.
Check out: A Step-by-Step Guide on How to Make Money on Fiverr and read Best Paying Fiverr Gigs
YouTube
YouTube is a great way for teens to make money online as nowadays, teens seem to run this massive platform.
It's not exactly rare to stumble upon a teen-run channel with hundreds of thousands of subscribers.
Those channels bring in some big bucks from advertisements alone. If you possess a certain charisma, you might be the next big thing. You'll never know unless you try.
Check out: How to Make a YouTube Channel
Online jobs for 18-year-olds with no experience
LiveOps
It's a classic call center job everyone can do from the comfort of their home.
You will basically be the contact person for all those people looking to buy stuff from infomercials that they saw on TV.
The schedule is very flexible, and the pay depends on the number of minutes you spend talking to customers.
Upwork
Unlike the website mentioned above, Upwork is primarily known as the marketplace for those who have a specific skill to offer to the world.
However, that doesn't always have to be the case.
There are literally thousands of job postings uploaded on a daily basis, regarding simple data entry, and some of them offer quite an incentive pay.
Naturally, in case you have a certain skill, such as image editing, or writing, you can earn a hell of a lot more.
Testbirds
Most user-testing websites have a strict policy that forbids work for minors, but there are some exceptions that confirm the rule.
One of the most famous ones in Testbirds.
The great thing about this gig is that everyone can do it, all you need to do is register your account, and write a detailed review every time.
Microsoft rewards
Microsoft Rewards is a super-easy way to make money as a teen. Do a couple of quick surveys and earn some pocket money in the process. If you stick to it long enough, you will start to bring in respectable amounts of cash.
Radioearn
Any huge music fans among you? Did you know that you can get paid to discover amazing up and coming artists? All you have to do is listen to their tracks, and leave a useful review from time to time. Sounds simple, am I right?
Install Bing
Yep, this internet search engine will reward you for using it! All you have to do is continue using your computer as you've been doing all these years, but use Bing instead of Google. After a few days, you won't even notice the difference.
Qmee
Similar to Microsoft rewards, you have to complete some surveys, but Qmee also pays extra if you click on some ads while doing so. It's not the best option to earn cash as a teenager, but you won't have to exert much effort into it either.
InstaGC
Watch ads to make money or complete a survey or two to earn a free gift card. Each card can be exchanged for $1 on Amazon, or you can earn 50 rewards before you can unlock PayPal.
Perk
This all-encompassing app offers plenty of ways for its users to earn rewards which they can later use in the form of Amazon gift cards or exchange for straight cash on PayPal.
These offers include watching TV for money, going to the shops and visiting stores, playing video games, and completing offers. Would you be willing to earn the easiest cash in your life?
Slice the Pie
While this website accepts teens, it is best to point out that you have to be at least 17 in order to register. After that step, your job would be to listen to some new bands and artists, leave a lengthy and detailed review, and get awarded for doing so.
The pay ranges from $0.05 to $0.20 per one track, but you will first have to pay your dues and earn a nice reputation before earning the big bucks.
Enroll
In case you have so much knowledge to share, why not tutor people? You don't have to be a professor with years of experience to do it either, the only requirement is that you are at least 15 years old. It is a great place to gain some experience.
SameSpeak
Similar to the website mentioned above, this one is also intended for tutoring. However, with Samespeak, you have to be at least 16 to give it a go and be a native English speaker. The pay is surprisingly decent, as one can earn up to $10 for a 30-minute long session.
Sittercity
It allows you to get in touch with people who need a sitter. If you like kids and know how to take care of them, this is the perfect website. With the average rate set at about $15 – $20 an hour, it's also an opportunity to earn pocket money as a teenager.
Bookscouter
You have some old books you need to get rid of? Then this is a great way to make money fast as a teenager. Install this tremendous app and find the best deal you can, by comparing offers from 35 book vendors from around the nation.
Best of all, you won't even have to type those long ISBN numbers, just use their barcode scanner, and get it done in seconds.
Jingit
Simply watch as many advertisements as you can to earn your due. You can also take up quick surveys, download their app, and scan various Walmart items to boost your earnings a bit further.
CrowdSource
This website presents one of the alternatives to Upwork or Fiverr. Among many job postings, what stands out for teens are those data entry, writing, and even translation. As far as the payment goes, you will need to have PayPal.
Ibotta
A simple way to earn money as a teen. Get paid to do your favorite activity – shop! When shopping, check out this app to find products with special deals and earn some money back in the process.
What's also great is the fact that every new user gets a $10 bonus the moment they sign up! Naturally, you can pick up your rewards in many different ways, including gift cards, PayPal and Venmo.
Voices.com
Simply create a profile and upload a voice sample to get started. If your voice sounds interesting, you might be able to earn upwards of $100 per gig! This website also offers special membership deals for children and teens, so feel free to check it out. It might even become your new career path.
Textmaster
Warning, this is a website intended for those with impeccable grammar. If you believe you'll be up to the task, go ahead and register, it's free, as there are a lot of job postings here that are perfectly suited for teens.
Amazon Mturk
We might be living in a technologically advanced era, but even now, there are plenty of small annoying tasks that computers aren't able to complete.
That is where Amazon Mturk comes into play, offering a plethora of these sorts of jobs for anyone willing to take it. You don't even need to have a certain skill to perform most of these tasks. All you have to do is carefully follow the instructions.
Etsy
This huge online marketplace focuses on vintage and especially handmade items. You'll need your parent's or guardian's consent to open an account, and after that, you'll be able to run it together with them. Setting up a shop and placing your merchandise for sale is fairly simple, just a few clicks are all it takes.
Avon
Become a sales agent and try to vend as much makeup as you can. All teens over the age of 13 are eligible, and it's fairly cheap to start as well, starting from just $25. Sure, it takes some initial investments, to begin with, but if you have a lot of friends looking for makeup, it might become an excellent source of income.
Origami Owlettes
This website is intended for teens between the ages of 12 and 17. It is also a retail-based job, but instead of selling makeup, you will be focusing on cheap jewelry intended for other teens. Besides making a few bucks, it can be a great way to meet some new friends as well.
NuSkin
Once again, parental consent is required in order to sign up, and you also have to be at least 16 years old to do so. However, if you fall under these terms, NuSkin can be a decent option to make some profit, and you'll be able to do so while selling skincare products.
Get Moment
Yep, you've guessed it, it's intended for teens who turned 16, and it's a direct rival to the aforementioned website. Still, it's nice to have options, so find a deal that works for you the best.
Perfectly Posh
Who said that you have to be at least 16 in order to sell skincare products? The minimum required age for this website is 13, but the profit margins are also slightly lower, at least compared to those I already mentioned before.
GrabPoints
After downloading this mobile app, you will be able to earn money by completing surveys, watching ads, and more.
Volt Game Tester
Are you interested in becoming a video game tester? For most teenagers, this sounds like a dream job, however, there's a slight difference between their ideals and reality.
Besides just playing a game, the tester must actually try to discover everything that might be wrong within the gameplay, and that can be time-consuming, and well, a bit boring. However, it beats any regular 9 to 5 job, I can tell you that much. Plus, it can be a great way to meet some people that share similar interests like yourself.
Easy way to make extra money as a teenager, isn't it?
Lulu
Have you ever written a book or created your own song? If so, this website might be the best marketplace where you can get much-needed exposure, and earn some cash as a result. Don't expect to become famous overnight, but who knows, you might become popular at your school, and that brings all sorts of benefits to your social life.
Spreadshirt
Design your personal shirts and different fashion accessories to sell. Not everyone can do it, but if you have the talent, why not give it a go? It's not rocket science, and you'll quickly realize if you've got what it takes or not.
Shutterstock
Any photography enthusiasts among you? Nowadays, it seems like anyone can be a professional with all those filters and fancy phone cameras, but if you really have a keen eye for this form of art, and some decent equipment, head over to Shutterstock and try to turn your hobby into profit. That's the reason why stock photography is one of the best online jongs for teens.
Royalties will not make you a millionaire anytime soon, but they can be a great way to hone your craft and see what works.
Dreamstime
Works on the same principles as the website mentioned above. You upload images, hope that someone will buy them, and receive a certain cut when it happens.
However, Dreamstime is not as popular, and the level of competition is lower, compared to Shutterstock. It gives you a great chance to be a big fish in a small pond.
League of Trading
Most gamers love to play with their characters fully leveled up, but not all of them are willing to put the time in, in order to get there. Luckily, some of them would be more than happy to pay their way in.
All you have to do is enjoy the game you love, level up your character as much as possible, and sell it on this awesome virtual marketplace. Gamers are oftentimes willing to pay big money for top-notch characters.
Twitch
Video game streaming services have gained incredible popularity in recent years, and Twitch is the one leading the charge. If you are particularly skilled in playing video games, you can gain a huge following rather quickly.
When that happens, not only that you will get some money from the platform, but companies would be more than willing to pay you to promote their products.
Doesn't it sound insane?
Tastebook
Collect your personal recipes and sell them in the form of a cookbook. I'm sure you can borrow a thing or two from your parents as well unless it's a family secret recipe. In that case, I would first check with them if it's alright to do so.
Tee Spring
Design custom hoodies and T-shirts and turn in some profit. This website is great for beginners, as it is simple to use, so use it as a chance to get your foot into the door. Who knows, you might move on to open your own merch website one day, but first, you need to learn all there is to know about what's hot and what's not.
Zazzle
If you dislike the website mentioned above for any reason, try Zazzle instead. It's another easy-to-use web-based designer that is great for absolute beginners.
StudySoup
Are you among those students who always keep impeccable notes, regardless of the class? If so, you know just how annoying it can be to share those notes with your friend for free.
It's not your fault that they didn't pay attention in class, is it? However, with StudySoup, you can sell your notes for cash!
The pay depends on the length of the text and the topic at hand, but it's not a bad way to earn a decent buck for your troubles.
Reward TV
Play trivia-based games regarding your favorite TV shows, and get paid for doing so! While you don't have to be an old geezer in order to join, know that most of these shows are a bit older, so don't be surprised to find your favorite series missing.
SkimaTalk
Become a tutor and help people master their use of the English language. Best of all, you don't have to be bogged down with grammar, all you have to do is have a conversation. Who can't do that?
Humanatic
Companies are now more willing to hire young people than ever, regardless of their skill level. One of those starting jobs in major corporations includes listening to voice messages, reviewing peoples' inquiries, and giving feedback whenever possible.
You can find a whole plethora of these gigs on Humanatic. Sure, most of these jobs are pretty boring, but you have to start somewhere!
The Forum Wheel
Do you visit the forums on a regular basis? If so, why not get paid to promote certain brands and websites every now and again? When it comes to earnings you can make, things start off rather slow but pick up once you move up in levels.
When you reach the top level, or level 10, as they like to call it, you will be earning $0.50 per single post!
TeenEyes
All businesses need to get a pulse on what their customers need and desire. Those who target teens need to have someone who can approach them and make them do a couple of quick surveys, perhaps to test their product, or even participate in one of those focus group tests.
While the pay is pretty decent, some users complain that they don't get enough jobs from the platform, so don't say I haven't warned you.
Freelancer
Set up a decent profile with a good picture, and start looking for work immediately! Similar to Upwork, this website also has a ton of different postings, and it's your job to find the one that works the best for you.
Most important of all, always notify your parents before you even start looking for an online job! They have a lot more experience than you when it comes to business and will be able to provide you with some great advice.
In case you get their consent, move on to open your PayPal account and get their debit card. Once again, your parents or guardians will have to give consent for you to even open the PayPal Student Account, but you will get to use it on your own afterward.
You Might Also Like:
32 Ways to Make Money Without Investment
13 Ideas to Make Money in College Without a Job
20 Simple Ways in Which You Can Make Money as a Kid