My father was one of those people that hated the very concept of buying used items.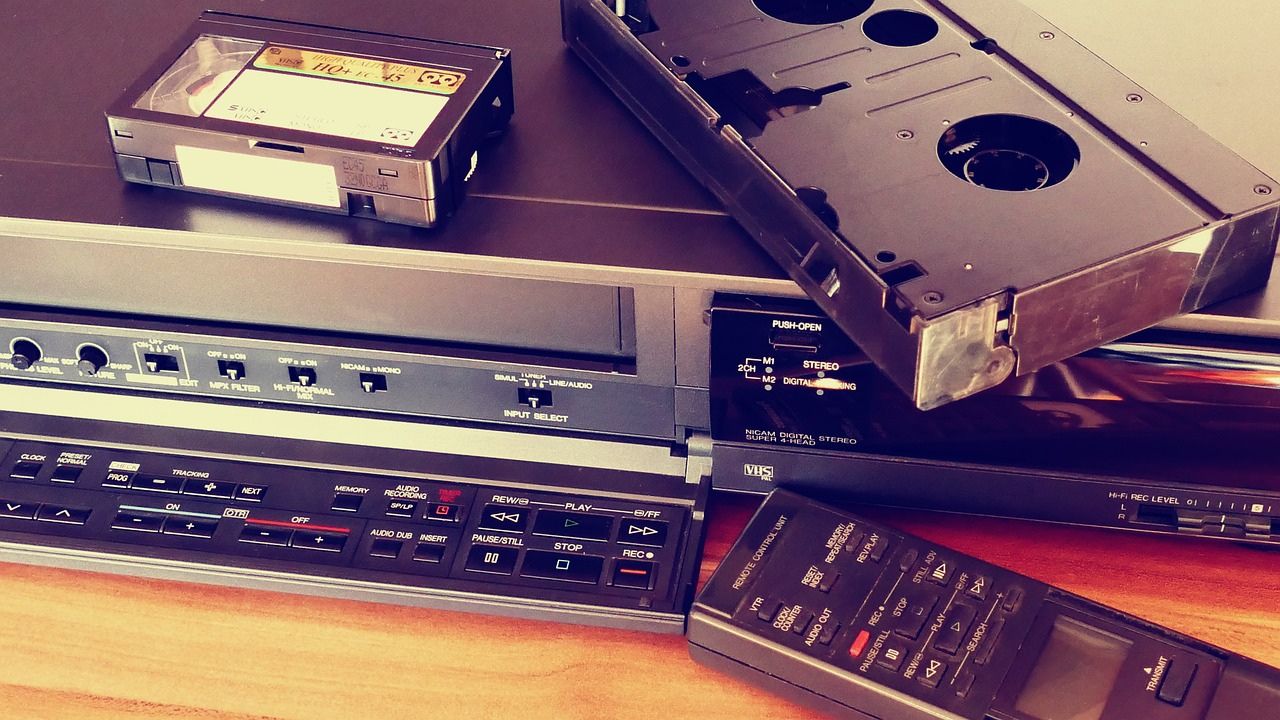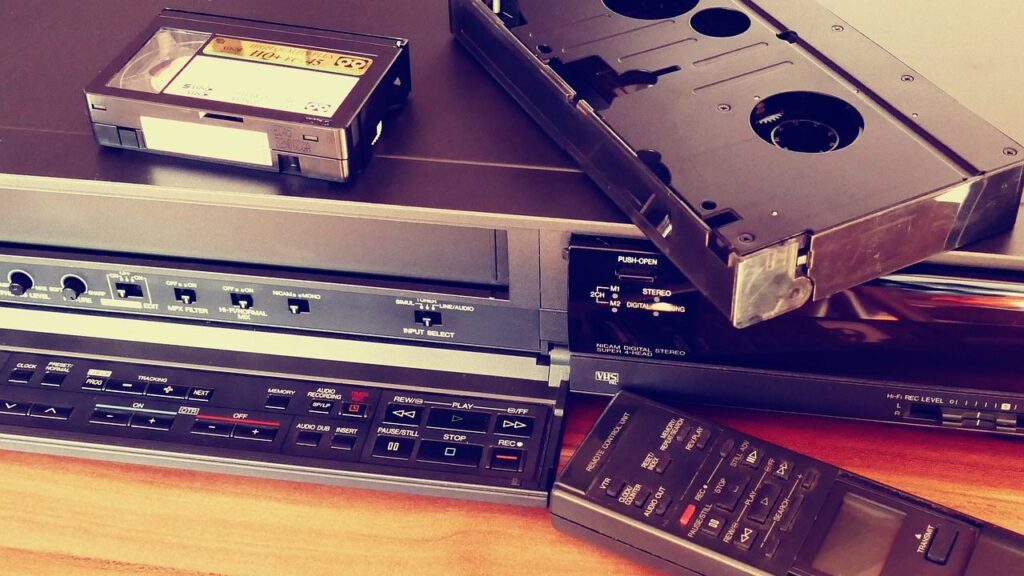 Not only that he never bought any, but he also didn't want to sell his own stuff that had no use for him any further, so we ended up with a ton of useless junk in our garage, cluttering up all the space.
Come to think of it now, there was a lot of stuff there that would be ideal for reselling.
After spending several years in the business I found out that the best items to flip on eBay can be found anywhere, you just need to have the patience to actually look for them.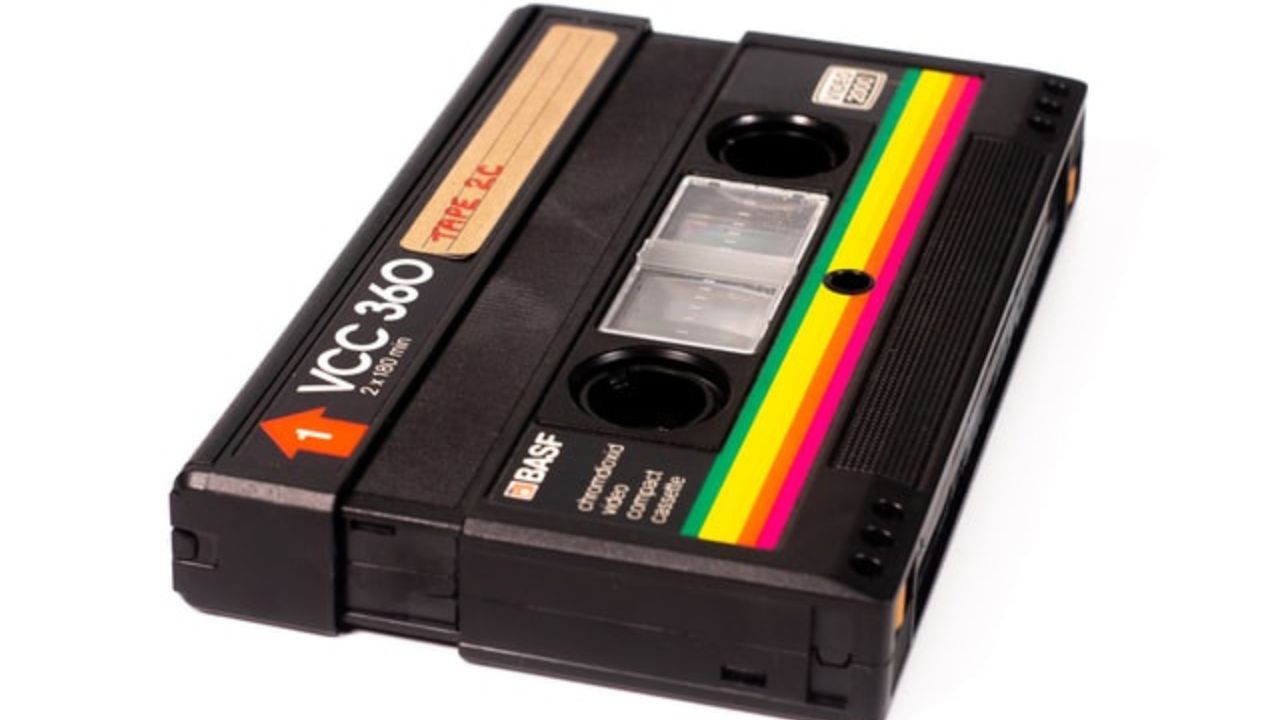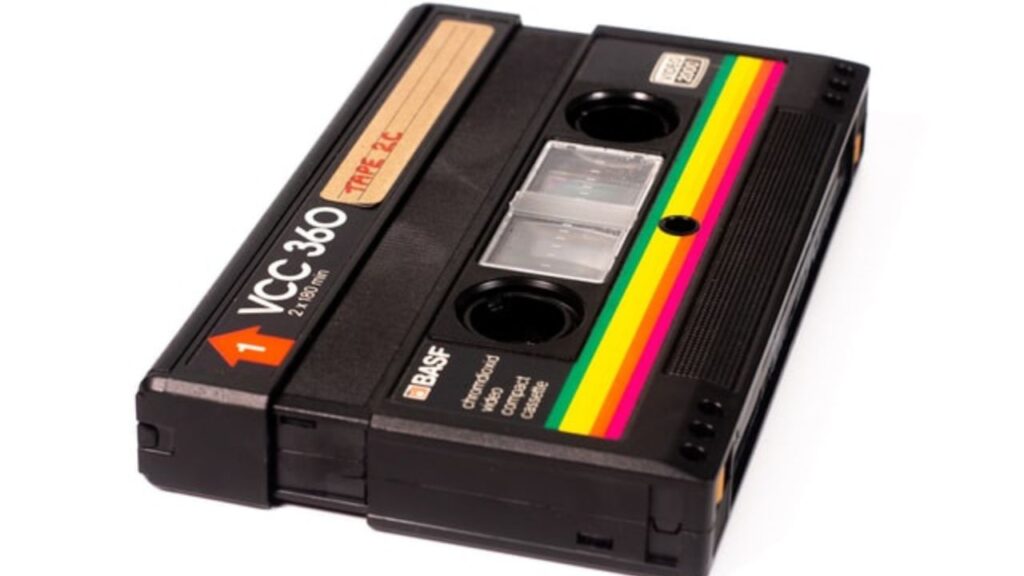 Best things to flip on eBay and Make Money
Where to find the best items to sell on eBay?
Most people completely avoid selling used electronics, and this is somewhat understandable, as electrical products have higher fault rates and returns than most other items.
Furthermore, they also stay away from media (games, books, movies) because they tend to think that the market is overly saturated with individuals who know a lot more about the slight nuances of the business than what they do.
This is the first major mistake you can make, as it's these very items that sell out the most.
You might've heard it before, but that doesn't make it any less true, the higher the risk, the higher the profit.
VCRs
Surprised? Even now, there's a lot of personal, private archives still only available on videotapes.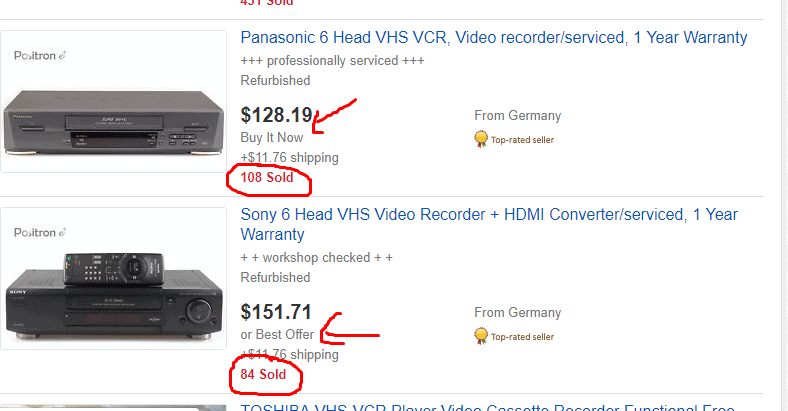 Just to give you an example, I recently stumbled upon an old tape from the '80s.
This video featured my grandmother and me as main stars, and it's still very dear to my heart, even though she passed away in 1998.
I can still remember her original comment from when we first saw it: how did I get inside that box?
In case you might be wondering, the TV wasn't a foreign concept to her at the time, as she had it since the 1950s, but she just couldn't be bothered to learn how the concept of television actually worked, and how "those people got inside the box".
Naturally, we all burst into laughter following her remarks, but she came back with a great answer: "feel free to make fun of me, but your kids will do the same to you one day".
My mom remembered that sentence all too well, as she went through a similar evolution with PC.
I'm sure you've witnessed a similar scenario – an elderly person trying to turn off the PC by pressing a few buttons, then getting agitated as nothing seems to happen, and eventually reaching for the cable to yank it out of the plug completely.
Additionally, old company archives often contain relevant information trapped only on video cassettes.
For example, law firms encounter cases that have extraordinary similarities with some older trials, and they can extract important data from the old case with the help of one videocassette recorder.
Pricing: In case you have a VCR with working remote, aim at $35-$55, and if not, go with $25-$40.
Remote controllers
If you were looking for a place to start, remotes are a great choice.
First of all, they are small in size, and very lightweight, which makes them easy to ship out. Just be careful, as wrapping and sending them out will set you back about $2.75 a pop, so try to keep your prices over $10.
Another thing you need to be wary of is to always get the latest models currently in use, or you'll just lock your options with a whole lot of dead stock.

In my own experience, Samsungs are still the best sellers, with Sony hot on their heels, as they are mostly used with AV equipment and DVD players. Other brands worth mentioning are LG and perhaps Vizio, depending on your market.
If possible, aim for those devices that don't work well with universal remotes.
Another option includes combo remotes, which can be oftentimes seen with DVD/VCR devices. When it comes to the best remotes prices, I'd say that the title goes to bed remotes, as these things can cost well above the $100 mark.
Sterling silver
Sterling silver is a well-known commodity, as it offers scrap value. This means that you should generally buy it at all times if you come across a good deal.
In the worst-case scenario, you can always sell it for scrap value. As the prices go right now, it stands at $13/Oz.
Cassettes
Whether you prefer metal, punk or pop music, just check out the prices on some of these bad boys! A Sonic Youth one goes for $500+!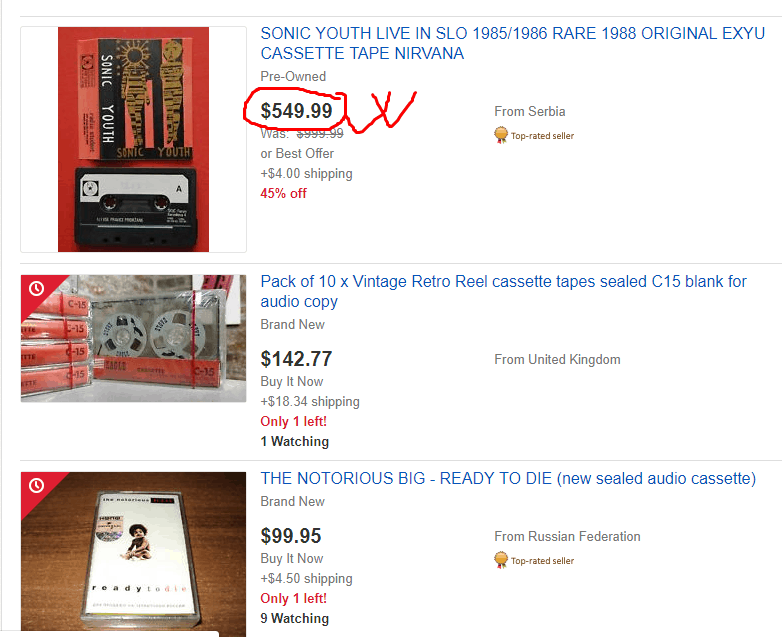 LP Records
We'll take Black Sabbath as an example. That amazing vinyl crackling sound, and the noise the needle created once it hit the record…
All enhanced by the tremendous sound of a Paranoid solo. Some things are just priceless.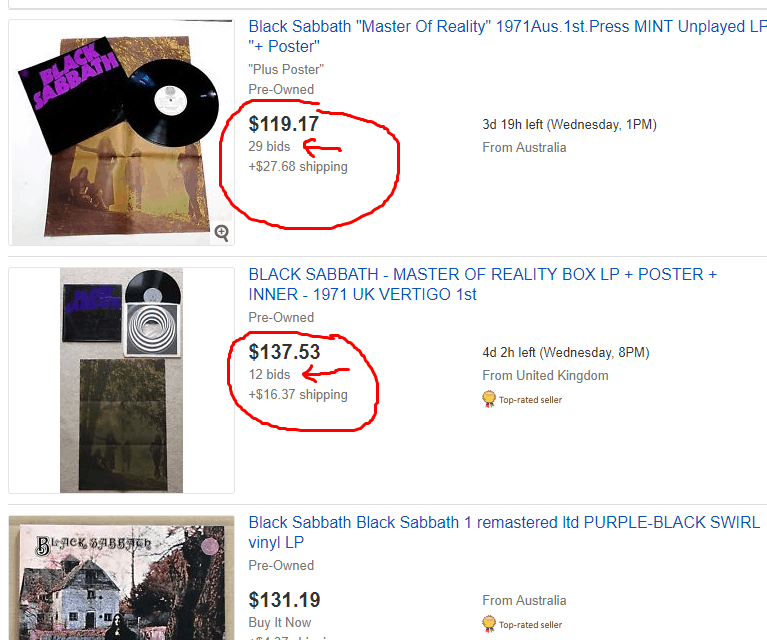 Broken stuff
You might be surprised to hear, that items like partially used cleaning supplies are in pretty high demand, especially in poverty-stricken areas.
These things are sold in lots, and that's really evident in things like tide pods, paper towels, used tires, used prom dresses, or even baby formulas. Sure, most of those things are only sold for about $1 per item, but if you put a bunch of stuff together as a package, you can then sell it for about $15.
The only thing that's holding you back is your own imagination and opportunity. I've seen people bundle up packages including jewelry, damaged watches, and even books, and keep selling it repeatedly.
Naturally, there are some guidelines to follow here as well. First of all, try to stick with lightweight items that aren't necessarily bulky, as it will make your life a whole lot easier, at least when it comes to shipping.
Try to bundle up things based on a certain common denominator. You see, people will likely buy stuff that interests them, but they don't necessarily want to deal with other items that serve them no purpose. For example, if you're selling CDs, arrange them by genre.
The same goes for books, and so on. It all comes down to one thing, all of these items are pretty much worthless on their own, but they have a certain value when bundled up in a neat package.
Anything that includes heavy lifting
Now, this might go against the grain, but hear me out for a second. I know that it's a nightmare having to deal with complicated logistics, but guess what, nobody else wants to do it either. Just think about the golden Jurassic Park rule – if it's heavy, it's expensive!
PCs and parts
It's unquestionable that this industry keeps growing and evolving by the day. If you ever owned a computer for a couple of years, there's a good chance that you have at least a few spare components just laying around somewhere around the house.
All of those parts belong in a special category called Computers/Tablets & Networking. Millions of people visit this page on a daily basis, looking for parts that might need them, some even doing so for collection purposes.
Therefore, grab all of your spare components you're not using any more, including the graphics cards, old keyboards, hard drives, cables, and whatnot, even if they're broken.

Describe each component in detail, set a good price on it, and simply wait. The results might surprise you. Additionally, all of the things mentioned above can be said for mobile phones as well.
Clothing
We all have at least a couple pairs of shoes or an old jacket that just clutters up space in our closet, and that we haven't used for years.
Some of those clothing items might not fit us all that well, they might be outdated style-wise, or we simply got them as a present, and haven't worn them since.
Professional fashion advisers claim that you should sell or donate every clothing item you haven't used in a year or so.
By doing this you'll free up space for a few new pieces, and you might actually earn a couple of bucks as well.
Qucik tip: Find free resell to sell on eBay. Here's how to get free clothes and how to get free shoes.
Baby clothes
Children grow up fast right before our eyes. One day, a certain shirt might fit great, while it will become very tight in just a couple of months' time.
I don't have to remind you that buying new baby clothes every couple of months isn't all that cheap! All kids' items sell well, including clothing, toys, picture books, etc.
Disney vault movies
The Disney "vault" consists of films that Disney stops producing on DVD and Blu-ray for a number of years. When films are in the vault, they can't be purchased in regular stores.
This presents a great opportunity to collect Disney films and resell them at a profit during "vaulted" years when they're in high demand.
Here are some more tips on how to make money from Disney vault!
Once you collect a few things worth selling, simply place them on an auction, and hope for the best.
Related: Best selling items on Amazon