Is Rakuten legit and the best online shopping tool out there? Is it a scam or a legit way to get paid to shop online? How does Rakuten work? Rakuten used to be called Ebates until a recent rebranding, but it's still the same cash-back site that thousands of people know and love.
Rakuten Review: Is Rakuten Legit?
In this full Rakuten review, I'll go over what Rakuten is, how it works, and my experience with getting Rakuten cash back for home online shopping, travel, and more, complete with walkthrough screenshots from my personal account.
What Is Rakuten? How Does Rakuten Work?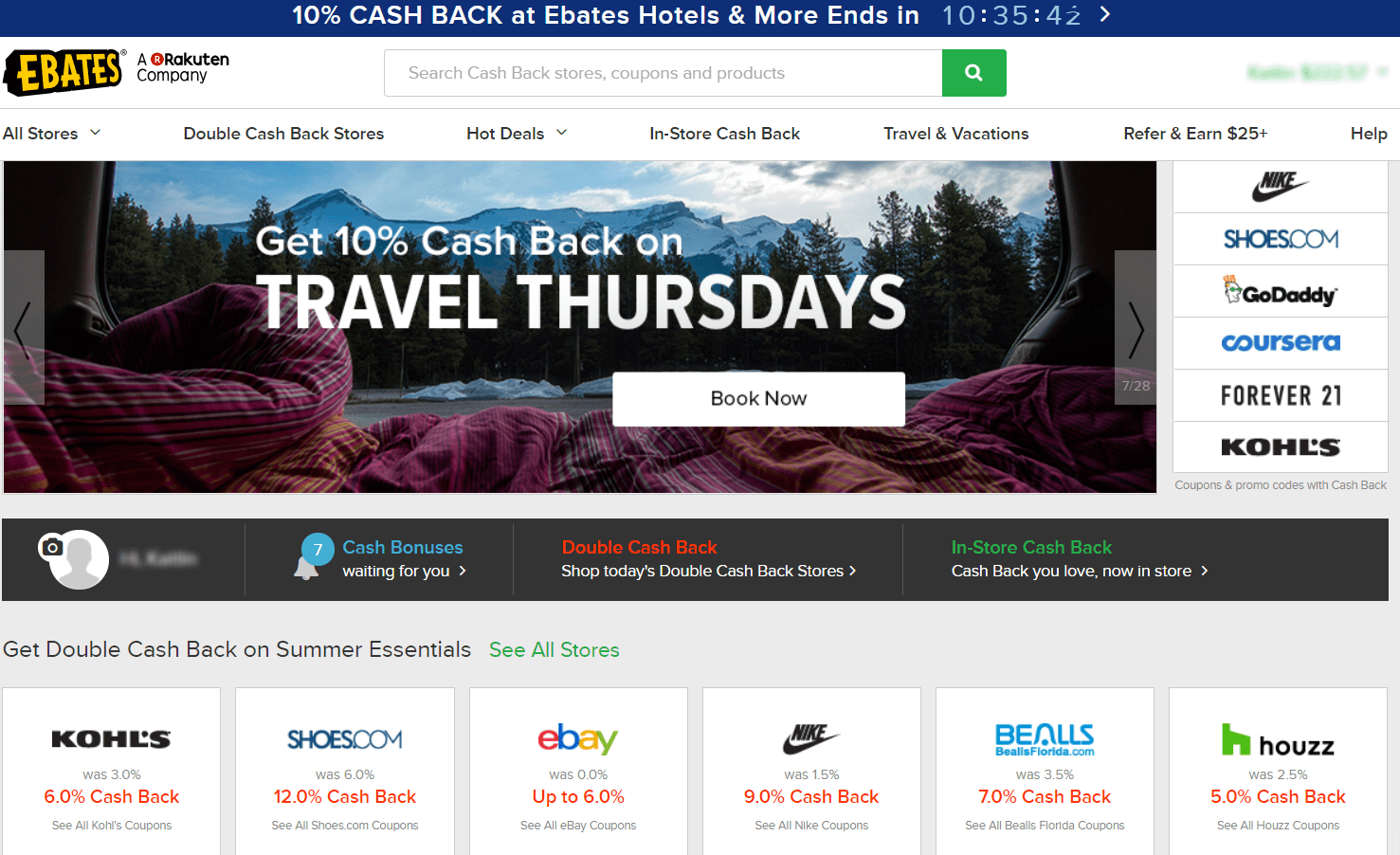 The first step, of course, is explaining what this tool actually is. Rakuten (formerly Ebates) is not an Internet shop or regular coupon site. Instead, it's an online shopping portal (and it's 100% free to use).
What is an online shopping portal? Essentially, it's a "gateway" through to other home online shopping websites.
Just like how in fiction or video games, characters enter portals to be transported to another place, you go through Rakuten's online shopping portal to be transported to other Internet shops.
These sites pay Rakuten a percentage for the traffic, and in turn, Rakuten pays you.
How to Get Rakuten Cash Back
You can get your first $10 in cash back just by signing up for Rakuten and making one purchase through the online shopping portal, so you're already coming out ahead. You don't have to put in credit card information or pay anything to use it, ever, so there's zero risk.
Then, you earn more cash back by shopping at thousands of Rakuten partner stores. You can either manually go to your Rakuten profile and click their links to the stores, or simply use the easy browser button (more on this below).
Each site offers a different amount of cash back. If I made a $100 purchase on a site offering 10% Rakuten cash back, I'd get $10 free just for accessing the site through Rakuten.
After you make a purchase, the Rakuten cash back amount gets calculated and automatically added to your account.
From there, you can choose to be paid online via PayPal, or receive a paper check. Rakuten distributes payouts four times a year.
This is my PayPal transaction history for the four quarterly payments in 2017. (Of course, it's highest in February, after the holidays!) I don't do a ton of home online shopping, but even so, it really adds up. Remember, Rakuten used to be called Ebates, so that's why it payments are coming from Ebates.com.
That's an extra $100 I can invest in the stock market so it can grow.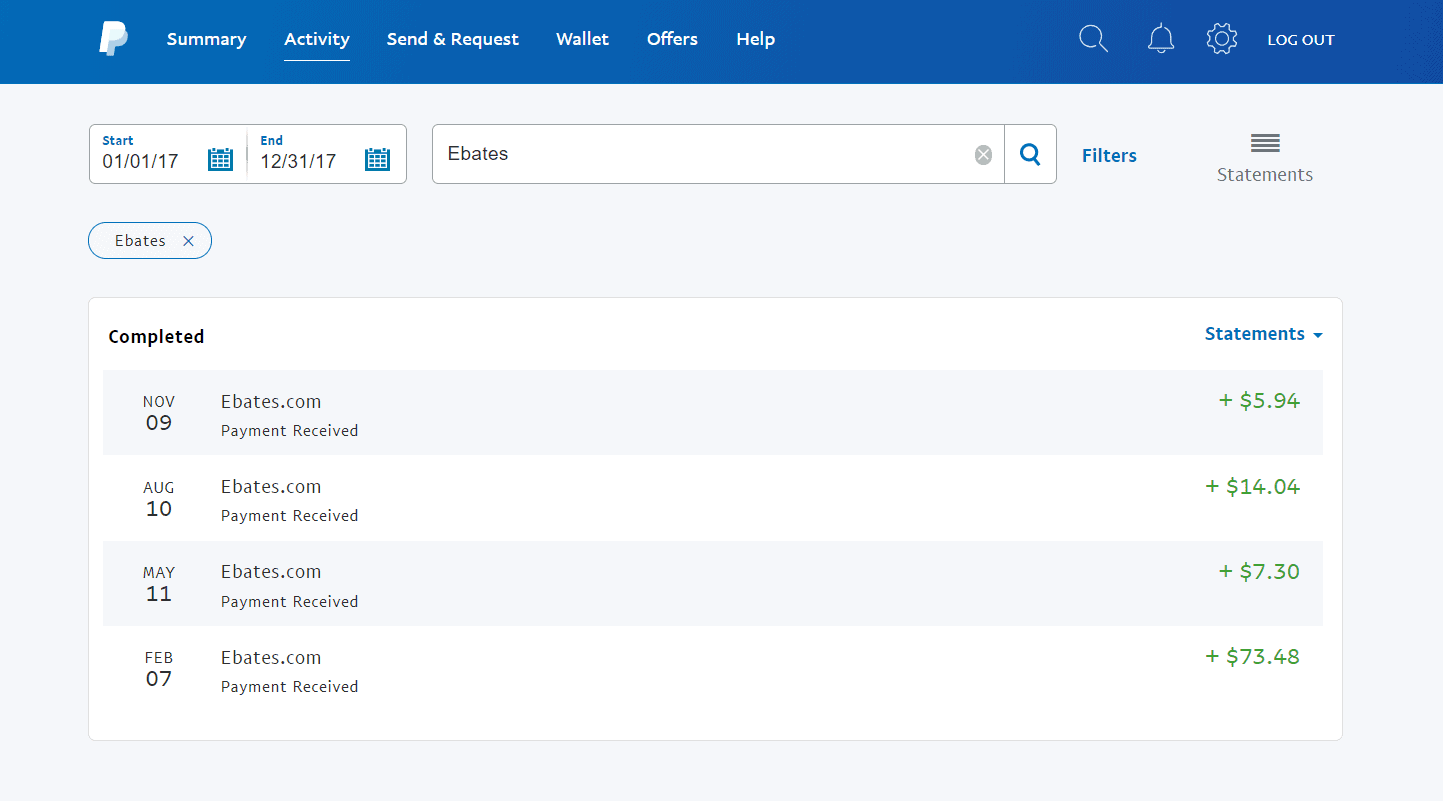 Rakuten Cash Back Browser Button
By far the easiest way to use Rakuten is with their convenient browser button. It's available for three major web browsers: Chrome, Firefox, and Safari. Once you sign up for Rakuten, it should give you the option to install it.
When you install the Rakuten browser button, you'll be alerted any time you're on a site offering cash back. Then, you can simply click the button to be redirected back through the Rakuten shopping portal, thus activating your cash back eligibility.
As a test, I'll go to The North Face website to show you how the button works. I'm not clicking through any links in this case–just typing the site name into my address bar. Immediately, you can see the button pop up in the top right corner of the page:

When I click the button, I get redirected back to the same North Face homepage through the Rakuten shopping portal, and earn cash back once I make the purchase: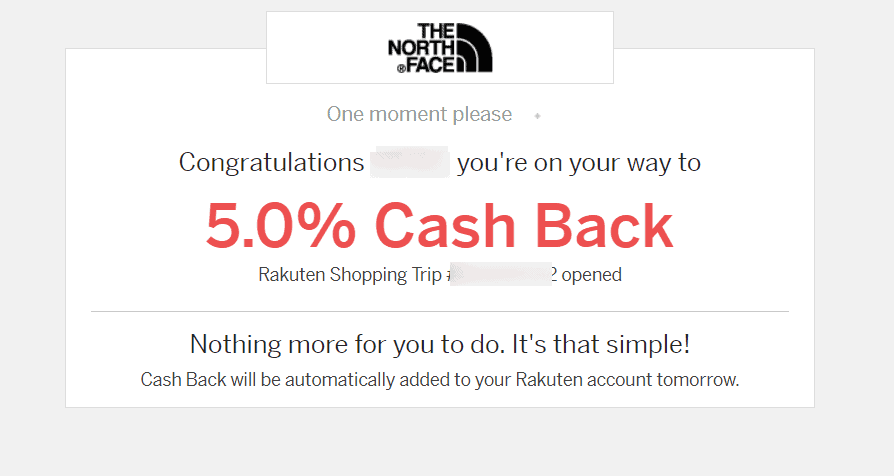 Using Rakuten this way basically requires zero extra steps on my end other than clicking the button. I can do regular web shopping for the things I need, and if extra cash back is available, it's just free money for an online purchase I'd have to make anyway.
Getting Rakuten Cash Back Without the Browser Button
Even if you don't use one of the eligible browsers or don't want the button, you can still do your web shopping through Rakuten. Here's an example of doing it the manual way.
Let's say I want to buy something on Shoes.com (which I just did this spring, so I can recommend them too).
So, I'd go to Rakuten.com and sign in. The Shoes offer is right on the home page, but if it wasn't, I could find it using the search bar at the top.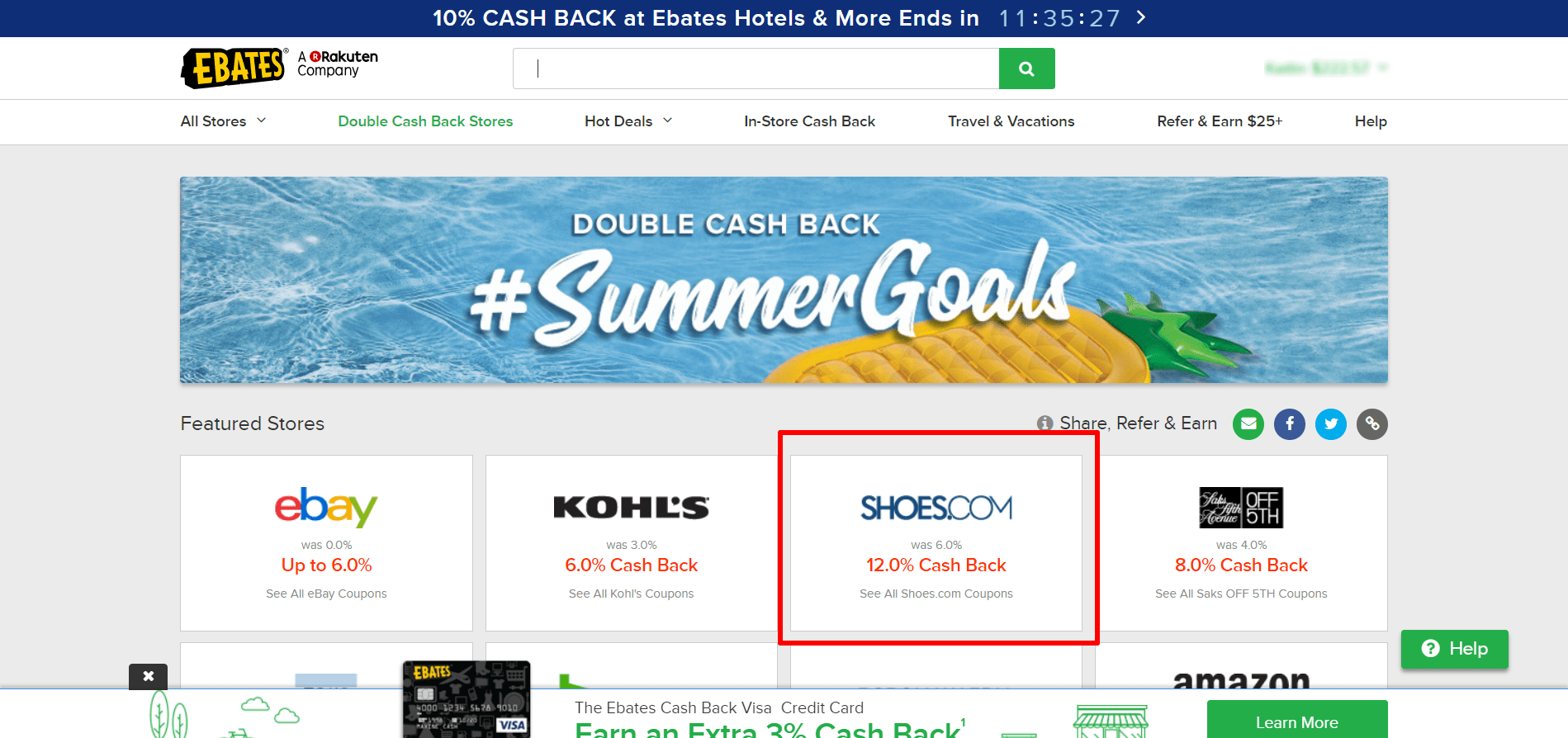 Clicking that homepage box brings me to the site's individual Rakuten page. On the right, the page also lists coupons or special deals you can use for even more savings.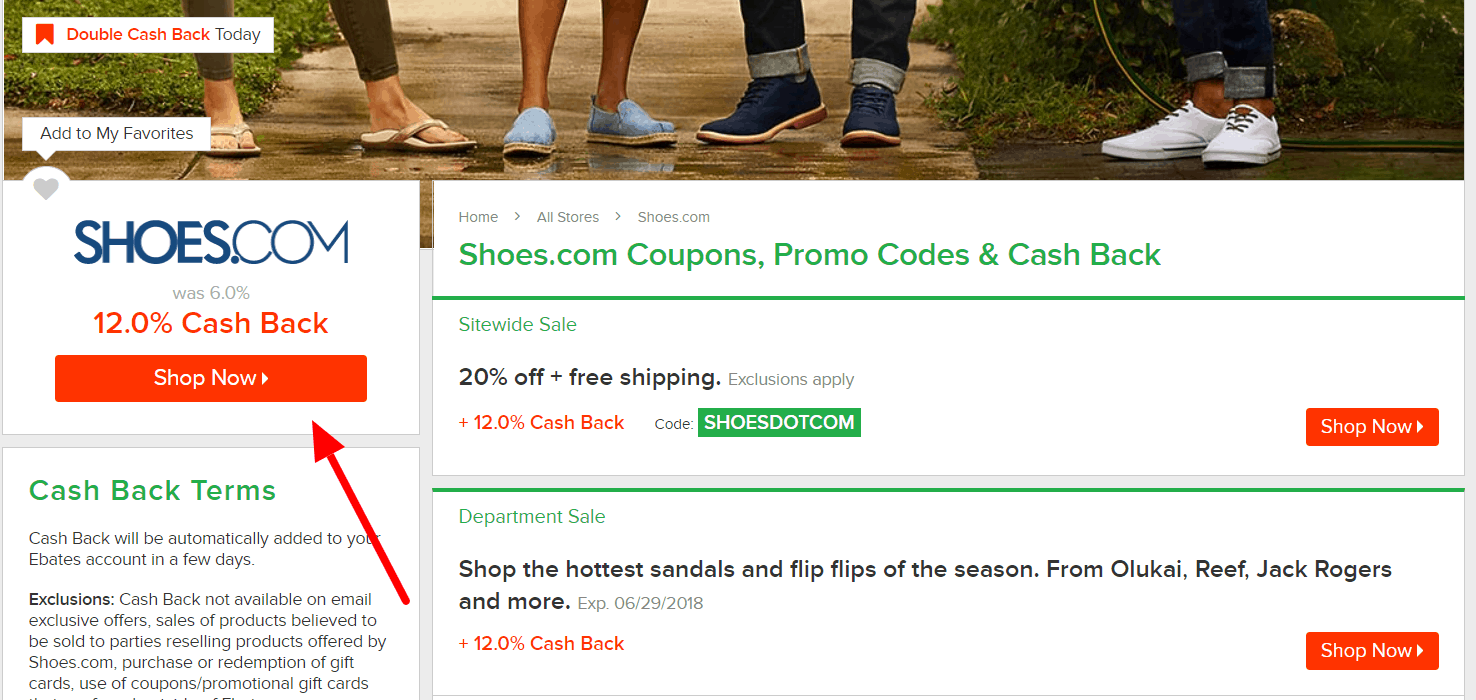 From here, all I have to do is click "Shop Now" in the box at the left, and it opens up a new tab taking me to the Shoes site through the online shopping portal (just like the button):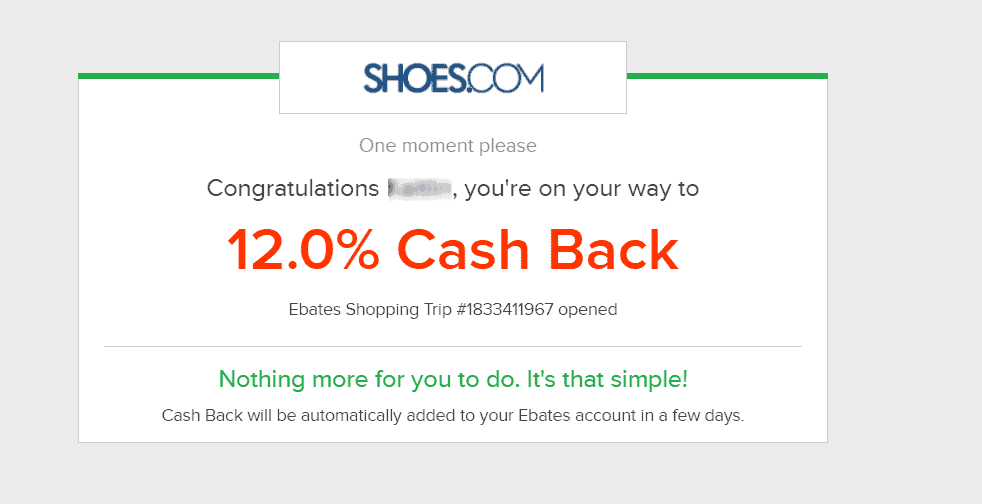 Once I'm on the site, I just find what I want, check out, and sit back to wait for the cash!
What Stores Are on Rakuten?
So, where to shop online in order to get these extra rewards? Honestly, almost anywhere. Rakuten partners with thousands of the best online shopping retailers across a variety of industries.
Here's just a tiny sample of the biggest names on the Rakuten online shopping list right now:
Electronics
Best Buy
Clothing
Macy's
Travel
Expedia
Home/Garden/Tools
Ace Hardware
Shoes
ASICS
Outdoors
L.L.Bean
Like I said, that's just a small fraction; they really do cover most of the best online shopping options. I've gotten Rakuten cash back on everything from backpacks to weekend getaway bookings to new tires for my car.
Sometimes I wouldn't even have thought to check if a store was on the Rakuten online shopping list, which is why installing the button is so amazing–I can be browsing stores and it will just pop up in the corner to let me know if they have a cash back deal.
Special Rakuten Cash Back Days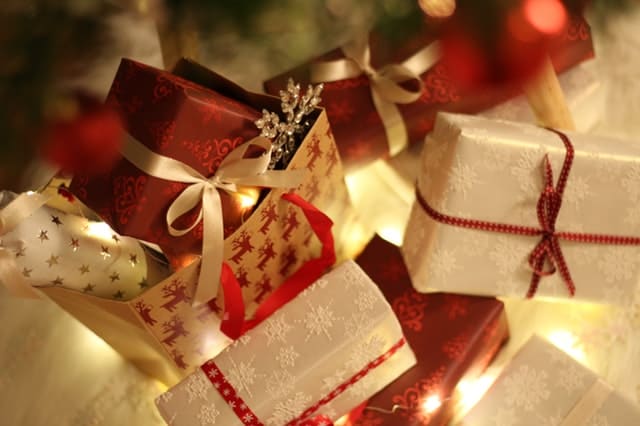 Throughout the year, Rakuten offers special cash back days where you can earn even more than normal. This often coincides with holidays.
For instance, at the time of writing, they're having a Double Cash Back week for Father's Day, so a lot of stores are offering between 8-12% extra cash back. On Black Friday week, I've seen percentages go as high as 20%.
If you have a big purchase in mind but don't need the item immediately, consider waiting for one of these days, because the savings can be really significant.
What if I Don't Get My Rakuten Cash Back?
I've had a few times where I was positive that I'd gone through the Rakuten online shopping portal, but my online purchase didn't register for some reason, so I didn't see the Rakuten cash back added to my account.
Fortunately, there's an easy way to fix this. First, sometimes it just takes time, so give it about a week. If the cash back still hasn't been added after that, take these steps:
Log into Rakuten and click

Help

in the upper right corner on the home page.

Select

Track My Cash Back

.

It will ask for details of your purchase–the store, date of purchase, order number, and subtotal. To get these, search your email for the order confirmation.

Click the

Find My Cash Back

button to submit the request. Usually, the funds will be added to your account right away.
Rakuten has always resolved these issues quickly for me, which makes me like them even more as a company. They're user-friendly and don't want to put their users through unnecessary hassle.
Rakuten Review Conclusion: Best Online Shopping Tool
Given how easy and effective it is, I can't really think of a reason not to sign up for the Rakuten online shopping portal. Again, it's literally free money for things you'd be buying anyway. My Rakuten review is definitely a positive one based on my experience, and I have plenty of friends and family who love it too.
Sign up for Rakuten for free here and get a $10 bonus after your first purchase!
Using Rakuten in combination with other strategies, you can save a lot of $$$ by being a savvy online shopper. Check out my full guide for saving money while shopping online here.
Further reading: 72 Simple Ways to Save Money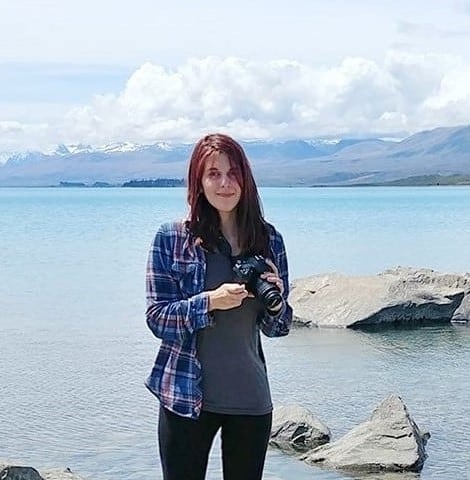 Kate is a writer and editor who runs her content and editorial businesses remotely while globetrotting as a digital nomad. So far, her laptop has accompanied her to New Zealand, Asia, and around the U.S. (mostly thanks to credit card points). Years of research and ghostwriting on personal finance led her to the FI community and co-founding DollarSanity. In addition to traveling and outdoor adventure, Kate is passionate about financial literacy, compound interest, and pristine grammar.