Thinking about visiting or moving to Chattanooga, Tennessee?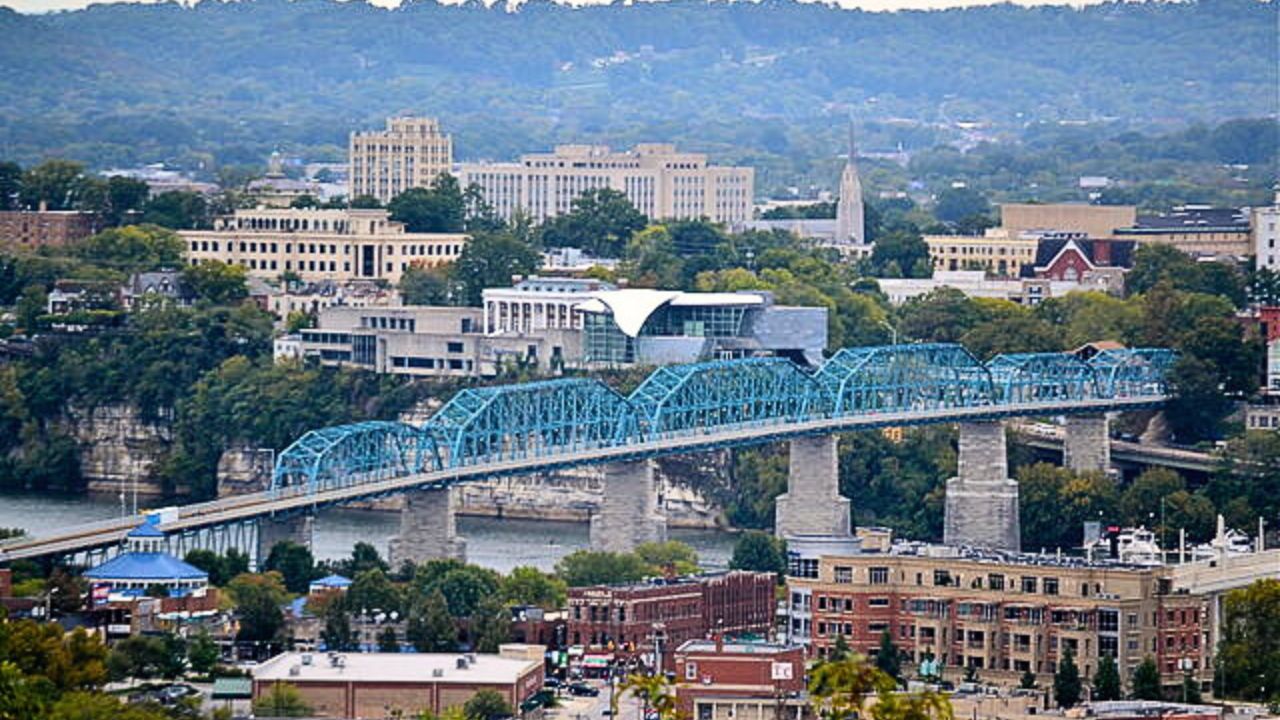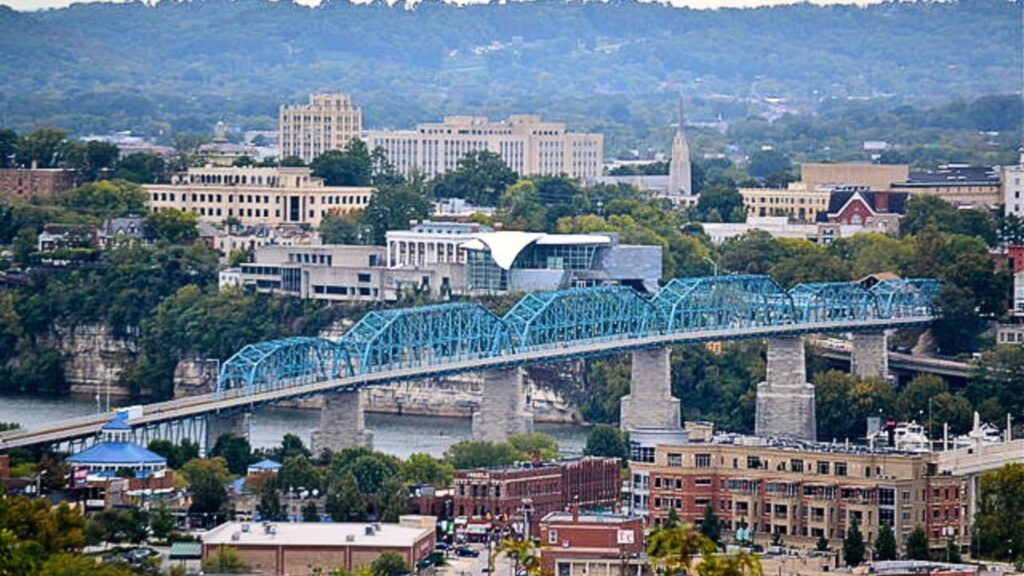 It's good to know which parts of the city are the safest, since Chattanooga's crime rates are significantly higher than the national average, with violent crimes at 252% above the norm.
Chattanooga is a mix of different neighborhoods.
Not all areas are for everyone, but even in the safe spots, each place has its own feel.
From busy downtown spots to quiet areas by the mountains, there's something for everyone.
Tennessee is a wonderful state to live in, and Chattanooga is one of its gems. I know this city well, so I've made a list of the safest parts of town.
Is Chattanooga, TN a Safe Place to Live?
Chattanooga, known for its scenic beauty and rich Civil War history, is a city with diverse neighborhoods.
While parts of the city have challenges with safety, there are areas known for their tight-knit communities and relative tranquility.
For those thinking of Chattanooga as a potential home or just wanting to explore, it's helpful to know which parts of the city have a reputation for safety and community spirit.
So, nestled within the mountains of Tennessee, where does Chattanooga stand out in terms of safety?
Let's take a closer look at the safest areas in Chattanooga.
Avondale
Avondale's suburban community has a relatively low population density of around 6,200 people per square mile.
Housing here is affordable, with the median home value currently around $155,000, according to NeighborhoodScout. Rentals in Avondale average $1,337 per month.
With its low crime rates and affordable living, Avondale is an ideal neighborhood for families and those seeking a safe, quiet area within Chattanooga.
Violent crimes are especially rare here. The neighborhood is within Hamilton County School District, with several highly-rated elementary schools nearby.
Outdoor recreation surrounds the Avondale community. The Tennessee Riverpark walking trail system winds along the Tennessee River, just west of the neighborhood.
Reflection Riding Arboretum and Nature Center is also only a 10-minute drive away. You'll find well-maintained yards, mature trees, and a peaceful ambiance within Avondale.
For amenities, Avondale has a good selection of essential services like grocery stores, pharmacies, and medical clinics. The neighborhood is only a 15-minute drive downtown, so you can easily enjoy all that Chattanooga offers.
Between natural scenery, community feel, and convenience, Avondale checks off many boxes for an ideal place to call home.
Are you looking for a place to settle down in Tennessee? Check out:
10 Pros And Cons Of Living In Knoxville, TN
8 Pros And Cons of Living in Nashville, TN
North Shore
Home to an eclectic mix of locally-owned shops, art galleries, restaurants, and coffeehouses, North Shore has something for everyone.
Situated along the Tennessee River, North Shore is a walker's paradise. Stroll across the Walnut Street Bridge to enjoy the riverwalk, or check out the Hunter Museum of American Art.
For shopping, visit locally-owned boutiques like Blue Skies and The In-Town Gallery. Grab a burger at Taco Mamacita or upscale Southern fare at Easy Bistro when hunger strikes.
Outdoor enthusiasts will love the 13 miles of mountain biking trails in the Enterprise South Nature Park. Four miles of singletrack wind through forests and grasslands, with trails for all skill levels. After your ride, refuel at nearby pubs like Universal Joint and Hair of the Dog.
With low crime rates and abundant entertainment options, North Shore is an ideal neighborhood for people of all ages. Affordable rentals and proximity to downtown make it attractive to young professionals and families.
Lookout Valley
Nestled at the foot of Lookout Mountain, this neighborhood offers natural beauty and outdoor recreation galore.
The view of the horseshoe-shaped Moccasin Bend and the Tennessee River from Lookout Valley is breathtaking.
You'll always watch the sunset over the river. For outdoor enthusiasts, Lookout Mountain offers hiking, biking, and rock climbing with trails for all skill levels.
Like Lookout Valley High School, schools in the area routinely earn high marks and graduation rates. Low crime rates and a strong sense of community make Lookout Valley an ideal place to raise a family.
Home prices in Lookout Valley are very affordable compared to the national average. You'll find many comfortable single-family homes built from the 1960s through today.
Hixson
Hixson is an ideal suburb for families with children. The public schools are highly ranked, with Loftis Middle School placing 45th out of 569 schools in Tennessee.
Your kids will get a great education surrounded by other families with similar values.
Hixson Elementary, Loftis Middle, and Big Ridge Elementary are all within the neighborhood. Students in this district consistently score above average on state tests.
The low student-teacher ratios, dedicated faculty, and strong curriculum make these schools desirable.
The area also has moderate crime rates and a real sense of community. You'll feel good knowing your children can play outside and walk to friends' houses with minimal concerns for their safety.
The neighborhood has an active residents association that organizes community events, fundraisers, and neighborhood watch programs.
Ooltewah
Nestled at the base of the Cumberland Plateau, Ooltewah is a charming suburb surrounded by nature.
Ooltewah offers the Enterprise South Nature Park Loop, which has the most elevation gain of all the trails in the area.
The town is known for its beautiful parks and outdoor spaces, including Red Clay State Park. Several hiking trails near Ooltewah, such as Harrison Bay State Park and Stevenson Branch Trail.
Outdoor enthusiasts will love recreational activities like kayaking, fishing, mountain biking, rock climbing, and camping. Check out the Chattanooga Zoo, Creative Discovery Museum, or Hunter Museum of American Art for a fun family outing.
Ooltewah also has low crime rates and the cost of living. Schools are also highly rated, making it an ideal place for families.
Housing options include apartments, condos, and single-family homes at prices lower than the national average.
East Brainerd
Located just minutes from downtown, East Brainerd offers a perfect combination of natural surroundings, amenities, and community.
East Brainerd is a rapidly growing neighborhood, with new housing developments offering homes for all stages of life.
Civic organizations, places of worship, high-performing schools, and low crime rates contribute to the area's strong sense of community. Neighborhood events like festivals, concerts, and holiday celebrations bring people together year-round.
East Brainerd is known for its shopping options, with Hamilton Place Mall offering over 1 million square feet of retail space.
You'll also find strip malls, restaurants, and small retail shops throughout the area. New developments are bringing additional dining and shopping within walking distance of many neighborhoods.
Calling all outdoor enthusiasts! East Brainerd has several parks, including Heritage Park and Elsie Holmes Nature Park. Stroll along the Greenway, explore hiking and biking trails, or enjoy a picnic in the shade.
The area also offers many golf courses, athletic fields, and opportunities for swimming, boating, or other watersports on nearby lakes and creeks.
Fort Wood
Established in 1979 as a historic district, Fort Wood is known for its beautiful tree-lined streets and an active neighborhood association that brings people together with monthly potluck dinners.
The area comes from an old earthen fort built during the Civil War. Today, Fort Wood is an oasis of calm within downtown Chattanooga. Residents love the neighborhood for its sense of community and family-friendly atmosphere.
Final Thoughts
Chattanooga has many different parts, and each has its own feel. The city has cool history, nice views, and a big river. But, some areas are safer than others.
So, pick a place that's right for you. Whether you're just visiting or thinking of living here, there's a safe spot for you in Chattanooga.
More from Dollar Sanity:
12 Ways for Couples to Make Money Together