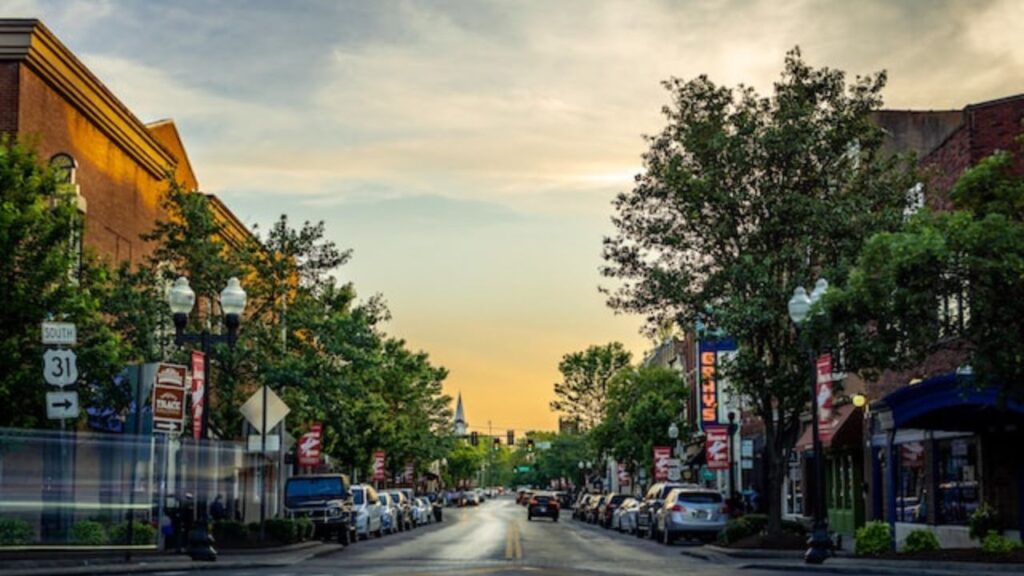 Tennessee is located in the southeastern region of the United States. It shares borders with eight states, including Kentucky, Virginia, North Carolina, Georgia, Alabama, Mississippi, Arkansas, and Missouri.
The state is known for its rolling hills and valleys and diverse landscape, including mountain ranges, forests, and waterways.
In terms of population, Tennessee is home to roughly 7 million people, making it the 16th most populous state.
The state's largest city is Nashville, known for its music industry and sometimes referred to as the "Music City." Other major cities in Tennessee include Memphis, Knoxville, and Chattanooga.
Find out: Is Vermont a good place to live?
Is the cost of living in Tennessee affordable compared to other states?
The cost of living in Tennessee is generally lower compared to many other states in the US.
According to the World Population Review, ranked the sixth cheapest state to live in, Tennessee's cost of living index is 10% lower than the national average. Housing costs, in particular, are significantly lower in Tennessee compared to the national average.
The median home price in Tennessee is around $309.740, which is lower than the national median home price of approximately $428,700.
The cost of renting a home is also lower in Tennessee than the national average. However, it is worth noting that the cost of living can vary significantly within the state, with some areas having a higher cost of living than others.
Are there a variety of job opportunities available in Tennessee?
There are a variety of job opportunities available in Tennessee across different industries.
The state is home to several major corporations and industries, including healthcare, manufacturing, and logistics. Nashville, in particular, is a major center for healthcare and music, with several hospitals and music industry companies in the city.
The state is also home to several military bases, which provide job opportunities for military personnel and civilians. Additionally, Tennessee has a thriving tourism industry, with several popular tourist destinations such as the Great Smoky Mountains National Park, Graceland, and Nashville's music scene attracting visitors worldwide.
How is the education system in Tennessee, including public schools and higher education institutions?
The education system in Tennessee is overseen by the Tennessee Department of Education, which is responsible for the administration and oversight of public schools in the state.
Tennessee has a mix of urban, suburban, and rural schools, and the quality of education can vary significantly across the state.
In terms of higher education, Tennessee is home to several public and private universities and colleges, including the University of Tennessee, Vanderbilt University, and Belmont University.
The state also has several community colleges and technical schools which provide vocational and technical training. Overall, Tennessee has a diverse and robust higher education system, with various options available for students seeking to further their education.
See: Kansas City vs St. Louis: Pros, Cons & Differences
Is the quality of health care in Tennessee sufficient?
According to the United Health Foundation, Tennessee ranks 40th for overall healthcare quality. This ranking is based on various factors such as access to care, preventative health measures, and public health infrastructure.
One factor contributing to Tennessee's ranking is the lack of healthcare access for specific populations. For example, Tennessee has a high rate of uninsured residents, with nearly 12% of the population lacking health insurance.
This can lead to a lack of access to medical treatment for those without insurance. Additionally, rural areas in Tennessee often have a shortage of primary care providers, leading to limited access to care for residents in these areas.
However, Tennessee has made progress in increasing access to care by expanding Medicaid under the Affordable Care Act. The state has also implemented telehealth services, allowing patients to access care remotely through phone or video consultations.
Despite these efforts, there are still challenges to providing sufficient health care in Tennessee. The state ranks poorly in preventative care and public health infrastructure measures.
For example, Tennessee has a high rate of obesity and a low vaccination rate, leading to an increased risk of preventable diseases. The state also lacks sufficient mental health resources, with a high rate of mental health provider shortages.
Is Tennessee a safe place to live?
Overall, Tennessee is considered a safe place to live, with a crime rate below the national average. According to data from the FBI, Tennessee has a lower rate of property crime and violent crime compared to the national average.
However, like any state, there are areas of Tennessee with higher crime rates. Some cities in Tennessee, such as Nashville and Memphis, have higher crime rates than the state average. These cities tend to have higher property crime rates and violent crime, including homicides and assaults.
Despite these higher crime rates in some areas, Tennessee has several initiatives to address and prevent crime. The state has a strong law enforcement presence, with various local and state agencies working to ensure public safety.
Tennessee also has several programs and initiatives in place to prevent crime, such as community policing and crime prevention education.
Are there reliable transportation options available in Tennessee?
There are several reliable transportation options available in Tennessee. The state has an extensive network of highways and roads, including interstates such as I-40, I-24, and I-75.
These highways connect major cities and regions across the state, making it easy to travel between different parts of Tennessee.
In addition, several public transportation options are available in Tennessee, including buses, trains, and light rail systems. The Nashville Metropolitan Transit Authority (MTA) operates a network of buses and a light rail system in Nashville.
In contrast, the Chattanooga Area Regional Transportation Authority (CARTA) operates buses and free electric shuttle service in Chattanooga. Other cities in Tennessee, such as Memphis and Knoxville, also have public transportation systems.
Is Tennessee a Good Place to Live?
Tennessee is an excellent place to live for those looking for affordable living.
While the state does have some areas that are more expensive than others, such as Nashville and Knoxville, it generally tends to be cheaper than other states in the Southeast.
Additionally, Tennessee offers a variety of amenities and attractions, including a thriving music scene, beautiful natural areas, and a rich cultural history, which make it a desirable place to live.
Is Tennessee a Good Place to Retire?
Yes, Tennessee ranks as the top state for retirement. Many retirees are attracted to the Volunteer State due to its lack of personal income taxes.
Add to that an overall low cost of living and average housing prices, and it becomes a financially smart choice for seniors.
Tennessee's beautiful landscapes, especially in its more remote counties, offer a scenic backdrop for retirees. Importantly, those relying on Social Security and retirement benefits can breathe easy knowing Tennessee doesn't tax them.
Is Tennessee a Good Place to Raise a Family?
Well, it really varies. If you're thinking about Nashville, it's super touristy, and the schools could be better. Memphis has its challenges, especially with higher crime rates. But then you have places like Chattanooga. Now that's a standout. It's got a friendly neighborhood vibe, cool local shops, and a strong sense of community.
Being close to both M'boro and Atlanta gives it an added advantage. So, while there are some spots in Tennessee that might not be top picks for families, places like Chattanooga could be just the right fit.
More From Dollar Sanity:
14 Pros And Cons Of Living In Arizona
13 Pros And Cons Of Living In Texas