We've all heard the saying, "Money can't buy happiness," but how many of us actually believe in it?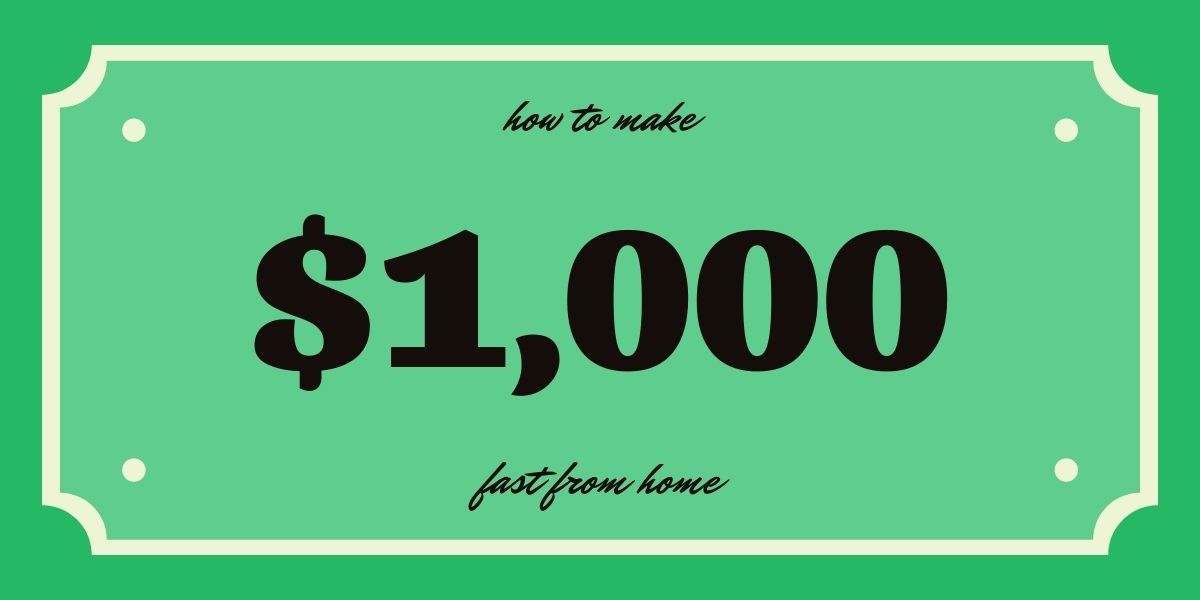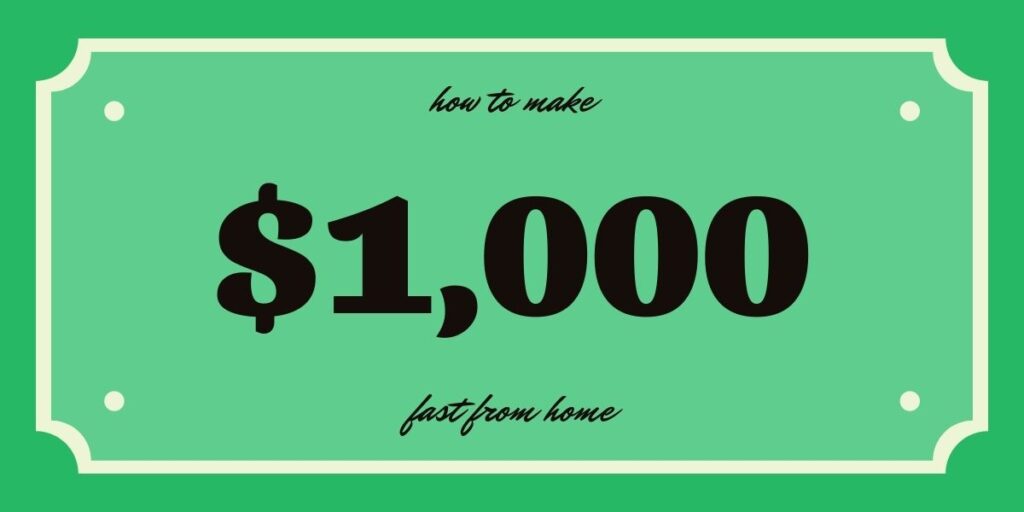 Of course, money is essential. Our survival largely depends on being able to afford the required resources and services.
However, how do you make some quick bucks? If you're interested in earning $1,000 in just a week, then this article is for you. Let us look at some of the shorter routes for making big money.
We know it sounds impossible, but there are many ways in which you can make $1,000 within such a short period!
How to make $1000 fast legally
Deliver Food With DoorDash And Instacart
All you need is a car and some spare time. Food delivery jobs are all the rage these days, and they present avid side hustlers with plenty of opportunities to make extra cash.
Companies like DoorDash and Instacart pay drivers and bike couriers to deliver food to hungry customers in more than 850 cities across North America.
To become a DoorDash worker, you must be 18 or older, have a clean driving record, and have car insurance.
Once you complete your orientation, you can start delivering food in your city and make anywhere from $10-$25 an hour depending on demand.
Ways To Make $1k A Week Consistently
Start a YouTube Channel
Creating virtual content is an exciting way of making money. If you think you can produce videos, you can create your own YouTube channel without any investment. All you need is a smartphone.
Most smartphones come with great cameras these days. You can easily shoot and edit high-quality videos on your mobile phone. YouTube is not a very difficult platform to monetize, and you can learn that as you progress.
Moreover, you get complete freedom of choice on YouTube. There is no set format or rules for producing videos. Creators can pick their own themes and topics.
Getting Started: How I Grew My YouTube Channel From 0 to 100,000
Rent Your Car on Turo
If your car is sitting ideally, you can simply put it for rent on services such as Turo, Drive, or Lyft. You can monetize your vehicle without any additional investment.
Turo, a popular platform in this space, is entirely free to use. It does not impose any rules on charges either. You are free to set your price list. The platform only earns about 10% of the fee paid by the renters.
The best part is that you do not even need to worry about your car getting damaged. Turo screens all the drivers beforehand and provides roadside assistance. Turo will cover your vehicle with up to $2 million in liability insurance in case of any unfortunate incident.
Play with Dogs
Did you ever think that you could monetize your love for dogs? Well, pet sitting and dog walking is an incredibly convenient ways of making $1000 in a week. Moreover, there are no long working hours or deadlines. 
You can set your prices and work on terms mutually agreed upon by you and your client. Walking or watching someone's pets requires minimal tools and investment but offers high returns.
Virtual Assistant
Virtual assistants are people that assist other people with their work remotely. These are generally more straightforward tasks that do not require prior work experience or much oversight.
Usually, the client provides exact instructions of the tasks that need to be carried out. These tasks are primarily administrative in nature and do not involve decision-making, which is why they get outsourced.
The tasks could be anything from scheduling appointments to making travel arrangements or forwarding emails. Some virtual assistants even focus on specific areas such as bookkeeping or social media management. It is a simple way of earning $1,000 within a week.
Market Research
Companies are usually willing to invest in market research to understand the pulse of the masses. They release surveys that you can easily fill. You will get paid for sharing your honest opinions. Companies perform this research to improve their products to increase their sales and ultimately gain a larger market share.
The view provided by those taking the survey is appropriately analyzed and is worth a lot for a company interested in understanding its consumers. All you may be asked to do is sign up, take some surveys, browse and shop online, watch videos ads for cash, and refer friends.
Some of the best market research companies are Survey Junkie and Swagbucks. Both of them have over 17,000 positive reviews on Trustpilot!
Stock Photography
If you own a high-quality camera or a smartphone, you can monetize your photography by joining a stock photography website. You simply need to create a large bank of photos that have been shot in good quality and edited for an enhanced look.
People browse through websites like Shutterstock, Alamy, etc., to look for all kinds of images. Again, there is no set formula or theme. You can upload whatever pictures you'd like to share.
Voice Artist
If you think you can make your voice sound unique or change your accent easily, you could consider becoming a voice artist. Many companies across the globe need voice artists, and you can take advantage of your voice to make $1,000 fast.
The job of a voice artist primarily involves reading off a script in the way that the client desires. Generally, prior work experience is not a prerequisite. As you gain experience, you will be more in demand and can start charging higher rates.
With most activities now going digital, companies are trying to create online advertisements with voice artists to increase relatability using different accents and dialects.
Podcasting
You need little to zero prior experience to step into the world of podcasting. Podcasts are now gaining a lot of attention, allowing creators to make over $1,000 every week.
That is another earning opportunity that only requires a smartphone to get started. Once you amass a large audience, you can monetize your platform. Sponsorships, audiobooks, and affiliate marketing are a few ways a podcast can turn into an earning opportunity.
You can create podcasts on whatever topics you want to. You could invite famous personalities for just a few minutes to share their thoughts about their niche to boost audience engagement.
Rent Your Unused Space
One effective way to make $1000 fast is to rent out your unused space. If you have an extra room, garage, or even a parking spot that's currently sitting empty, you can capitalize on this valuable resource by offering it for rent.
Platforms like Airbnb and VRBO make it easy to list your space for short-term rentals, attracting travelers and tourists looking for a more personal and cost-effective alternative to hotels. Also, you could consider renting out your space for storage or even as a workspace for local entrepreneurs and artists.
By offering a clean, comfortable, and well-maintained space, you can earn rave reviews and build a reputation as a reliable host. This, in turn, will attract more renters and enable you to reach your $1000 goal even faster
The Bottom Line
These were our top suggestions for making $1,000 fast, without much investment or skill. You could also navigate other options such as blogging, teaching a language, affiliate marketing, graphic designing, or doing other freelance work.
While jobs are a great way of earning a stable income, they are not the only route. Monetizing your skills gives you the flexibility of working at your convenience and allows you the freedom to do what you want. Moreover, these pursuits often end up paying more than regular jobs.