Charleston, SC, is a city that beautifully intertwines U.S. history, relaxed beachy vibes, and undeniable Southern charm.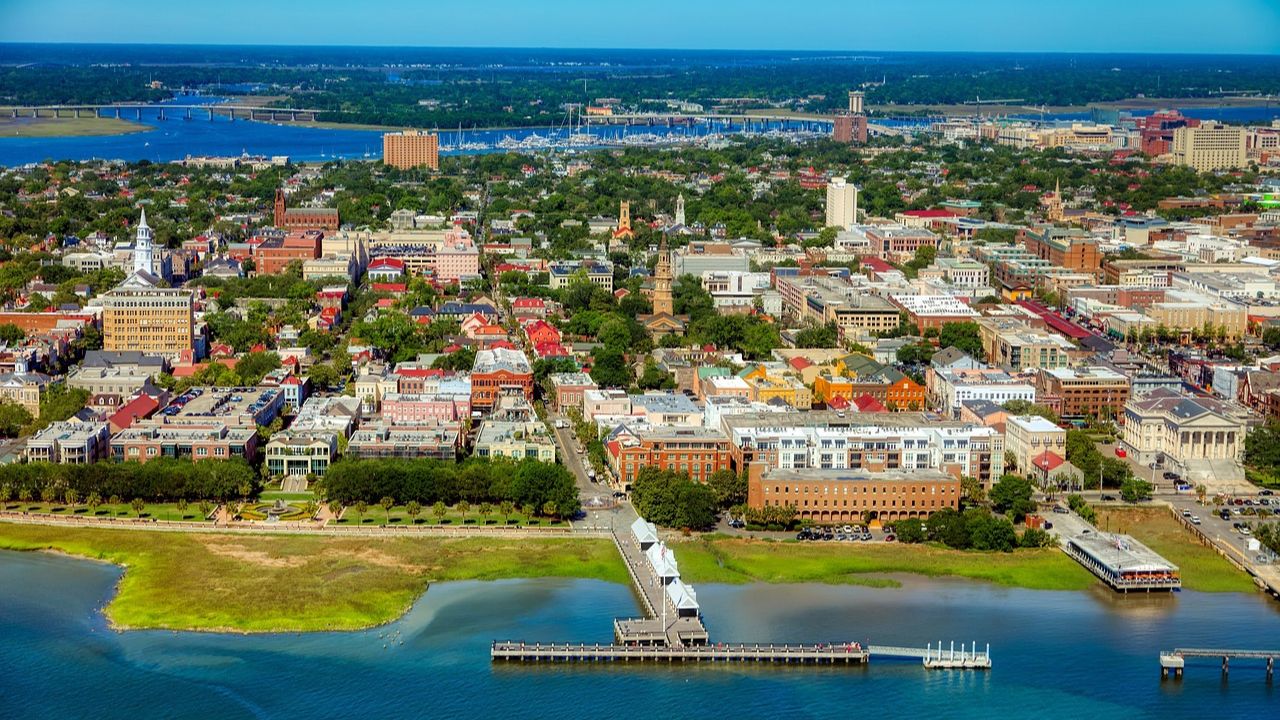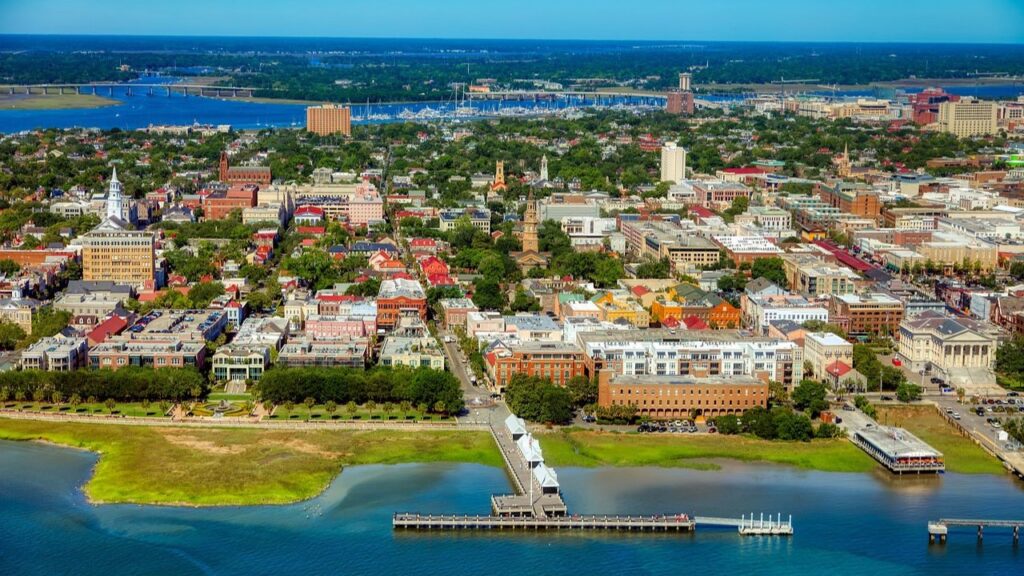 As the most notable port city on the coast of South Carolina, Charleston has a rich heritage that dates back to its founding in 1670.
Today, it stands as one of the largest cities in the state, with a population of 153,040 in 2023. Charleston boasts mouthwatering shrimp and grits, known for its culinary delights, which have become synonymous with the city's culinary identity.
Whether you are drawn to its historical significance, stunning beaches, or delectable cuisine, Charleston offers a unique lifestyle showing the best of what the South offers.
But, like any city, living in Charleston has pros and cons that should be considered.
Is Charleston A Good Place To Live?
Charleston is often named one of the best places to live in the country. Many people love it because of the good jobs, great schools, and beautiful surroundings.
This South Carolina city has a lot to offer, but that doesn't mean it's the right fit for everyone.
So, let's take a look at the good and the bad of living in Charleston. Then you can figure out for yourself…
Is this friendly city the place you want to call home?
As we go through the best and worst parts of living in Charleston…
Pros Of Living In Charleston
Here are some pros of living in this coastal gem:
Dynamic Culture and History
Charleston is a city steeped in history, and it proudly displays its past through its stunning architecture and historic landmarks.
Walking down the cobblestone streets, you can't help but feel transported back in time.
The city is home to many museums, such as the Charleston Museum and the Gibbes Museum of Art, where you can immerse yourself in the rich history and culture of the region.
The annual Spoleto Festival USA also brings artists worldwide to perform in Charleston, adding an exciting cultural touch to the city's vibrant arts scene.
Stunning Natural Beauty
Living in Charleston means having access to stunning natural beauty right at your doorstep. Surrounded by water, the city offers breathtaking views of the Atlantic Ocean and nearby rivers.
The picturesque beaches are perfect for relaxing or engaging in water sports like paddleboarding and fishing. Take a boat tour and explore the surrounding islands, including the beautiful and undeveloped Morris Island.
If you're a nature enthusiast, you'll also love the lush parks and gardens throughout the city, such as the iconic Magnolia Plantation and Gardens. Charleston truly allows you to immerse yourself in the beauty of nature.
Low Property Taxes and Safe Neighborhoods
In addition to its many other advantages, Charleston has low property taxes and many safe neighborhoods.
This means homeowners can allocate their hard-earned money to build their dream homes or enjoy the city's many attractions, all while feeling secure in their community.
With lower property taxes at 4%, you'll have more financial freedom and the opportunity to invest in the things that matter most to you. Living in Charleston truly offers great value when it comes to homeownership and peace of mind.
Culinary Delights
The city is a food lover's paradise, offering various dining options catering to all tastes.
Charleston has everything from fresh seafood straight from the Atlantic to mouthwatering Southern comfort food.
Whether you're looking for fine dining or a casual foodie experience, there is something for everyone. Enjoy in classic Lowcountry dishes like shrimp and grits or she-crab soup.
You can also explore the city's lively farmer's markets and sample local produce while supporting local farmers.
Friendly and Welcoming Community
Charleston is known for its warm and friendly community, where southern hospitality prevails. The locals take pride in their city and are always eager to welcome newcomers.
A sense of belonging and community makes Charleston an inviting place for people of all backgrounds. There are ample opportunities to connect with others and make lifelong friendships, from neighborhood festivals to lively street markets.
The strong community spirit in Charleston is contagious and adds to the overall charm of the city.
Beaches Galore
Living in Charleston means having easy access to some of the most beautiful beaches on the East Coast. From the pristine shores of Isle of Palms to the laid-back vibes of Folly Beach, you'll never be far from sun, sand, and surf.
Imagine spending your weekends lounging in the sun, building sandcastles with the kids, or catching a wave – the beach is practically your backyard!
Festivals and Events All Year Round
Charleston is known for its vibrant and lively arts scene, and there's always a supply of festivals and events. Whether you're a fan of art, music, food, or all of the above, you'll find something to pique your interest.
From the renowned Spoleto Festival USA to the Charleston Wine + Food Festival, there's always something exciting happening in this city. Get ready to immerse yourself in the local culture and create unforgettable memories.
Cons Of Living In Charleston
Here are the cons of living in Charleston:
The Humidity: Island Living Comes at a Cost
Living near the coast can be a dream come true for many people. There's something incredibly soothing about the sound of crashing waves and the smell of salty air.
However, living in Charleston means dealing with the high levels of humidity that come with coastal living. Summers in Charleston can be particularly brutal, with frequent thunderstorms and humidity levels that make you feel like you're walking through a sauna.
The question is, can you handle the constant sticky feeling?
Traffic
If you're moving to Charleston, be prepared for some traffic headaches. With its narrow streets and constant influx of tourists, navigating Charleston can be challenging.
The city's booming tourist industry drives up the traffic levels, especially downtown and on popular attractions such as King Street and the Battery. Locals often find themselves caught in gridlock, unable to escape the congestion.
So, are you patient enough to sit in traffic jams?
High Cost of Living
While Charleston's beauty and charm may be undeniable, they come at a cost. The city's popularity has led to a surge in housing prices, making it increasingly challenging for locals to find affordable housing.
Charleston's cost of living is 11% higher than the national average, and the competitive real estate market makes it even more difficult for buyers.
Increasing luxury shops and high-end restaurants can quickly drain your wallet. So, can you handle the high price tag that comes with this charming city?
The Hurricanes
Living in Charleston means living with the constant threat of hurricanes. This coastal city is no stranger to these natural disasters' destructive and unpredictable nature.
Hurricane season runs from June to November, and whether it's a near-miss or a direct hit, residents must be prepared to face the consequences. From lengthy evacuations to potential damage to property, the question is, are you willing to take the risk?
Tourist Invasion
Charleston's charm and timeless beauty have made it a magnet for tourists. While this is excellent for the city's economy, it can often lead to overcrowding and the invasion of private spaces.
Popular sites such as Rainbow Row and the Angel Oak Tree are constantly packed with visitors, making it difficult for locals to enjoy these attractions.
Additionally, the booming tourism industry has led to an increase in short-term rentals, meaning that many neighborhoods have become filled with tourists rather than residents.
So, can you handle the crowds and lack of privacy?
Final Thoughts
Charleston offers an array of positives, such as stunning architecture and a vibrant food scene; it's important to consider the cons before planting your roots in this picturesque city.
The high humidity, traffic congestion, high cost of living, hurricane threats, and tourist invasion are all aspects of living in Charleston that you need to weigh against the charm it offers.
So, are you up for the challenge of living in the Holy City?
More from Dollar Sanity:
9 Pros and Cons of Living in Greenville, SC
9 Pros and Cons of Living In Myrtle Beach