When it comes to safety, many factors contribute to a neighborhood's allure, such as low crime rates, well-maintained streets, and accessible transportation.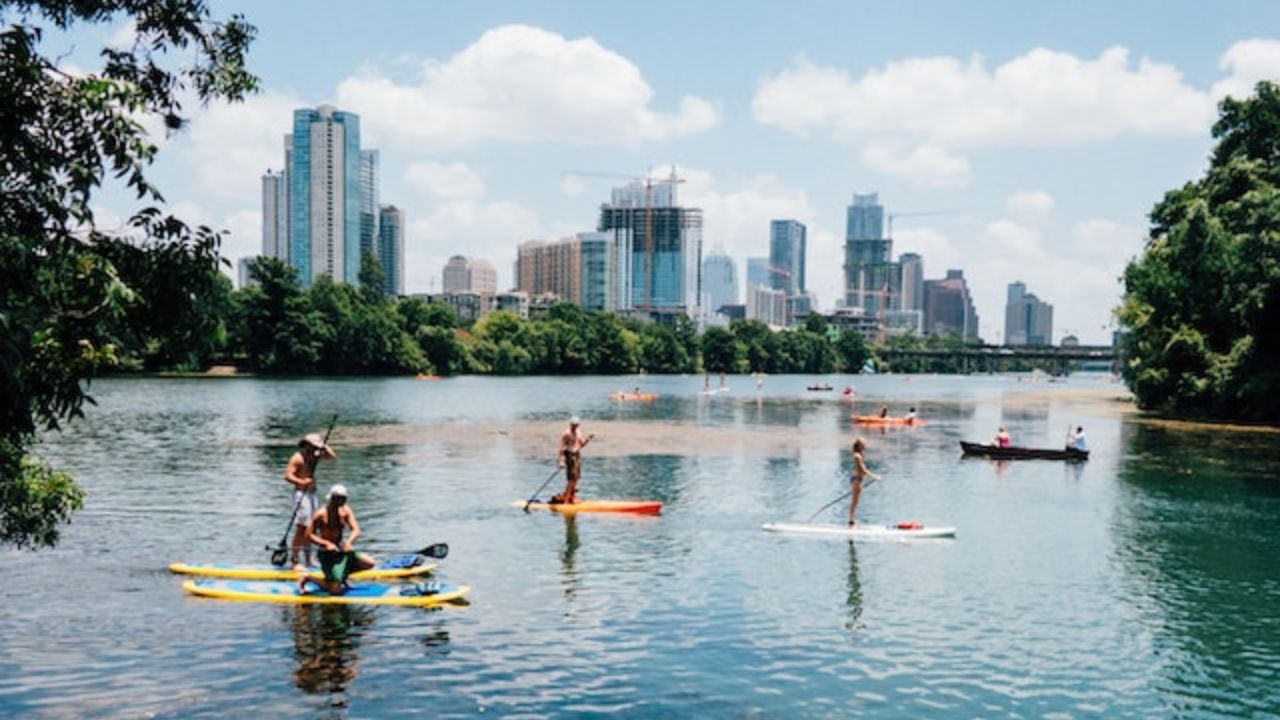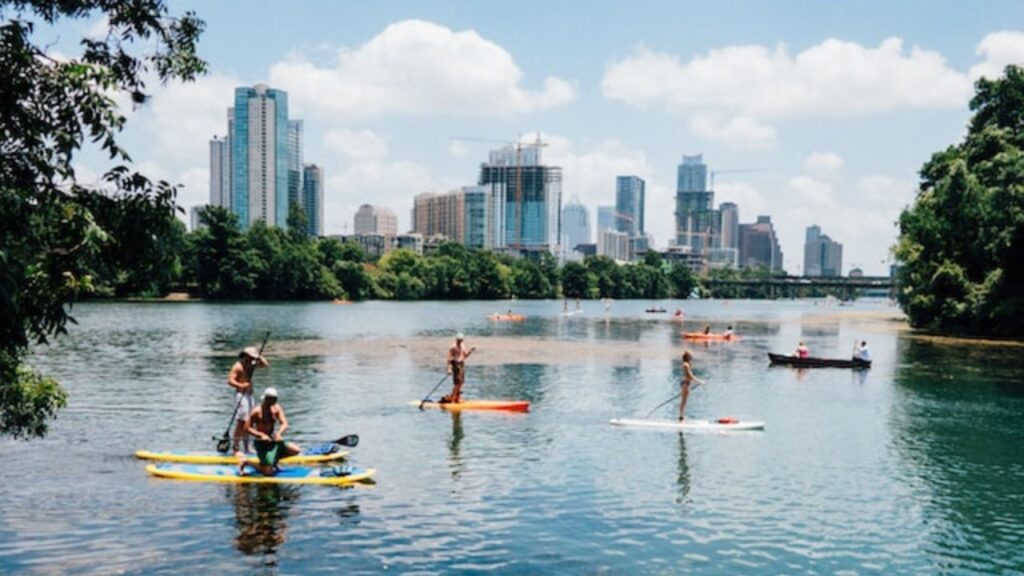 Austin, Texas, is popular for its booming music scene, outstanding food, and strong sense of community.
It is no wonder that people from different parts of the country flock to the area to experience this city's unique vibe.
But where should you live if safety is a top priority?
See: 13 Safest Neighborhoods in Dallas
Is Austin Safe?
Yes, Austin is pretty safe, especially when you compare it to other big cities in the U.S.
In fact, Austin ranked as the 15th safest city over 300k in America on Forbes' list of safest and most dangerous cities.
For a little perspective, Houston comes in at 35th most dangerous (out of 263 total cities), while El Paso and Arlington are the only Texas cities ranked higher than Austin.
The downtown area and tourist spots are among the safest places in the city. If you stick to these areas and avoid the rougher parts, you shouldn't have to worry much about crime.
There's no "ghetto" in Austin, and even places that might be looked at questionably, like Rundberg, Pleasant Valley/Oltorf, and Hunter's Chase, are generally safe enough.
Top 10 Safest Neighborhoods to Live In Austin
Barton Hills
Rosedale
Crestview
North Shoal Creek
South Manchaca
West Campus
West Oak Hill
Windsor Hills
Garrison Park
North Loop
Barton Hills
Barton Hills is a tranquil neighborhood located in South Austin that boasts a welcoming community and an excellent location.
Some features that make it a safe neighborhood include low crime levels, tree-lined streets, and a wealth of outdoor recreational opportunities. The community is close-knit, and residents can access good schools, shops, and eateries.
The area has several parks, like the Barton Hills Greenbelt, which is ideal for hiking, biking, and dog walking. Another popular park is the Zilker Metropolitan Park, where Lady Bird Lake is an ideal spot for kayaking, paddle boarding, and fishing.
Rosedale
Nestled in North Central Austin, Rosedale is a charming neighborhood with a small-town feel. This neighborhood is widely appreciated for its friendly residents, low crime rates, and excellent schools.
The tree-lined streets create a serene environment perfect for outdoor excursions, while the walking trails make it easy for you to exercise and enjoy the fresh air.
There are plenty of outdoor recreational opportunities, with the Ramsey Park being a popular spot for kids to play and the Draught House Pub & Brewery, where adults can unwind after a long day at work. You will never get bored living in Rosedale.
Crestview
Crestview is a trendy community located in North Central Austin. The neighborhood is known for its diverse population, excellent schools, and low crime rates. A strong sense of community makes it easy for newcomers to fit in and make friends.
In Crestview, most residents know each other, and you will likely bump into friendly faces when walking or jogging down the streets. There are plenty of recreational opportunities, with the Brentwood Park being a popular spot for picnics and playtime.
North Shoal Creek
North Shoal Creek is a small community in the heart of North Austin. The neighborhood is known for its excellent schools, low crime rates, and plenty of green spaces.
The area has several parks, with the Northwest District Park being the most popular. The park boasts a large playground, walking trails, soccer fields, a baseball diamond, and a pool.
The community also has an active neighborhood association that organizes events like the annual neighborhood parade and the Halloween block party.
South Manchaca
South Manchaca is a diverse community that is located in South Austin. It is a neighborhood known for its friendly residents, excellent schools, and low crime rates. It is considered one of the area's most affordable neighborhoods.
South Manchaca is a good neighborhood due its proximity to many essential services, such as grocery stores, healthcare facilities, and eateries. The community also boasts several parks, like the Garrison District Park, a popular recreational spot.
West Campus
West Campus is situated near the University of Texas, and it is a popular neighborhood for college students. It is a lively area known for its nightlife, excellent shopping, and easy access to public transportation.
Despite its nightlife, it is a relatively safe neighborhood, and you are likely to find many families enjoying the area's amenities.
One thing that makes West Campus a safe neighborhood is its proximity to the University of Texas Police Department. The department patrols the neighborhood around the clock, and its presence helps to deter crime.
The neighborhood also has a Texas Safety Network that provides safety tips to keep residents secure.
West Oak Hill
West Oak Hill is a family-friendly community that boasts of a rural charm despite being only a few minutes away from Downtown Austin.
It is a safe community with excellent schools, parks, and eateries. The area has a strong sense of community, making it easy for newcomers to settle in.
West Oak Hill is safe due o its neighborhood watch program. The program encourages residents to be vigilant and report any suspicious activity.
Windsor Hills
In East Austin's heart, Windsor Hills is known for its diversity, tight-knit community, and overall safety. Over the past few years, this area has seen a significant increase in popularity as people look for affordable living in the city. Windsor Hills is one of the most affordable neighborhoods in Austin, TX.
The community comprises mainly young families, college students, and retirees. And it's filled with amenities like parks, playgrounds, and public transportation.
Garrison Park
Garrison Park is located in South Austin, boasting various housing options, from single-family homes to apartments.
For families with children, Garrison Park is a great place to live. The neighborhood has several parks, including Garrison Park, where kids can play and have fun. Additionally, there are plenty of schools and childcare centers in the area, making it easy for parents to drop off and pick up their children on their way to work.
North Loop
North Loop offers a mix of safety, convenience, and fun. The area has a great community of students, young professionals, and families. It's known for its trendy coffee shops, unique boutiques, and eclectic music scene.
The neighborhood is centrally located, which makes it easy for residents to walk or bike to their favorite shops and restaurants. Additionally, the area is home to several parks and green spaces, making it a great place to get some fresh air.
Conclusion
Ultimately, Austin, TX, is a great place to live if you want safety, comfort, and entertainment. And these neighborhoods are just a few of the many safe and inviting communities in the city.
If you're considering moving to Austin or already living here and looking for a new neighborhood to call home, check out these great areas.
More from Dollar Sanity:
9 Safest Cities In Texas (2023)
13 Pros & Cons of Living In Corpus Christi