Thinking of Settling Down in Savannah?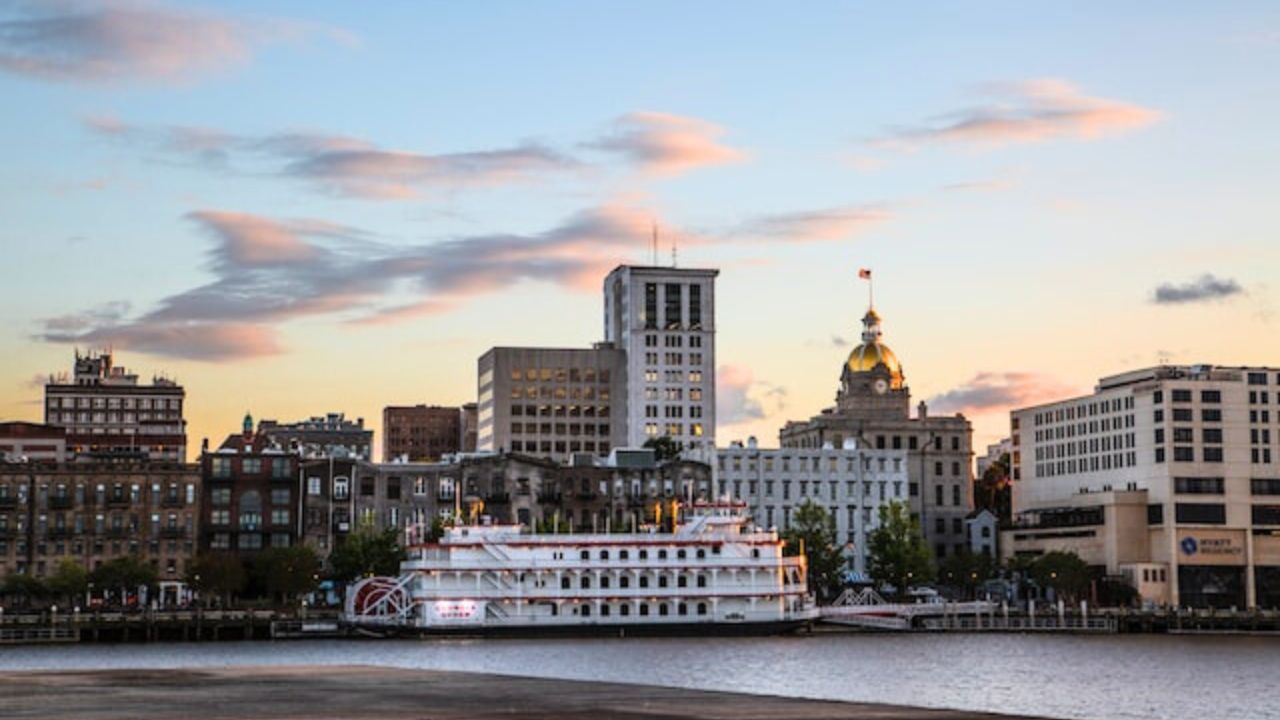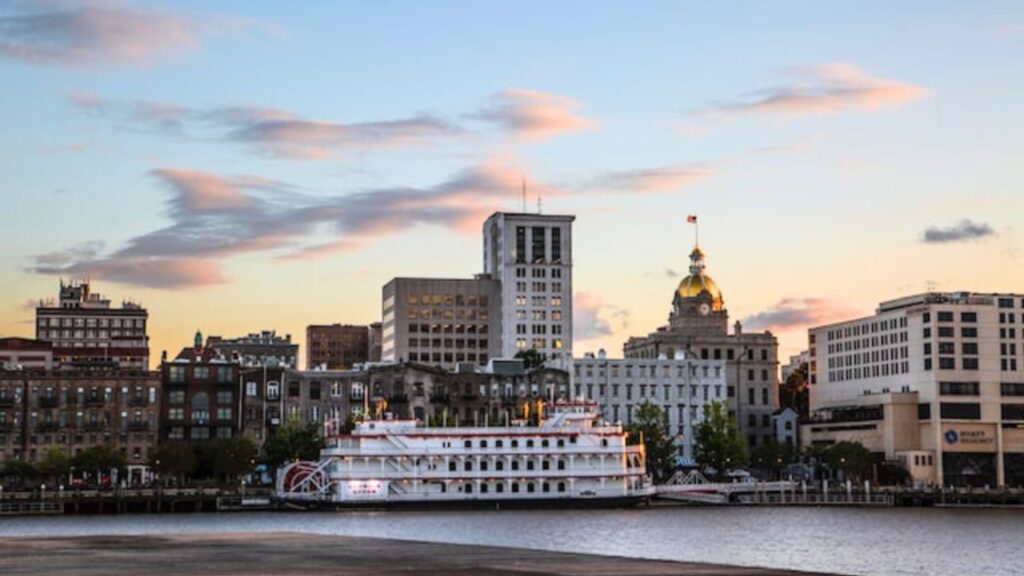 Let's talk about the ups and downs of living in Savannah, GA.
No matter why you're thinking about calling Savannah your new home, We've got you covered. We'll touch on the major points you'll want to think about.
And the big question on everyone's mind…
Is Savannah a good place to call home?
Well, let's jump right in.
It's time to dive into 12 pros and cons of living in Savannah…
Is Savannah A Good Place To Live?
Savannah, with its charming streets and Southern allure, captures the hearts of many.
But like any city, you'll find both pros and cons.
Reasons To Live In Savannah
Living in Savannah is gentle on the wallet, with costs of living often below the national average.
The beach is a short 30-minute drive away, making it convenient for quick trips or spontaneous after-work visits.
The rich history and stunning architecture fill the city, ensuring there's always something intriguing around every corner.
Reasons Not To Live In Savannah
Crime can be a concern, so it's a good idea to visit potential neighborhoods before making a decision.
The city's status as a tourist hotspot can also be a mixed blessing.
Downtown areas often see a surge of tourists, leading to crowded streets and venues, especially during peak seasons or special events.
And while the atmosphere can be lovely, the city's humid subtropical climate makes summers scorching and sticky.
All in all, Savannah offers a blend of history, charm, and affordability.
Still, challenges like crime and an influx of tourists can't be ignored. Making a move always involves weighing the good with the not-so-good.
Pros Of Living In Savannah, GA
Here are many great reasons to call Savannah home:
Step into the past with Ghost Tours
This city is full of historic buildings and homes with a story. But did you know that Savannah is also renowned for its ghost tours?
These spine-tingling tours take you through the haunted and mysterious side of Savannah's history.
Imagine walking through the cobblestone streets at night, lantern in hand, as a knowledgeable guide shares spine-chilling tales of the city's haunted places.
A Culinary Adventure Awaits
Are you a food lover? Then Savannah will be a paradise for your taste buds!
This city boasts a vibrant food scene, with various restaurants offering diverse cuisines, from Southern comfort food to international delicacies.
Whether you're looking for low-country favorites like shrimp and grits or craving fresh seafood from the coast, you'll find it all here. And remember to indulge in delicious Southern-style desserts like pralines or pecan pie.
The food scene in Savannah will keep you coming back for more, and it's just one of the many reasons locals can't get enough of this city.
Get More Bang for Your Buck
Living in Savannah, GA, allows you to enjoy an excellent quality of life without breaking the bank.
Compared to other metropolitan areas in the United States, Savannah has a lower cost of living at 10% below the national average.
Housing prices are more affordable, 28% cheaper than the U.S. average, meaning you can get more space for your money.
Reasonably priced groceries, dining out, and entertainment options allow you to stretch your budget further.
With its diverse job market and lower taxes, Savannah offers a great economic opportunity to its residents.
So, you can enjoy all the other perks of living in Savannah and get more bang for your buck!
MORE: 5 Cheapest Places to Live in Georgia in 2023
A Beach Haven at Your Doorstep
What's better than having a beach just a stone's throw away from your home?
Savannah residents are fortunate enough to have Tybee Island within a short drive from the city.
This charming barrier island boasts miles of pristine sandy beaches and beautiful coastal scenery.
With its laid-back vibe, Tybee Island is the perfect place to relax, soak up the sun, and immerse yourself in nature.
Whether you're into swimming, fishing, or simply enjoying a peaceful walk along the shore, Tybee Island offers a beach haven at your doorstep.
Picture-Perfect Charm
One of the most unique aspects of Savannah is its city layout. The city is famously known for its 22 beautifully preserved squares with distinct character and charm.
Picture yourself strolling through these picturesque squares adorned with old oak trees, Spanish moss, and well-manicured gardens.
These squares are aesthetically pleasing; they offer a peaceful oasis amid the urban bustle.
They are ideal spots for picnics, reading a book, or simply enjoying the beauty of Savannah.
A Promising Job Market
With a diverse job market and a robust economy, you'll find opportunities galore in Savannah.
Savannah have a thriving economy, making it an attractive destination for job seekers.
The city has a low unemployment rate of 3.9 compared to the national average of 5.4, providing ample employment opportunities.
Savannah has various industries, including manufacturing, healthcare, tourism, and logistics.
The presence of the Georgia Ports Authority makes Savannah a hub for international trade, opening doors for logistics and supply chain management careers.
Cons Of Living In Savannah, GA
While the Hostess City of the South has much to offer, it's important to highlight some cons that potential residents should know.
Poor Air Quality
The air isn't that great. It's not as clean as in some other places.
Due to the heavy humidity, industrial activities, and abundant old oak trees, residents often experience higher pollen and air pollution levels.
This might bother some folks if fresh air is important to you.
Crime is High
Unfortunately, Savannah has a reputation for high crime rates, 33% higher than the national average.
You might not hear about it a lot on the local news because they try to keep the city's image good for tourists.
But many folks in the city feel it, especially at night. Most of the trouble comes from gangs, so regular folks usually aren't the targets.
But places like Forsythe Park? It's best to stay away when it gets dark.
Even some parts of downtown can feel unsafe at night.
If you are looking for a safer place to live, then you should check out one of these safest cities in Georgia.
Extreme Weather Conditions
Living in Savannah means embracing hot, humid summers and mild, damp winters.
You might find the city's weather monotonous if you are a fan of four distinct seasons.
The summer heat and humidity can be quite intense, with temperatures frequently exceeding 90 degrees Fahrenheit (32 degrees Celsius).
Savannah often experiences heavy rainfall throughout the year, leading to occasional flooding in low-lying areas.
Pesky Insects
As much as we love the lush green landscapes of Savannah, they come with a side effect – pesky mosquitoes and other outdoor pests.
The warmer climate and proximity to abundant marshlands make the city a breeding ground for these bothersome creatures.
Mosquitoes love to make their presence known, particularly during the summer when they can put a damper on outdoor activities.
In addition to mosquitoes, residents may encounter other critters such as cockroaches, palmetto bugs, and fire ants.
Are you ready to fight against these tiny yet persistent unwanted guests?
Difficult Parking
Parking in Savannah can be an arduous task.
The city's historic district is famous for its narrow, cobblestoned streets, making it challenging to find parking spaces, especially during peak tourist seasons.
It's common to spend significant time searching for a parking spot only to park a considerable distance from your destination.
Parking on the streets often requires paying hefty fees at meters.
Tourists
Savannah downtown is almost always busy. Streets get filled with tourist buses and slow-moving rides all year round. It's especially bad over St. Patrick's Day weekend and when SCAD students are moving in.
A big part of the tourist crowd? Bachelorette parties. While they can be fun to watch sometimes, they can also get annoying fast.
The high number of tourists also means getting into good restaurants becomes a task.
If you're hoping to eat at a nice place downtown, especially in the historic area, you need to book table weeks in advance.
Sure, there are spots where you can walk in and find a seat, but the really popular places? They get booked up fast, especially on weekends.
Final Thoughts
Savannah, GA offers an affordable living experience on Georgia's coast. However, be prepared for the throngs of tourists and the city's humid weather.
It's as straightforward as that!
If you're thinking about other places, don't forget to check out:
14 Pros & Cons Of Living In Atlanta
12 Pros And Cons Of Living In Augusta