You don't need to drop major cash to enjoy an oceanfront getaway.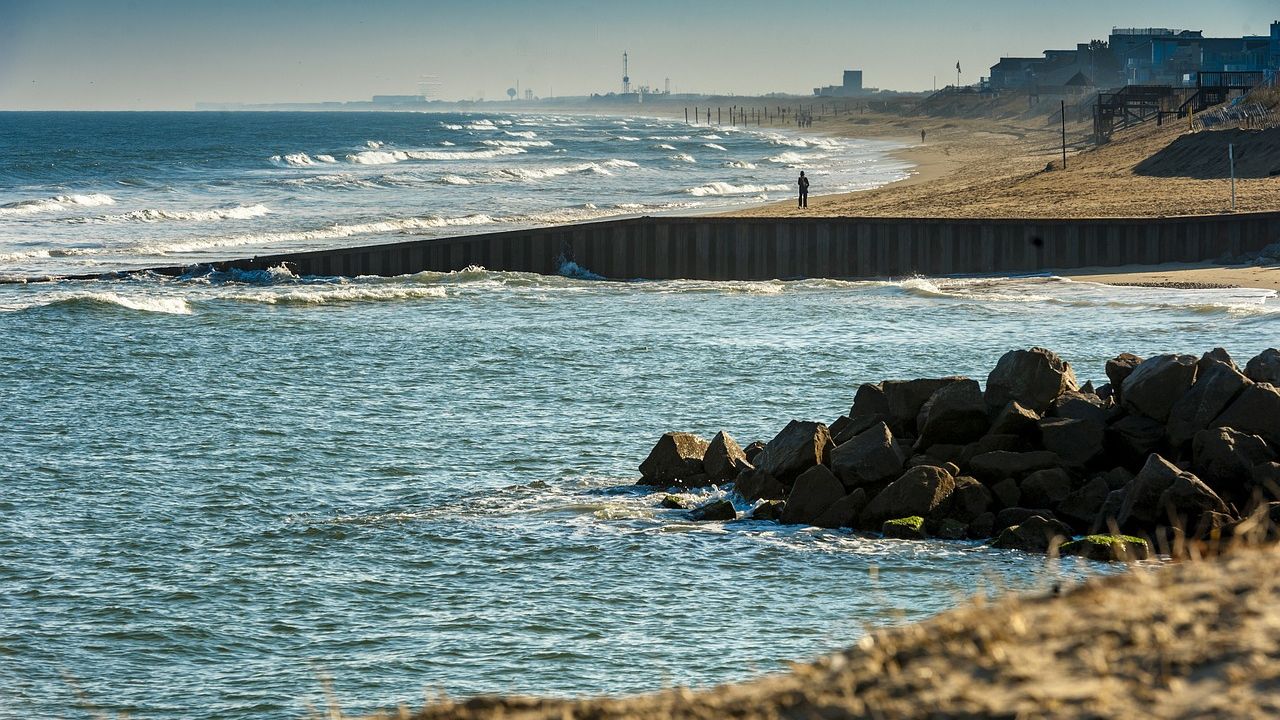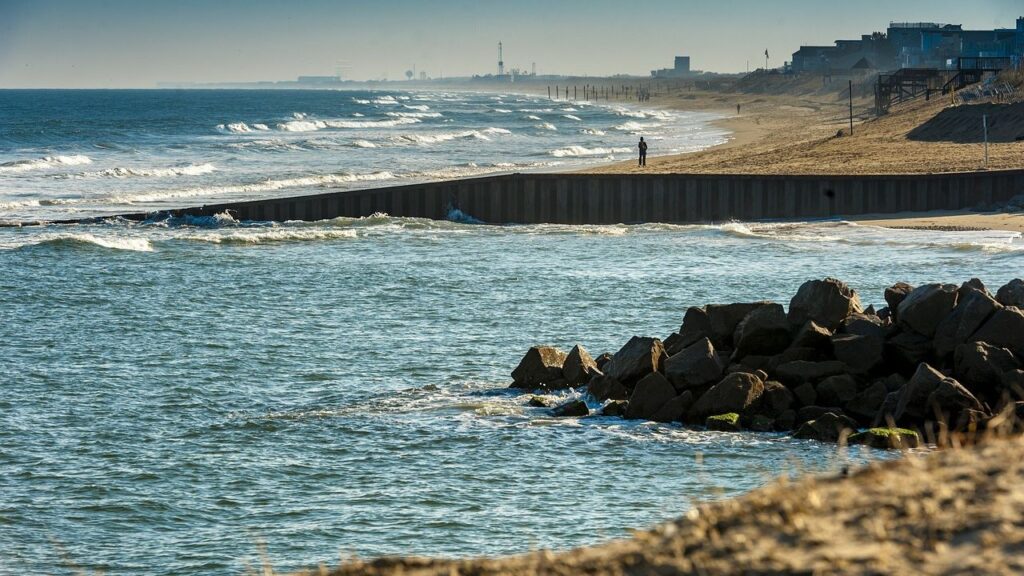 Virginia's coastline is home to some of the most budget-friendly beach towns on the East Coast.
Whether you're craving salty sea air, crashing waves, or a cold drink in your hand while watching the sunset, you can find your perfect affordable beach escape in the Old Dominion.
From the lively boardwalks of Virginia Beach to the quiet solitude of Chincoteague Island, you'll discover destinations that won't break the bank. Fuel up for a day of swimming and sunbathing without paying resort prices.
Chow down on fresh seafood, burgers, and beach fare for under $15 a meal. And rest your sun-kissed head for less than $150 a night. An unforgettable beach getaway awaits, all for a price you can afford.
SEE: 22 Fun Things to Do Without Spending Money
Hampton
Hampton is a historic city on the Virginia coastline that has not one but four public beaches along its 26 miles of shoreline.
At Buckroe Beach, you'll find gentle surf, a scenic boardwalk, and beachfront parks perfect for sunbathing or hosting a picnic.
It's located on the shores of the picturesque Chesapeake Bay, so you can also go boating, fishing or spot dolphins from the shore.
The average rent for an apartment in Hampton is only $1,368, much lower than the nearby resort town of Virginia Beach.
The median household income in Hampton is $57,041, making it an accessible destination for most budgets.
You'll have your pick of beachside activities in Hampton without the high prices. Go beachcombing for shells, build a sandcastle, surf, or just relax in the sun.
With historic attractions like Fort Monroe National Monument and Bluebird Gap Farm nearby, there's plenty to experience beyond the beach.
Chincoteague
Chincoteague Island is a little paradise off Virginia's Eastern Shore that offers miles of coastline, wildlife refuges, and outdoor recreation at a fraction of the cost of other beach towns.
Chincoteague is the gateway to Assateague Island and Chincoteague National Wildlife Refuge, home to the famous wild ponies. You can see the ponies in their natural habitat for free or pay a small fee for guided tours.
The refuge also offers over 14,000 acres of beaches, dunes, marshes and woodlands to explore. Go beachcombing, bird watching, biking or kayaking while enjoying the peaceful surroundings.
The town of Chincoteague itself is a perfect escape with its picturesque harbor, seafood shacks, and beachy boutiques.
And at only 1% higher than the national average cost of living, you'll find affordable rental cottages, motels and B&Bs for any budget. Indulge in fresh local oysters or clams without breaking the bank.
Virginia Beach
Virginia Beach offers an affordable coastal getaway. Vacation packages start around $381 in 2023, and the median home price is $262,200. Rent is 6% lower than the national average at $1,258 monthly.
Beyond the beach, Virginia Beach is a safe, family-friendly city with a stable economy. There's more to do than just sunbathing and swimming. You can:
Check out the Virginia Beach Boardwalk with its shops, restaurants, and entertainment.
Visit the Virginia Beach Aquarium and Marine Science Center.
See a show at the Sandler Center for the Performing Arts.
Tour the Military Aviation Museum.
Go hiking, biking or boating at First Landing State Park.
If you're on a budget, skip the pricey oceanfront hotels and opt for an inland motel or vacation rental. You can find deals for under $100 per night.
For extra savings, visit in the shoulder months of April to May and September to October. The summer crowds will have dwindled, but the weather is still pleasant for beaching.
Norfolk
Offering over 7 miles of free public beaches along the Chesapeake Bay, Norfolk is a desirable city to live in, especially considering its affordable cost of living, which is 96% of the national average with an average monthly cost of about $3,293.
Ocean View Beach Park provides a more secluded beach experience with amenities like restaurants, picnic areas, and playgrounds along the shore. Swim, sunbathe or just relax while gazing at the sunset over the bay.
East Beach and Ocean View Beach offer beautiful views of naval ships and commercial vessels passing through the port. Pack a picnic, bring a kite or Frisbee, build a sandcastle with the kids, or go beachcombing along the shore.
The beaches host free events like outdoor movies, concerts and festivals during summer. Check the city's event calendar for details.
If you want to get out on the water, rent kayaks, paddleboards or jet skis, or take a sailing tour. Fishing charters and dolphin-watching cruises are popular, affordable options for enjoying the bay.
Cape Charles
Cape Charles is a picturesque beach town on Virginia's Eastern Shore with a low cost of living.
This Victorian-era planned community near the mouth of the Chesapeake Bay has one of the largest concentrations of turn-of-the-century buildings on the National Register of Historic Places.
Cape Charles is the largest of Northampton's five incorporated towns, with a land area of 2,817 acres and a population of approximately 1,000 full-time residents.
The total cost of housing, food, child care, transportation, health care, taxes, and other necessities for a single adult in Cape Charles is $37,217 a year, less than the annual cost of living for Virginia of $44,012 and less than the national figure of $38,433.
With miles of uncrowded beaches, Cape Charles offers an affordable beach getaway. You can sunbathe, build sandcastles, go beachcombing for shells, or try watersports like kayaking, paddle boarding, sailing or kiteboarding.
Williamsburg
Williamsburg offers a charming coastal getaway at a fraction of the cost of other beach towns in Virginia.
With an average one-bedroom apartment renting for around $1,188 monthly, Williamsburg's living cost is significantly lower than the national average. Utilities and transportation costs are also lower than average.
There are many free or low-cost activities like visiting historical sites, hiking, biking, and enjoying the scenic waterfront parks.
Colonial Beach
Colonial Beach, VA, offers over 2 miles of public beachfront and a low cost of living. The total annual cost for a single adult is under $36,000, less than the state and national averages.
With a rich history as a resort town, Colonial Beach has maintained a laid-back vibe. People flock here for swimming, sunbathing, sailing, and fresh seafood.
The beach boardwalk dates back to the early 1900s. Stroll along to find arcades, taffy shops, and beach gear stores.
Rent jet skis, kayaks or paddleboards to explore the Potomac River. Charter fishing boats are also available for those hoping to reel their catch.
The town has several piers open for fishing and crabbing, including the historic Potomac River Pier. Drop a line to try catching perch, spot, croaker or striped bass.
More from Dollar Sanity:
7 Pros And Cons Of Living In Richmond, Virginia
Cheapest European Cities That are Both Beautiful and Affordable