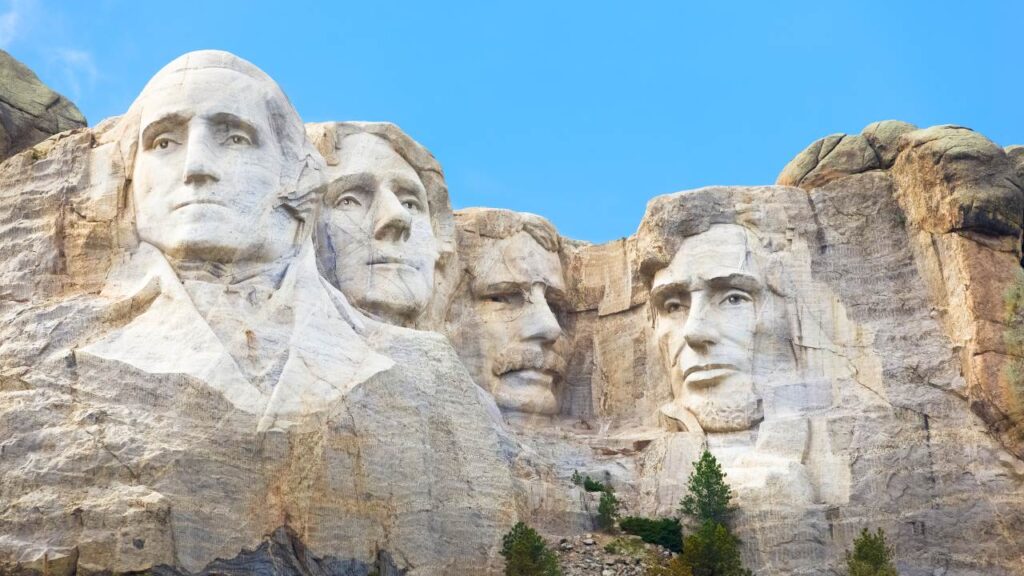 Are you thinking of a fresh start in South Dakota but can't decide where to drop your hat? We'll help you out! Here are the 12 best spots to live in South Dakota that you might want to add to your comparison list.
What are The Best Towns to Live in SD?
Madison
Sturgis
Huron
Vermillion
Spearfish
Mitchell
Yankton
Watertown
Brookings
Aberdeen
Sioux Falls
Rapid City
Madison
Madison is the kind of place that makes you want to take a deep breath, let it out slowly, and then promptly forget about that report you have due in a week. It's by the glacial lakes, which gives you a pretty good reason to call it a serene retreat.
The fishing here is well… just spectacular! Plenty of walleye and northern pike to reel in. Not a fan of seafood?
No worries! We've got local diners that serve some bang-up beef. And did we mention that Dairy Queen here never closes? As long as it's between 10 am and 10 pm! Winter or summer, you can always get your blizzard fix.
Sturgis
Famous for roaring engines and cool leather jackets, Sturgis, South Dakota is a Mecca for motorcycle Hosting enthusiasts. At the acclaimed Sturgis Motorcycle Rally each August, over half a million riders, concert-goers, and merrymakers descend upon this city of 7,100.
But let's set the record straight – this isn't some makeshift town that folds up once the rally's done. Sturgis is a place with a proud history, rolling landscapes around the Black Hills area, and a sense of community. 
You don't have to be a motorcycle enthusiast to live here. With Black Hills National Forest as your backyard, you get a free pass for hiking, fishing, and mountain biking trails along the way. The Fort Meade Recreation Area is another gem, offering a range of outdoor activities while promoting wildlife conservation.
The residents are super welcoming, and the cost of living is significantly lower than the national average. So whether you're a startup looking for a cool place to set roots, or a retiree looking for affordable living, Sturgis won't disappoint. Yes, you might have to invest in a bike though. Just saying.
Huron
Do you fancy a place that perfectly blends rural life with urban convenience? If yes, put Huron at the top of your bucket list. Located in East Central South Dakota, Huron packs an unexpected mix of activity.
With a population of just over 14,000, Huron manages to pull off a trick most towns can't. It balances a peaceful country lifestyle, complete with close-knit neighborhoods and local festivals, with the amenities of a city.
You can visit art galleries, swing by a sports bar downtown, or just enjoy a quiet picnic at Ravine Lake Park.
Vermillion
Ever thought of living in a place where education is king? Well, slip on your thinking cap and take a good, hard look at Vermillion.
This town is home to the University of South Dakota (USD), giving it a strong college-town vibe. Along with a rich educational climate, it also offers a low cost of living and an array of events throughout the year. 
If you're not convinced yet, consider this: Local residents often gather for social events, music festivals, and art fairs.
The proximity to the Missouri River opens up a host of recreational activities. You're a fan of the great outdoors, aren't you? Well, here you're smack dab in the heart of it. 
Spearfish
Spearfish has a special place in the heart of South Dakota. Sitting pretty in the Northern Hills, it's home to Black Hills State University. And guess what? It's not all classrooms and textbooks here. The town is surrounded by natural scenery that calls for adventure.
People here enjoy everything from camping to hiking, mountain biking, and fishing. There are miles of recreational trails in the Spearfish area, courtesy of the Black Hills National Forest and Spearfish Canyon.
The town also takes pride in a small, yet thriving local arts scene. Tag along for festivals like Spearfish Sasquatch Games or Downtown Friday Nights for a slice of local fun.
Mitchell
When you're talking homey, laid-back living, you're most definitely talking about Mitchell. This community is most famous for its Corn Palace, a massive structure decked out entirely in corn. No kidding, we're talking about murals made entirely of corn kernels.
But Mitchell is more than just corn. This city knows how to live. With highly rated schools, a low cost of living, and a flourishing job market, Mitchell is well-suited for both families and professionals. The city also boasts a range of recreational and cultural attractions to keep you entertained.
Yankton
This city is sitting pretty on the banks of the Missouri River. It's the kind of place where you'll find yourself pedaling a bike along riverside trails, engaging in thrilling watersports, and even reeling in a big catch during the fishing season.
You think Tarzan had fun swinging from vines in the jungle? Wait till you try zip-lining here. No lions, far safer, and possibly more exhilarating. 
The city also pops in a bit of culture and history to liven things up. You've got cultural events at the Lewis and Clark Theatre Company, education at Mount Marty University, and for history buffs, a delightful delve into the past at the Dakota Territorial Museum.
Yup, Yankton is a city of many faces: outdoor playhouse, culture hub, and history book, all rolled into one.
Watertown
Welcome to Watertown, South Dakota's own slice of lake-side heaven. The city boasts a rich history supported by a healthy dose of small-town friendliness, making it a great place to live.
What about amenities, you might ask? Well, Watertown doesn't skimp on the details there either. From an award-winning school system to a robust job market, you'll find this city is well-suited for families and young professionals alike.
As for leisure, don't forget the fishing rod, because casting a line in any of the city's multiple fishing spots is one fun activity you wouldn't want to miss. With lake views, a welcoming community, and a host of outdoor activities, Watertown checks all the boxes. 
Brookings
Brookings holds a special spot in our South Dakota listicle. Why? It's ripe with educational opportunities, young energy, and community activities – the stuff that makes life a cultural rollercoaster.
Home to South Dakota State University, there's a perpetual infusion of fresh energy. The town offers green spaces, nerdy libraries, artistic venues, and scientific research spots. So, if you're a fan of knowledge and growing minds, Brookings has all the ingredients for the perfect balance between study, work, and play.
But there's more to Brookings than being a college town. It's progressive, forward-thinking and not afraid to break norms.
You might wonder how that translates to regular life? Plenty of organic grocery stores, sustainable living initiatives, and alternative commuting options like bike paths and park-and-ride stops. Your carbon footprint will get brownie points here! 
The locals? Not just friendly but engaged. If you're into community service or simply enjoy meeting new people, you'll love the sense of unity. From farmer's markets to charity events and cultural festivals, you're in for a treat. Brookings isn't just a place to live; it's all about experiences.
Aberdeen
This place has history, it's got the present, and it's got a foot in the future. Aberdeen is a city that respects its roots but isn't afraid to open the door to modernity. Think of beautiful historical buildings bordering sleek contemporary structures.
Aberdeen was ranked the third best place to live in South Dakota according to Niche's ranking. And that nabbed the top spot for the best place to retire. Now that's worth a tip of the hat, isn't it? 
Aberdeen isn't designed solely for the retiring folk. It isn't just a place to live; it's also a place to thrive.
Sioux Falls
Sioux Falls does not need a fancy introduction, as this city's stats speak for itself. As the largest city in South Dakota, it has generated quite a buzz among folks searching for a quality lifestyle.
We're talking about high employment rates, a stable economy, and top-notch schools. Sioux Falls has truly earned the title of an urban oasis in the heart of South Dakota. 
You're probably wondering what Sioux Falls has in store for leisure. We're here to tell you – keep the weekends free! With several recreational activities and natural beauty, beating the boredom bug is a walk in the park for local residents.
How about visiting Falls Park to admire the waterfalls? Or how about exploring over 80 city parks or attending cultural festivals at the Washington Pavilion? Sioux Falls is the friend who has an answer to "What do we do now?".
No wonder why Sioux Falls is one of the best places to retire in the country.
Rapid City 
Do you happen to be a nature lover? Well, Rapid City just might be your perfect match. Situated at the eastern slope of the Black Hills mountain range, this city comes packaged with several wildlife parks and hiking trails. Ideal for anyone drawn to nature.
On top of the outdoor fun, Rapid City is also quite the magnet for expressive arts. Showcasing a rich tradition of fine arts, sculptures, and theatre, it is perfect for those who appreciate experiencing culture in the rawest form.
And don't worry if bugs and rock paintings aren't your thing. The city also offers several modern facilities for your enjoyment. Bowling alleys, cinemas, restaurants, you name it! Rapid City's got the perfect balance of nature and city life.
Final Thoughts
Whether you're looking for a place that gives you the freedom to roam the great outdoors, a town with comprehensive educational facilities, a culturally rich hub full of history and heritage, or a peaceful haven away from urban life, South Dakota has an address for you.
Even if you're just stopping by, these towns have a way of casting a spell, and you might just find yourself buying a one-way ticket to your new zip code!
More From Dollar Sanity:
10 Pros & Cons Of Living In Fargo, ND
Is Billings a Good Place to Live?
7 Cheapest States To Buy Farmland