Within the first six months alone, my blog got 150 000 page views, and I did it all with only 20 posts! In this article, you'll be able to see just how I did it, so take notes and learn how to promote a blog today! Remember, I was able to achieve all of this with no previous knowledge of SEO, writing and blogging, and to top it off, I didn't even spend a dime on it.
A good thing about blogging is that it's fun. You find a topic you like and type away all day long. The quality is there, the content is pretty good as well, but what happens when no one seems to appreciate your effort? Not even a single like or comment? Heck, one can even end up with no views at all.
Truth be told, this happens to a lot of us. There are literally millions of blogs out there, so don't be all that surprised if you can't make it on your first attempt. Google claims that you should work on your knowledge of SEO, but is there anything else you can do to gain some following?
There are several ways to promote blog posts, and I've tried them all. As I don't exactly belong in that "passionate" blogger category, making profit was always my number one goal with writing.
Naturally, if my blog creates no money, I failed my mission, it's simple as that. Therefore, I invested a lot of time and effort to bring huge amounts of eyes on my blog, whether through Google or any other sources. I don't consider myself a writer, I'm more of an entrepreneur.
Most tutorials will say that you'll have to be patient, and wait a couple of months before the results start to show. Take it from me, that's not true in the slightest! What you will need to do, however, is learn some effective ways on how to advertise a blog.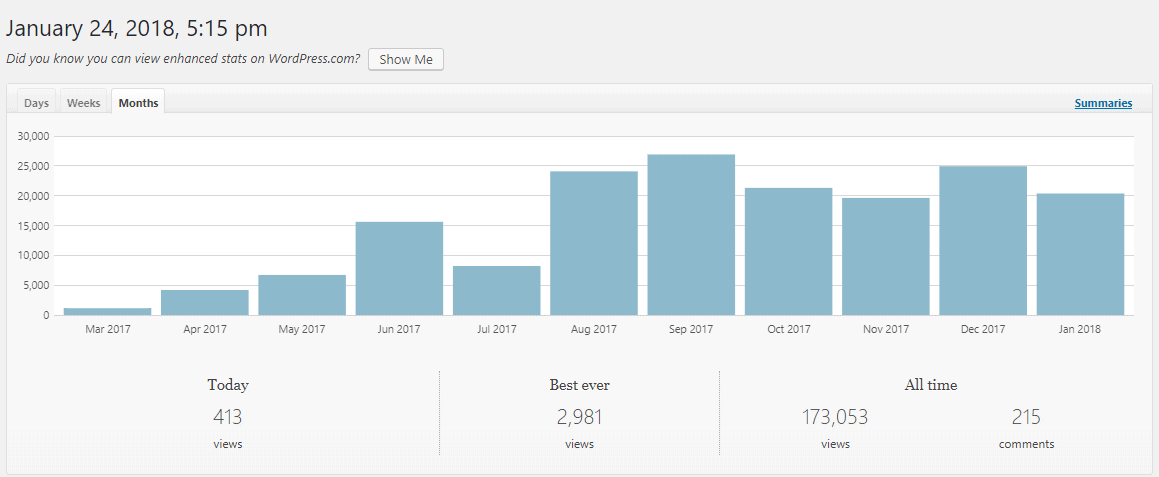 HOW TO PROMOTE YOUR BLOG
Not all information you read is true! It's an old saying that men lie, women lie, but the numbers don't lie! If you do your research on Google, out of every 10 posts you read, at least 8 of them is complete nonsense.
Don't think that I'm exaggerating either. The most effective way to lose your hard earned money? Subscribe to one of those so-called gurus "for only a small fee of $10/per month". Should you go to Amazon and purchase "How I Made $290,000 Selling Books? Don't even get me started on those things…
At the end of the day, you should only rely on yourself in business. No one understands the nooks and crannies of your niche as well as you do, so don't follow those "reliable" ways on how to promote a blog. You'd be hard-pressed to find a person that works on your blog as hard as you can.
Quality over quantity
Almost all major blogs claim that you need to post as much content as possible in the beginning. Guess what? This is a huge mistake! Focus on content which brings true value to your readers, try to solve their problems, and look at things from their perspective. Before you know it, they will share your blog across social media platforms, thus bringing new readers on a daily basis.
Things I found to work
SEO
Start by learning the basics of SEO, and expand your knowledge as you go. Don't repeat my mistakes. When I was just starting out, I failed to recognize the importance of SEO, so I paid no attention to keywords, even leaving them completely out of my first few posts.
I quickly realized that most of my posts revolved around the phrase "start Amazon FBA business", but during the first couple of months, I completely left out "sell on Amazon", which was actually the highest ranked query on Google. Well, better late than never, I'll try to write my wrongs with this article.
Invest your time in finding out what specific keyword is the most popular one among people searching for similar content, and optimize your posts accordingly. After that, there's nothing left but to dish out some quality content and hope for the best. Not everything can make the front page, but you'll eventually make it through.
When it comes down to basics, SEO is fairly simple, and it can be narrowed down to just two steps: keyword research as well as on page optimization. As you can see from my experience, a little effort goes a long way.
Nowadays, Google is the main source of traffic on my blog, and I invested 90% of my efforts in social media marketing. Wish I knew about this sooner, it would've saved me a lot of time.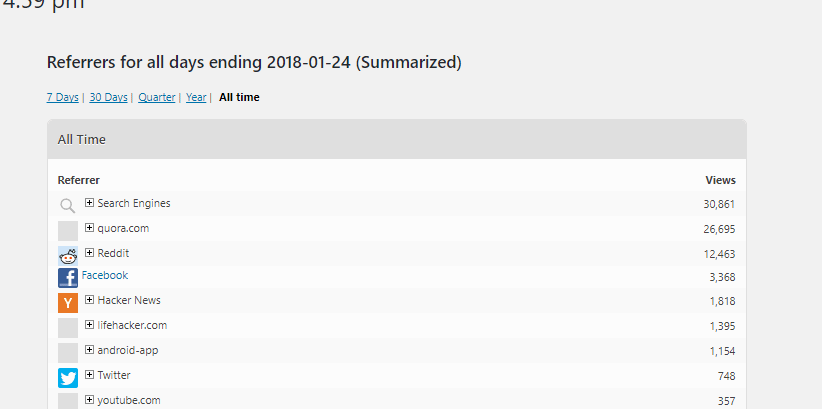 Title
A good title is 80% of the work, so make sure to write it at the very end. It should sum up the whole article in just a couple of words and it needs to be compelling enough to provoke interest.
Many websites use the clickbait strategy where headlines are the most important thing which drives the traffic. Let's be honest here, we all fell for this trick a hundred times.
With that in mind, take as much time as you need, and come up with a killer headline that seems too hard to resist. Some writers even spend as much time with their headline, as they do with the rest of the post.
Think about that!
Don't worry if you get stuck with this step. There are many websites that serve the purpose of headline generators, so feel free to try it from time to time. Who knows, it might provide you with the inspiration you've been waiting for all along.
Keyword research
As you might've guessed it, this section is dedicated to finding those specific keywords people are using the most when searching for their desired content. Google ranks all pages through the use of complicated algorithms, but the most important thing is that your content matches their query.
Having good content usually won't be enough to get you on that front page, but they'll be more talk about that later on. For now, let's focus on the task at hand, which is finding those keywords.
In previous years, many experts recommended using the Google Keyword Planner, but that tool is utterly obsolete now. The tool I use now allows me to see everything I need to know about a specific keyword, but that requires some money to be invested, which you don't have to do as a beginner.
Instead, allow me to show you a simple trick right now. In your search bar, enter the address of your fiercest competitor. It should look something like this: competitor. com/sitemap_index.xml.
If your competitors have a sitemap, you should end up with a nice list, showcasing everything they've written about so far. It can save you a ton of time, as you won't have to go through every post in the hope of finding specific keywords.
Pay attention, DO NOT rip their specific keywords, but use them as an inspiration and perhaps provide a similar content of your own.
On page SEO
First of all, you'll need to allow permalinks to display your post names. If you're not quite sure how to do it, Google it, it will only take a few minutes. Here's where the fun part begins.
You'll need to import your keyword within the URL structure. I noticed that the best way to do so is not copying the whole keyword, but separating it into a long tail chain.
Let me give you an example. Let's say your keyword was "strength training plan". You'll want to modify it a bit, so you might go with "the most effective strength training plan". If you skip this, you might run into some trouble known as keyword stuffing.
Remember, the title should contain your keyword, shouldn't be too long, and it needs to be catchy. Most important of all, DO NOT use your keywords too often!
Once near the top and once towards the end of the content will do just fine. Use images from time to time, and don't forget to add ALT tags including keywords, but use some other words as well.
Furthermore, some images should have ALT tags that are free of keywords, as diversifying is extremely important! Feel free to use synonyms here, and if you need additional information about this step, search for "Google LSI" for further reference.
Upon writing the content, I focus on the meta description, with the help of a tool known as the YOAST SEO plugin. If I'm being honest, YOAST is pretty much garbage when it comes to analyzing your content, because it can encourage you to optimize your content WAY more than necessary.
However, it's pretty useful when it comes to creating meta descriptions. Know that the text you write in meta description will show up in Google, so use this space wisely and include your keywords as well.
What's left to say about SEO? Not much! Can you believe it's that easy?
All that's left is to follow these instructions and write some high-quality content on your blog. With time, Google traffic will increase, trust me.
Oh yeah, and if you were wondering, my own posts are usually around 2000-5000 words in length. I usually try to one-up the competition, and I would recommend that you do the same.
So, when it comes down to it, here's what you need to know about SEO:
Include the keyword in the title

URL should also contain your keyword
Try to use your keyword in the very first sentence of the post, or at least in the first paragraph
Use section headers, and once again, try to use your keywords
Include keywords in your Image ALT text
Always create backlinks within your current posts, preferable connecting to older posts with similar content
Reddit
In my opinion, Reddit plays a huge role in marketing. Still, there is more than one way to skin a cat. Most individuals simply add a link that leads to their content, thinking that will get the job done.
Unfortunately for them, most Reddit users aren't too willing to leave the well-known platform, especially if the content doesn't seem too appealing. With that in mind, your primary goal should always be to add value to any subreddit you post in.
Every section has its own culture, so make sure you understand the general way of communication before you post anything. Some of the rules you need to pay attention to include:
Determining the target audience

Identifying subculture
Incorporating some useful case studies and other material which adds true value
Setting up backlinks to your own blog posts
During the last three weeks, I tried following this pattern on three separate occasions.
Post on /r/Entrepreneur numero uno: 

It resulted in more than 500 upvotes, and I was able to capture the #1 spot for the whole day
My whole plan was to test the water and find out whether I should continue blogging. During that time, I only had two articles posted. However, Reddit provided me with a much-needed validation, ensuring me that people really wanted to hear what I had to say.
A couple of months passed, and I decided to post my article once again. Result: 

To top it off, I ended my post saying that all readers are welcomed to visit my blog at DollarSanity where I have much more information on Amazon FBA.
Success once again! This time, I was able to get 1100 upvotes, and I captured that #1 spot again. On that day alone, over 12,000 people saw my post! The story doesn't end there either.
Considering that my post was among the most viewed ones of all time in that specific subreddit, it kept on pushing the numbers.
Reddit also has a search bar, which probably sent some more traffic my way, and in the end, more than 35,000 visitors read it.
When people think of Reddit, most only think about posts, but it goes much deeper than that. Sometimes, comments can bring you some truly impressive results.
Because I am an avid user, I oftentimes stumble upon a thread which is perfectly suited for commenting. All that's left is to write a good comment, and of course, include a backlink to my blog. Here's an example:
Reddit comment:

Result: Comment received 191 upvotes and over 2,000 visits to my blog in just a couple of days.
Quora
Wanna speak about results?
How about getting over a million views as well as 1k followers within the first couple of months on Quora?
If you want to achieve similar results, here's the key tip: be original! Thousands of excellent writers dish out content every day on Quora, so how can you stand out from the crowd?
Create content that provides direct and correct answers to questions people are searching for the most! How to do that? By ticking most of these boxes:

Stick to your expertise

Always do your research ahead of time
Don't forget to include relevant images
Develop different writing styles, and never stop learning
Pay utmost attention to grammar, punctuation, and spelling. Always perform proofreading
Attach some humor to your posts, people generally like that sort of stuff
Use formatting tools and provide your readers with a simple structure to follow
Try to be honest, yet diplomatic
Be original and find ways to promote blog posts
Always get straight to the point, don't add too much fluff
Be nice and respectful at all times
Try to answer as many questions as you can and don't go missing for extended periods of time
Arm yourself with patience. Great things don't happen overnight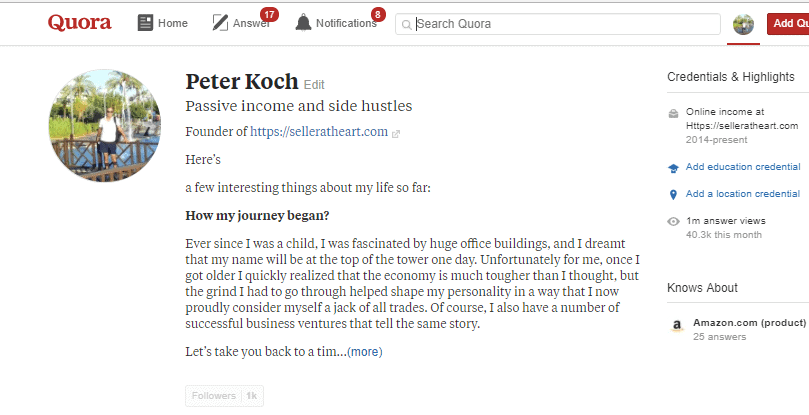 Use pictures
How can you achieve the most screen real estate possible? Use awesome images to accompany your posts. Still, what's the benefit of having pictures included? Readers will be much more inclined to read the first line of the text if you can interest them with a cool image. With that in mind, here are some guidelines you should follow when selecting the pictures:
Interesting – The image is supposed to arouse attention

Eye-catching – Provide people with something they care about, and they'll stick to your page a few moments more
Relevant – The image and text should correlate
Genuine – Do your best to avoid stock photos, as readers cannot relate to this sort of content. Always aim for the more personal ones
The first line is absolutely vital
While the image grabbed your readers' attention initially, it's the first line that'll force the readers to actually read the whole thing through. Here's an eye-opening statistics for you: Out of 10 people who open articles, only 8 get past the headline!
With that in mind, it's no wonder why the opening line is half the battle. The reader should always feel like they want to find out more. Here's how to achieve those goals:
The title should promise value

There's a story to be told there
It should rely on statistics
It demonstrates authority
Provide answers to important questions
Even if you provide the best answer possible, there's no guarantee you'll receive upvotes. Statistically, the best answers only have about a 3% upvote rate.
However, the basic formula is very simple. All you have to do is:
1) Make sure that a lot of people view your answer
2) Provide great value in order to get the upvotes
Provide value (turn this into your mantra)
The readers who get past the first line are far more likely to stick around. This is when it gets interesting.
It's not easy to find the common theme with most upvoted comments, but here are some of the main selling points:
Be unique with your answer, and take the readers on a journey

Strike a chord and aim for the powerful emotions
Share some exclusive information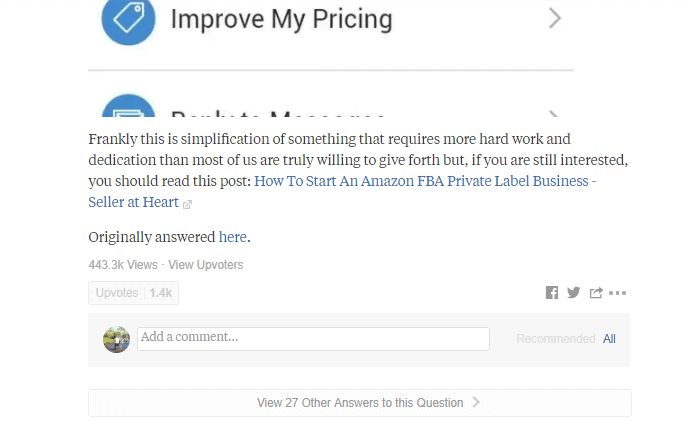 Let me try to explain this is the simplest way possible:
Quora's algorithm is known as "PeopleRank". Do you think it had anything to do with Google's PageRank, or is it just me?
Anyways, while most users hope to receive a huge number of upvotes, most of them neglect the way in which readers engage with their content.
Each user has their specific PeopleRank, and certain topics tend to attract users with higher rankings. Once they start to engage with your content, the algorithm will turn in your favor. Indeed, 10 upvotes from casual Quora users is nothing, compared to the influence you get when high ranked users provide Upvotes/Bookmarks/Shares on your posts.
What you need to take from this is that the sheer number of upvotes isn't the only thing you should hope to achieve. Finding relevant topics and providing excellent content is much more important.
Core engineers figured out that users will want to use their algorithms in order to achieve a better rank, so they tried to hide the keys as much as possible. Fortunately, there are still several ways in which you can select the right posts. If you have a desktop, you'll easily spot the number of views each question has received, but when it comes to tablets and mobiles, it's not as simple.
In order to find out how many views a certain question received, just click on the 3 dots you'll find in the bottom right corner of any specific question. Once there, select "View stats and logs" and there you go.
There's perhaps an even better way to find questions with the most views. Visit the main question page, scroll down towards the end, and there, you'll see similar questions, with their view count. I always go for the questions with 100k plus views. Truth be told, I'm not yet positive why some of the questions get an insane amount of exposure and others don't, but here are some of the things I've been able to pick up:
Certain questions/answers do really well when it comes to search for high volume keywords

At times, big influencers share content elsewhere

Use on page SEO when answering. Knowing that Quora is using search mostly for growth, it should come as no surprise that these tactics work
Here's one final tip that worked wonders for my ranking. There have been lots of times when I did my best to write a stupendous answer, which ends up in the wastelands, and receives no traction at all. Luckily, I came up with a scheme. I simply copied my previous content on different topics and got millions of views.
This probably set off a red flag at Quora, so I received "self-plagiarism" warning, all of the duplicated were erased, and I lost a ton of views. Nowadays, when I copy my content, I simply delete the first post and go with the second one. I would advise you to do the same!
Hacker News
There are several important things to know about Hacker News. First and foremost, understand that many niches don't work here! When it comes down to it, it's not hard to find the reason why.
The Hacker News platform works on a simple principle. You upload your content, and people upvote it, in case the content seems interesting to them. Seems easy but your submission will fly off the front page in a hurry without any upvotes.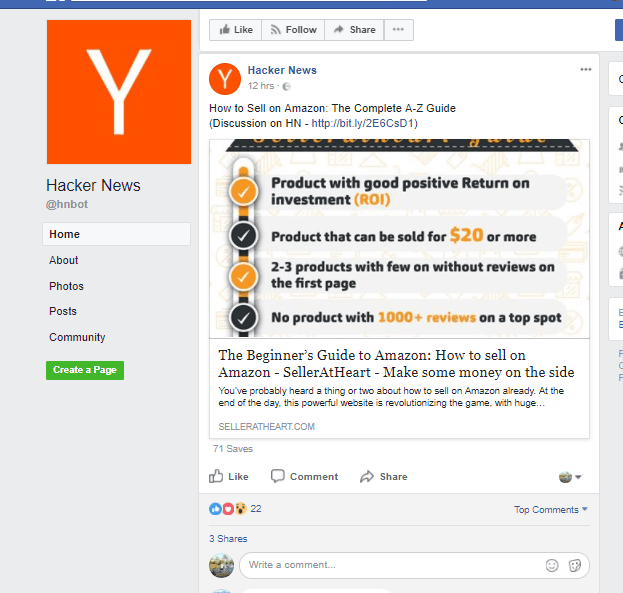 Month ago, something amazing happened. I used our my tactic, and submitted an article on Hacker News without any high expectations, and boom! All of a sudden, I hit the front page! Naturally, this got me very intrigued, so I entered real-time analytics, and figured out that there are over 200 people online on my blog! Btw, page load time was almost 1 minute…cheap hosting 🙂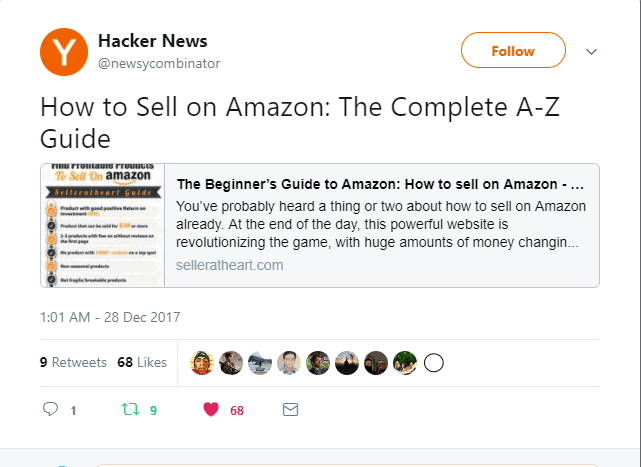 Social media
As I didn't have enough time to fully focus on creating dedicated social media accounts, I ended up posting from my personal accounts. When there, I found certain Facebook groups that interested me, and I entered the discussion. It worked! I actually had decent success in the beginning. I even went ahead and called up some friends of mine who had groups with huge followings, and asked them for help. Not surprisingly, I failed to achieve success here, as that audience simply had no interest in my niche.
Pinterest
Following Reddit and Quora, this is my next stop. Most of my competitors aren't really active on Pinterest, so that's where I see a good opportunity to place my content. After just a couple of days, the results are already quite impressive, as you can see.

This strategy is still in its developmental stages. We created a few infographics that contain information about the article, and we plan to publish them on Pinterest.
In case you didn't know, on Pinterest, the goal is to achieve most pins and repins, whereas the number of followers isn't as important. For some strange reason, people see Pinterest as social media, but in reality, it's much more of a search engine.
Let's get down to business! Regarding Pinterest, here's the strategy I'll follow from this point on:
Step 1 – Open up a business account.
– In this way, you'll receive access to analytics.
– Get a Pin It plug-in for your personal blog.
– Sign up for Rich Pin. Brief excerpts from your post will show up under the image.
Step 2 – Design Pinterest images to follow your post
– I usually use Pixabay to get stock photos and proceed to Canva to make the images.
– Don't be afraid to check out what the competition has to offer. If you see the design you like, create something similar for yourself.
Step 3 – Make boards for your images
– Design one board which contains a list of the pins leading to your own posts. This way, people will be able to see what posts you've already written on your blog. All that's left is to move this board to the very top.
– Other boards should relate to different categories on your blog (i.e. finances, relationships, and blogging). Pin all of your images here.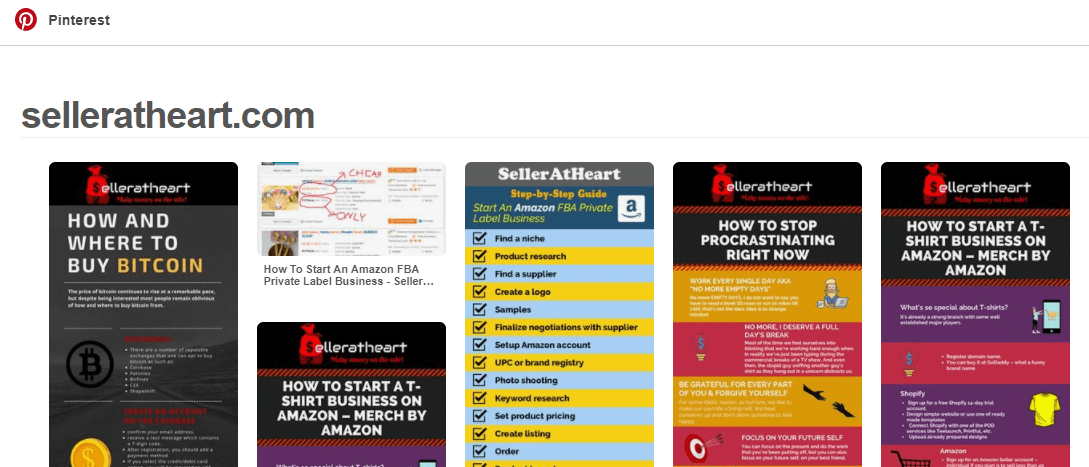 Step 4 – Try to join some group boards
– This step is very important, as thousands of people will have a chance to see your pins within these groups. A good place to start finding group boards that would interest you is definitely PinGroupie.
– You can make a request in one of these three ways:
Follow the instructions for that specific board. These are set by the creator, and to get their attention, you'll usually need to send them an email. I'll further elaborate on this topic later on, as I have spent two weeks sending different requests and finding boards, so I think I have the knowledge of how things go.

In case you fail to find the instructions, try sending a direct message or hit one of their latest pins and leave a request to join in there. Know that some groups are closed, so you'll simply have to find another one that meets your criteria.

Connect with other bloggers and exchange group boards among yourselves.
Step 5 – Begin to follow the others
– Check out the other bloggers' profiles, and start following them. Don't stop there, and follow their followers as well. The other way includes clicking on a list of the group board's followers and hitting that follow button as many times as you can.
– If you hit a limit, and you're going to do so, as Pinterest allows you to follow only a certain number of people per hour, just wait until things clear up and go for it again.
Step 6 – Get to pinning
– Boards have rules when it comes to the number of pins you can put out, so make sure to follow them, as you can be removed from the group if you don't do so. Pin as many times as you can, and also pin other's popular posts, as this can boost your rankings.
– The tactic I use it to pin my images to group boards and pin others' to my own ones. I'll perhaps change this tactic later on, but I'll have to wait and see.
Facebook groups
The key here is to try and find the people who might be interested in things you post. Also, do not come on too strong! When it comes to social media, less is oftentimes more. Start by writing posts that have similar content to your actual blog posts. As people start to warm up, proceed to slowly introduce links in the comments section. Enable the like button on your blog, and hope that your readers will use it.
Here's a neat little trick. People love to use social media as a vent to push out their frustrations, especially when they're going through stressful times. Or when it's Monday morning, whatever. That's where you should strike! Share a funny story or write something interesting. The goal here is to start off slow, and in time, gather a larger audience that will feast on your positivity. The blog promotion can wait for now. The key is the make 'em like you.
Pay attention – do not get too tight with blogger groups, I personally don't even recommend them. If you're writing about motorcycles, join a group where users share similar interests, and do your advertisement there. Still, you have to be an active member of these groups. Give out likes, comments and join a few discussions here and there. Of course, slip a few links to your posts as well. If you just go on and copy links to your blog with no previous activity, you'll achieve nothing but spam.
Facebook can be a great tool to find inspiration as well. Most users don't even bother using the search bar, so the same questions get repeated all the time. Give an answer to a few of those, and you'll drive some traffic your way.
From a man that joined a blogger group – I tried to join several Facebook blogging groups, and my experience was pretty bad. I was getting constantly bombed with notifications from people looking to promote their content, and it was impossible to find a way out. I tried to engage with other members as much as possible, but the results were underwhelming, to say the least. Someone who has more time to deal with this might get a better outcome, but as far as I'm concerned, it's a waste of time.
If you want to help out let's be friend on Facebook by clicking here
Twitter
So far, I didn't try using Twitter for promotion, but as I probably mentioned, one of my friends has an account with 1.7 million followers. Here's one of the posts, as well as the results. 100 page views I believe that you expected more, and trust me, so did I 🙂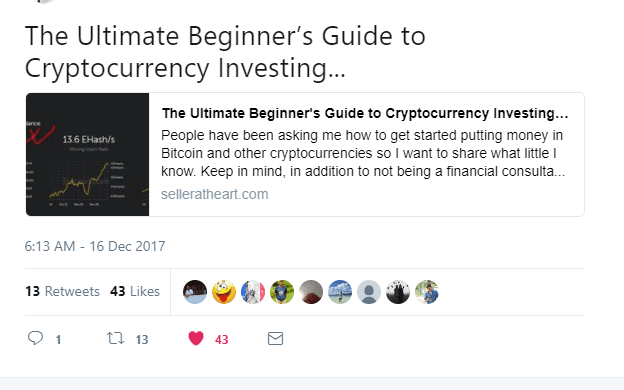 I won't go as far as calling it disappointing, but similar to Facebook, I believe most people simply liked the tweet without even bothering to check it out.
Once again, if you want to help out, follow me on Twitter by clicking here
StumbleUpon
Some people claimed great results from this platform, but when it comes to my blog, I have yet to see any effects. Maybe I'll deal with it later. Update: It's Mix since June 2018!
Guest posting
I didn't focus enough on this path, but I still saw some great results. Some tools, such as Ahrefs display pages that offer links to similar articles. If you think your article is superior, try contacting them, and offer them a link to your post. When it comes to traffic, don't expect much, but this move does wonders when it comes to SEO. I got five backlinks this way.
It's not hard to understand the downside – it's not easy having to write 1000 words every day. That was the very reason why I abandoned this tactic for now.
Forums
Forums were gifts from God in the early days. Nowadays, their influence is not so strong, but they are still great places to find your target audience. Forum Submission is a phenomenal part of off page SEO. Not only that'll generate some traffic, but it will also be a great place to promote your company. My blog receives a huge following from Warriorforum, e-commerce fuel, internetzarada, fuckofguru. Visitors of some of these forums don't even use the English language. For example, fuckofguru is a Spanish forum, and I don't have the slightest clue who posted my content over there. Ecommercefuel is a closed type forum, which I'm not even a part of, but I can see that some traffic is coming from that direction. To whoever posted these links there, thanks a bunch!
Make an App to Engage Your Blog's Readers
Why should I make an app for a blog? Because you should improve user experience with an App. Not to mention that I've built an email list and with MailChimp and then, literally, EVERY SINGLE EMAIL I send ends up in the promotions tab of every Gmail address. This native app has push notification and every subscriber (user) will be informed that a new article is published. If you want, you can get one here. It does not require any tech knowledge, and you can set up everything in three clicks. Price is affordable – $30.
How to write a catchy article
The backbone of every blog is terrific content, there's no going around it. The first thing you should do is check out the competition. The truth is, almost every time, the topic you had in mind was already covered by 100 writers. Use Google to figure out what your keywords should be, take some time to read the first 5 or 6 articles dealing with the topic, and see if you have something valuable to add that wasn't already mentioned. Invest some time in SEO research, and exclude keywords your competitors already used, as well as their synonyms.
It doesn't matter if you produce the best content the world has ever seen if no one gets to read it. Therefore, work on your SEO, offer something your competitors haven't thought of, and stick to the trusted mantra – provide great value and try to solve some of the problems your readers might have!
What I found was useless
MEDIUM – Despite having a Medium account for a while, after posting several articles, nothing really happened.
STEEMIT – Same as the above-mentioned one.