Are you a teenager who could use some extra income? If you are a student looking to make extra cash, we'll be covering some of the best transcription jobs for teens.
Now that you're getting older, chances are you're probably having a few expenses. Whether you need money to go out with friends, get gas for your vehicle, or to save up for college or other things you want and need, many teens are looking to earn money.
So what types of job opportunities are available for teens? Many retail stores and restaurants regularly hire teenagers. You could wait tables, assist customers, check out clients at the cash register, or perform other duties that are required.
However, if your schedule with school and home doesn't offer the opportunity to work at a physical location, you may be looking for work from home jobs where you can have more flexibility in your schedule.
Our Favorite Side Hustles
Download these apps to make extra cash in your spare time. Get paid to complete surveys or take photos around your city.
20M+ members
Average survey payout is $.50 – $3.00
Make money in your spare time
Trustpilot rating of 4.5/5 from more than 30k+ reviews
Earn money for simple tasks
Take photos of places in your city and get paid
Over 10M users
Get PayPal cash and free Bitcoin
Is there a Work-From-Home Job Option for Teens?
One growing work-from-home opportunity is transcription. If you are fluent in English and have access to a computer and internet connection, transcribing can provide great work-from-home opportunities, even as a teenager.
What is transcription? Transcription involves decoding information from audio or video clips and converting it into text. It is an important part of many industries and with the increase of videos online, transcription services are heavily in demand.
What should you look for in a transcription job?
Transcription jobs for teens are similar to other part-time and full-time positions. The main difference is that you are able to work from home. You are usually also paid a flat amount for the work you complete, instead of an hourly rate based on how long it takes you.
When considering transcription jobs, you'll want to make sure that you meet their criteria, and that you'll be able to complete the work in the language desired. Let's look a little deeper at these criteria.
#1. The rates for transcription
Wondering how payment works? In this industry, jobs are usually paid per audio hour. This can be a difficult concept for a beginner to grasp. However, since it plays a huge role in your earnings, you should understand it well before you get into any negotiations for payments.
An "audio hour" means you'll be paid per hour of audio recordings you transcribe. This will probably take you more than an hour to do, even if you're a fast typist. You may need to rewind and re-listen to certain parts to get the copy right.
Many transcriptionists charge $1-$2 per audio minute, but if you work through a service, they'll set the rates and your pay.
#2. The industry to work in
Transcription jobs can focus on many different industries. Some companies may have a variety of work and other firms may focus exclusively on one type of transcription. For example, one agency may focus on medical transcription and another may focus on finance or entertainment. Being familiar with the industry can help you recognize jargon/unique words when you need to transcribe them.
#3. The language used in the transcription
Transcribing companies typically require fluency in a particular language, which is most often English. Typing skills are also required, since many companies base pay rates on accuracy.
What do you need to get into transcription?
To be successful at working in transcription, you will need a few tools to help make the work easier.
First, you must have a good pair of headphones, preferably ones with noise-canceling abilities. These will let you better catch all of the audio, making the transcription process faster and simpler. In addition, you will be able to listen comfortably for a longer time without hurting your ears.
Secondly, you should also have a good PC with fast internet and a clear screen. It will make it simpler to look into the screen for a long time and type all the words required.
Another thing you may need is access to a PayPal or another type of online payment account. Many transcribers are considered independent contractors. You will often be paid a flat amount, and the organization may or may not take taxes out of your paycheck.
If taxes are not applied to your paycheck, you will be responsible for paying those taxes yourself. Talk to your tax advisor for more details.
4 Best Transcription Jobs for Teens (and adults)
If you are looking for transcription opportunities, here are a few places to get started.
#1. Transcribe Me
Transcribe Me hires individuals ages 18 and older for transcription jobs. In addition to meeting the minimum age requirement for this position, you also need to have access to a computer or laptop and a stable internet connection. You also need to have access to a valid PayPal account and must be able to pass their entrance exam.
#2. AccuTran Global
AccuTran Global also offers online transcription jobs for teens and adults. While the minimum age for their positions is not posted, job applicants do need to be fluent in English. Certification may be needed for some positions. Visit their website for more details.
#3. Casting Words
Another transcription job opportunity for teens is through Casting Words. This online company hires teenagers age 18 and older for online transcription jobs. Certain jobs may require that you live in a particular country or speak a language fluently in order to apply. Read the details before you complete an application.
Work through this transcription company is paid by the audio minute. Your completed work will be graded and must meet a minimum level of quality to qualify for payment. Work ranked with higher scores will receive higher payments and there may be bonuses available on some projects. See their website for more information.
#4. Appen Global
Appen Global offers transcription jobs to workers all around the globe. They hire teenagers 18 years of age and older, and you can register for upcoming transcription projects with no cost or investment. You will need a reliable way to get online and complete the work, such as a laptop or desktop computer. Those working for Appen Global also need current virus software.
Finding Transcription Jobs for Teens
If you're a teenager looking for work from home opportunities, transcription may offer you an opportunity to earn money on your schedule. While some platforms may require that you be 18 years of age or older, there are some job opportunities for younger teens as well. Know of a transcription job for teens that I missed? Leave a comment below!
Still, looking for more work from home opportunities for teenagers? Don't miss these online jobs for teens and tutoring jobs for teens.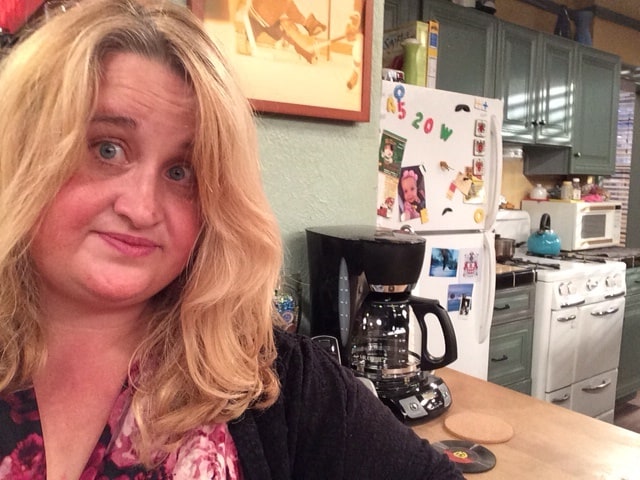 Kim Ritter is a frugal living expert, blogger and mom of two from small-town Iowa. What began as an effort to help her family save a few dollars a month has now transformed into a full-time passion to help other parents money. Visit her online at twokidsandacoupon.com and follow her on Twitter at @2kidsandacoupon for more ways your family can have fun on a budget.