Building a house sounds like a science fiction movie to a lot of people, not to mention doing it without any sort of loan, but that's exactly what I've been able to accomplish.
Take it from me, building a new home from the ground up is possible, after all, and if you know what you're doing, you won't have to trap yourself in mortgages for the next 20 years of your life.
Naturally, in order to build your own house, you're gonna need a ton of money, and this will most likely be the single biggest investment you'll ever have to make, at least it was so in my case.
As I might've mentioned, and you possibly know that already, it takes a lot of time to build a home.
In my case, this was a nearly five-year-long process, and here is how I managed to obtain the initial capital.
While I was still attending college, and living in a dorm, I did all sorts of side hustle jobs in order to earn a few bucks.
It turned out that event management was the most lucrative of them all.
Looking at it from this perspective, I earned a substantial amount of cash by organizing parties, but it wasn't worth it.
Running a club, pub, or even working as an event manager is such a stressful job that I wouldn't dare to try it again.
Now, I won't bore you with the details, but it's said that this line of work is the most stressful one, right after the military, police, and health care.
Being that all of these jobs are directly related to life or death situations, you can see what I mean.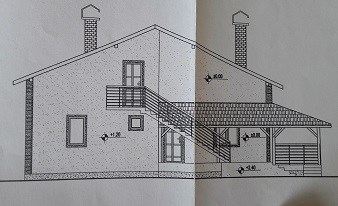 How building a new home without a mortgage came to fruition
Either way, I could speak about event management all day long, but let's get back to the business at hand.
Near the end of my college days, six of my friends and I agreed to join our forces and organize a huge event in an attempt to earn some serious money before we eventually sail into the corporate world.
The initial idea revolved around the New Year's Eve celebration, which was supposed to be organized at a pool, with about 1,000 people attending.
As we've already been in the business of event planning, we knew that we could reach that number in a heartbeat, and the job was supposed to be a piece of cake.
Each of us could easily invite 100 friends, which meant that we already had 700 invites, and we knew that 30% of guests will come based on marketing alone.
Unfortunately, the company that owns the pool decided not to rent the place to us due to safety reasons, and instead offer us a gigantic space which they also happened to own.
This place was known for wild parties with DJs, but no one ever hosted New Year's Eve there, up to that point.
Oh yeah, there's also one small detail, the place could host 4,500 individuals!
After some thought, we agreed, even though we knew that such a big place required a lot of investments in marketing, as well as a large number of affiliates.
In case you were ever wondering how popular festivals or nightclubs get enough people to join in, now you know that it's the affiliates that play a huge role here.
They usually charge a percentage of every ticket sold, or in some cases, a percentage of the overall income generated.
As mentioned before, about 30% of guests come on their own, whether it be through finding out via a commercial, or perhaps when a friend invites them to join in on the fun.
Like always word-of-mouth is the best marketing strategy there is. If you get 3,000 people interested in your event, the news easily spread and reach up to 30,000 people.
Without the need to go into details regarding the event itself, I'll only mention that we were able to sell 4,200 tickets, and that we managed to gain the largest sum of money I've ever seen in my life, even till this day.
If you're curious, the average ticket price was $80.
We divided the earnings amongst ourselves, and as the case may be with most young men who get easy and fast money, we started spending it uncontrollably.
Two of the guys bought themselves cars, the third one went to Bali, and some were smarter than others and invested in the stock market.
I had the luck of having my father's guidance at all times, so we decided that it's best to invest the money and so I've bought myself a parcel.
Naturally, the Bank of Mum and Dad was also by my side, as it's oftentimes the case with any major investments young people make.
Because I was still living in a dorm at the time, the news of my actions spread quickly, and some people tried to make fun of me, saying that I'll soon be starting my own farm there, and so on.
It later turned out that I would be the one who'll have the last laugh.
It still took some time before I got the courage to actually start with this whole plan.
Actually, this process lasted for another three years.
In my mind, building a house took a serious amount of money, which I simply didn't have.
Every time I got close, I chickened out, and spent that cash on a new mobile phone, some latest gadget, or even waste it on nightlife (it's crazy how generous you become after a couple of adult beverages).
Ultimately, to build a home, you have to start somewhere, and my father finally convinced me to get the ball rolling.
The plan was pretty simple, take it one step at a time.
The first milestone was setting the foundation, and at that time, I decided not to even think about the roof of the furniture.
The truth is, this thinking process truly works, as you won't ever need to spend 100k at once.
Each segment usually costs a couple of thousand bucks, other than the roof, which skyrocketed to about $20K, but once again, the Bank of Mum and Dad came to the rescue.
It took four and a half years before I was finally ready to move into my own home, with no bank loans whatsoever dragging me down.
If I'm being honest, I'm an engineer, and my salary is about 4 times higher than the median, but let me tell you something, you'll never be able to earn serious money based on your salary alone.
It usually takes much more than that, so find yourself a side hustle job, as you'll likely need to have as many sources of income as possible.
For example, I continued with event planning from time to time, I sold stuff on eBay, then later migrated to Amazon, heck and I even sold video clips online, and many other things.
Can you imagine the feeling when your account gets awarded with $4k from some video footage you had buried on your phone since forever?
And no, I'm not talking about any viral cat videos, it's just some regular footage, but the media outlets are thirsty for any creative outings, because it's cheaper for them to find it somewhere instead of having to do it all by themselves.
I'll have to admit that it wasn't always easy… while my friends were goofing around, visiting Monte Carlo, Barcelona, Paris, Cyprus, I was stuck on my parcel, working my ass off alongside construction workers.
Can you imagine the feeling of this lasting for four and a half years, missing every vacation, spending every weekend working long hours?
In order to save as much money as possible, we agreed to use an hourly rate, and then worked alongside the workers.
If I was able to carry 100 bricks within an hour, and I'm the man who pays the bills, you better bet that the workers would have to follow my pace.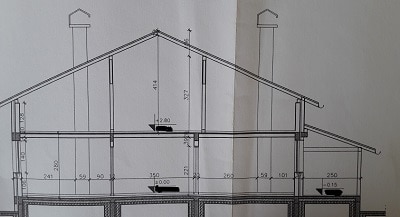 How much did it cost to build a new house?
It's impossible to give a straight answer to this question.
So many factors are in play, starting with the low price, which can vary up to ten times, depending on the location.
Furthermore, the material price also varies 10:1 from the most expensive to the cheapest one.
Then it depends on how much discount you can get on furniture and so on. Ie. I've used YLiving coupons to save on furniture.
To be honest, I also used to spend a ton of time, browsing through forums, looking at different prices, but it later turned out that those figures were far from reality.
I would even go as far as saying that those texts were written by people who never even built a doghouse, let alone the whole thing.
How long did it take to build a house from scratch?
Judging from my personal experience, it took about four and a half years.
It's important to mention that I used a step-by-step method, without borrowing any money in the process, so this substantially slowed me down and it is not one of the most expensive houses in the world.
If I had all the funds right from the start, I could've finished it in about six months, or possibly even shorter than that.
I don't even have to mention the sacrifice it took in order to get there.
Not only that I missed out on the opportunity to travel with my friends, but that absence also alienated me from the rest, as we simply didn't have too many things in common at the time.
When we used to hang out, they usually started up a conversation about their adventures, which I wasn't a part of, and thus, I felt left out.
What was my life about at the time?
The price of plumbing or the pains of building a house from the ground up?
OK, that's all fine and dandy, but no one wanted to talk about that.
Even nowadays, and we're ten years removed from the situation, these guys sometimes bring up the "good old days", and I simply cannot relate to their experiences.
At the end of the day, I am very proud of myself, the decisions I had to make, and the rough times I had to endure, in order to reach this point.
All of my friends are up to their necks in bank loans right now, and I'm a free man.
Not only that, but most of them will be forced to deal with these loans for the next 20 years, and I don't have that noose around my neck.
Are you prepared to make a similar sacrifice?
More from Dollar Sanity:
Is Renting Out Mobile Homes Profitable?
How to Become an Airbnb host – Complete Beginner's Guide
How Much House Can I Afford with $50k Salary?