We could all use a little extra money.
Sometimes your 9 to 5 job is only paying enough money to cover the necessities and you need a side gig (aka "side hustle") to afford going out with friends or to save up for a well-deserved vacation.
However, even side jobs sometimes require demanding skills.
5 Ways To Earn Money Without Any Skills
You can't teach yoga on the side if you haven't been trained in it and don't even get me started on programming or design projects.
Luckily, there are still some great options to earn a little extra money if you have the basic skills of knowing how to walk, talk, and tap.
20M+ members
Average survey payout is $.50 – $3.00
Make money in your spare time
Trustpilot rating of 4.5/5 from more than 30k+ reviews
Earn money for simple tasks
Take photos of places in your city and get paid
Over 10M users
Get PayPal cash and free Bitcoin
Walking
Wag!
If you like light exercise and animals, Wag! will pay you to walk dogs. The app allows you to set your own days and hours and accept/deny walk requests as they come in. If you need a flexible schedule because of another job or responsibilities, this is a great opportunity.
You only need to be at least 18 years old and can earn up to $25/hr (with occasional referral bonuses) while simultaneously getting some fresh air and exercise. Plus, you're getting paid to spend time with dogs and help them stay healthy. What could be better than that?
Due to my frequent travels, I haven't personally tried Wag!, but I've heard only positive comments about it from both walkers and dog owners. It's also been featured in established publications such as Forbes, The New York Times, The Wall Street Journal, TechCrunch, and The Los Angeles Times. Wag! is available in 56 U.S. cities. If you live in a very small town, Wag! may not be available close to your home.
Here you can learn more about becoming a dog walker.

Sweatcoin
Sweatcoin can be used from anywhere outdoors as long as you've signed up with a phone number from a qualifying country. Whether you're interested in cryptocurrencies or not, chances are you haven't been able to avoid hearing about them.
The trouble with investing your money into cryptocurrencies is that you can lose that cash. However, with Sweatcoin, you aren't investing money. Steps are your currency. Yep. Sweatcoin literally pays you to walk outside.
The more you walk each day, the more "sweatcoins" you earn. Those coins can be traded in the app for a variety of goods, including Amazon gift cards and Paypal cash. I've used Sweatcoin, but I haven't traded in coins for any prizes yet. There are small prizes you can earn quickly, but any Amazon or Paypal rewards require plenty of time saving up. It takes a lot of walking to earn anything substantial, but you're getting something for walking which you (hopefully) do everyday anyways.
Sorry, if you're currently using an iPhone model earlier than 5s or an Android earlier than 4.4, this app won't work for you. I wrote an entire piece about Sweatcoin here. To start earning sweatcoins click here.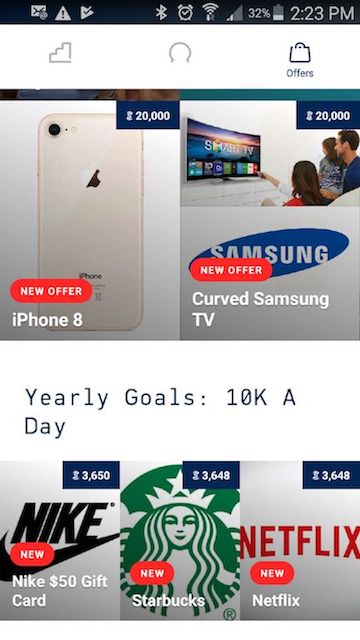 Talking
Cambly
Cambly connects native English speakers with people from around the world who want to better their English skills. There are a lot of platforms with this goal, but Cambly differs in a few ways. Tutoring platforms like VIPKID, for example, are strictly for teaching children in China.
Plus they require a teaching degree. Cambly has people from all over the world who can be any age. I've tried it a bit and found many of the people I spoke with to be very interesting. They recommended airlines, books, and countries to visit. As you chat, you're earning 17 cents per minute.
The best part about Cambly is that you aren't required to create lesson plans. While some people are looking to practice a specific aspect of English, others are happy to chat about wherever the conversation takes you. You don't need to be a teacher, just a talker.
You aren't required to be a certified educator or even have any type of degree with Cambly. The only necessity is to be able to speak English fluently. I do think my education degree helped me become approved faster than others, so if you do have a degree, definitely mention it. You can sign up for Cambly here.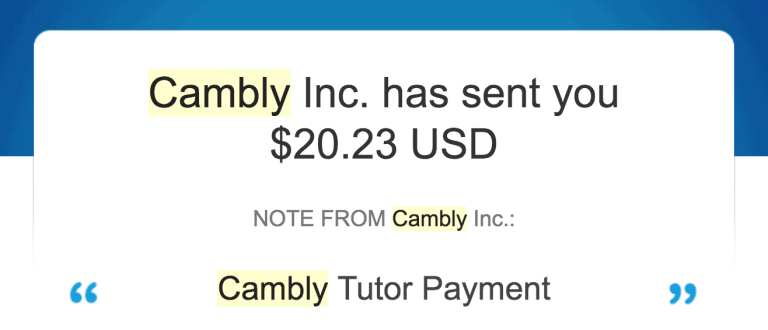 Tapping
Pollpass
Recently, I started trying Pollpass. A chatbot asks you survey questions for businesses and you simply click/tap your answer. Every answer earns you points. Once you've earned $5 worth of points you can cash out to either Amazon or Paypal. If it sounds too easy, it's because it is. You're just tapping your opinion to earn money. There are downsides, however. Apparently, when the website first began it was easy for people to get enough points to cash out in just one sitting.
Now, the questions sometimes dry up and you have to wait for more to become available. It took several small sessions spread out over a few days for me to make enough to cash out. Pollpass definitely isn't recommended as a reliable means to make money. It is a great way to earn a bit of extra cash for little effort while you're riding in an Uber or during commercial breaks though. You can sign up for Pollpass here.
Answering Questions Online for Money
Okay, words such as "money" and "easy" should never be used in the same sentence together, but no matter what anyone says, taking surveys and answering questions is the easiest way to make money from home in your spare time. The best part is that you don't need any skills to complete these surveys.
Don't know where to start? The most popular survey sites are Survey Junkie, Swagbucks, Branded Surveys, and My Points, but you should check our best survey apps list to find out what are the most legitimate survey sites today.
If you want to make a lot of money, you have to develop in-demand skills. But, sometimes, all you need is a little extra cash and that's when these gigs will help you out. Even if you have a solid job, these can be a nice break from your usual mentally or physically strenuous work. I'm a professional writer, but when I'm not deeply focused on a piece, it's nice to be able to make some money with a stress-free activity. Sometimes, you just need to be able to walk, talk, or tap.
Read more: