If you are looking for professionals for some house services, I am sure you have come across Thumbtack and TaskRabbit.
These are the two largest platforms providing a link to all the professional service providers in the States. Still, which one is better?
While they seem quite similar, Thumbtack and TaskRabbit differ significantly in their target customers and service providers.
Thumbtack VS TaskRabbit: General Information 
Thumbtack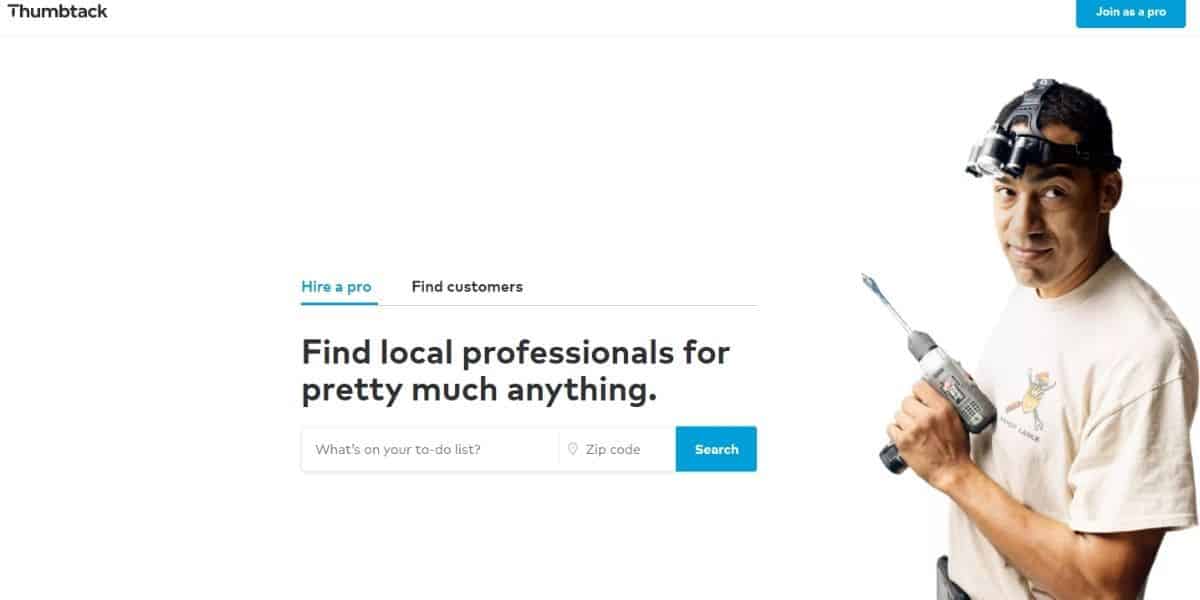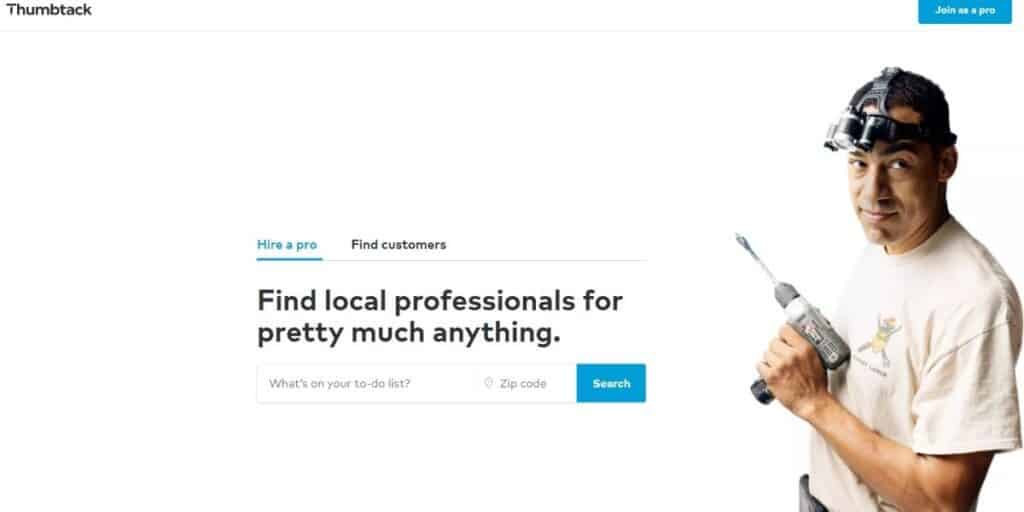 Thumbtack has a reputation of being the leading tech company in the home service industry. It offers a wide variety of services and helps you connect with professionals and companies from all fields.
So, whether you are looking for a house cleaning service or interior design, or even a plumbing service, Thumbtack has all of it. Moreover, it even offers services such as wedding photography, catering, singing lessons, etc.
Thumbtack is a website or app helping such companies to get in touch with customers in simple language. The target of Thumbtack is customers who are looking for home service professional companies for long-term projects.
Recommended articles:
You can check the services offered in your area by putting your zip code on the app or website. Then, filter or put some more information to narrow down the services you want.
You will find the list of professionals providing the service you want. Additionally, every profile has ratings, reviews, and pricing rates for you to judge better.
You can schedule your appointment and get in touch with the professionals. You can even ask your queries or doubts before booking an appointment.
Taskrabbit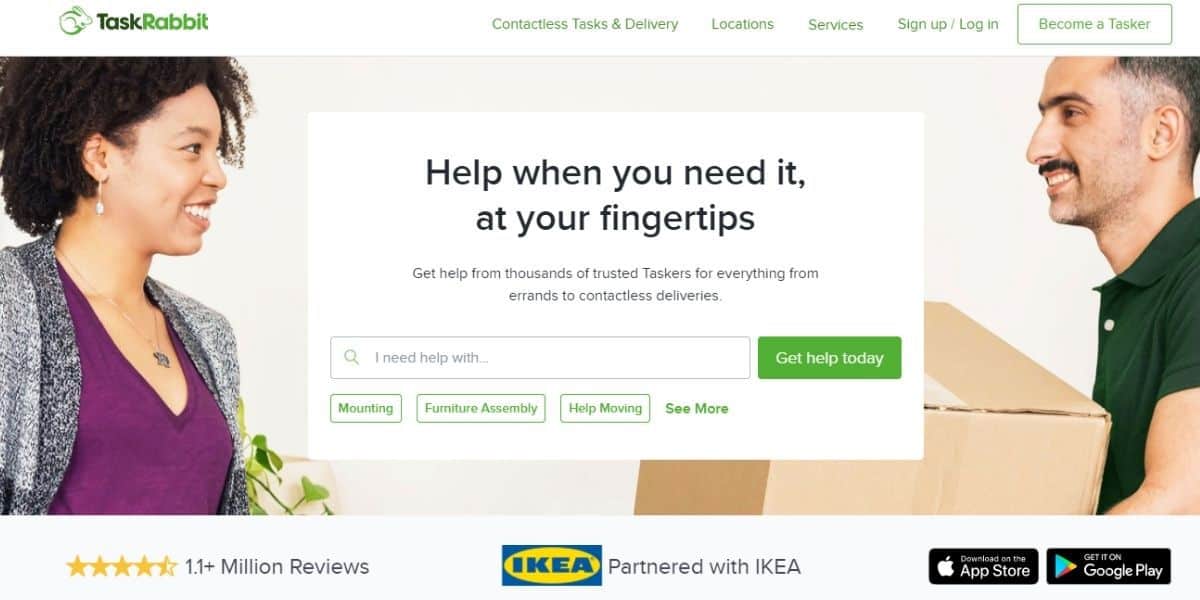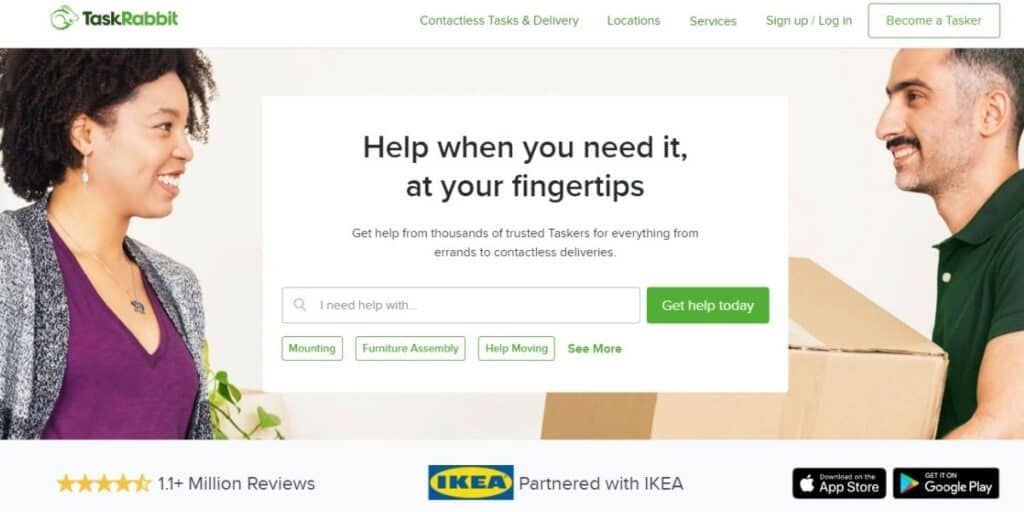 Taskrabbit is a website or app similar to Thumbtack and helps customers to find suitable service professionals.
Taskrabbit focuses on providing services for random or odd works on a contractual basis. These random jobs could be anything such as fixing a television, planting, cleaning, etc. In simple words, these are jobs that do not require highly skilled professionals.
The company profiles these professionals using their identities and not the company with which they are associated. This platform is best suitable for hiring an individual to do your job and not a company.
The app allows you to search for the work you want to get done. Then, it will show the Taskers in your area doing that work. In addition, you can read about the Taskers on their profile and check their rating and reviews.
The work done by the Taskers isn't time-consuming and is best suited for people looking for seasonal work.
Thumbtack VS Taskrabbit: Comparison
Cost and Pricing
The costs involved vary from job to job. Thumbtack charges an average of $40-70 per hour. Also, Thumbtack pays its experts as per the leads they pursue and on the task did.
On the other hand, Taskrabbit charges $25 as registration fees and an additional 15% service fee to its customers. The average Taskrabbit charge is $25-60 on an hourly basis.
Still, Thumbtack is costly in comparison to Taskrabbit.
Services
Thumbtack provides a range of services in more than 2000 areas whereas, Taskrabbit offers more than 20 services.
The services provided on Taskrabbit are short-term and contractual. On the other hand, Thumbtack provides services focusing on long-term client relationships.
Clients
Thumbtack works for both commercial and residential clients but mostly has residential clients. On the other hand, Taskrabbit works for only residential clients.
Further, the clients receive expert services on Thumbtack. On the other hand, services offered on Taskrabbit are less tedious to do.
Coverage
Thumbtack provides services in the USA only whereas, Taskrabbit has clients from various countries. These countries include the USA, Italy, Portugal, Germany, Spain, the UK, Canada, and France.
Privacy
Both Thumbtack and Taskrabbit ensure privacy by allowing you to connect with the professionals through the app or the website only. Still, Thumbtack is relatively stricter when it comes to payment.
On Taskrabbit, you can make and receive payment through the app and website, whereas, Thumbtack doesn't allow the same.
Cancellation Policy
TaskRabbit's cancellation policy states that you can cancel the project within 24 hours of your scheduled start. On cancellation, you will be charged an hourly rate.
On the other hand, Thumbtack's cancellation policy states that you will receive a refund on canceling the project more than 24 hours before your scheduled time. While, if you cancel the project within 24 hours after your scheduled time starts, you will be charged a $15 cancellation fee.
Thumbtack VS Taskrabbit: Weigh In
Pros
Pays only for the leads you wish to pursue.
It is free for building a profile and easy to use.
Your money will get refunded if the lead doesn't respond within 48 hours.
You have access to the services even in the smallest town in the USA.
You can check the competition's rates before booking an appointment.
Cons
There are large competitors along with no surety of getting a job from the lead.
There is no proof of the quality of contractors.
You may find it costly.
TaskRabbit 
Pros
You can access 24-hour customer support provided.
There is transparency and, professionals with a clean background are appointed.
You can hire a professional for any work.
Taskers get paid on an hourly basis and have the freedom to leave the platform whenever they wish to.
It has partnered with IKEA.
Cons
You may not always find a licensed professional for your project.
Service professionals struggle to get further leads if previous customers don't leave reviews and ratings on their profiles.
Many professionals have complained about earning fewer gigs on the website.
Final Decision
We can conclude that both Thumbtack and Taskrabbit have their hold in the market, depending on our analysis above.
While you should target Thumbtack for longer-term projects, Taskrabbit is suitable for shorter-term commitments.
Still, we recommend you compare the available services and professionals on both platforms simultaneously.