E-commerce giant Amazon is known for its low prices and vast selection. Amazon has a reputation for being a place where you can find anything and everything under the sun – including some pretty pricey items.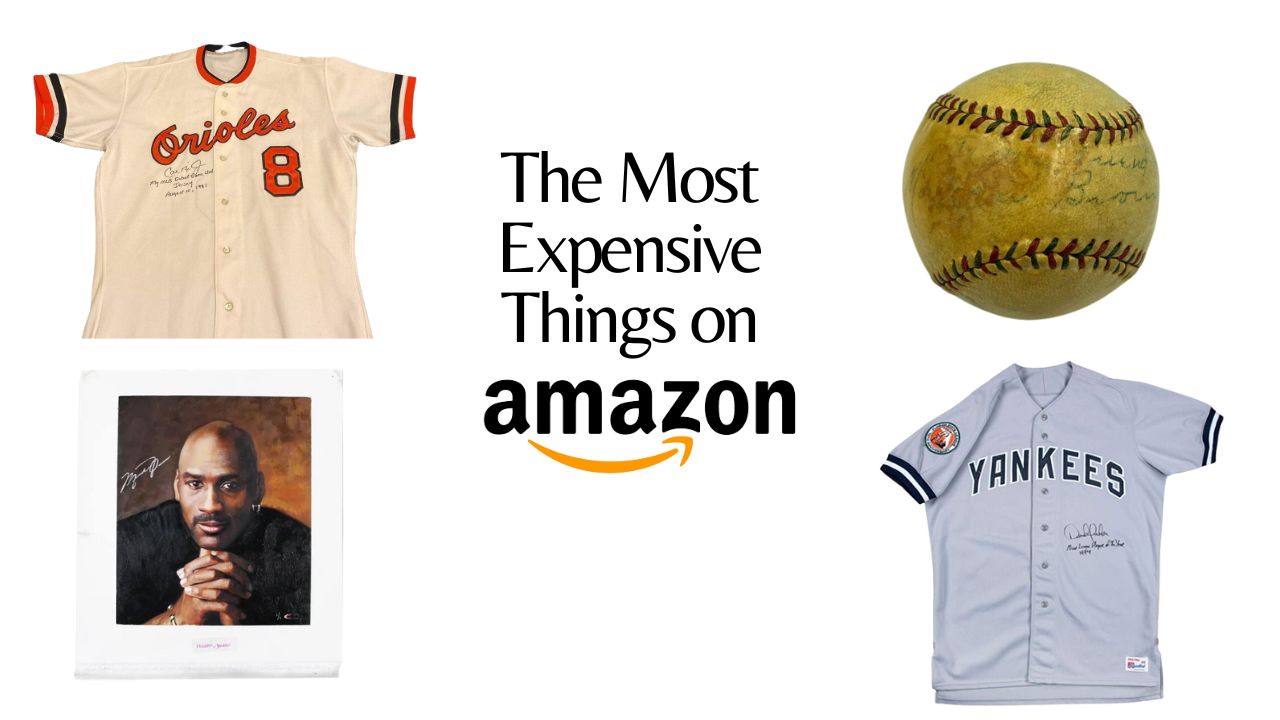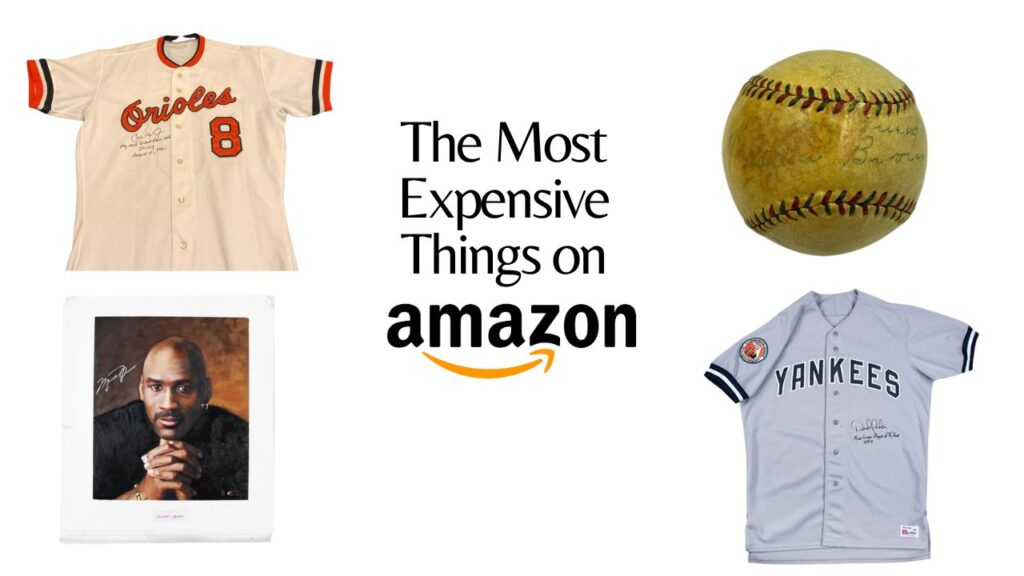 Currently, Amazon has approximately 350 million inventory items. All kinds of unusual, unique, one-of-a-kind, and exotic items can be found on Amazon. As the site also sells the priciest items in the world, here's a look at the top 10 most expensive things you can buy on Amazon.
This is an actual game-worn jersey from Cal Ripken Jr.'s 1981 rookie season with the Baltimore Orioles. The jersey from Ripken's debut season is among the most highly coveted items in all sports memorabilia.
This particular one is autographed by Ripken and has been authenticated by Fanatics Authentic. Cal Ripken Jr., also known as "The Iron Man," is a former professional baseball player who played 21 seasons for the Baltimore Orioles.
He is best known for his record-breaking streak of 2,632 consecutive games played. This jersey, worn by Ripken during his Major League debut in 1981, is being sold for $801,818.09. 
This jersey was photo-matched and autographed by Jeter in 1994's rookie season. Fanatics Authentic has also authenticated it.
Derek Jeter is a former professional baseball player who spent his entire 20-year career playing for the New York Yankees. He is a 14-time All-Star, 5-time Gold Glove, 6-time Silver Slugger, and 5-time World Series champion. This jersey, worn by Jeter during his rookie season in 1994, is being sold for $320,728.49. 
Recommended:
Authenticated by James Spence Authentication (JSA), this baseball has been signed by Mordecai, the most successful pitcher in Major League history. Brown was so named because he lost parts of two fingers in a farming accident as a child.
He had a Hall of Fame career, pitching for the Chicago Cubs and compiling a record of 239-130 with a 1.79 ERA and 1375 strikeouts. He also won the ESPY Award for Best MLB Player. This baseball, signed by Brown in the 1920s, costs $240,539.39 due to its stellar history.
Michael Jordan's signature is a valuable collectible that can sell for a lot of money. This 2002 "Goodwin Champions" card included a picture of Michael Jordan with an autograph on both sides. In the artwork, Jordan is shown contemplating during a picture shoot conducted during his spectacular professional basketball career.
Later on, Michael Jordan inscribed his signature with a silver pen. The Five-Step Process used by Upper Deck Authenticated (UDS) has verified his signature as genuine. This copy, one of five, is still in its original packing. Michael Jordan is a former professional basketball player widely considered the greatest of all time. He is a six-time NBA champion, six-time NBA Finals MVP, five-time NBA Most Valuable Player, and 14-time NBA All-Star. This Michael Jordan autographed card art is being sold for $74,999.99.
These gloves, autographed by Marciano, are being sold for $34,773.29. Professional Sports Authenticator (PSA) has authenticated the autograph of boxing legend Rocky Marciano on these gloves.
They are very rare, dating back to Marciano's sparring days in 1951. He was undefeated as a professional boxer and the only heavyweight champion to retire with a perfect record of 49-0. With the biggest knockout-to-win ratios of around 88% in heavyweight boxing history, Marciano is regarded as the finest heavyweight boxer of all time and is well known for his unrelenting fighting style, stamina, powerful punching power, and incredibly durable chin.
Among the priciest goods ever traded on Amazon is an actual Tesla baseball cap signed by Elon Musk, co-founder of Tesla Motors and the CEO, founder, and CTO of SpaceX. This one-of-a-kind cap has its front embroidered with a Tesla logo.
Any Tesla enthusiast would be thrilled to acquire this unique collector's item. This baseball hat, autographed by Musk, is now being sold for $24,999.95. As per the seller, each autograph was acquired personally and is warranted to be real.
Among the most expensive things on Amazon is this WORLD'S FINEST #3 comic book, with a price tag of $25,990.00. This issue marks the first team-up of Superman and Batman and is among the most valuable comics in existence.
The comic book has been authenticated by CGC, the world's largest and most trusted comics grading service. This issue is in great condition, with off-white to white pages. Given its rich history, the comic book justifies its high price tag.
Stephen Fishler, the comic's original owner, co-founded Comic Connect, one of the biggest auction websites for comic books as well as other collectibles.
This autographed letter, signed by the world-renowned sharpshooter Annie Oakley is being sold for $19,000. Oakley was among the most famous sharpshooters of her time and performed in the Wild West shows by Buffalo Bill.
She was also known for her philanthropy, as she donated her winnings to various charities. This autographed letter is a great piece of history that would make an amazing addition to any collection.
This diamond pendant, made from 18K gold, has a hefty price tag of $15,850.00. This piece of hip-hop jewelry is iced out with 11.6 ctw of VS quality round crust diamonds.
The pendant features a large Jesus face design that is sure to turn heads. Luxurman is a well-known name in the hip-hop jewelry world, and this pendant is a prime example of its craftsmanship. The 18K yellow gold pendant has dimensions of 3 inches long by 2 1/8 inches wide.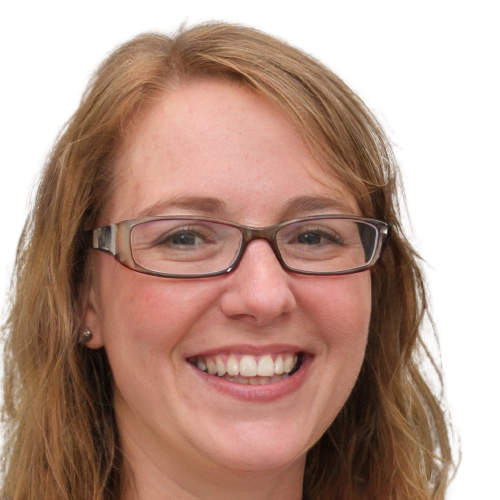 Hi, I'm Ashley a freelance writer who's passionate about personal finance. Ever since I was young, I've been fascinated by the power of money and how it can shape our lives. I've spent years learning everything I can about budgeting, saving, investing and retirement planning. So if you are looking for tips, advice, or just a little bit of inspiration to help you on your financial journey, you have come to the right place. I am always here to help, and I am excited to share my passion for personal finance with you.