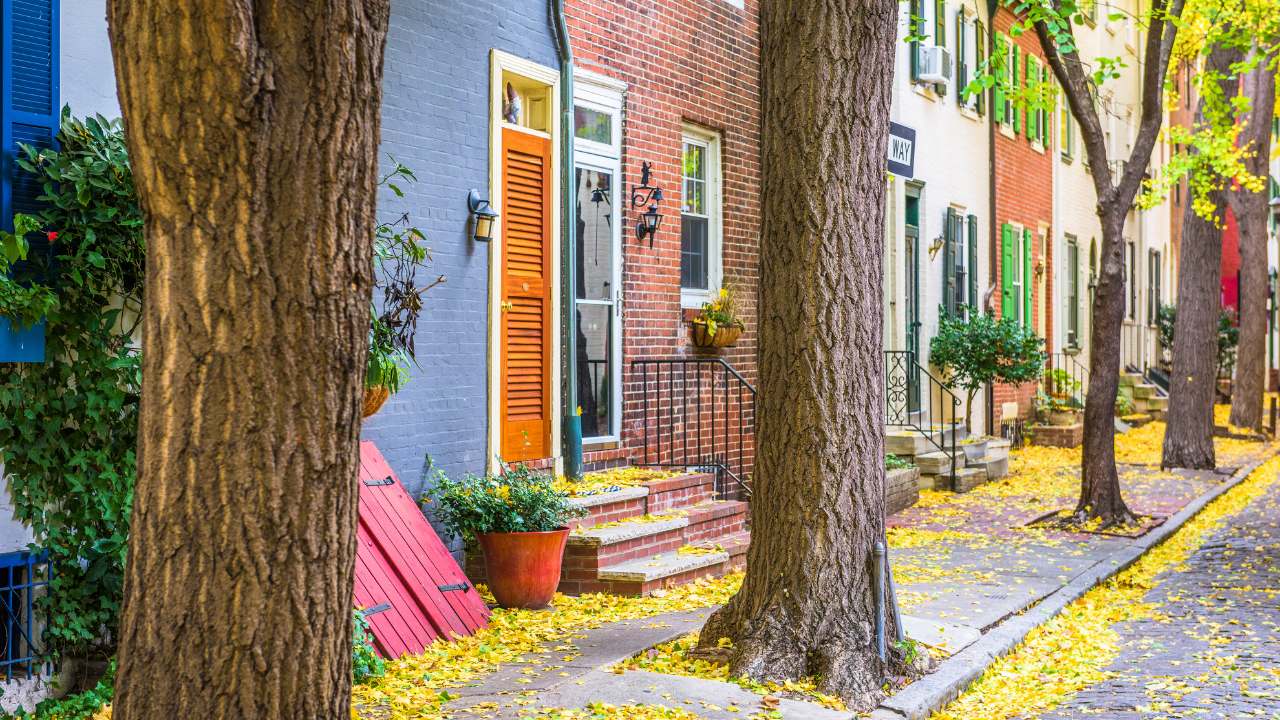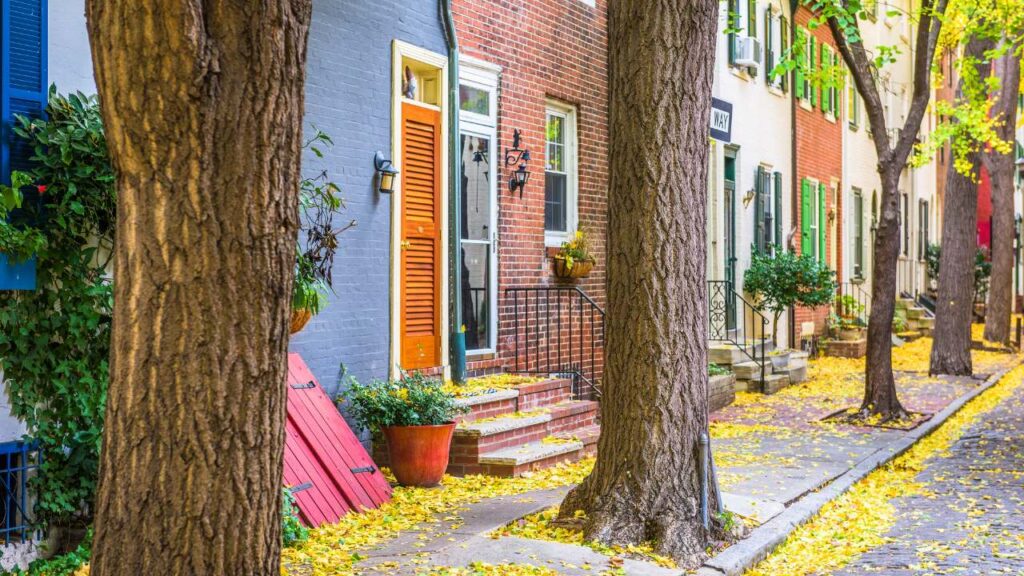 If you're considering a move to Philadelphia and safety is a top concern, you're in the right place. We compiled a list of the safest neighborhoods in the City of Brotherly Love, considering factors like crime rates and community engagement.
Whether you're a family looking to settle down or a young professional seeking peace of mind, find a Philadelphia neighborhood that fits your needs.
So what are these neighborhoods, and what do they offer? Let's find out! 
Safest Neighborhoods to Live In Philadelphia
Chestnut Hill
Mount Airy
Rittenhouse Square
Society Hill
University City
Fairmount-Spring HIll
Bustleton
Manayunk
East Falls
Bella Vista
See: Philadelphia vs. Chicago: Pros & Cons of Living
1. Chestnut Hill
Chestnut Hill is often described as one of Philadelphia's most beautiful neighborhoods, and it's not hard to see why. With tree-lined streets, historic homes, and a welcoming atmosphere, it's a residential haven.
Families find comfort in its relatively low crime rates and high-quality schools. On weekends, the local farmers' market and boutique shops become social hubs for the community.
2. Mount Airy
Mount Airy blends suburban and city life, appealing to young families, retirees, and singles. The area hass diverse housing options from quaint row houses to grand old mansions.
In addition to being considered safe, Mount Airy is known for its inclusiveness and strong community spirit. Nature lovers will appreciate its proximity to Wissahickon Valley Park, perfect for weekend hikes and picnics.
3. Rittenhouse Square
If you're looking for something closer to downtown, Rittenhouse Square might be the place for you. With its meticulously manicured park, high-end shopping, and fine dining, it's one of Philadelphia's most prestigious areas.
Safety is another big draw. It's a busy area but well-patrolled, offering an urban lifestyle without compromising much on security.
4. Society Hill
Known for its cobblestone streets and 18th-century architecture, Society Hill is a window into Philadelphia's rich history. But it's not just a neighborhood frozen in time; you'll find all the modern amenities you could wish for.
As one of the older neighborhoods, Society Hill has a more established community and is generally quieter than other parts of the city, contributing to its reputation as a safer place for residential living.
5. University City
University City is the ideal Philly neighborhood for students, professionals, and families looking to settle down.
Moving to University City is a win, especially for the students, with many quality educational institutes nearby. Many universities and med schools, including the University of Pennsylvania and Drexel University, are present close to this suburb.
Apart from the educational institutes, this place is home to various hospitals, ensuring that healthcare facilities are always within your arm's reach. Living in University City also allows you to enjoy many different amenities, including breathing in the fresh environment of Clark Park and visiting farmer's markets or pop-up flea markets.
With safety in the picture, you can enjoy the many attractions, including the cute coffee shops and renowned restaurants, as a resident of University City daily! 
More:
8 Best Places to Retire in Pennsylvania
9 Safest Neighborhoods In Pittsburgh, PA
5 Cheapest Places to Live in Georgia
6. Fairmount-Spring HIll
With Crime rates 60% lesser than the average crime rate of the state, Fairmount is yet another neighborhood giving its residents easy access to city amenities.
The ideal location of this suburb puts you close to the city center and lets you enjoy various cultural amenities, including museums. 
Fairmount residents can also enjoy the many restaurants, pubs, and shops within walking distance from their suburb. Unlike many other neighborhoods in the city, the traffic conditions in Fairmount are significantly better, with easy parking available.
Apart from the cultural attractions present in the area, the suburb has many green spaces available, including Fairmount Park and Schuylkill River.
7. Bustleton
Aptly named after its bursting blend of urban amenities and entertainment, locals and stats alike consider Bustleton one of the safest neighborhoods in town.
The many amenities and finding a house with an ideal location in Fairmount come at a steep price. This suburb's living costs are hefty compared to the other neighborhoods. Bustleton is ideal for those who want to be close to the city center but not too close.
This suburb offers diverse housing options, delicious cuisines, and tons of greenspaces. Apart from the nice living conditions, Bustleton's business conditions are also strong.
Living here puts the city downtown within walking distance, making it a perfect location for those without vehicles. With its perfect blend of amenities and crime rate flying 67% lower than the city average, moving here is wise. 
8. Manayunk
Situated near the Schuylkill River, Manayunk has many boutique shops and eclectic restaurants. The area is also known for its natural amenities like the Manayunk Canal and Towpath, providing outdoor activities for residents.
The neighborhood attracts a young, active population as well as long-term residents who appreciate its blend of urban and suburban qualities.
9. East Falls
East Falls offers proximity to central Philadelphia while maintaining a more laid-back, residential atmosphere. The neighborhood is home to historical sites and colonial-style homes, adding to its charm. With the Schuylkill River as a backdrop, East Falls provides opportunities for outdoor activities.
10. Bella Vista
Known for its famous Italian Market, Bella Vista is a culturally diverse neighborhood that offers a wide array of dining and shopping options.
The area has several parks, making it a family-friendly option for those who want both urban amenities and recreational spaces. Art galleries and theaters are also part of the local scene.
More From Dollar Sanity:
A 365 Day Penny Challenge: Save 1 Extra Penny a Day for $600+ a Year
12 Stores With Layaway To Make Your Shopping Budget-Friendly
7 Ways To Get Free Starbucks Drinks Right Now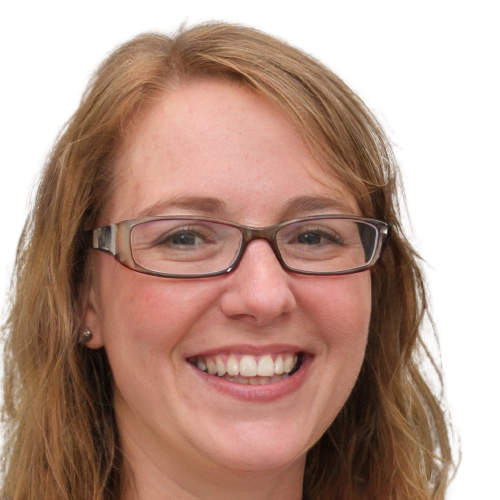 Hi, I'm Ashley a freelance writer who's passionate about personal finance. Ever since I was young, I've been fascinated by the power of money and how it can shape our lives. I've spent years learning everything I can about budgeting, saving, investing and retirement planning. So if you are looking for tips, advice, or just a little bit of inspiration to help you on your financial journey, you have come to the right place. I am always here to help, and I am excited to share my passion for personal finance with you.