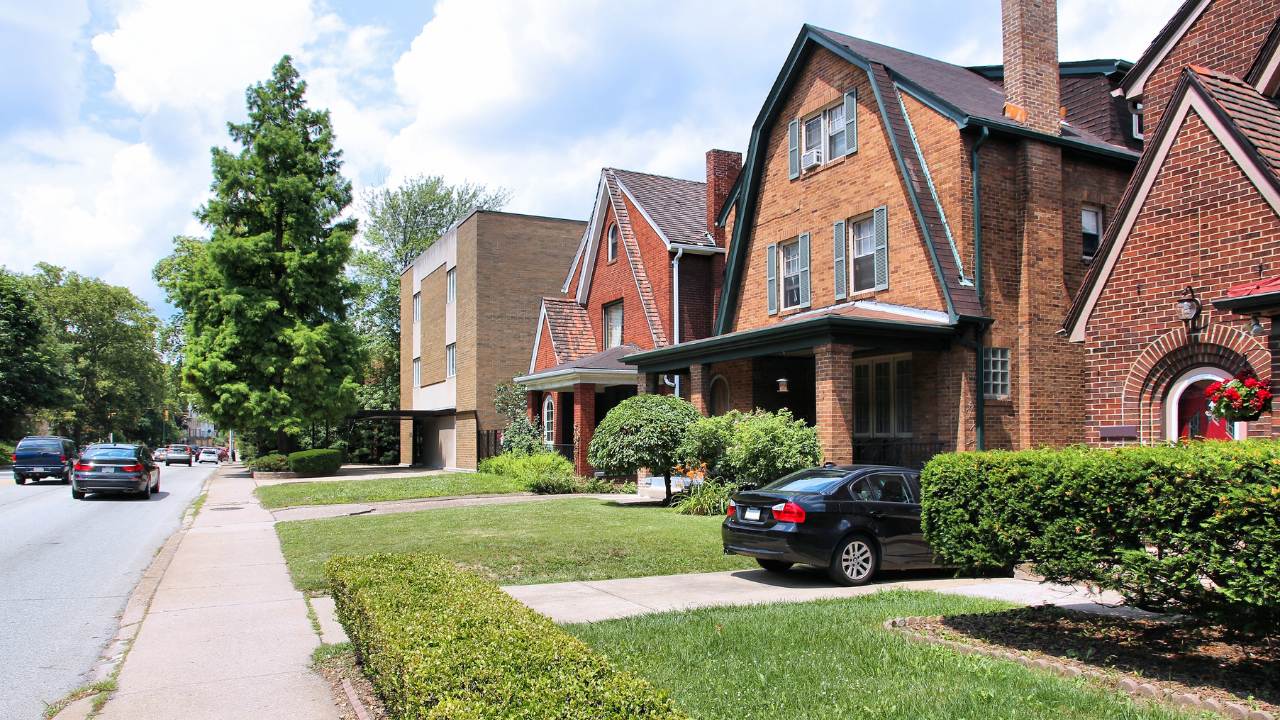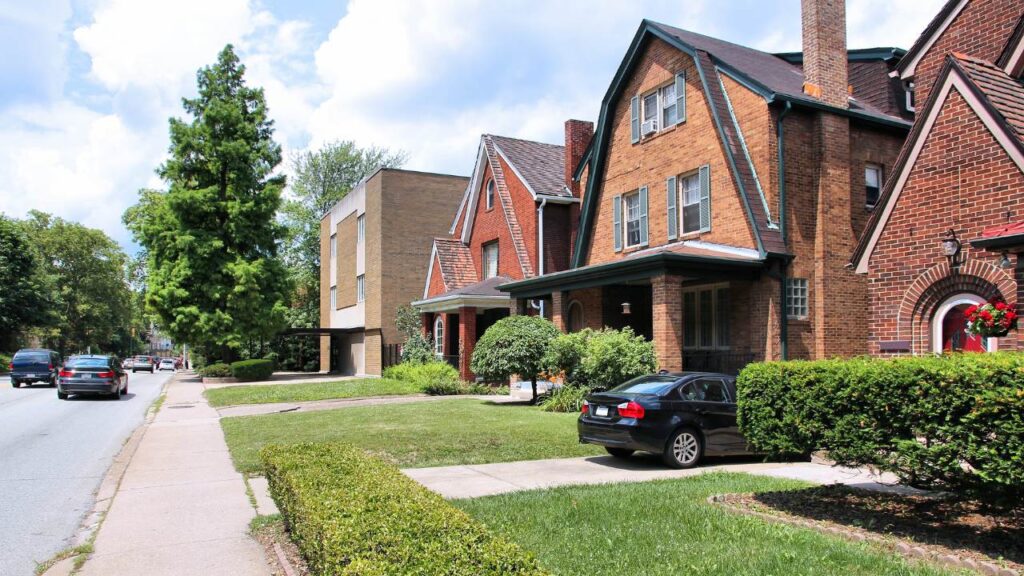 After discussing the pros and cons of living in Pittsburgh and exploring its safest areas, we've concluded that Pittsburgh is definitely a place worth moving to.
Now, let's focus on the upscale side of life in the city. We've compiled a list of the top 16 wealthiest neighborhoods for those who are in the six-figure income bracket or above.
So, let's take a walk through the Steel City and discover some of its prime neighborhoods, each offering a glimpse into the city's rich diversity.
The Most Expensive Neighborhoods in Pittsburg
Shadyside
Squirrel Hill
Point Breeze
Fox Chapel
Sewickley
Upper St. Clair
Regent Square
Mt. Lebanon
Oakland
Aspinwall
Lawrenceville
Dormont
Edgewood
Highland Park
Swisshelm Park
Franklin Park
Shadyside
Shadyside is a neighborhood you can't help but like. With Victorian-style architecture setting the stage, the streets here are full of businesses that appeal to every taste. You'll find high-end fashion boutiques, several world-class eateries, and even an Apple store in this well-loved Pittsburgh neighborhood.
Want to relax in the sun? Mellon Park is an excellent choice. Locals swear by its beautiful gardens and sunny picnic spots.
The area also boasts great schools and is just a stone's throw away from the University of Pittsburgh and Carnegie Mellon University. If you're looking for lively city life with the comfort of a small community, Shadyside is the place to be.
Squirrel Hill
Do you fancy living among tree-lined streets, while being just minutes from the energy of Pittsburgh's city center? Then you may want to consider Squirrel Hill. Here's why:
Squirrel Hill is home to some of the city's best educational facilities. With premier schools like Carnegie Mellon University and the University of Pittsburgh nearby, it's no surprise that Squirrel Hill has drawn the interest of academics and professionals alike.
And let's not forget the excellent shopping opportunities. With a broad selection of retail outlets along Murray Avenue and Forbes Avenue, there's always somewhere new to check out. Add in the serene park settings, like the beautiful Schenley Park, and the public library, you have a neighborhood that's not just rich in dollars, but also in culture and opportunities.
Point Breeze
Point Breeze is where the old world seamlessly intertwines with modern-day living. It balances a sense of serenity and the lively atmosphere of Pittsburgh in perfect harmony.
The neighborhood is packed with historical architectural treasures and is surrounded by beautiful streets, which draw families that prefer a quieter life. Yet, it remains conveniently located just minutes away from the downtown. 
Residential properties here generally fall on the pricier end of the spectrum thanks to high demand. Many of the homes are beautiful, characterized by spacious, well-maintained lawns and grand structures.
Fox Chapel
Don't go further than Fox Chapel if you're seeking an attractive neighborhood in Pittsburgh with larger-than-usual homes and green areas.
With a high population of families and retirees, Fox Chapel is the ideal spot for those who value peace above all else.
It is a first-class area, known for outstanding schools, and the accessibility of recreation and retail close by, offers its locals a complete set of services. 
Sewickley
When it comes to Sewickley, think of simplicity combined with a splash of luxury. This side of Pittsburgh is well-known for its high standard of living. Sometimes, you might feel like you're in a classic village setting, and at other times, you could be walking in the midst of richness.
Typically, you'll find Victorian-style houses that contribute to the overall quaintness of this neighborhood. Remarkable restaurants, shops, and boutiques add a little edge to the so-called 'village' life.
As you take a stroll around, you'll notice the well-kept parks that provide the residents with plenty of space to enjoy some downtime in the outdoors. It's definitely the perfect place to lead a relaxed, laid-back life when needed.
Upper St. Clair
Upper St. Clair got all the benefits of suburban living, with just enough small-town charm. What really makes Upper St. Clair stand out, though, is its knockout public school system.
So, if you're looking to plant roots in a community that values education, Upper St. Clair is a fantastic bet. Now that doesn't mean it's all school and no play! Far from it. Upper St. Clair hosts a bunch of yearly events, great spots for a leisurely walk, and even a local farmers market – a favorite among residents.
Regent Square
Regent Square lies in the eastern end of Pittsburgh and it's a place where the past meets the present. The neighborhood balances its historical remnants with a cool modern vibe. It comes as no surprise why so many people are drawn to it.
What makes Regent Square unique? If you visit, you'll strike a chord with the row houses that line many of the area streets. These homes are a symbol of times past yet continue to be a strong part of the neighborhood's pride.
The presence of Frick Park enhances nature lovers' appeal. It's almost as if a part of the city was carved out and handed over to greenery. If you're a fan of outdoor activities, this is your place.
The neighborhood also has a small commercial area where you can find everything you might need. There is an independent movie theater which is a hit with movie buffs and there are numerous restaurants and cafes which are just for you.
It's like the neighborhood is telling you they got you covered, whether you crave some delicious food, love movies, or just want to sit down and enjoy a cup of coffee. It's all there.
Mt. Lebanon
Mt. Lebanon residents are known for their high-level enthusiasm for community activities and the local school system is highly rated. It's a place you'll find peace, quiet, and a sense of high standards all around you.
The neighborhood has well-preserved historic homes, local shops, restaurants, and parks. Imagine stepping out for a stroll on tree-lined sidewalks or a picnic in one of its parks. You'll also swoon over the choices in shopping and dining. It's easy to see why many consider it a desirable place to live in Pittsburgh.
Oakland
Oakland is a hub of education and has several public libraries, colleges, and universities. Over the years, it has put its money into universities to fuel city development.
This is a clear mark of the prosperous status of this area. University of Pittsburgh, Carnegie Mellon University, and Carlow University have uniquely shaped the Oakland terrain, influencing the region's socio-economic structure.
But Oakland isn't just about books and universities. Do you know what else makes Oakland shimmer? Its cultural offering. Home to many renowned museums, it's where you can immerse in arts and history in your free time.
Consider the Carnegie Museum of Art, the Carnegie Museum of Natural History, and the Phipps Conservatory and Botanical Gardens, each plays a part in enriching the cultural aspects of this neighborhood. Isn't that interesting?
Aspinwall
This convenient riverside neighborhood certainly has a lot to offer. Have you ever dreamed of waking up to beautiful river views?
Then Aspinwall might just be your dream come true. Standout features include close proximity to water, beautiful homes, excellent schools, and remarkable restaurants which makes it an outstanding place to reside.
Aspinwall also adds great value for those who enjoy spending time outdoors. Imagine walking by the river or enjoying a cup of coffee with an amazing view – This neighborhood certainly makes it a daily routine. Besides the amazing views and fresh air, Aspinwall takes pride in its community-focused environment.
It's a friendly, welcoming area where local events, fairs, and farmers' markets are the order of the day. Plus, with Downtown Pittsburgh just a short drive away, residents also enjoy convenient access to the city's sights and sounds. Doesn't that sound just perfect?
Lawrenceville
When you step into Lawrenceville, it feels like you're stepping into a place that's always on the pulse.
With its unique shops, trendy eateries, and arts scene, it's easy to see why it's made our list. There's never a dull moment here! Just a short drive from Pittsburgh's city center, this neighborhood truly gives you the best of both worlds. 
Want to enjoy a lazy Sunday? Start with brunch at one of the many creative food spots. Are you more of a night owl? Enjoy the lively bar scene complete with live music.
There's something for everyone and it's never the same experience twice. But don't just take our word for it! Visit Lawrenceville and experience it for yourself. You won't regret it!
Dormont
Dormont brings together the best of two worlds: the comfort of suburban living and the character of a small town. It isn't a secret that people adore this area of Pittsburgh, and for a good reason – it's an area that offers rich experiences that cater to many different tastes.
Looking for convenience? Well, you've certainly got it here. With a number of shops, restaurants, and services at your fingertips, you'll hardly have to leave the neighborhood for your everyday needs. The transit system is also top-notch, making it easy to get around the city.
All this convenience makes it incredibly practical for those who prefer the quiet life, but still want quick and easy access to the things they need.
Edgewood
As you explore this part of Pittsburgh, you'll quickly understand why folks here have so much hometown pride.
Here in Edgewood, you'll be close to all your daily needs. They've got great schools, grocery stores, parks, cafes, and restaurants.
There's a fun fact. This neighborhood is home to one of the oldest public libraries in the entire region. Now that's something you don't see every day!
Highland Park
Highland Park, known for its green spread, may leave you wondering if you're still in Pittsburgh. It's a place where the sightings of deer and raccoons are more common than you'd expect in a major city. This is a part of the city where you can enjoy nature while still maintaining a close vicinity to urban life.
Without a doubt, Highland Park's biggest draw is the park from which it takes its name. The park covers over 400 acres and features a beautiful reservoir, picnic groves, and playgrounds.
But this neighborhood isn't just about the park. There are plenty of beautiful homes here too. Tree-lined streets and well-maintained properties set this community apart.
Swisshelm Park
Swisshelm Park will surprise you, not just with its beauty, but also with the rich lifestyle it offers to its residents. It is located on the eastern edge of Pittsburgh, making it an ideal place for those who value convenience.
You're not far from the city's main activities, yet the neighborhood feels like a world away with its calm and quiet atmosphere. It may be less known compared to Pittsburgh's other neighborhoods, but that's what makes it unique and somewhat of a treasure.
While it may be a small neighborhood, Swisshelm Park is big on what it brings to the table. The residential area consists mainly of single-family homes. Each house here has its character, giving a warm, welcoming, and cozy feel.
Besides, residents of this area are known for their warm neighborliness. Imagine jogging in the mornings while being greeted by friendly locals, a simple yet satisfying experience of living here. Aren't you already excited to explore this hidden gem in Pittsburgh?
Franklin Park
Our list wouldn't have been complete without Franklin Park. If what you seek is a calm slice of life, then Franklin Park offers it all. You see, people are drawn to the quiet, peaceful atmosphere offered by this neighborhood. With its well-maintained houses and yards, this place provides an atmosphere of comfort.
But don't let this calm setting fool you into thinking there's not much else happening here. Party of the top-rated North Allegheny School District, Franklin Park boasts an excellent educational environment. Add to that the numerous parks and recreational facilities around, it's a spot that cherishes outdoor activities.
From long walks beneath towering trees to lazy afternoons at Blueberry Hill Park, the neighborhood offers opportunities for quality time spent outdoors.
Final Thoughts
So, this is the short and simple wrap-up of our exploration into the richer side of Pittsburgh. Are you surprised by any of the featured neighborhoods or was it quite in line with your expectations?
These areas may not have the grandeur of Hollywood or the skyscrapers of Manhattan, but they are home to many successful and hard-working individuals who have helped build this beautiful city.
Pittsburgh may not be the biggest city, but it sure does have some rich neighborhoods.
More From Dollar Sanity:
8 Best Places to Retire in Pennsylvania
12 Pros & Cons of Living In Cleveland
6 Safest Neighborhoods In Columbus, OH