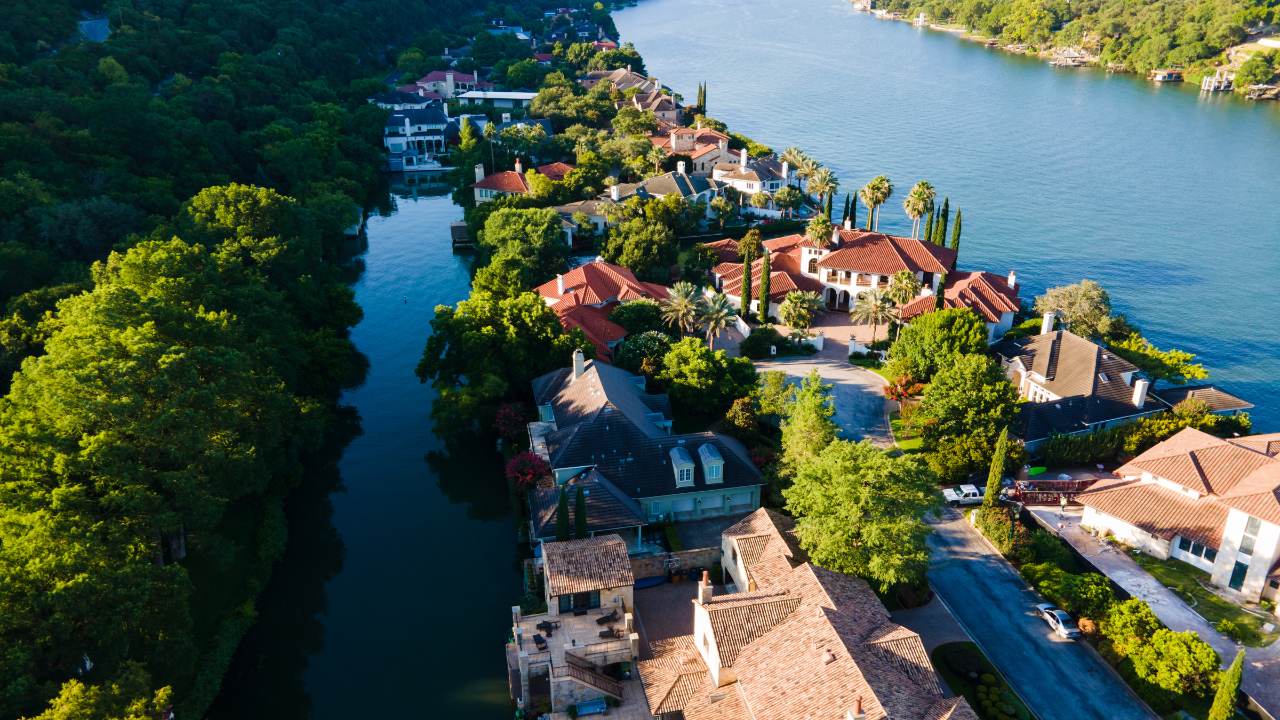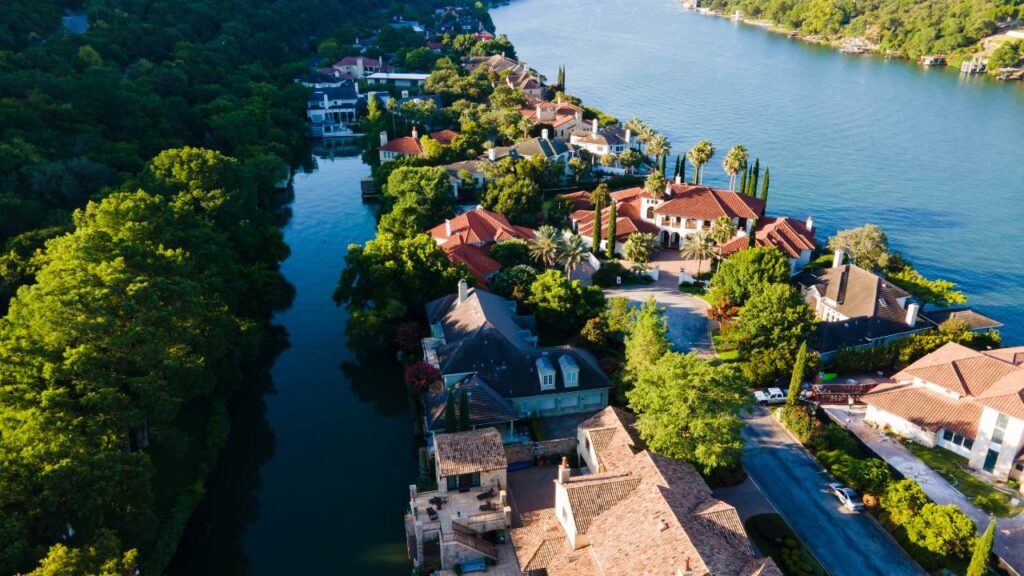 It's true, money may not buy happiness, but it sure can buy a fancy zip code! If you're curious about which areas in Austin, Texas, boast the deepest pockets, then you'll find all your answers here.
Let's explore the 14 richest neighborhoods in Austin, where wealth is the norm.
West Lake Hills
West Lake Hills is a well-known area known for its wealth. The people living here are among the wealthiest in Austin. The reason for this isn't hard to see. Imagine waking up every morning to the view of beautiful rolling hills. That's what residents get in West Lake Hills.
Fancy a stroll in nature? There are plenty of green spaces to explore here. And don't be surprised if you bump into a celebrity during your jog.
Many renowned personalities call West Lake Hills their home. Of course, that also means the houses here cost a pretty penny. But with the beautiful surroundings and close-knit community, residents believe it's worth every dollar. 
Tarrytown
Tarrytown grabs attention with its attractive juxtaposition of the old and the new. It's a place where grand, traditional mansions rub shoulders with modern architectural designs. Yes, the skyline of Tarrytown is quite a thing!
The folks here love a green, natural setting, and Tarrytown doesn't disappoint in that regard either. There are several parks throughout the area, making it ideal for outdoor activities.
You would often observe residents enjoying a stroll, or engaged in a friendly tennis match at the local club. That's Tarrytown for you – serene, stylish, and rich!
You Might Be Interested in:
12 Pros & Cons of Living In Austin
10 Safest Neighborhoods In Austin
Rollingwood
Rollingwood considers itself a city but it's basically a prestigious neighborhood within Austin.
Sitting adjacent to Zilker Metropolitan Park, which hosts major events, this community is a perfect choice if you're looking for a life of luxury within driving distance of downtown. Its location near South Lamar, Barton Springs, and the Greenbelt doesn't hurt either. 
The landscape is stunning with lots of green spaces, mature trees, and hills rolling through the neighborhood. Plus, many homes in Rollingwood enjoy expansive views of downtown Austin and the hill country.
But it's not all just about views and location. The homes themselves are something to talk about too. They're made with the highest quality materials and rare designs which is what you'd expect in one of Austin's richest neighborhoods.
Pemberton Heights
Stepping into Pemberton Heights, you instantly feel the blend of prestige and comfort. Located just north of downtown Austin, the neighborhood is popular for its grand homes, each with a unique style. Residents enjoy easy access to the bustling city center while also benefiting from a peaceful suburban environment.
An interesting fact – Pemberton Heights has been named one of the top ten platinum addresses in the country. And it's not hard to see why. Aside from its prime location, the area is rich in history. Many of the homes date back to the 1920s and 1930s, showcasing decades of architectural charm.
Rob Roy
This well-established community is known for its hillside homes that offer breathtaking views of the surrounding rolling hills and natural landscapes. But what truly sets it apart is its emphasis on privacy. Are you a fan of sprawling lots, quiet streets, and gated entrances? Then, Rob Roy is a perfect choice.
Main attractions include the Wild Basin Wilderness Preserve and Emma Long Metropolitan Park. These destinations give you a chance to take a stroll, have a picnic, or even go boating on Lake Austin.
Barton Creek
Known for its resort-style vibe, this neighborhood provides a comfortable yet luxurious living. Its residents enjoy a lifestyle that's the perfect blend of laid-back and lavish.
Golf enthusiast? Great, because this neighborhood offers some of the best golf courses in the area. With not only one but four championship-level golf courses set within its boundaries, it's practically a golfer's paradise. It doesn't matter if you are a long-time golf pro or a beginner who's still getting acquainted with the sport, these courses cater to all levels of skills and experience.
Beyond golf, places like the Barton Creek Resort & Spa will be perfect for those seeking some relaxation and rejuvenation. Plus, quality dining options, fitness facilities, and an array of shopping venues, all within the neighborhood's boundaries. So much to enjoy, right?
Davenport Ranch
Located at one of the highest points in Austin, Davenport has homes that will leave you in awe.
But it's not just about the homes that this place is known for. Davenport Ranch offers an incredible view of the Austin skyline and Lake Austin. On a clear night, the sight of twinkling city lights on the waters can take your breath away.
It's like a scene straight out of a movie, isn't it? The best part is that this view can be your daily panorama. Sounds like a dream, right?
What makes Davenport Ranch stand out though, apart from the views, is the community vibe. You wouldn't feel like you're living in one of the wealthiest neighborhoods in the city. It's got a charm that's typically reserved for small towns. Add to that the proximity to downtown Austin and you've got yourself a winner.
Did we mention the Davenport Village shopping center? You've got high-end boutiques and dining options just a stone's throw away. What more could you possibly ask for?
Clarksville
This neighborhood stands out for its diversity in architecture. It's not uncommon to see a modern, minimalist design sitting next to a traditional bungalow.
Homes in Clarksville don't come cheap, and for good reason. Median home prices usually hover around the million-dollar range. The price, however, definitely reflects the convenience of this neighborhood.
Aside from the impressive real estate, Clarksville boasts a friendly, community-based vibe. It's the kind of place where neighbors know each other by name, and it's not unusual to see people gathering for a block party or annual community event.
If green spaces are your thing, Clarksville has got you covered. Mathews Elementary School Park is locals' favorite spot for a family picnic or a quick jog. There's also West Austin Park, complete with a pool for those hot Texas summers.
Balcones Park
This neighborhood's proximity to Lake Austin, a popular recreational spot, adds a unique water element that its residents cherish.
The neighborhood comprises primarily single-family homes. Many are drawn here not just for the peaceful lake-side living but also for the exceptional schools, given that it falls within the boundaries of the respected Austin Independent School District.
Bee Cave
Let's talk about the multi-million dollar homes in Bee Cave. From sprawling estates to gated communities, the homes in Bee Cave are coveted for their quality and location.
But that's not all. The amenities in Bee Cave are second to none. There's the Hill Country Galleria with over 100 stores and services, the Bee Cave Public Library, a place for locals to learn and read, and the Bee Cave Central Park, a popular spot for walkers, joggers, and picnic-goers.
You won't need to venture far to live the good life in Bee Cave.
Rough Hollow
When you step into Rough Hollow, you'll understand why it's a top pick among the city's wealthiest residents. Its location along the south shores of Lake Travis means there's easy access to both lakeside activities and water views.
Residents often engage in different outdoor activities, with hiking, boating, and fishing easily available.
This neighborhood is not short of amenities. A beautiful local yacht club and marina, for instance, caters to those with a love for on-water adventures. If you're a fan of golf, you're in luck as there are several excellent courses nearby. 
Spanish Oaks
Known for its luxurious homes and a private golf course designed by the legendary Jack Nicklaus, this community redefines high-end living.
Located in the rolling hills of Bee Cave, Spanish Oaks offers residents confidence in terms of privacy and security. The centerpiece of the community is the Spanish Oaks Golf Club, widely regarded as one of the finest private golf venues in Texas. With 18 holes within oak trees, golf enthusiasts are treated to a game surrounded by welcoming landscapes.
But golf isn't the only perk to living in Spanish Oaks. The neighborhood also features the Spanish Oaks Clubhouse, where residents socialize, dine, and host events. Additionally, the Pavilion and Pool area is the perfect place to unwind or enjoy time with the family, especially during hot Texas summers.
The Reserve at Lake Travis
Situated on the South shore of Lake Travis, The Reserve's location is unbeatable. Offering impressive views of the lake and sunsets, it's an oasis of calm away from the busy city of Austin.
You'll find a handful of homes, each posh and spacious. Amenities are aplenty here too – you've got a marina, a lazy river, a swim park, and a fishing pond. Dining options aren't scanty either, with an upscale, private lakeside restaurant. Also, you've got the Lake Travis Independent School District, well known for its exemplary academic performance. 
Belterra
If you're planning a move to Austin and have a bit of a luxurious taste, Belterra might be the ideal spot for you. This suburban area is located off the southwest of downtown Austin.
Traditional homes, well-maintained streets, and an engaged community are part of its charm.
Belterra has an excellent school system with some top-ranked schools, so it's great for families with children. It's a neighborhood where peace and prosperity go hand in hand.
Final Thoughts
Whether you cherish living in areas steeped in history, seek natural beauty, or desire convenience in a lavish setting, these 14 Austin neighborhoods are clear winners. Regardless of where you choose to settle, you are sure to experience a quality of life that is unparalleled.