Have you ever wondered if you can save money by living in a tent?
Tent living can offer freedom, as well as affordable living if you are flexible in going without certain amenities.
Here is what to keep in mind if you're thinking about living in a tent.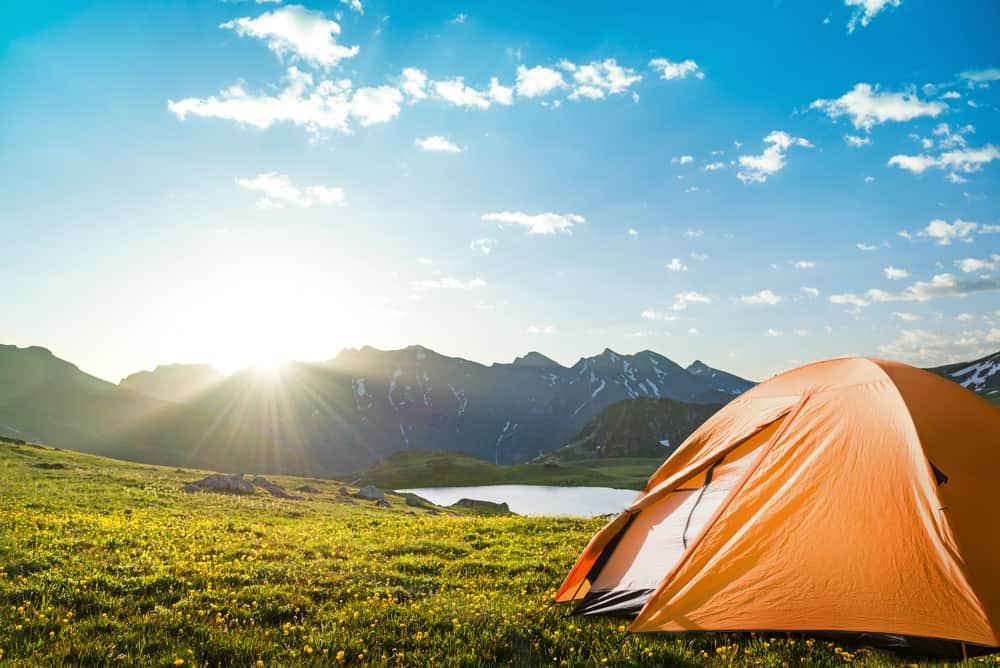 How to Save Money by Living in a Tent
Before you take the step to move your living circumstances, take a long look at your expenses.
Analyse how much you are paying for your mortgage or rent, as well as the additional services tied to that including water, electricity, gas, internet, etc. Use those numbers and calculate what you are paying on a monthly and yearly basis.
Chances are the amounts are higher than you realize!
Next, do some estimates, and calculate if you can save money by living in a tent. You'll need to calculate the expenses of camping equipment that you may need to buy including a tent, camping stove or cooking essentials, lantern, sleeping bags and other necessities.
You'll also want to consider camping fees (if any).
If you will be returning back to living indoors at some point, you will also likely want to include a storage unit rental to secure your belongings until you will be living back indoors again.
After looking at the numbers, if you think that living in a tent is a way to save money.
The next consideration is to figure out where you will be camping. Here are some options and considerations to keep in mind.
Important Things to Keep in Mind Before Living in a Tent
While your numbers may tell you that you can save money by living in a tent, you do need to keep in mind some practical concerns before packing up and moving outdoors.

Weather: While camping outdoors may seem appealing in fair weather, camping may not be practical in all seasons depending on your location and climate. More temperate areas may allow a longer camping season, however northern areas or those areas with stronger weather extremes of hot and cold may not make camping year round practical. Temperature appropriate camping gear such as cold weather sleeping bags may help you extend your camping season, however depending on where you live, you may need to make alternate arrangements during the winter or other times of year. Extreme weather can also be a concern, and it never hurts to have a back up plan of a safe place to go during tornadoes, flooding, hurricanes, high winds or other weather related events.
Practicality: While you may have found that tent living may save you money financially, will you be able to do it practically? Will you still be able to go to work every day if you are employed. Do you have the skills needed to start a fire, pitch your tent and maintain a campsite. You will also want to make sure that you indeed can live without some of the indoor comforts you may be accustomed to, such as running water or air conditioning.
Equipment Investment: Tent living even for the short term can require a significant equipment investment if you do not already have camping gear. In addition to a large tent, you will need sleeping bags, coolers, outdoor cooking equipment and lanterns just to name a few items. You may also need additional gear such as an axe for chopping firewood, a camping shower and more. If bathroom facilities are not available, you will also need to invest in a chemical toilet.
Where to Pitch Your Tent
If you'll be staying in a tent long term, one major factor of consideration is where to put your tent. Will you be camping in a campground, staying in the woods, or perhaps pitching your tent on someone's property? Here are some things to keep in mind.
Campground: Pitching your tent in a campground can offer the most stability and services. You can have access to your space long term as long as you pay the fees, and you may also have access to services like running water, bathrooms, showers and possibly even electric or wi-fi. While you do have to pay a fee for your camping space, long term stay discounts may be available. If you are a senior you may qualify for discounts, especially if you are a member of AARP. Veterans may also qualify for free camping or discounts in some areas.
Someone's Property: Do you have a friend or family member who would let you put your tent up in their yard? Camping on someone else's property is also an option, especially if they have land available. Getting permission before camping on someone's land is highly recommended, and if it is someone you know, you may also be able to negotiate to have access to different services such as water or electricity. If you are unable to pay them a fee for camping on their property, consider bartering your services and helping with chores in exchange for a place to camp and access to some amenities.
Woods or Forest: If you're willing to have a few less available services, camping in the woods may also be an option. This type of camping does come with less comforts and more risks. Be sure you are aware of who owns the land you are camping on so that you are not trespassing and if you need access to phone or mobile internet, you may also want to check signals to see if there is service in more rural areas.
How to Get Access to Services
While living in a tent may be a way to save money on rent and utilities, chances are you will need access to some services to participate in daily life. Before you take the step of living in a tent outdoors, here are some services to keep in mind.
Mailing Address: When you are living in a tent, you will need a location to get mail, and possibly even packages. While some upscale campgrounds may offer an office, or even mail unitis for long term campers, getting a post office box may be a prudent investment to make sure you can receive important letters. Some P.O. boxes can allow you to receive packages, or you may be able to have those shipped to a friend or family member until you are able to pick them up. Sign up for alerts from the USPS to see what mail is arriving to your box daily, and you'll want to have the location of the P.O. box nearby so that you can make pick ups option.

Showers and Water: Everyone needs access to water for hygiene and cleanliness. While you may not need to shower as often, you will need to so frequently. If you are not planning on camping somewhere with shower and water access, you may want to consider investing in a gym membership where you can have access to showers as well as exercise equipment. Depending on your camping location, you may be able to set up a camping shower, but you will need access to water to make it work.

Location: If you are working a regular job where you will need to report to work several days a week or more while you are camping, living in a tent near your place of work is a consideration. Camping may not be a practical option if you have to drive a considerable distance daily just to report to your place of employment.

Daily Necessities: Whether you are living indoors or outdoors in a tent, everyone has daily necessities that they need to survive. Make sure your planned location has access to water and if possible, electricity. You will need to eat, so do some planning on what you will need for food storage and preparation. Are there options to keep food stored properly such as ice for a cooler or electricity for a portable refrigerator? How will you prepare your food? Are you going to cook over a campfire? If so, you may need a fire grill and special pots and pans. A camping stove may also be a wise investment.

Storage and Security: While putting the majority of your belongings in a storage unity while living in a tent may save you money, you will need to consider where to keep the valuables that you need to keep with you such as your phone and wallet. A tent is not really secure and can be broken into easily. Even if you have a safe or lockbox, it can be easily taken unless you have a way of securing it to the ground.
If you have a vehicle, this may provide one security option and you can keep valuables locked up and hidden (such as in the trunk). If you do not have access to a vehicle, you may need to look at other options on ways to keep important items and documents safe.
How Much Money Can you Save by Living in Your Tent
If you have wondered can you save money by living in a tent, the short answer is yes.
How much? Probably arround $900 a month but it's relative. It largely depends on the area you are living in.
While it is not for everyone, tent living may offer some financial advantages, even just for the short term.
There are some logistics to work out before you take this step as well as some needed equipment, but with some planning, this may be a short term solution to save money for yourself or your family.
For more affordable short term living options, be sure to check out the post here.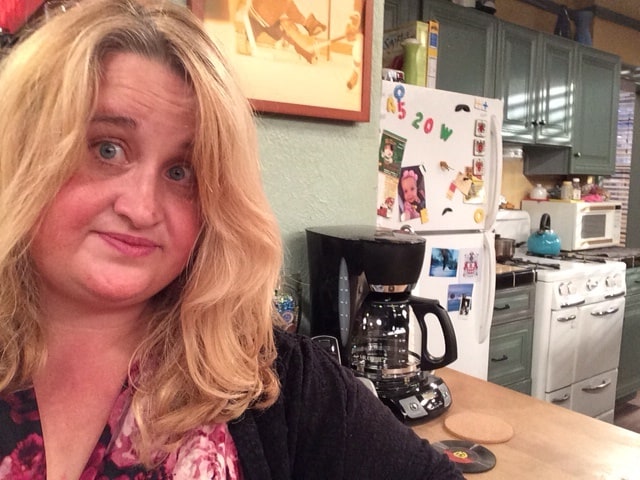 Kim Ritter is a frugal living expert, blogger and mom of two from small-town Iowa. What began as an effort to help her family save a few dollars a month has now transformed into a full-time passion to help other parents money. Visit her online at twokidsandacoupon.com and follow her on Twitter at @2kidsandacoupon for more ways your family can have fun on a budget.