Stickers aren't just for kids—they're a popular way to decorate and personalize items like laptops, instruments, luggage, athletic gear, phone cases, and water bottles.
Of course, bumper stickers for cars are one common example, but be careful not to use regular stickers on your vehicle; the materials and adhesives should be specifically designed for car application.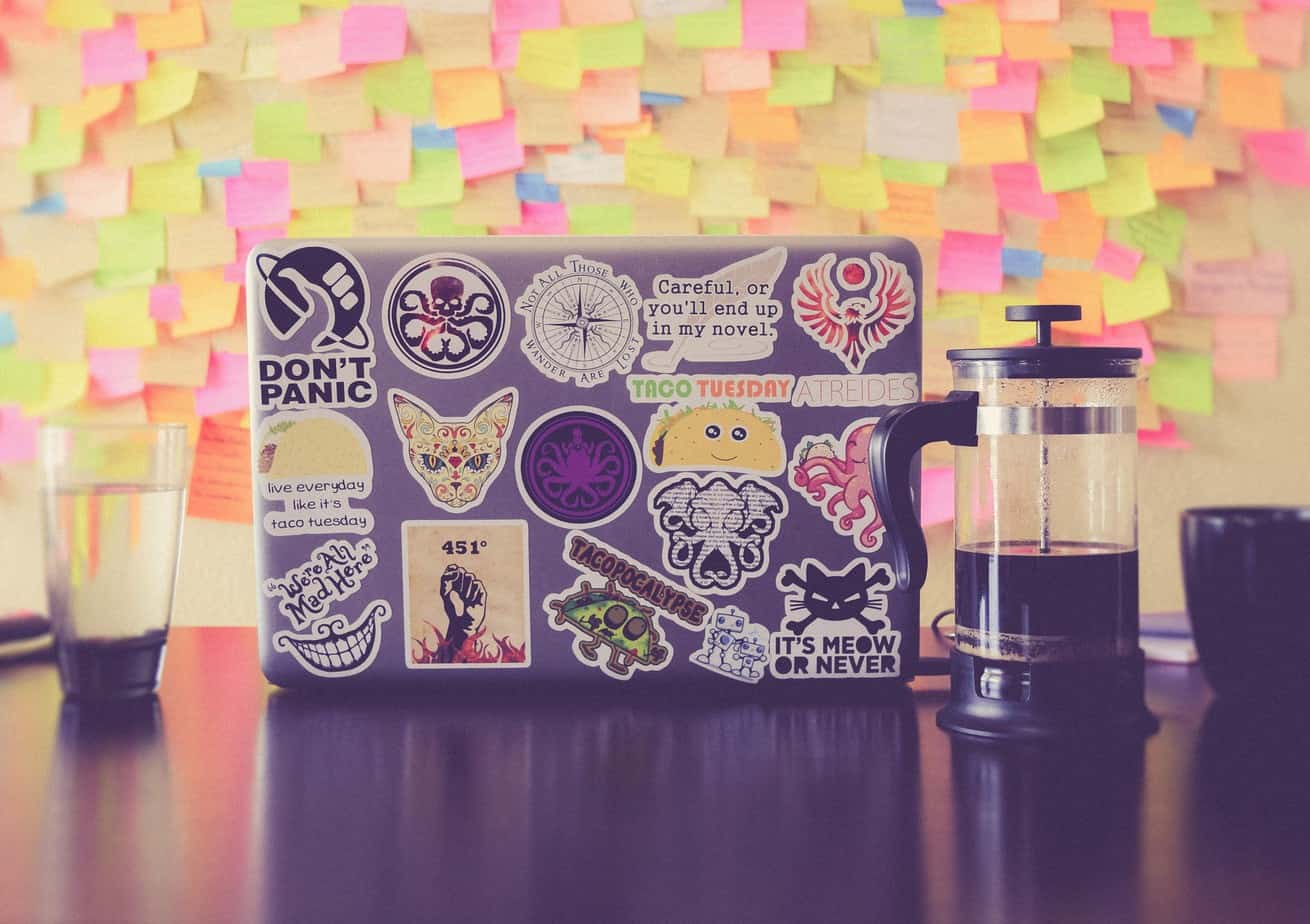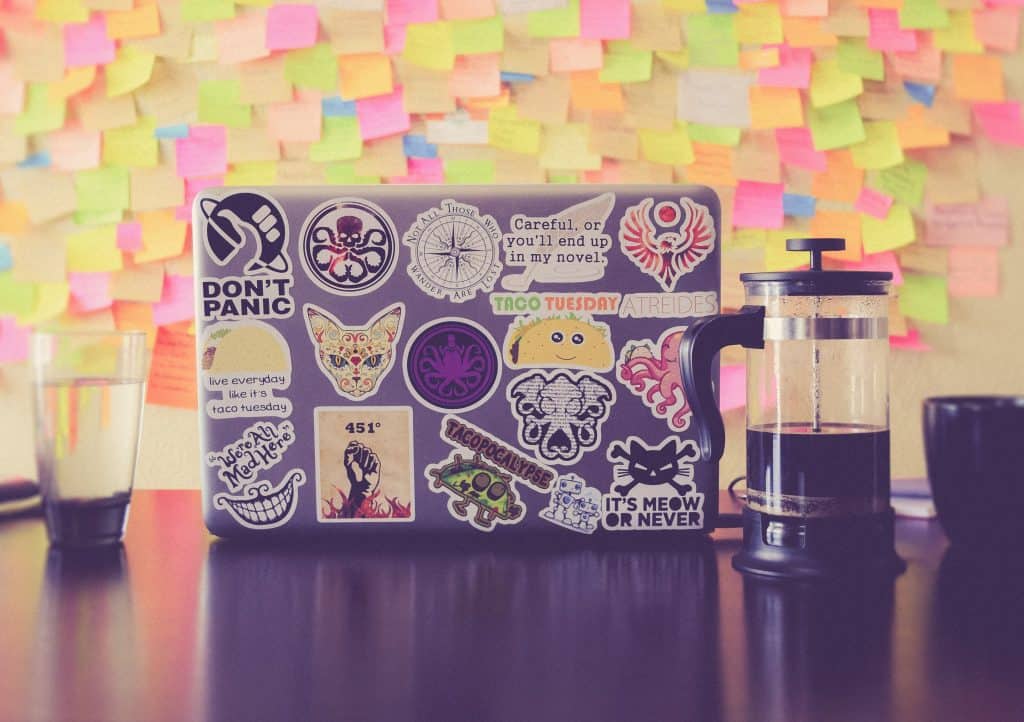 No matter what item you're trying to decorate with stickers, you can do it for free thanks to these free sticker websites!
30+ Companies That Send Free Stickers Online & By Mail
Usually, you can get free stickers from brands who offer them as part of a promotional strategy. Thus, they will often feature the name or logo of the companies offering them, along with an attractive design. The list below features brands that offer free stickers by mail, what theme to expect, and instructions for submitting your free stickers request.
With some of these sticker websites, you can simply fill out a free sticker request form. For others, you'll need to shoot a message to customer service to ask. Note that your mileage may vary in case any of these companies stop offering free stickers. Either way, there's no harm in contacting them to check!
Adidas Free Stickers
Tracksuit and sneaker aficionados can email Adidas customer service at [email protected] to request stickers, which are typically just a simple logo.
Annie's Free Stickers

If you're a fan of Annie's organic snacks, you can represent with various stickers featuring their bunny logo and messages about organic food or recycling. Choose a free sticker and submit your order here.
Arcteryx Free Stickers
According to the Arcteryx FAQ, free stickers are sent with every purchase, or you may be able to get some in-store. The outdoor clothing company doesn't mail free stickers separately.
Atoll Board Company Free Stickers
Paddle-boarders can get a whole free sticker pack simply by following the company on Instagram and sending them a direct message to confirm. If you don't have an Instagram account, you can just pay the 99 cents instead.
Backcountry Free Goat Stickers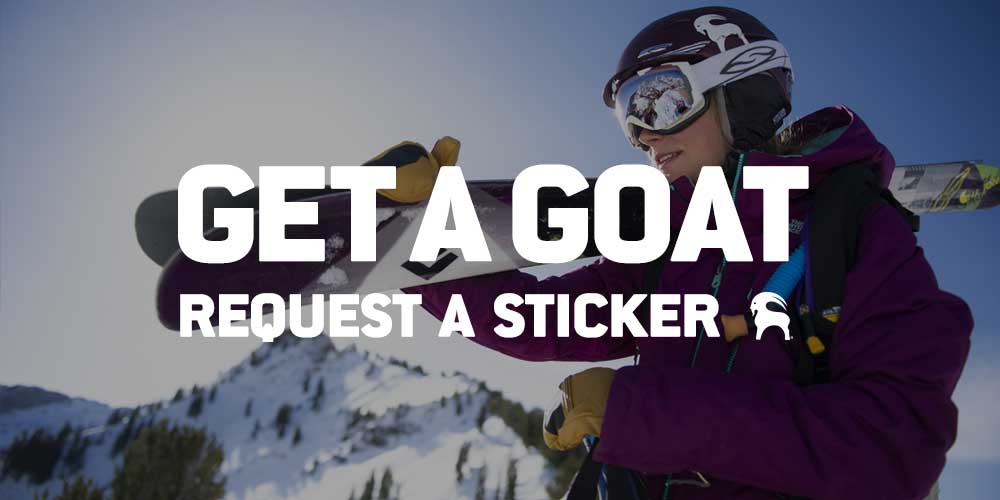 A regal goat is the logo of outdoor gear & apparel company Backcountry. You can request a sticker here, but don't expect quick shipping—they only send them out quarterly. Once you've received it and chosen a home for the sticker, snap a picture and hashtag it #GoatWorthy
BeMoreStoked Free Stickers
Send a self-addressed, stamped envelope to the address listed here to receive a free skiing/outdoors sticker. Add a little cash and you'll get more than one!
Cy Whitling
PO Box 1696
Driggs, Idaho, 83422
Billabong Free Stickers
This popular surf & beach apparel company makes it easy to get free stickers.
Black Diamond Free Stickers
This is another mostly ski-focused company. Sticker requests must be mailed, along with a self-addressed stamped envelope.
Black Diamond Equipment
Attn: Mail Order
2084 East 3900 South
Salt Lake City, UT 84124
BMX Free Stickers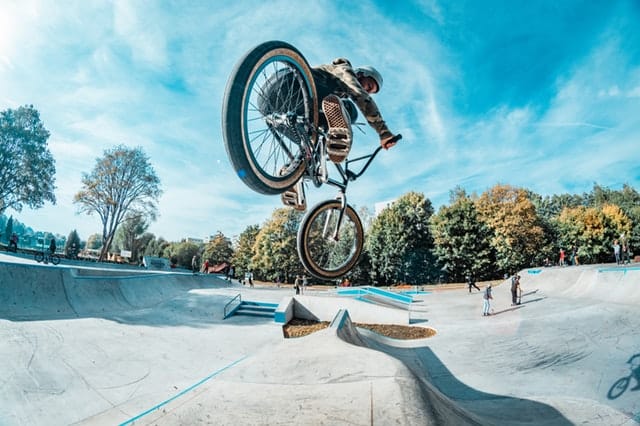 Motocross enthusiasts have a couple options for free BMX stickers to jazz up their bikes.
You can also check your local bike shop to see if they have any free stickers from brands they carry or promote.
Brooks Running Free Stickers
Brooks' company tagline is "Run Happy," and all those happy runners can get free stickers from them to express it. You'll need to send a self-addressed, postage paid envelope to receive free stickers by mail.
Brooks Running
Free Stickers
3400 Stone Way N
Suite 500
Seattle, WA 98103
Chaco Free Stickers
These sandals have die-hard fans, who can express their loyalty with lizard-adorned logo stickers. Free Chaco stickers are not always available, but when they have been in the past, a form has been available at this URL: http://www.chacos.com/US/en/stickers
Chicmoto Free Stickers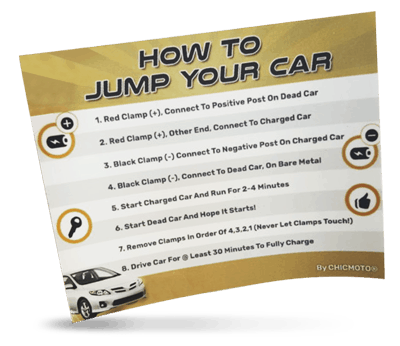 Most stickers are just decorative, but this one is practical. It's a free "how to jump your car" sticker that you can actually stick inside the hood of your car to quickly remind you of all the steps. It's heat-resistant so it won't get melted by the heat from your engine.
Cotopaxi Free Llama Stickers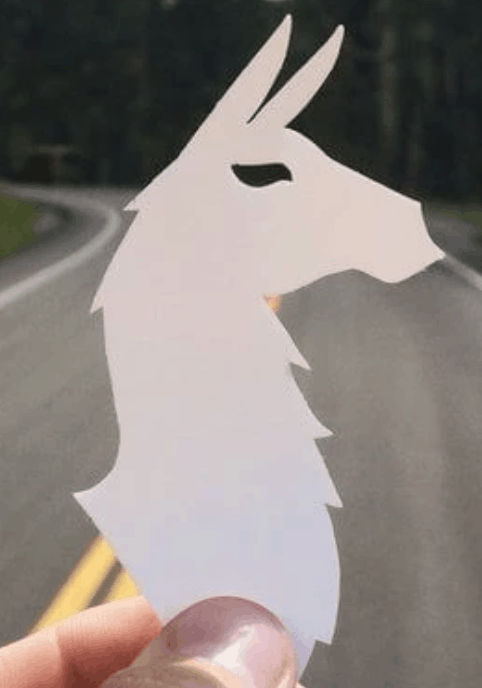 This llama doesn't look very amused, but I'd definitely be amused looking at a llama face sticker on my gear. Request a free llama sticker from Cotopaxi here!
Dakine Free Stickers
Dakine specializes in travel gear and active apparel. In their FAQ, they say they'll hook you up with a free sticker if you send a self-addressed stamped envelope to:
Dakine
Attn: Sticker Request
603 Portway Ave
Hood River, OR 97031
DCCC Free Stickers
Free stickers from the Democratic Congressional Campaign Committee will obviously be politically pointed. If you want to make a statement, find the current DCCC free sticker options here.
Dickies Free Stickers
This company focuses on making durable workwear for those with active jobs. Dickies sends free stickers with every order, but if you'd like to request stickers on their own, you can send a self-addressed stamped envelope to:
Williamson-Dickies
Attn: Customer Experience
509 W. Vickery Blvd.
Ft. Worth, TX 76104
Harley Davidson Free Stickers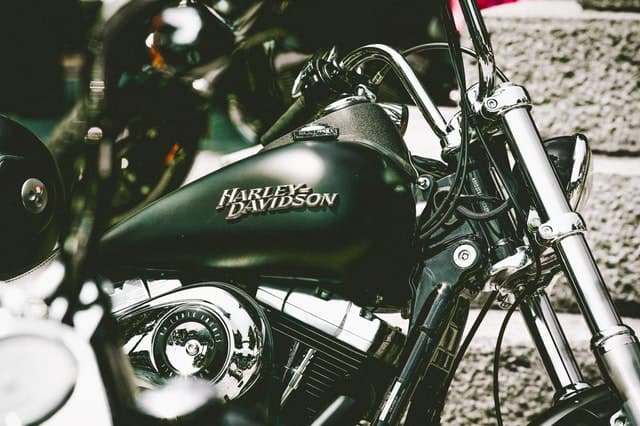 Slap a Harley Davidson "Battle of the Kings" sticker on your ride. While supplies last, you can order one here.
Honeybee Gardens Free Stickers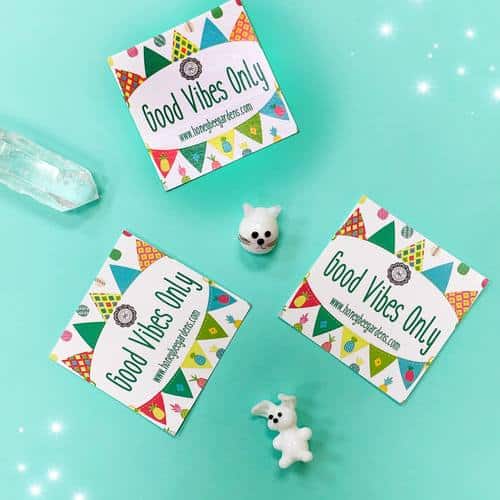 Each Monday, the natural beauty company Honeybee Gardens offers a limited amount of cute free stickers, first come first served. If you'd like to do some good while you place your order, you can add on a small donation to their animal care fund.
Moosejaw Free Stickers
When they're in supply, you can request a free Moosejaw sticker here. You'll normally get a free Moosejaw sticker with any order as well.
Nalgene Free Stickers
People have had success contacting customer service under "General Questions" to ask for free Nalgene stickers. Your mileage may vary.
North Face Free Stickers
Outdoor clothing lovers have a lot of companies to choose from, including The North Face. You can first try contacting them to ask. Or, mail your sticker request along with a self-addressed stamped envelope.
The North Face Attn: Stickers
N850 County Highway CB
Appleton, WI 54914
Patagonia Free Stickers

The outdoors collection continues! Submit a free stickers request here to get a surprise sticker with a nature or animal theme.
Rome Snowboards Free Stickers
Snowboarders can decorate their equipment with free Rome Snowboards stickers by mailing a request and enclosing a self-addressed stamped envelope.
Attn: Sticker Request
Rome SDS
1 Derby Lane
Waterbury VT 05676
RVCA Free Stickers
The RVCA brand is a mix between skate, surf, and workwear.
Saloman Free Stickers
There are two ways you can try requesting stickers from the popular sporting goods and shoe company Saloman. The first method is simpler—contact them by email at [email protected] to ask.
Otherwise, you can send a self-addressed stamped envelope to:
Salomon North America
Attn: Sticker Guru
5055 N. Greeley Ave
Portland, Oregon 97217
Simply Southern Free Stickers
Simply Southern is a bright, preppy-style clothing brand. Easily request stickers with their form here.
Southern Marsh Free Stickers
You get to choose your own free Southern Marsh sticker when you submit their form here. The company specializes mostly in outerwear with a southern style.
Sample Sticker Mule Stickers
While Sticker Mule doesn't have 100% free stickers, you can basically get some for the price of postage. The Sticker Mule sample pack comes with stickers, labels, and magnets, and only costs $1 including shipping.
Tillys Free Stickers
Tillys sells shoes, clothing, and accessories from many brands, including Hurley, Free People, Converse, and many more. In the Tillys knowledge base, they say that they'll send you free stickers if you mail a self-addressed stamped envelope to:
Tillys-Customer Service
17 Pasteur Irvine, CA 92618
Vans Free Stickers
Vans offers distinctive skate-culture shoes and apparel. As they outline in their FAQ, you can get free stickers from Vans by sending them a self-addressed stamped envelope.
Vans, LLC.
Attn: Stickers
N850 County Highway CB
Appleton, WI 54914
Volcom Free Stickers
Skate and snowboard company Volcom offers free stickers when you send them a self-addressed stamped envelope. The address here is for the US and Canada, but they have several international addresses for sticker requests too.
Volcom – STICKER REQUEST
1740 Monrovia Ave.
Costa Mesa, CA 92627
Zumiez Free Stickers
Zumiez is popular for its skater-style apparel and gear. You can get bright and colorful free Zumiez stickers by visiting a store in person or sending them a self-addressed stamped envelope.
Zumiez, Inc.
Free Stickers
4001 204th Street SW
Lynnwood, WA 98036
USA
Low-Cost Unbranded Sticker Options
If you prefer unbranded stickers not associated with a particular company, there aren't a ton of free options available. However, you can find a variety of very inexpensive options. If you buy a pack of them, you'll have some to share or save for stocking stuffers!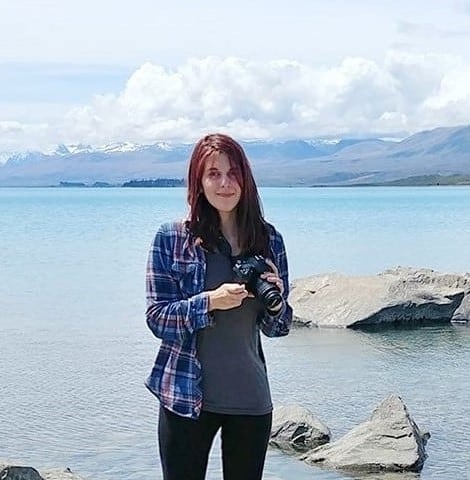 Kate is a writer and editor who runs her content and editorial businesses remotely while globetrotting as a digital nomad. So far, her laptop has accompanied her to New Zealand, Asia, and around the U.S. (mostly thanks to credit card points). Years of research and ghostwriting on personal finance led her to the FI community and co-founding DollarSanity. In addition to traveling and outdoor adventure, Kate is passionate about financial literacy, compound interest, and pristine grammar.