Sunglasses were first developed as protective eyewear, but they quickly rose to become one of the most noticeable possessions. No matter the occasion, sunglasses are a fashionista's must-have. They may be worn with stunning white pearl chokers in true Breakfast at Tiffany's style or with bohemian sundresses.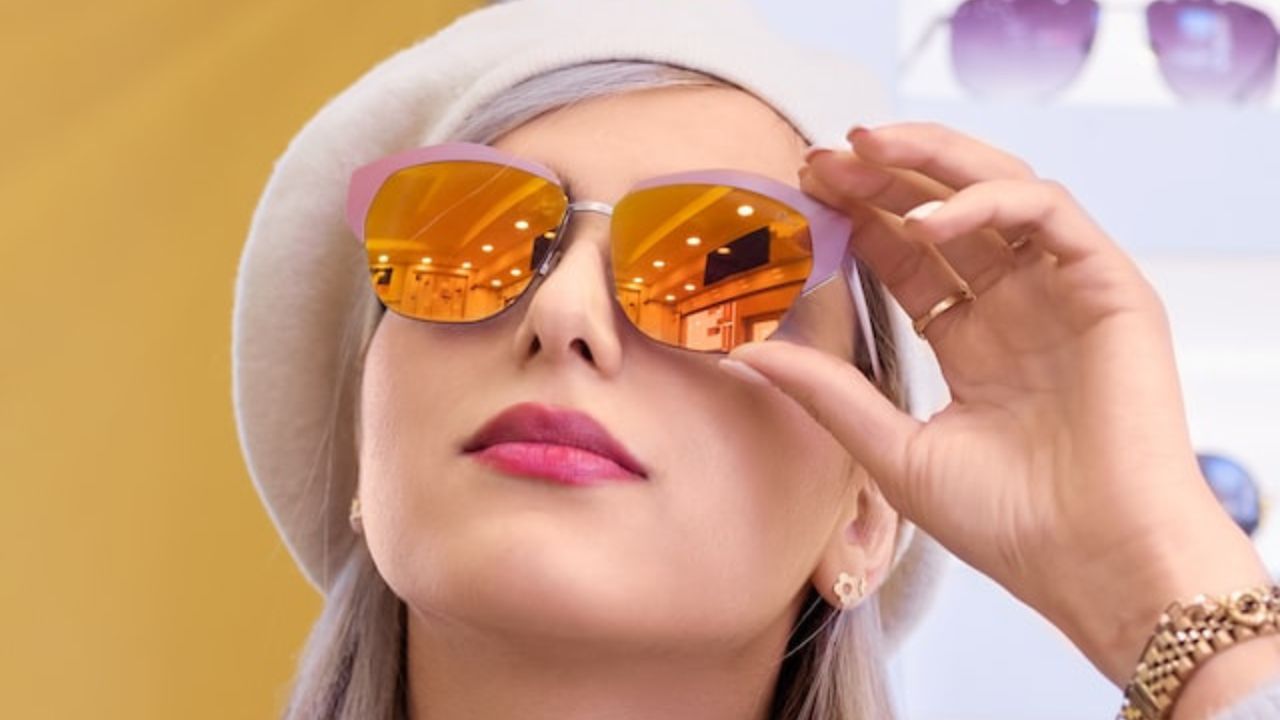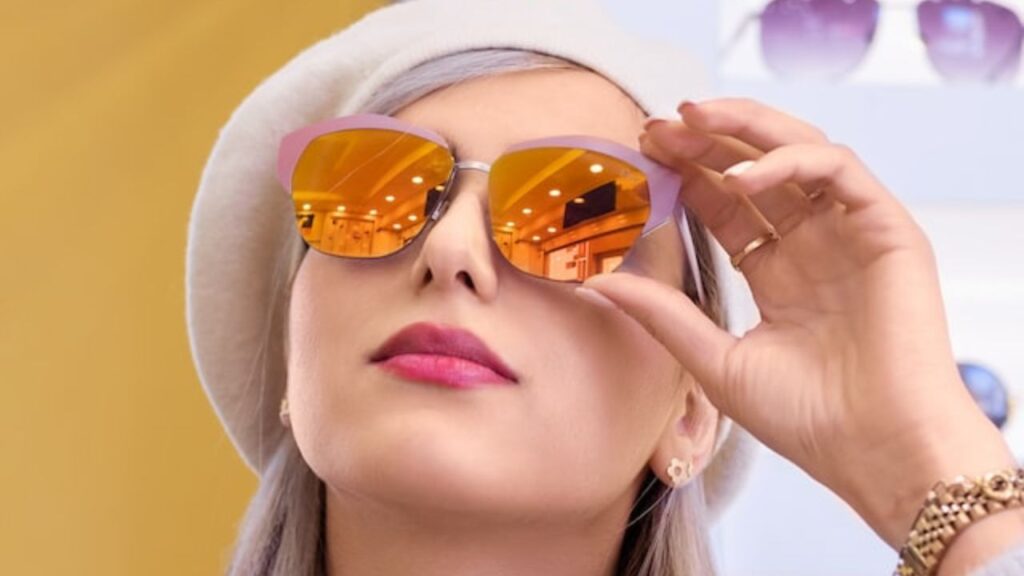 Cycling sunglasses are ubiquitous right now, whether worn on the street or in a vehicle when traveling to work or the beach or stylish or sporty. Even at nightclubs after midnight sometimes. Why? I am clueless. But I won't be the one to stumble while attempting to seem cool as I make my way to the bar.
Sunglasses have protected our eyes from the ivory Inuit winter goggles to today's greatest eyewear. In the 1920s, celebrities and cinema stars wore them for seclusion. Later, they became a beach fashion staple.
Sunglasses protect our eyes from UV and blue light, but they've become more. Today, fashion meets function. They seek privacy and prestige.
Some people's status is important. Thus they need stylish sunglasses. These incredibly costly hues are lavish, fashioned by luxury designers from high-end materials like gold, platinum, diamonds, emeralds, and other valuable jewels.
Scarce items boost status. Most expensive sunglasses are limited editions. They protect more than sight. Status is protected. But one's pocketbook is different.
Cartier Paris 18k Gold Sunglasses – $25,000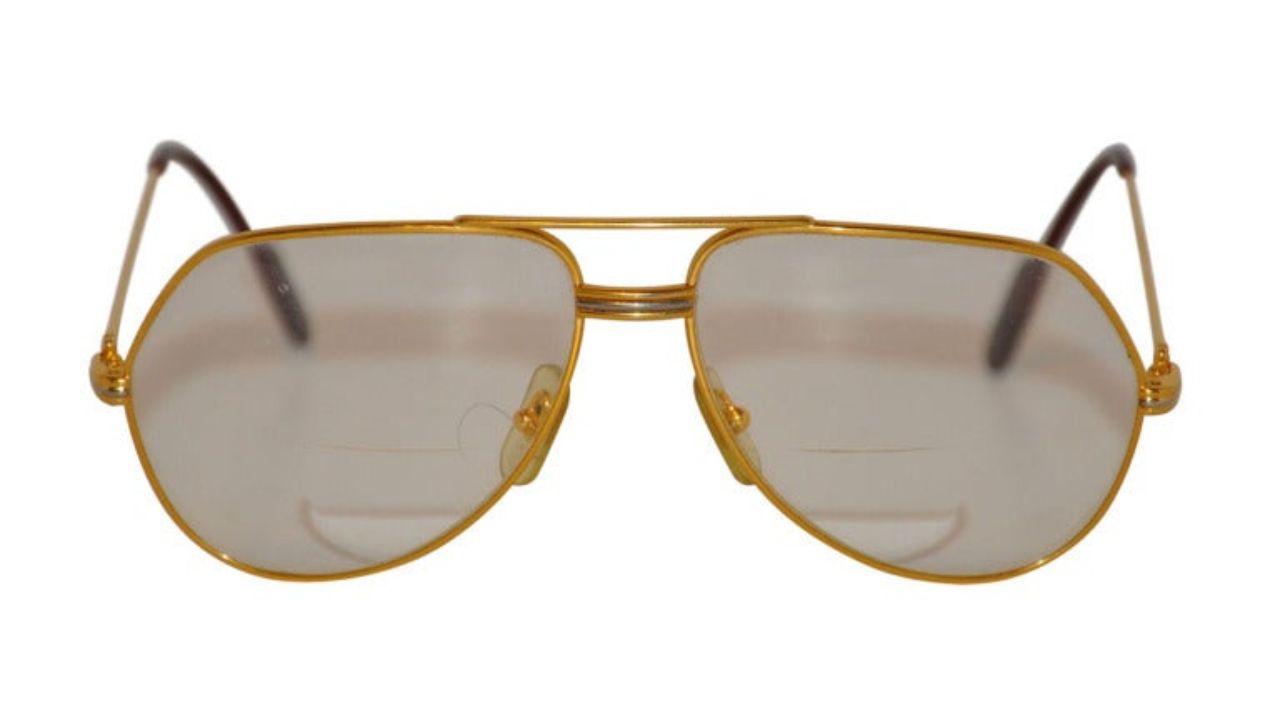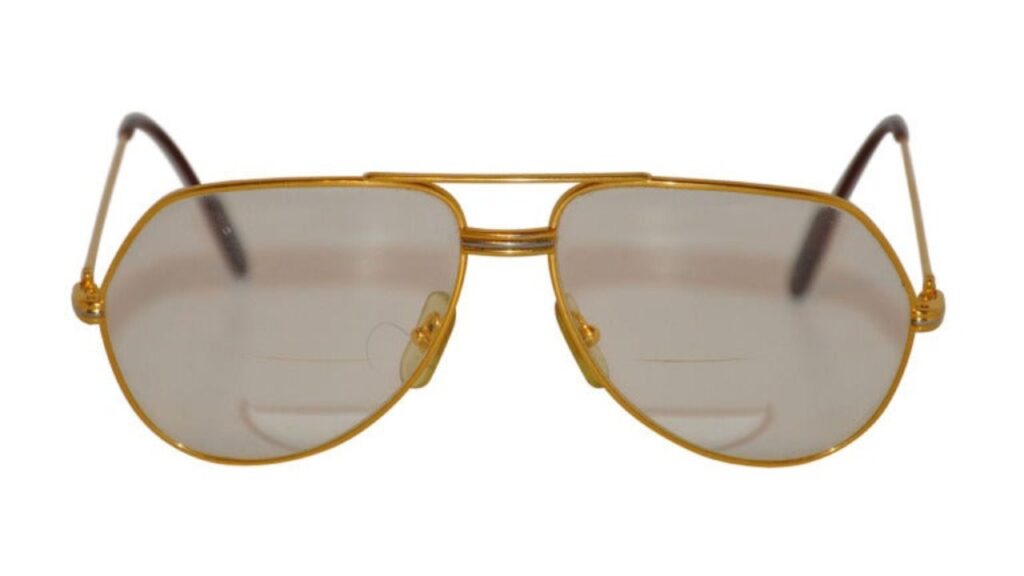 The majority of sunglasses feature metal or plastic frames. But this one wins the prize since it includes pricey decorations that push the price to a respectable $25,000.
With this money, you could purchase a vehicle, but if you want to show off your style and elegance, don't be afraid to spend the cash on this work of art.
188 collet diamonds totaling 7.5 carats are included in the piece. The vintage black frames are a nod to the 1980s style. With this elegant item, you will appear better than any Hollywood celebrity.
Bentley Platinum – $45,276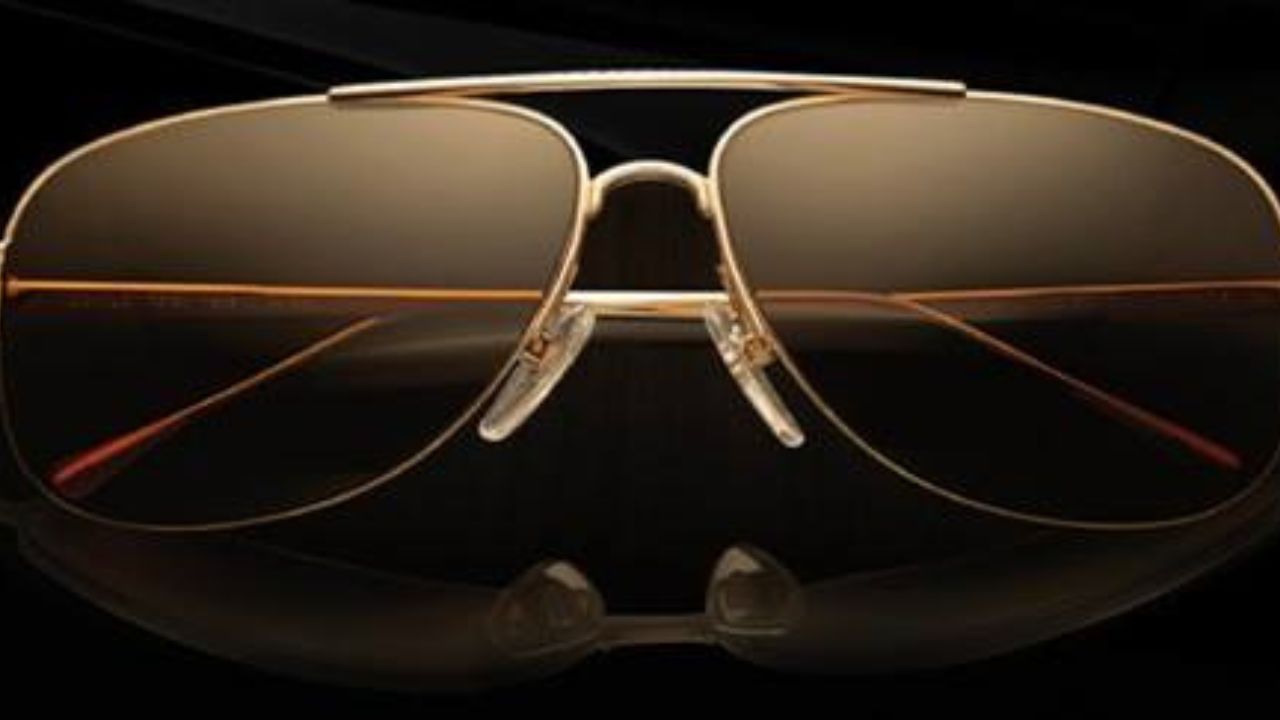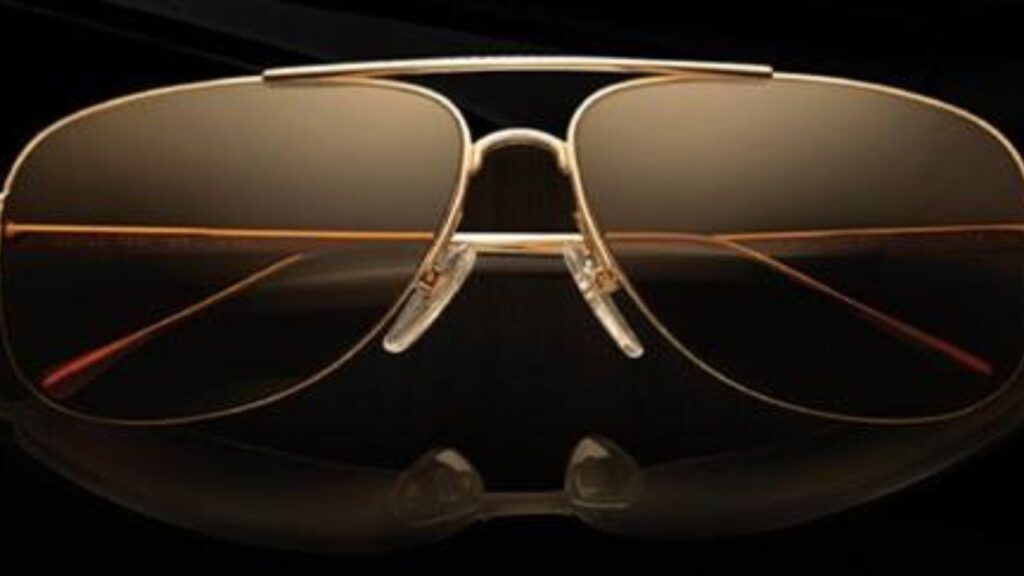 Bentley. Right, the name implies something different. Superior British luxury automobiles. The renowned carmaker had decided to pair their gorgeous automobiles with a line of chic sunglasses that could be worn while driving. To do that, they collaborated with the designer eyewear brand Estate to create this limited edition line.
Read more: 5 Most Expensive Lamborghinis in the World
They are composed of pure platinum, just as the name implies. However, you may also have them in white gold or yellow gold at a reduced cost. The frame's elegant design, which reflects the company's principles of elegance and refinement, is expertly constructed and balanced. While the style is understated, the cost of $45,276 is not.
Lugano Diamond Glasses – $27,000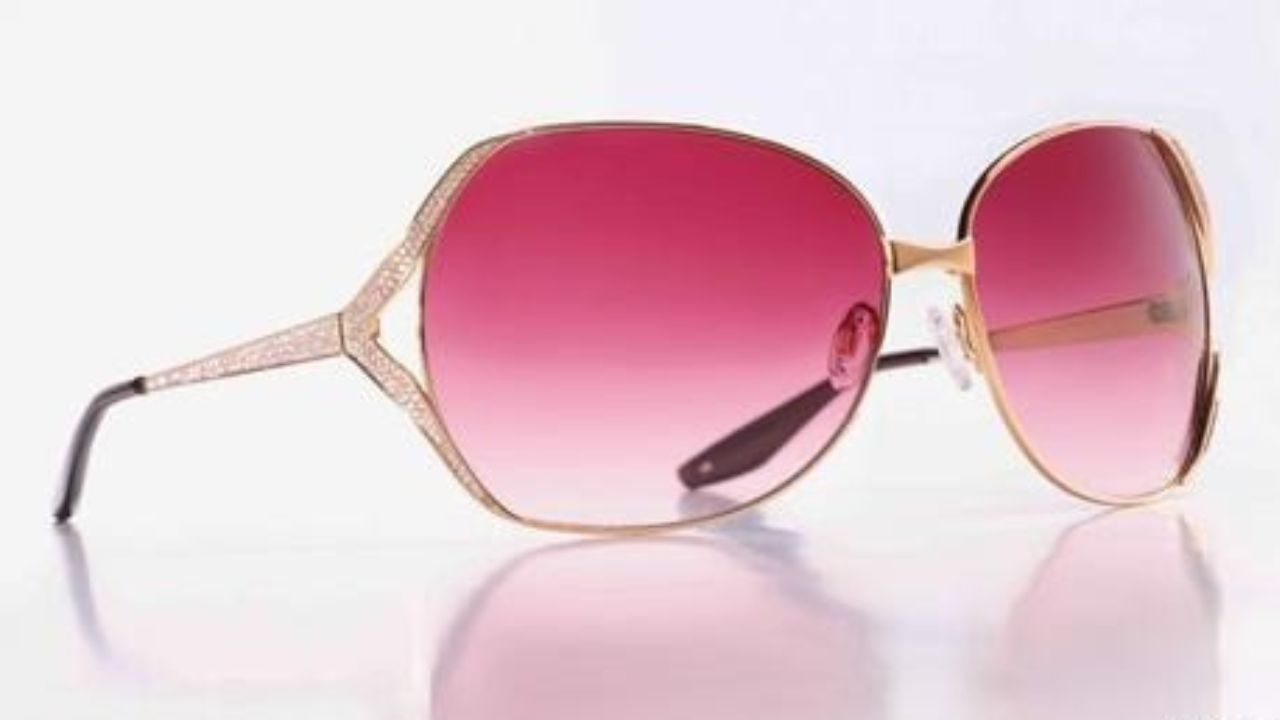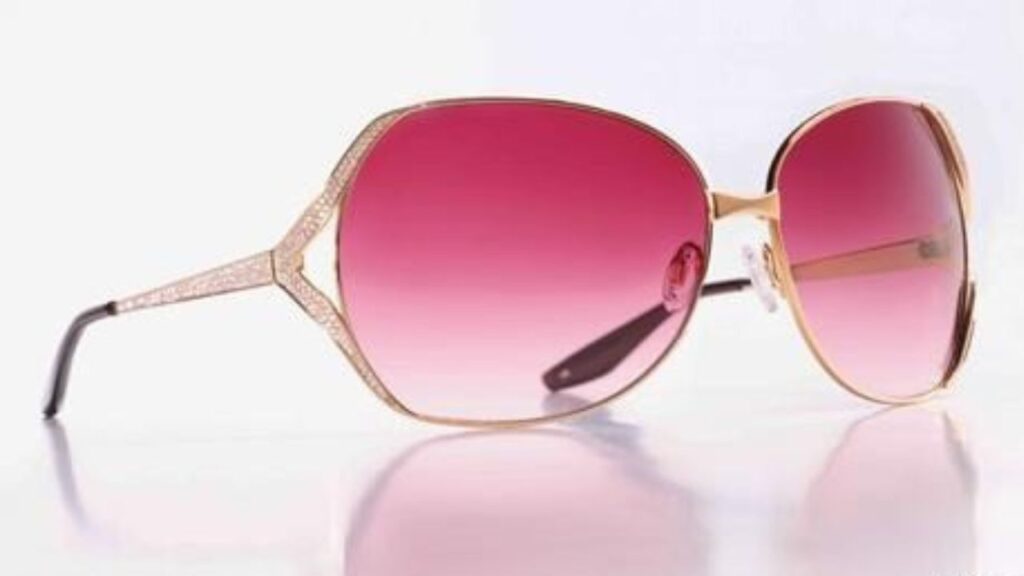 While the model with the leopard pattern and yellow, black, and pink diamonds have 3.59 carats, the spectacles with the gold frame and pink lenses feature 2.85 pink diamonds. Because of their distinctive artistry, bespoke design, perfect-cut diamonds, unmatched gemstones, and ideal stones are worth the extra $27,000.
Due to the company's painstaking efforts to get the biggest, rarest, and most distinctive stones for their exquisite creations, Lugano Diamonds has earned a renowned position in the global jewelry market. Then, their master artisans carefully make jewelry with knowledge and talent to guarantee that their offerings are remarkable and unmatched. Now you see why their sunglasses provide more than only functional value.
Gold and Wood 253 Diamond – $55,000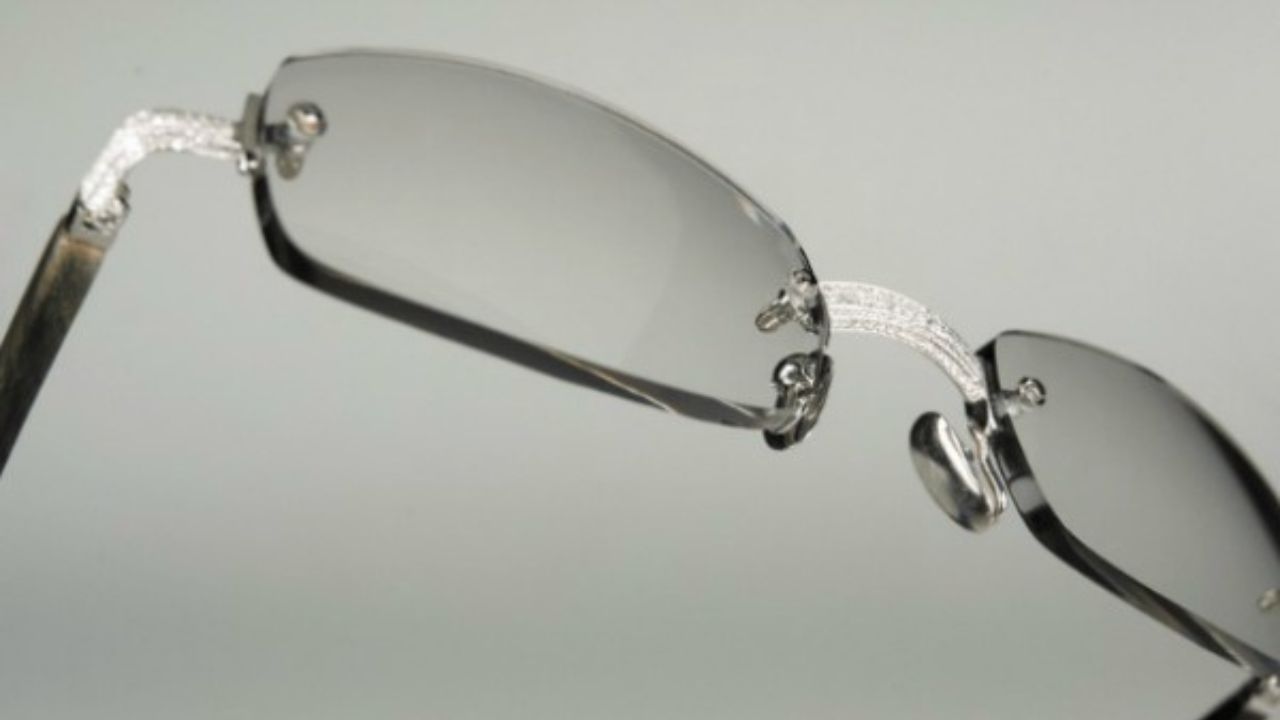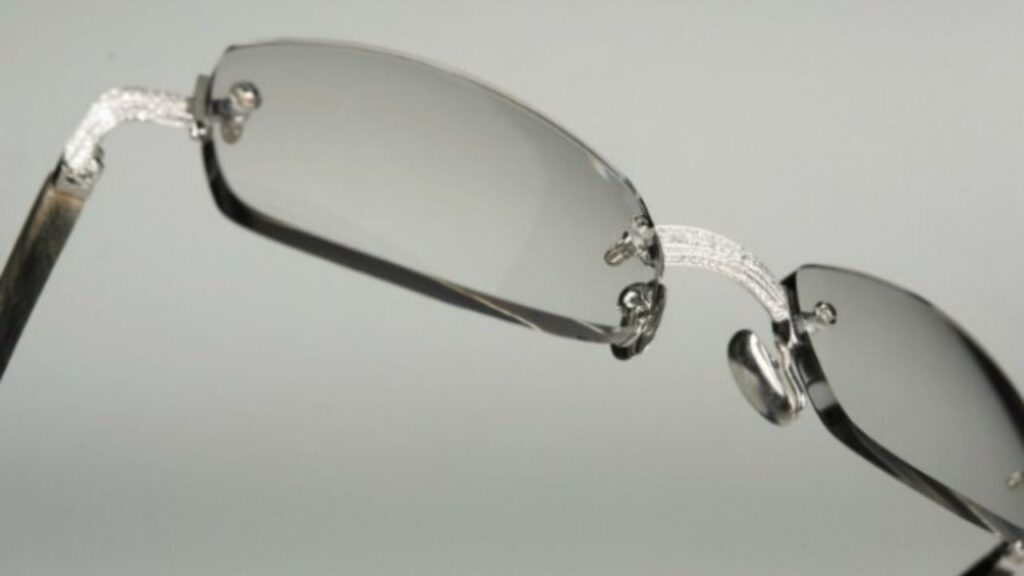 The next title on our list pretty much explains itself. The 253 Diamond sunglasses are one of a kind and were expertly made by the renowned eyewear company Gold and Wood using unique skills, knowledge, and magnificent materials.
Ever wonder what a diamond would cost? Do that by 253, then. Yes, the frame of this model has 253 diamonds. Not elegant enough The princess cut, the second most common diamond cut form, makes up 22 of those jewels, so you should be aware of it. For true enthusiasts, it implies a rare, priceless accessory. The asking price of $55,000 is astonishing.
Gold and Wood 119 Diamond – $30,000
Why are these Gold and Wood sunglasses considered a collectible? The creator used an uncommon blend of noble materials and priceless wood in the frames to give the product more personality and extraordinary elegance, which is the primary reason. Each item has a unique tale to tell, which the customer may personalize.
Wood and gold frames exhibit a strong personality and genuine distinctiveness. The business uses 12 distinct types of priceless wood and incorporates silk into the veneers. Carbon fiber and solid horn are also used to distinguish further and differentiate each eyepiece. Finally, the sunglasses are priceless jewelry thanks to the 119 diamonds.
Bulgari Flora – $59,000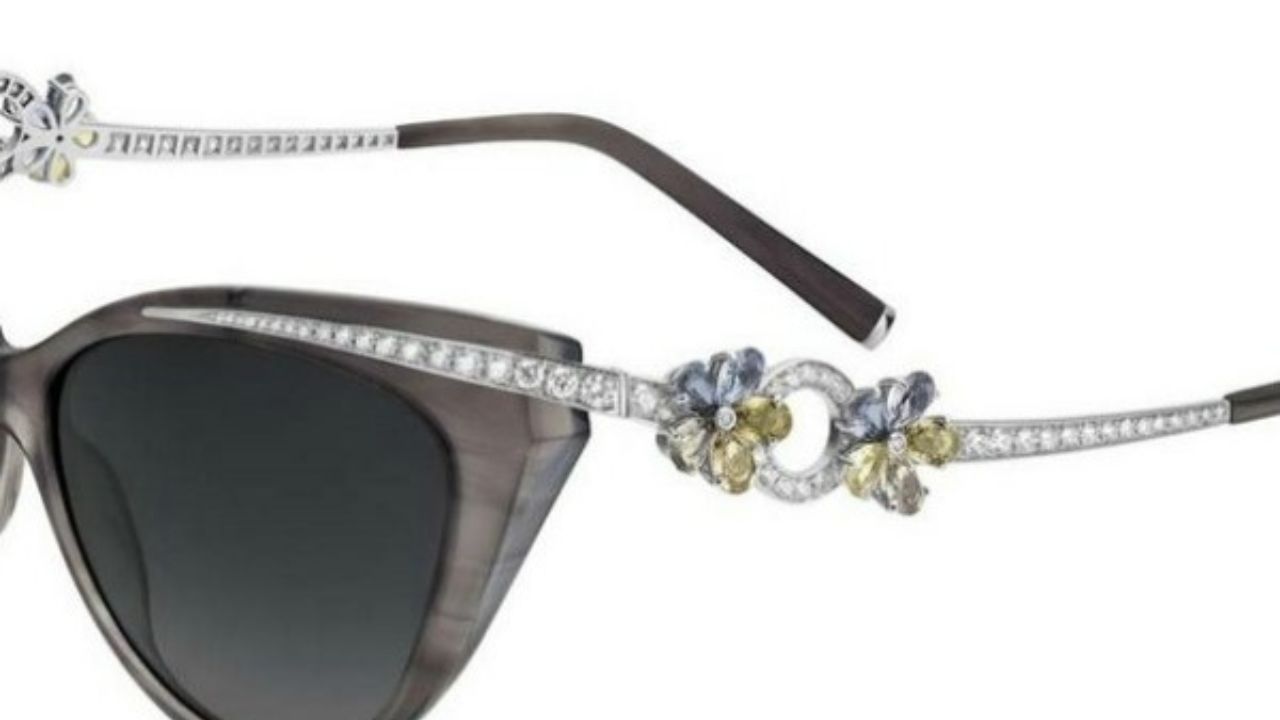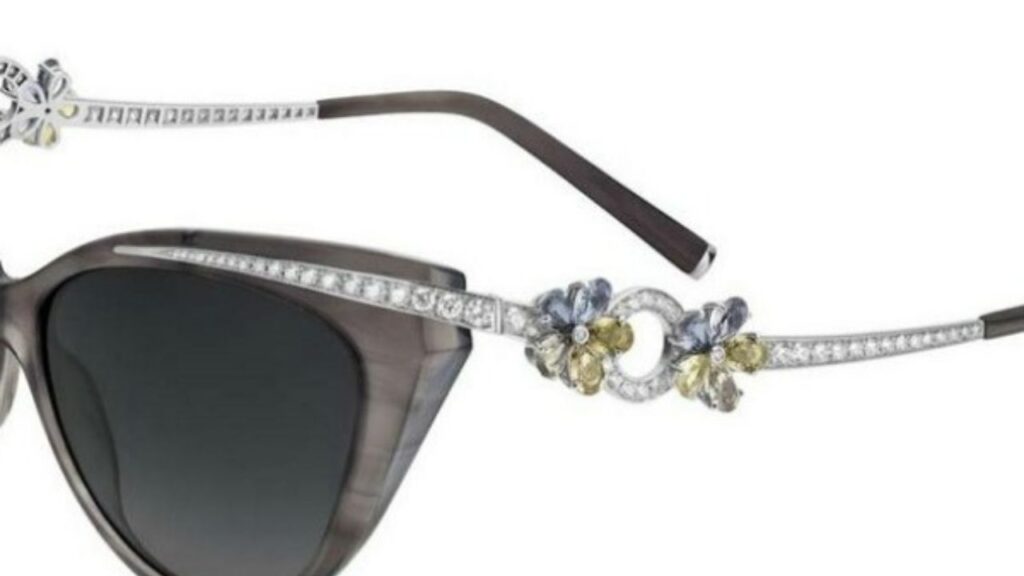 The well-known Italian luxury label Bulgari released a pair of sunglasses instantly gained enormous popularity among the affluent and famous. They may be worn at formal events and are stylish and elegant, guaranteeing a wonderful appearance.
The 18k pure white gold frame has sapphires and diamonds set inlay throughout. However, you'll have to shell out a whopping $59,000 to get your hands on a pair of them.
Luxuriator Canary Diamond Glasses – $59,000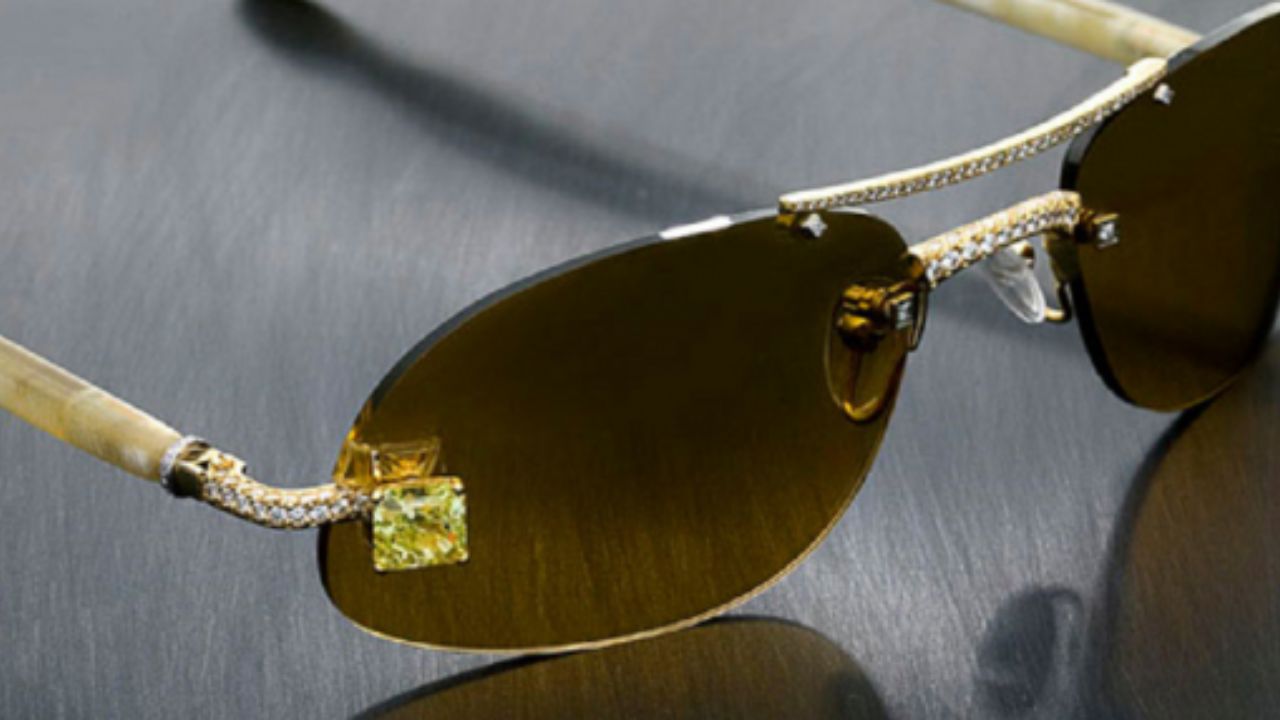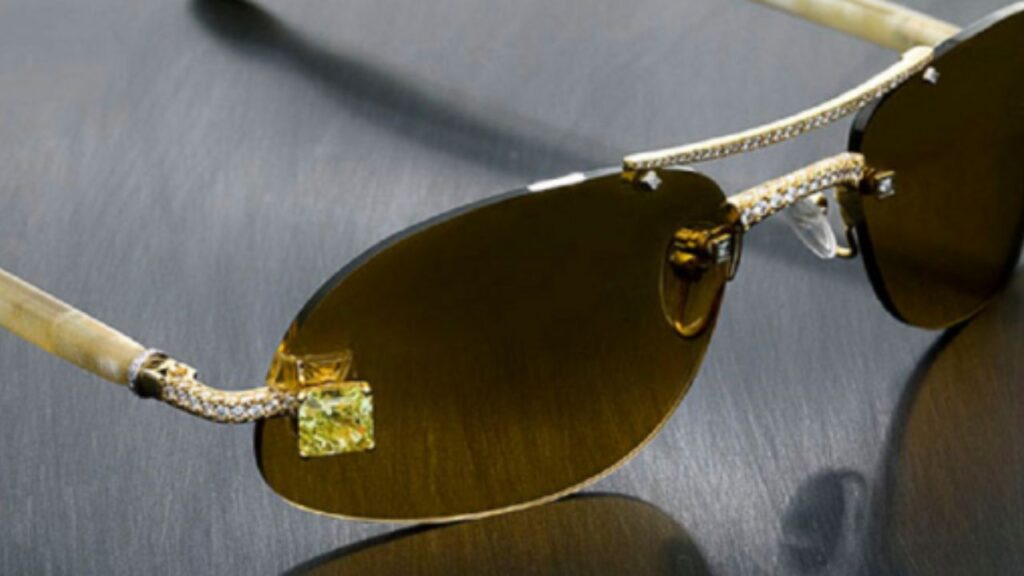 The Luxuriator Collection was developed by Los Angeles-based jewelry and eyewear designer Franco Inc. in 2004. The handmade pave or micro pave VSGF diamond luxury sunglasses include gunmetal gold, rose, yellow, or white frames. The producer also sells variations that are hand-engraved and enameled. Exotic leathers, sturdy buffalo horns, and top-notch optics are used to build each temple.
Trademarks protect both sides of Franco's distinctive diamond ring design. Luxuriator Uno, which has a single-bridge chassis, and Luxuriator Due, which has a double-bridge chassis, are the two available types. With the frame style, lens shape, special tint, and eyeglass prescription of your choice, the firm may create sunglasses specifically for your requirements. Antireflective, flash mirrored, polarized, and photochromic coatings are available for lenses.
Maybach The Diplomat I – $60,000
The German luxury automobile manufacturer Maybach began looking into the sunglasses market. After all, you can't operate a premium vehicle without matching attire. So a vehicle like that goes well with a pair of expensive sunglasses.
As they came to be known, the Diplomat I turned out to be just as spectacular as their vehicles. The 50 components that comprised The Diplomat I were elegant and beautifully created, including 174 hand-cut diamonds. Even collectors will appreciate these sunglasses, given their rarity and $60,000 price tag.
Cartier Panthere Glasses – $159,000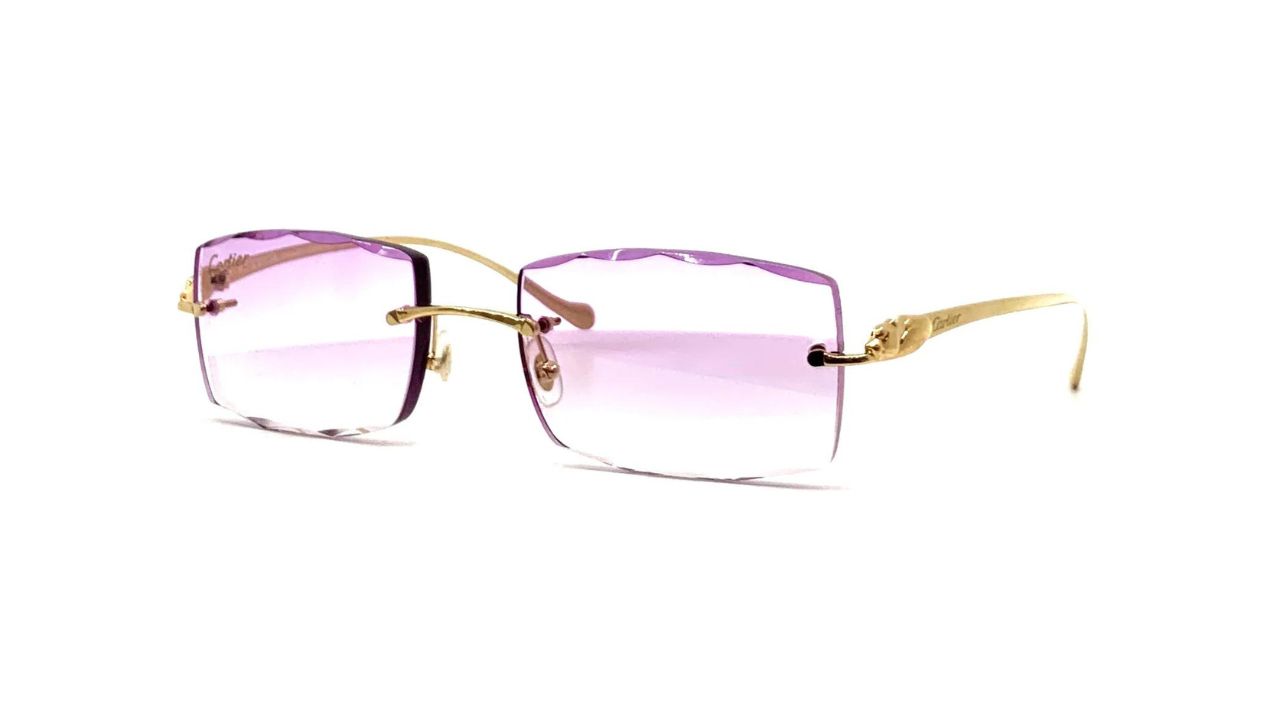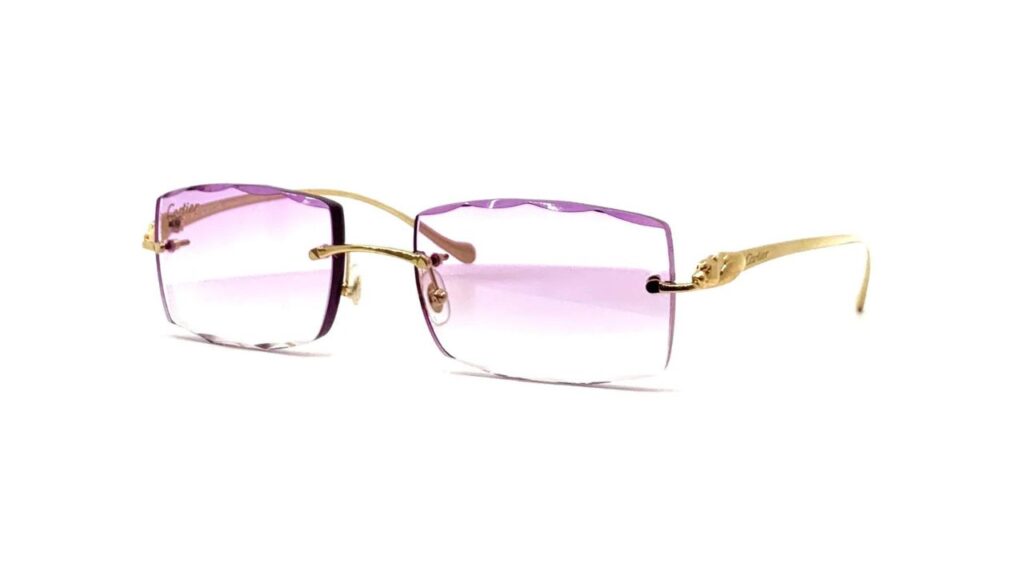 French luxury goods manufacturer Cartier is well known for its pricey watches and jewels. In 1847, the business was established in Paris, France. Numerous famous people and members of the aristocracy, such as the Maharaja of Patiala, Kate Middleton, the Duchess of Cambridge, and King Edward VII of England, have expressed their preference for its goods. 
The magnificent watches and jewels of Cartier have also been worn by royal members of the courts of the House of Orleans, Monaco, Albania, Egypt, Romania, Belgium, Serbia, Greece, Siam, Russia, Portugal, and Span. This business has also entered the eyeglasses market and now produces premium optical, sunglasses, and priceless eyewear for both men and women.
Shiels Emerald Sunglasses – $200,000
Shiels Jewelers, a company with headquarters in Adelaide, Australia, claims that it took them five years to locate the special emerald lenses and three months to cut and polish them.
According to Bensimon, the emerald sunglasses were influenced by Nero, the Roman emperor, who watched gladiator battles through green gemstones. When this artifact was placed up for sale in 2011, international superstars and celebrities showed interest in purchasing it.
Dolce and Gabbana DG2027B Sunglasses – $383,000
Designers Domenico Dolce and Stefano Gabbana established the Italian luxury fashion label Dolce & Gabbana in 1985. They debuted their first line in Milan in 1985, and they built their first shop there the following year. Later, they began exporting their goods to developed nations like the US and Japan.
Sunglasses by Dolce and Gabbana are renowned for their seductive designs that combine Mediterranean charm with traditional modernism. The likes of Madonna, Kylie Minogue, Nicole Kidman, Demi Moore, Isabella Rossellini, Kim Kardashian, Angelina Jolie, and others are fond of them. These famous people are ready to spend a lot of money on the lavish frames, seductive color schemes, and flashy designs of D&G luxury eyewear.
Chopard Sunglasses – $400,000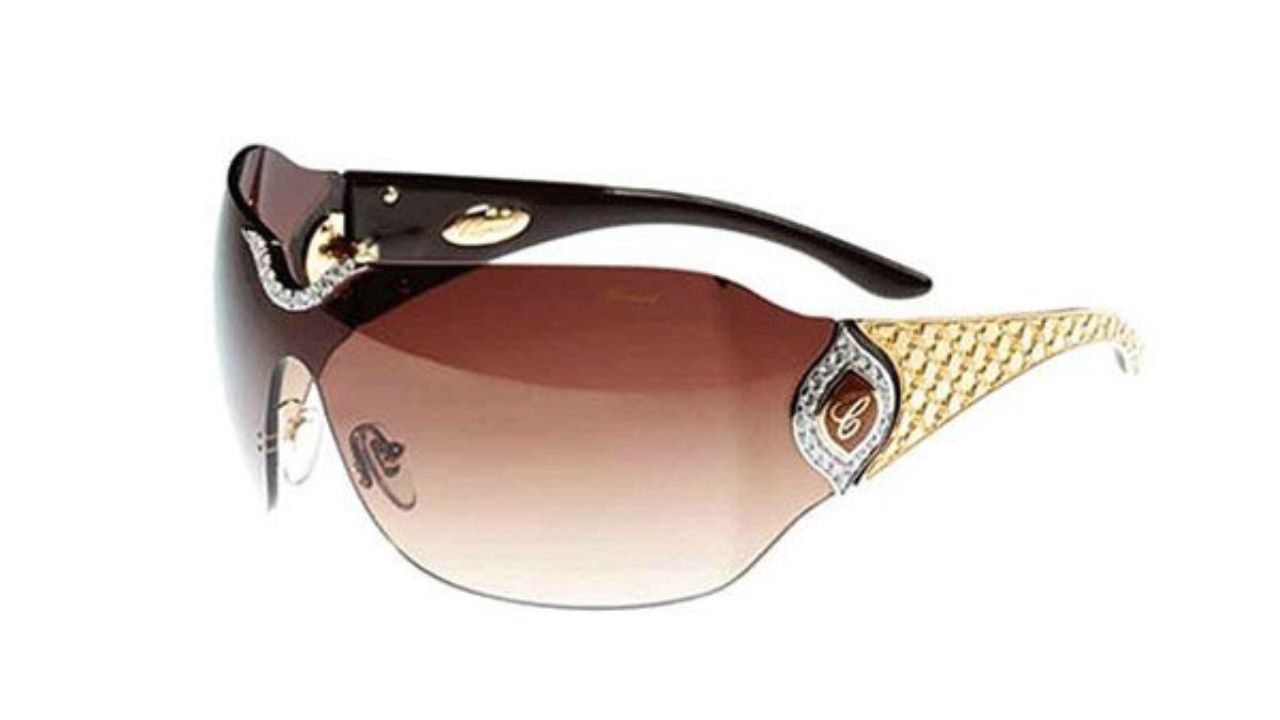 This masterpiece was created by renowned eyeglasses manufacturer De Rigo Vision for the renowned Swiss jewelry brand Chopard and debuted in Dubai in May 2012. The unique method utilized to put the diamonds more closely together than with the traditional pave setting is a feature of its design. As a result, the stones fashion an astonishing light-emitting carpet.
The eyeglass frames have the well-known Chopard "C" mark etched to identify the company. Numerous celebrities, including Gwyneth Paltrow, Tom Jones, and Elton John, have been wearing Chopard eyewear. Therefore, if you have $400k to spare, you may buy the priciest sunglasses in the world and flaunt your style at parties and other social gatherings.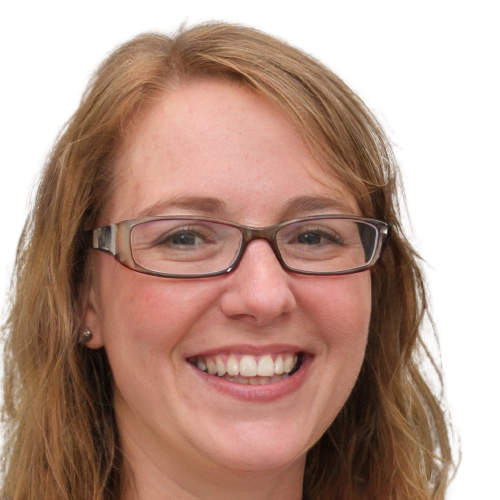 Hi, I'm Ashley a freelance writer who's passionate about personal finance. Ever since I was young, I've been fascinated by the power of money and how it can shape our lives. I've spent years learning everything I can about budgeting, saving, investing and retirement planning. So if you are looking for tips, advice, or just a little bit of inspiration to help you on your financial journey, you have come to the right place. I am always here to help, and I am excited to share my passion for personal finance with you.