The idea of earning extra income is almost on every person's mind.
The burning question is how?
How do you choose from a pool of apps which one is suitable for you? Which one is not fraudulent? Whom to trust? Where to go? What to do? So many questions!
Sit back and wipe off those sweat beads. We are here to your rescue.
If you are stuck in a low paying job and want to earn a few extra bucks with no harm, want to reach your financial goals and want a side hustle, or are unsure how to start your freelancing career, the Steady App may just be the answer that you are looking for. 
Is the Steady App Legit?
YES, it is a legit app. Many people have used the App to benefit from it. The App has an overall rating of 4.5. out of 2,800 reviews on Trustpilot.
Is the Steady App for me?
Only you can answer this question. Try the App, and go through its features.
Since it is free to use, you need not worry about getting scammed. Use it for a while, and then decide if the Steady App is a good fit for you or not.
Is the Steady App safe? Is my personal information secure?
Yes. The company protects and encrypts sensitive personal data like job search preferences, employment history, bank account information, transaction history, and contacts.
But remember that you are dealing with an internet-based app, so there is always some level of risk involved.
Is the Steady App free?
Yes, creating an account is free and easy. However, you can subscribe to their premium membership to enjoy more benefits.
Also, some income booster opportunities may require a particular purchase to take advantage of their offers. But, then again, it is totally up to you whether to participate in such tasks or not.
Can you earn real money with the Steady App?
Yes, you can. The amount you will earn will depend on the kind of work, and the effort, timings, and dedication you put in.
Is it necessary to add my bank account information on Steady?
No, it is not necessary. But by not adding your bank account details, you may miss out on features like the income tracker tool.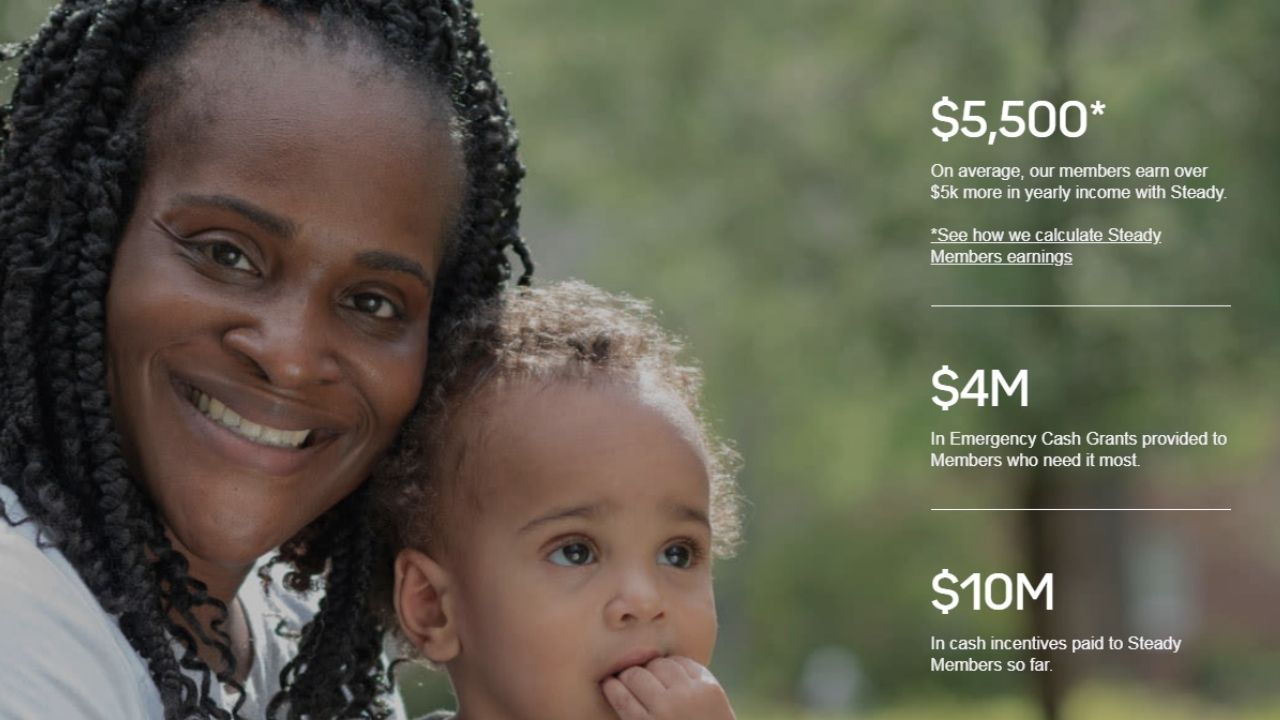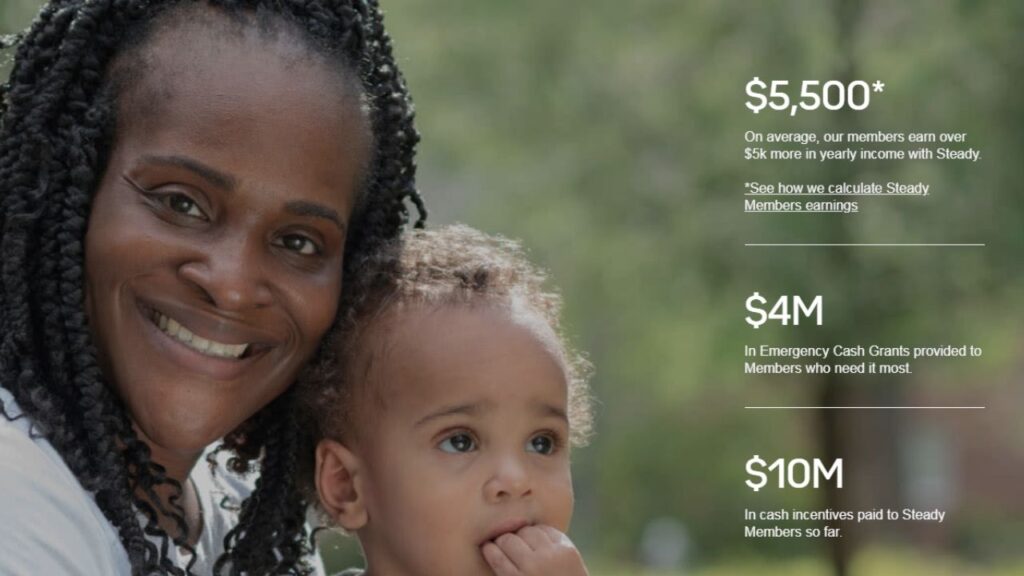 What is Steady?
Steady is a free app wherein you can explore your side hustle. The Steady App brings available all the gig economy and flexible work right to your smartphones. In addition, it can track your financial history to make job recommendations based on your income, location, and income preferences.
"Building a Better Financial Future for the Global Workforce" is the Steady App slogan.
Origin of Steady
When Adam Roseman saw that his father did not have enough retirement funds and getting a job at the ripe age of 60+ was not exactly in the equation, he came up with this brilliant idea.
So, in 2017, he founded the Steady App so that people of all age groups could get something to work on and meet their needs.
Who Can Benefit from the Steady App?
Regardless of the type of work opportunities you are looking for, Steady can help you benefit from it. The following people can take advantage of the App:
Freelancers
Side hustlers
People looking for part-time work
Those looking for full-time work
People looking for work from home
For a full-time job, Steady requires specific technical skills. So, choose wisely.
How Can You Make Money With Steady App?
Steady is a free app available to everyone on both iOS and Android.
You can also consider getting a premium membership ($1.99/month) for added advantage.
The other great feature of this App is that it is straightforward and user-friendly to use.
The general process of the Steady App is pretty straightforward:
Create your account (enter your name, mobile number, email, and password)
Browse through the numerous choices (take your time to understand the kind of side hustle you want to get into)
Apply to the opportunities that speak to you
Work
Get your payment
Manage your earnings in one place
Features of the Steady App
Here are some of the fringe benefits that Steady provides its users.
1. Job Search
The prominent feature is to help people get the right kind of opportunity they are looking for. You can use the filters to find the job that best suits your preferences. Also, you can type in keywords and browse through the options listed.
2. Income Tracker
To track your income or to get payment, you must first link your bank account when signing up on the Steady App. The income tracker helps you in the following ways:
How much money you have made in a month
Your income trends
All your related transactions
Summary of your income sources
3. Income Boosters
You can improve your finances and get rewards. Steady works with various advertisers to earn money by completing their tasks like downloading their App, creating another account on a website, etc.
4. Employer Insights
Employer insights features can help you decide which companies to work for by:
Giving you an overview of potential employers
Letting you know how much they pay each week on average
Letting you know how often they distribute payments
This way, you will estimate your potential earnings and know when you will get paid.
Related posts: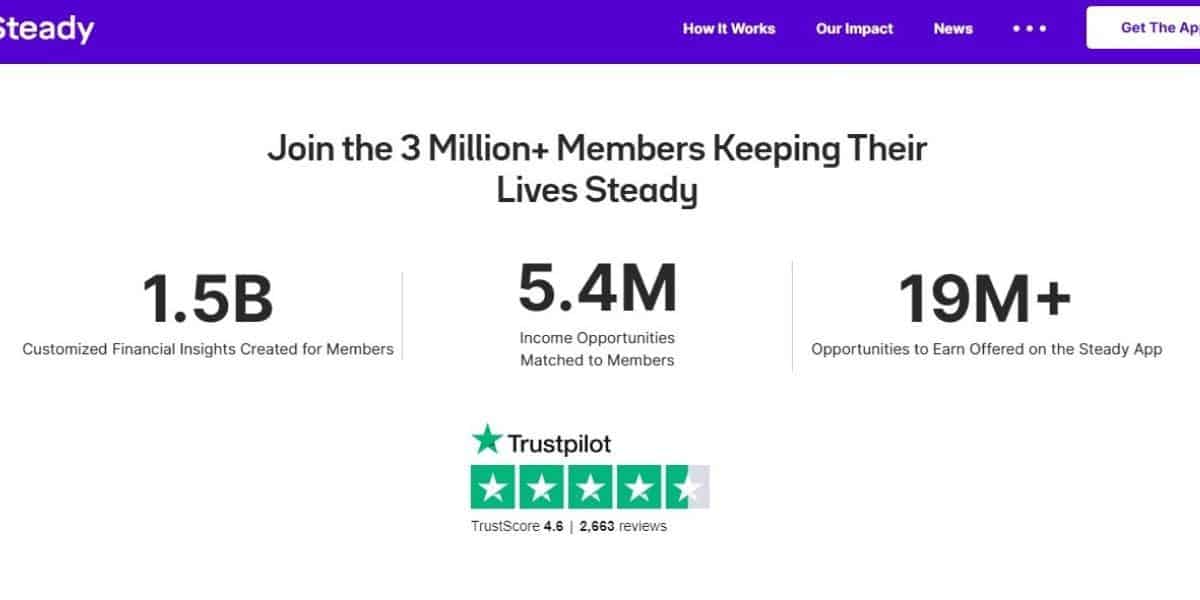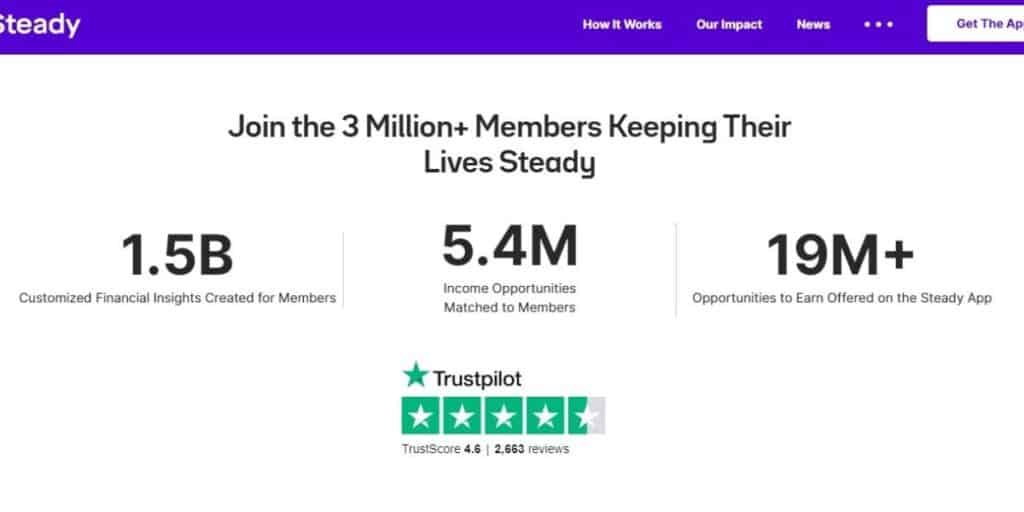 Steady App: Pros and Cons
Pros
Easy to use
Quick sign-up process
Free (you can subscribe to premium only if you wish)
Unlimited Browsing
Income tracker tool
Connect to opportunities whenever you need to
Excellent design
Sign-up bonuses
Cons
Few traditional jobs
Tricky filters
Lack budgeting features
Apply for each position individually
Wrapping Up
Steady is more of an aggregator of all the other competitor apps. As a result, it provides multiple opportunities and added features, all under one roof.
Check it out for yourself if you want to take the extra step to earn that extra income. And you never know when things may start working in your favor!