Are you thinking about delivering for Shipt vs Instacart and wondering which pays more? Here's what you need to know about these popular delivery services.
Whether you're a worker displaced recently or looking for a side hustle, delivering groceries is a great way to guarantee you'll be employed. And the truth is, our world is not healthy yet; we're all getting used to the conveniences of staying at home; and we're all realizing how gross people actually are. So delivering groceries is a way to make money that is going to be around for a long time. 
How do Instacart and Shipt Work?
The concept is simple. Customers create an account with a store or a delivery service. They select items from a store. That information is sent to the store or delivery service who will offer the job to a shopper who is usually an independent contractor. The shopper then shops for the items, pays for them with a special card. They then pack them up, and deliver them to the customer.
The process is simple enough for both the customer and the shopper. The delivery service creates partnerships with stores, so the customer has options to choose from.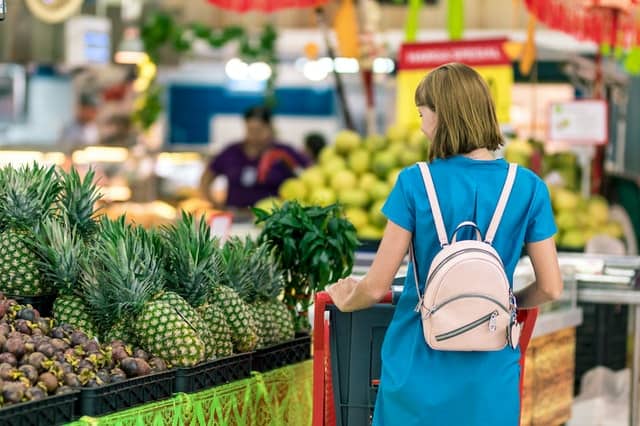 Two of the independent companies that have a hold on the story delivery market are Shipt and Instacart. 
Shipt
Established in Alabama in 2014, Shipt focuses on "simplifying lives" by offering convenient shopping and delivery from local retailers. According to their website, Shipt is "now in over 260 cities and counting…" in states across the US (except Alaska and West Virginia)
Instacart
Instacart began in 2012 in San Francisco. Instacart has two options for employees: a Full-Service Shopper or an In-Store Shopper, and they offer delivery in all 50 states. (For this article, we'll focus only on Instacart's full-service shopper position as it's the most comparable to Shipt.)
Not all delivery services are created equally. Let's take a look at which option is best to help you make money as a shopper.
Setup time and cost
Time is money. So it's important to look at how quickly and how much it cost to become a shopper.
Shipt
The process to set up with Shipt requires a bit of time and effort. The process includes an application and interview (which includes a video) before you are approved to shop. According to their website, if you want to shop and deliver, you'll need
an iPhone (iOS 10 or newer) or Android (5.1 or newer) smartphone

reliable vehicle, 1997 or newer

valid U.S. driver's license and 

auto insurance.
The requirements* to shop for Shipt are that you
are 18 or older,

have knowledge of produce selection (training provided)

are able to lift 40 pounds

pass the application/interview process
*Note that Shipt doesn't openly acknowledge that you must pass a criminal background check and have a valid social security card but these requirements are likely to be included as well.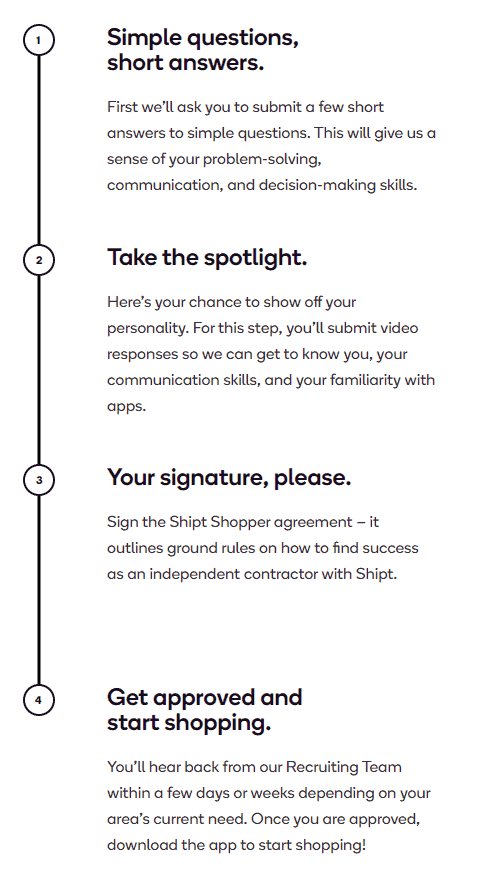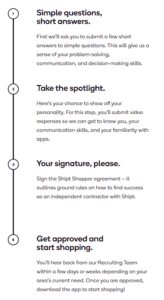 If you want to shop, 
apply

go through the application process (see image)

get approved

wait for your materials and prepaid card

get the app and go
In all, the Shipt process can take 2-3 weeks, depending on the need in your area.
Instacart
Instacart makes their process simple if you know which job you want to do. According to their website, you'll need a
smartphone

car, truck, van, or SUV (must be in your name and in good working order)

driver's license

insurance.
The requirements to shop for Instacart are that you must 
be at least 18 years old,

pass criminal and driving background checks,

prove eligibility to work in the United States,

have consistent access to a vehicle,

own and be able to effectively use a recent smartphone (iPhone 5 / Android 4.4 or newer), and

be able to lift 50 lbs with or without accommodation.
Potential shoppers have to 
sign up

wait for your materials and debit card

get the app and go
In all, the Instacart process can take 1-2 weeks.
Winner
Instacart is simpler by far. The vetting process at Shipt is more thorough and complex than Instacart. As a customer, that vetting process gives me confidence, but as a shopper, I would opt for a simpler process. Instacart is that simple process.
Income and payment process
If we get down to it, the pay is what will most likely make us opt for one service over another. The way a shopper gets paid goes into some deep, often complex formulas. What you need to know is what and how you'll get paid. 
Both companies offer per job compensation and tips. Shoppers keep 100% of their tips and can earn bonuses with both companies. Shoppers see the amount they could make prior to accepting a job as well. (Rejecting a job has consequences in regards to rating.)
Shipt
Shipt shoppers get paid every Friday through direct deposit. They can track their earnings through the app. The process is simple and straightforward. Recently, Target bought Shipt and opted to change their simple formula (order amount x 7.5% + $5 up to $30/order) to a more complex formula that is leaving shoppers unhappy.
Instacart
Instacart shoppers get paid weekly through direct deposit or through PayPal. They can track their earnings through the app, too. The process is simple but it's not clear how Instacart figures pay. 
Which is Better – Shipt vs Instacart? 
Shipt's process and formula seemed like the most simple, but with their 2020 shift, their superiority in this category is still questionable. Instacart has been around longer, but it's never been clear. Shipt is still the winner in income. 
Extras
Most often, these jobs are side hustles or gigs that are going to replace a full-time income; however, the extras can make this part-time gig a desirable full-time or long-term option.
Shipt
Shipt shares information on some programs, but it takes a lot of research to find information. Their website is not as clear or transparent as Instacart. They are clear about their Shopper Perks Program. This program outlines the perks available to Shipt shoppers who meet specific shopping requirements. 
Auto assistance that includes subsidized auto insurance, easy mile tracking, vehicle maintenance, and more.

Healthcare plans that cover medical, vision, and dental insurance, along with discounted prescription plans.

Pet care programs that include wellness, illness, and emergency coverage.

Access to renter's insurance, legal resources, identity theft protection, tax prep programs, and more.

Free Shipt delivery. 
This service also offers bonuses like promo pay and metro orders, which increase the amount of an order. Shipt is also a bit more selective in how many shoppers work in a specific area (based on demand), so it's more likely that you'll have opportunities for jobs. You can even take on multiple orders at a time to maximize your earnings. 
Additionally, Shipt has a large face-to-face and online community. There are FB groups and in-person meetings, making Shipt a community-minded option. 
Instacart
Instacart is transparent in their bonuses and how to manage those as a shopper. Their website is far superior in simplicity and transparency over Shipt. Instacart offers several ways to make additional money, including
sign-up bonuses

referral bonuses

busy or peak pay

heavy pay
Shoppers can take on other jobs with Instacart. Several former shoppers have shared that they grew in their roles to become a shift lead or even a site manager. Instacart has a lot of opportunities to grow.
Winner
Shipt has perks for those who are looking for the career and team environments, but Instacart is better for the temporary and growth opportunities. Because of the simplicity of the website, Instacart has a slight leg up in this category. 
Maximize your earnings with Instacart & Shipt
There are a few ways to maximize your earnings with these companies. 
Look the part
Both companies have branded gear that shoppers wear, but Shipt requires you wear their shirt while shopping for them. Keep them clean. Wear a hat or pull your hair back to show your face. Use deodorant and stay clean. Keep your vehicle (inside and out) clean and clutter-free. 
Be professional
Maintain a level of professionalism from the time you accept the order to the time you finish your delivery. Avoid loud, obnoxious music when you arrive at the customer's home. Make sure you don't have dirt, mud, dog hair, or kid's toys falling out of your vehicle. Even if the customer is a jerk, keep your composure. 
Be prepared
Be ready all the time. If you're in the middle of an order and your cell phone dies because it wasn't charged, you will be impacted. Be prepared with extra bags in case something shifts on the drive, and bring change for those folks who want to tip cash. 
Overdeliver
Check the details to confirm what should be included in the order. Make sure you pick items like you were picking them for royalty. Text 2-3 updates per order. Be as close to your planned or scheduled arrival time as possible. If coupons or deals are available, bring those or let your customer know about them.
Do both
Consider maximizing your earnings by working for as many delivery-based companies as you can. You can work for Shipt and Instacart at the same time. Sign up and try them both for a while. See where the biggest earnings come in or balance both. 
Which one do I choose?
Ultimately, there are many factors that will help you decide if you want to make a choice between Shipt and Instacart. Your town may not have one or the other, so geography may make the decision for you.
If you're looking for a more controlled environment, a community, and clearer earnings, Shipt is probably best for you. If you're looking for increased flexibility, potential for growth, and movement, Instacart is probably best for you. 
Related: Delivery Apps Like DoorDash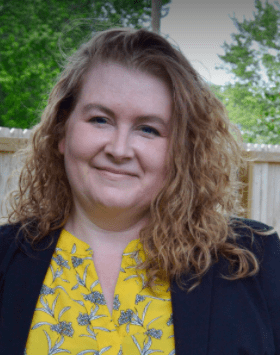 Martha Warner is a writer, editor, and educator. As a single mom for many years, Martha knows the value of money, how to work hard, and how to hustle. Her freelance career started as a side hustle (to support her love of travel) and quickly grew into the most lucrative career she's ever had. Martha still teaches at the university as well as other online and in-person courses, including Writing to Make Money, College Scholarship Writing, and Write that Grant. Find out more about her on her website.