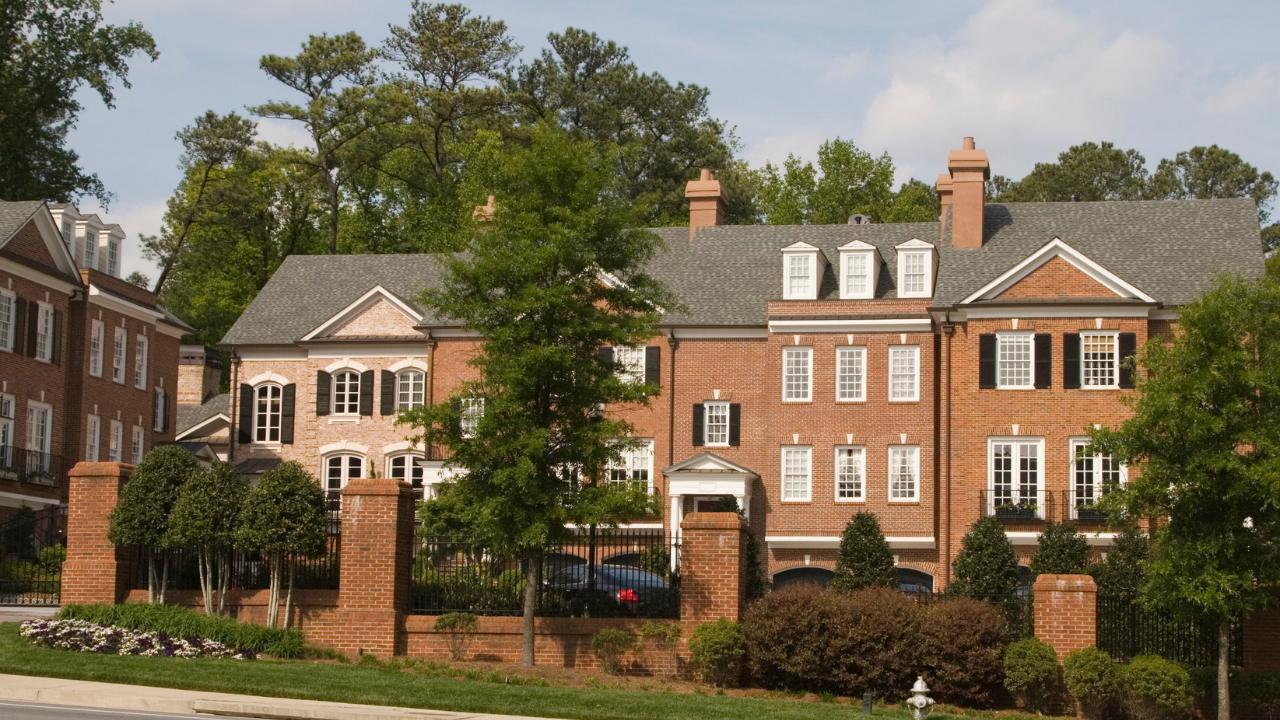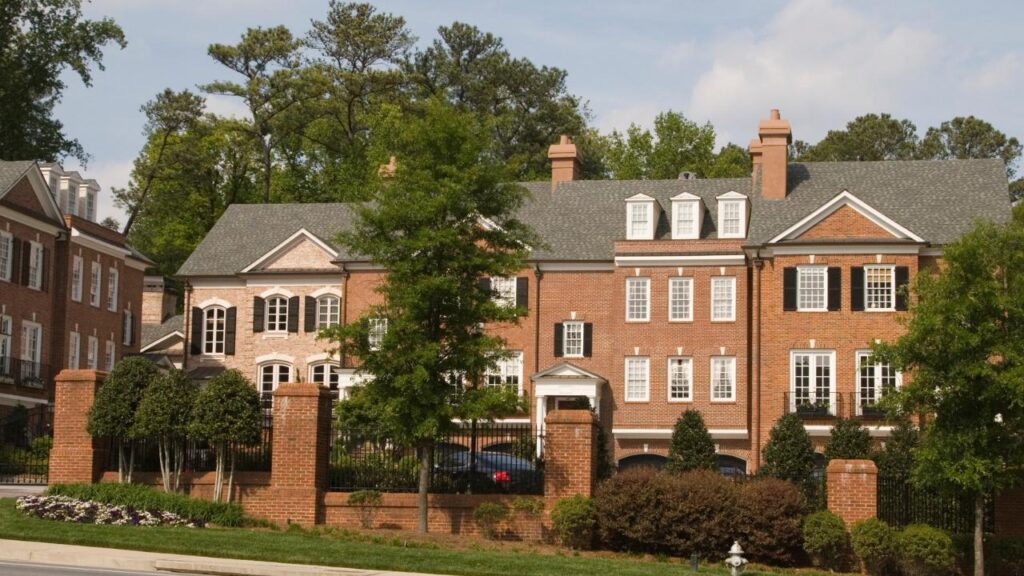 Wealth is not about having a lot of money. It's about having a lot of options. And when it comes to Atlanta, these neighborhoods provide their residents with plenty of options.
From luxury shopping and fine dining to prestigious schools and vast green spaces, these districts have it all. Whether you're a local looking to relocate or just curious about where the elite resides, here are the 15 richest neighborhoods in Atlanta.
More: 14 Pros & Cons Of Living In Atlanta
1. Buckhead
Living in Buckhead is like living in a world of luxury. It's a place where well-appointed mansions, top-notch schools, and high-end shopping malls aren't just the norm, they are the expectations.
This area, known for its affluent residents, is one of Atlanta's premium arenas for fine dining and shopping. Take a stroll at the 'The Shops of Buckhead Atlanta', where you can find everything from Hermes to Jimmy Choo to Christian Louboutin. If you're hooked on art, there are impressive galleries like the 'Alan Avery Art Company'.
The community is also home to iconic historical sites, including the Swan House at the Atlanta History Center and the Governor's Mansion.
2. Tuxedo Park
Tuxedo Park truly stands as the pinnacle of luxury in Atlanta. A drive through the neighborhood will instantly convey why this is the case. Mansions nestled among lush greenery, acres of private land, and stunning architectural designs that one can only dream of. The residents are some of the wealthiest in Atlanta!
If you're a fan of leisurely strolls or morning runs, Tuxedo Park doesn't disappoint. There are beautifully maintained sidewalks, and the tranquil ambiance of the area makes any outdoor activity an absolute pleasure. 
Added to these, the neighborhood also has some of Atlanta's top schools, making it an excellent choice for families with school-age children. Talk about having the benefit of both world-class education and exquisite living!
3. Ansley Park
This high-end neighborhood, located just east of Midtown, bursts with charm. Developed in the early 20th century, it has continued to capture the hearts of Atlanta's wealthier residents, thanks in part to its timeless grandeur.
Dotted with perfectly preserved early 1900's architecture, Ansley Park is also home to the city's elite and offers a peaceful respite from the hustle and bustle. Imagine strolling along tree-lined streets, past historic mansions and modern, luxurious condos. What truly sets Ansley Park apart, though, is the 14 parks within its borders. Some highlights include:
Piedmont Park, where concerts, festivals, and other events occur regularly.
The Ansley Golf Club, known for its splendid golf course and exclusive membership.
When you pass by long-standing establishments like the High Museum of Art or the Atlanta Symphony Orchestra, you'll quickly realize the neighborhood's strong commitment to maintaining a flourishing artistic scene.
4. Brookhaven
It's not hard to see why this neighborhood is counted among Atlanta's wealthiest. Picture tree-lined streets fringed by grand homes, manicured lawns, and upscale amenities.
Noteworthy in Brookhaven is the community's commitment to accessible yet high-end living. Here you'll uncover luxury shopping at Town Brookhaven, golfing at the historic Capital City Club, and leisurely strolls at Murphey Candler Park.
Take it from us, a visit to Brookhaven will leave you captivated by its understated sophistication and all-around upscale charm.
5. Druid Hills
Right in the heart of Atlanta, you'll find the prestigious neighborhood of Druid Hills. This neighborhood is well-renowned for its grand old mansions, lush landscaping, and sweeping vistas.
It's like stepping back into the Gilded Age but with all the modern conveniences of today. Many businessmen, physicians, and esteemed lecturers from the nearby Emory University call this neighborhood home. 
What adds to the area's opulence are the several historic sites. The Candler Mansion and the Fernbank Museums, for instance, not only offer history to explore, but also add to the grandeur of the neighborhood. With gorgeous spaces like the Lullwater Park and the Druid Hills Golf Club, recreational opportunities are aplenty as well.
The neighborhood is also known for its elaborate landscaping by the famous designer Frederick Law Olmstead, often dubbed as the 'father of landscape architecture' in America. His design is evident in the meandering streets that follow the natural topography, lined with ancient trees that cast a charming spell on Druid Hills.
6. Chastain Park
This neighborhood is well-known for its classy recreation park, the largest in the city, which offers its residents an array of amenities such as an amphitheater, horse park, swimming pool, and an 18-hole golf course among other facilities. Imagine a delightful Sunday afternoon picnic with your loved ones or perhaps an invigorating morning jog amidst these recreational offerings!
The rich architectural variety in this neighborhood is also a sight to behold. From grand mansions to contemporary houses, each residence embodies  perfection at its best. But it's the balance between the natural beauty and upscale living that truly defines Chastain Park.
Not only does it have a bustling town center with high-end shopping, top-rated restaurants, and sought-after schools, but it is also surrounded by scenic landscapes filled with towering trees and flowering shrubs.
So, if you're looking for a balance between a serene suburban feel and the accessibility of city life, look no further than Chastain Park.
7. Sandy Springs
You know Sandy Springs, right? This place is more than just a neighborhood, it's a thriving city all on its own within the Atlanta metro area.
Not only is it packed with hard-to-resist shopping options at places like the Perimeter Mall, but it's also a business hub that homes to several Fortune 500 companies' headquarters, like UPS and Cox Communications. 
In Sandy Springs, you'll find a mix of captivating mid-century homes, state-of-the-art modern mansions, and charming, well-preserved historic homes.
If you're a foodie, then brace yourself for the diverse culinary scene spread out in upscale restaurants and casual dining spots.
8. Vinings
Let's talk about Vinings, despite being wealthy, the neighborhood doesn't skimp on its warm, welcoming Southern charm. Here, old-world charm coexists with modern luxuries, making it one of the most desirable places to live in Atlanta.
Imagine streets lined with quaint boutiques, upscale dining spots, and historic sites, all against a backdrop of stunning greenery and river views. Well, that's Vinings for you! The neighborhood is also home to some of the most expensive homes in Atlanta, with many houses well into the millions.
But Vinings isn't all about lush villas and posh eateries. It's also a popular business hub, as it's home to several major corporations' headquarters, including Home Depot. Raising a family here? No worries. Vinings offers a range of excellent education options, with top-notch schools easily accessible in the area.
9. Peachtree Heights West
Community spirit is alive and well in Peachtree Heights West. Neighbors know each other by name and there's a real sense of belonging here. This hospitable environment, coupled with the neighborhood's convenient location, makes it a much sought-after destination for those who can afford the luxury.
Those who love the outdoors will appreciate the Duck Pond Park, a favorite spot for both residents and visitors to relax and reconnect with nature.
The neighborhood is a stone throw away from some of Atlanta's best shopping hubs and dining options – talk about convenience.
Boutique fitness centers and top-tier health facilities are also within easy reach, ensuring that residents can maintain optimal health without going far from home.
10. Castlewood
Named as the tranquil sanctuary for the rich and famous of Atlanta, the neighborhood of Castlewood exudes an aura of understated elegance. Nowonder it's an ideal place to retire to after a long day in the city.
Here, you'll find an impressive array of architecturally diverse homes, each with its own unique character, from lavish Tudor-style houses to modern minimalist properties. It's not uncommon to spot luxurious pads equipped with private tennis courts, swimming pools, and expansive landscaped gardens.
Although a residential neighborhood at heart, Castlewood isn't far removed from the city's hustle and bustle. Just a quick drive away is Buckhead, a shopping and dining hub where Castlewood residents often head to for a touch of urban sophistication.
However, what sets Castlewood apart is its close-knit community, often hosting neighborhood picnics and holiday parties.
11. Morningside/Lenox Park
Morningside/Lenox Park isn't just about its name, it's everything you could hope for in a plush and prosperous neighborhood. Imagine living in an area with gorgeous, well-maintained historic homes, while merging perfectly with nature's beauty via its tree-lined streets and parks. It's a place where the word upscale finds its true meaning.
Morningside/Lenox Park is noted for its high-end dining and shopping options, making it an absolute delight for foodies and shopaholics. And if you're into fitness or just appreciate a good walk, the serene walking and jogging trails will surely satisfy you. Morningside/Lenox Park isn't just a neighborhood, it's a lifestyle that exhibits wealth in every corner.
12. Haynes Manor
This neighborhood provides residents with a serene living space, away from the hustle of the city. Here, luxury meets comfort in a seamless blend – the houses are grandiose, featuring amenity-rich interiors and stunning exteriors.
The community atmosphere is peaceful and inviting, perfect for those who prefer a quiet and relaxed lifestyle. Additionally, its strategic location connects it smoothly to the city, giving you easy access to Atlanta's major hotspots.
13. Buckhead Forest
From luxury houses to upscale shopping options, everything about Buckhead Forest screams money. Enjoyment is always within reach, thanks to their vast array of gourmet restaurants and nightlife.
Living in Buckhead Forest means waking up to pristine views, strolling in beautifully manicured parks, and having access to high-quality services that make life more convenient and enjoyable.  
Not your ordinary neighborhood, it also houses prestigious schools and is known for its low crime rate, making it a fantastic choice for families.
Buckhead Forest seamlessly combines a cosmopolitan lifestyle with a dash of Southern charm, providing a home that is truly the epitome of lavish living! 
14. Collier Hills
Located between Atlanta's famous golf course and a breathtaking park, this community offers an unbeatable mix of outdoor activities and luxury living. Enjoy the lush landscapes as you walk around, and take in the picturesque views this neighborhood provides.
15. Garden Hills
Garden Hills is well-known for its lush, green landscapes, complemented beautifully by historic homes of diverse and delightful architecture. As you walk down its tree-lined lanes, you'll feel a sense of prestige that truly sets this neighborhood apart. 
The wealth of amenities at your disposal here is simply astounding – fantastic schools, inviting parks, and an assortment of high-end shopping, dining, and entertainment establishments. Just imagine having all sorts of conveniences right at your fingertips!
Final Thoughts
Atlanta has a lot of rich neighborhoods, each unique in its own way. From the glittering skyscrapers of Buckhead to the historic charm of Ansley Park, these wealthy neighborhoods in Atlanta highlight the city's diversity and prosperity.
Whether you're attracted to the business-centric vibe of Sandy Springs, or the peaceful ambiance of Castlewood, there is a slice of luxury to suit every preference.
Further reading: 7 Safest Neighborhoods In Atlanta