Located in Northwest Arkansas, Fayetteville is a mid-sized city that serves as the county seat of Washington County.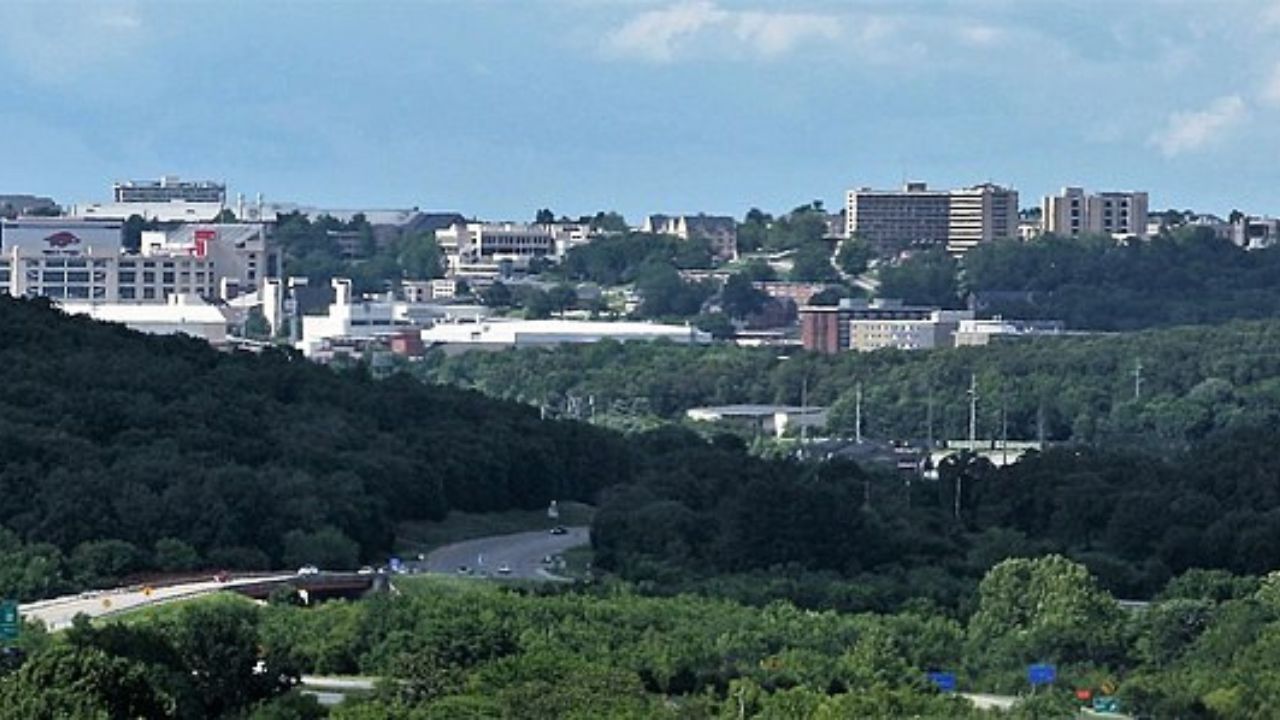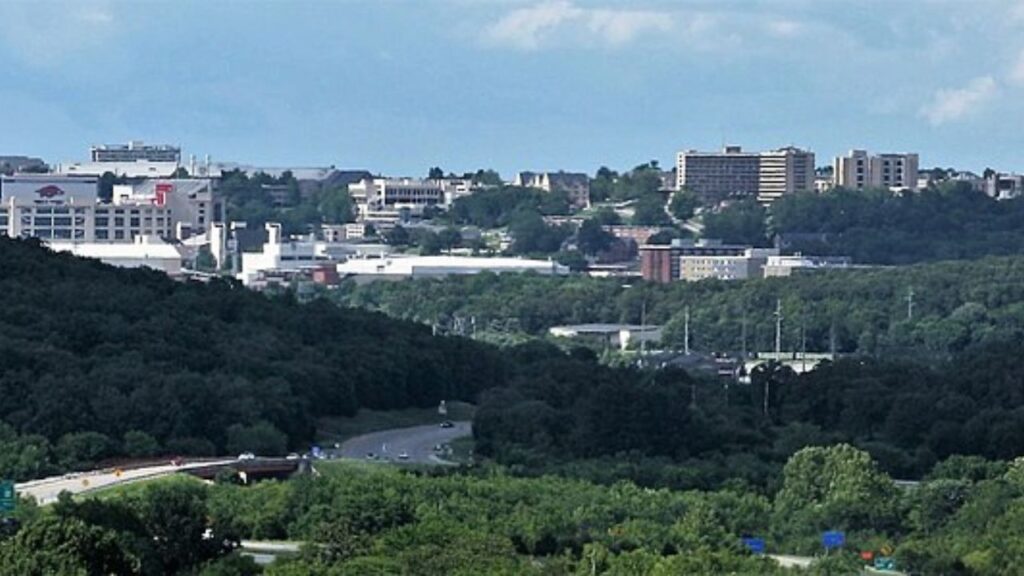 With a population of around 97,000, it is the third-largest city in the state. Fayetteville is renowned for its rich culture, stunning natural landscapes, and booming economy. Home to the University of Arkansas, the city possesses a youthful energy with a diverse community of students, professionals, and families.
As for the pros and cons of living in Fayetteville, several factors must be considered. The city offers a high quality of life, excellent education, healthcare, and recreational opportunities. However, it also faces some challenges, such as hot and humid summers.
MORE: 13 Pros & Cons of Living In Fort Smith, AR
Pros of Living In Fayetteville
Living in Fayetteville, Arkansas, offers numerous advantages. The city has:
Reasonable cost of living
The cost of living in Fayetteville, Arkansas, is relatively affordable compared to the state and national averages. The cost of living in Fayetteville is 1% lower than the state average and 9% lower than the national average.
This makes it an affordable place to live for individuals and families. Housing costs in Fayetteville are particularly attractive, 21% cheaper than the U.S. average. Utilities are also about 5% less expensive, further contributing to the overall affordability of living in Fayetteville.
Diverse living options
Fayetteville offers diverse living options to suit different lifestyles and preferences. There is something for everyone, from historic neighborhoods with charming homes to newly developed residential areas.
Whether you prefer a quiet suburban setting or an apartment in the heart of downtown, Fayetteville has many living options.
A thriving economy and an excellent educational system
Fayetteville has a thriving economy and offers numerous job opportunities. The city has several major corporations and industries, providing diverse employment options.
The University of Arkansas also contributes to the economy, attracting talented individuals and fostering innovation and growth. Moreover, Fayetteville is known for its excellent educational system, with highly-rated schools and educational institutions that prioritize academic excellence.
Beautiful and scenic
Fayetteville boasts stunning natural beauty with its picturesque surroundings. The city is nestled in the Ozark Mountains, providing breathtaking views and opportunities for outdoor activities.
From hiking trails and biking routes to parks and lakes, Fayetteville offers plenty of opportunities to enjoy nature and soak in the region's scenic beauty.
Plenty of fun things to do
Living in Fayetteville means never running out of fun things to do. The city hosts numerous events throughout the year, catering to different interests and preferences.
From the bikes, blues, and BBQ festival to the Joe Martin Stage race and the Lights of the Ozarks, there is always something happening in Fayetteville.
The city has a vibrant arts and cultural scene, with art galleries, theaters, and live music venues offering entertainment options for all ages.
Family-friendly community
Fayetteville is known for being a family-friendly community, making it an ideal place to raise children. The city offers top-rated schools and educational opportunities, ensuring children receive a quality education.
Fayetteville has several parks and recreational facilities, making it easy for families to spend quality time outdoors. The community is welcoming and supportive, with a strong sense of belonging and involvement.
Cons of Living In Fayetteville
Here are some of the key cons of living in Fayetteville:
Congested
As the city grows and attracts more residents, traffic congestion has become a significant problem.
The infrastructure struggles to keep up with the increasing population, resulting in congested roads, especially during peak hours.
Commuting and getting around the city can often be frustrating and time-consuming, affecting residents' overall quality of life.
Limited Diversity
The city lacks cultural and ethnic diversity, making it challenging for individuals seeking a multicultural environment.
Most of the population consists of white residents, at 79%, with limited representation from other ethnic backgrounds. This lack of diversity can lead to a sense of homogeneity and a limited understanding of other cultures and perspectives.
Locationally Challenged
While Fayetteville offers picturesque natural surroundings, some can see it as locationally challenging. The city is relatively isolated, situated in the northwest corner of Arkansas.
This location presents challenges in proximity to major cities, airports, and other urban centers. Those who seek the convenience of having easy access to various amenities and travel options may find Fayetteville lacking in this regard.
Hot Summers
Like many other places in the Southern United States, Fayetteville experiences hot and humid summers. The high temperatures can be uncomfortable for some residents, particularly those more sensitive to heat.
The combination of heat and humidity can make outdoor activities during the summer months challenging, leading to excessive sweating, dehydration, and even heat-related illnesses. Individuals who prefer milder climates may find the summers in Fayetteville a significant downside.
College Town
Fayetteville is home to the University of Arkansas and is considered a college town. While this aspect may have advantages for some, such as access to cultural events and a vibrant nightlife, it can also be a con for many residents.
A large student population means that college kids are seemingly everywhere. This can lead to higher noise, crowded bars and restaurants, and increased traffic in certain areas during the academic year.
The stark contrast between the student lifestyle and that of other residents can create an atmosphere that is not always conducive to families and individuals seeking a quieter and more relaxed environment.
Conclusion
Is Fayetteville, Arkansas a good place to live? Fayetteville is a great place to live with a rich history and a strong sense of community.
With its vibrant arts scene, excellent outdoor recreational opportunities, and thriving economy, there are many pros to living in Fayetteville. The city boasts excellent schools and renowned universities, making it an ideal place for families and students.
On ten other side, like any city, Fayetteville has its cons, including a college town and hot summers.