:With so many possibilities to make money online these days and T-shirt business on Amazon (Merch by Amazon) is one of the best possibilities, it's a miracle not all of us are becoming millionaires, right? Well, as with most things, it's actually a lot harder than it looks, and there are many obstacles which stop a lot of businesses on their way to fulfilling the full potential.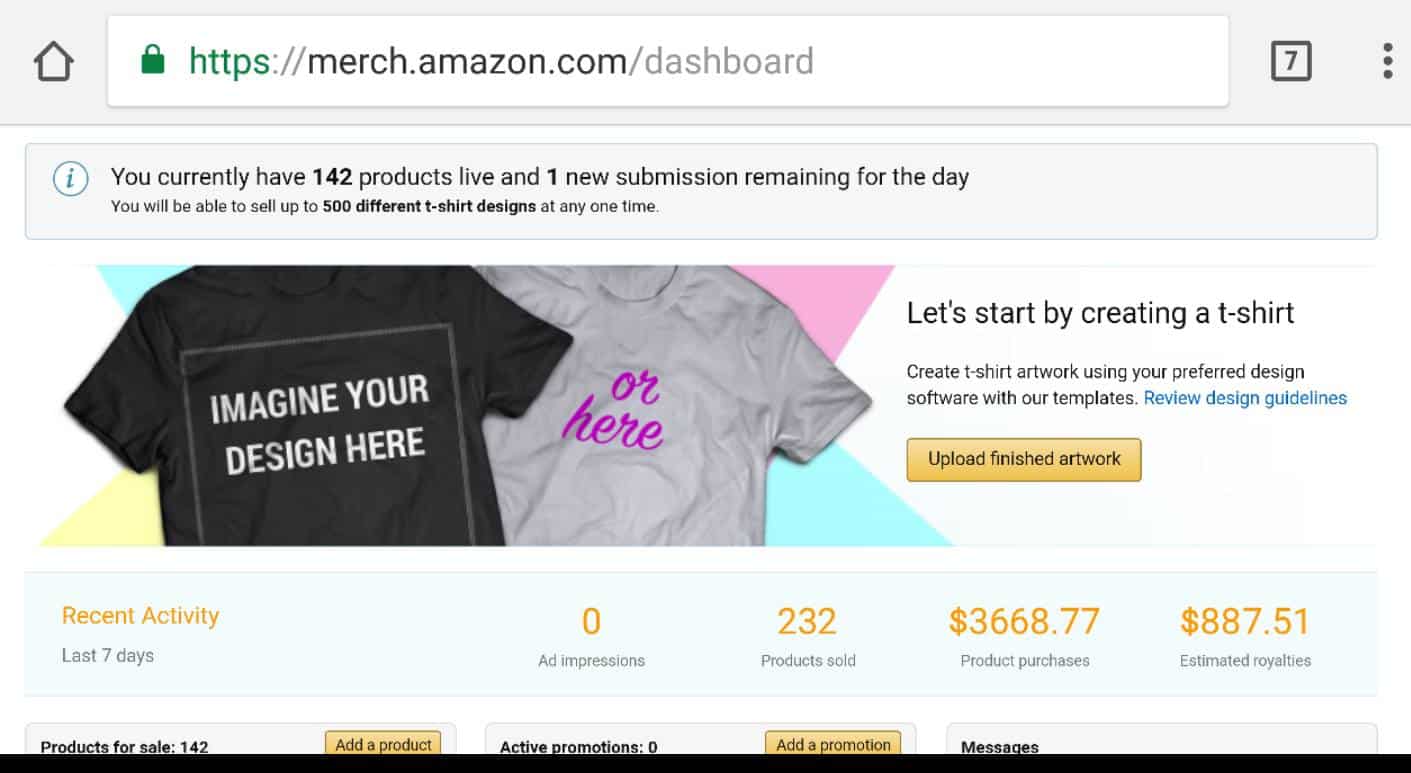 Today, we will be taking a closer look at the T-shirt business actually on how to start a T-shirt business on Amazon – Merch by Amazon, an industry branch that offers some great rewards, if you do things in the correct manner.
In this article, we'll do our best to explain what are the necessary moves one needs to take to put himself in the best position to create a strong brand. Don't think that we're talking about some quick scheme that'll only work for a while either, these instructions represent a complete plan of action which might change your life entirely.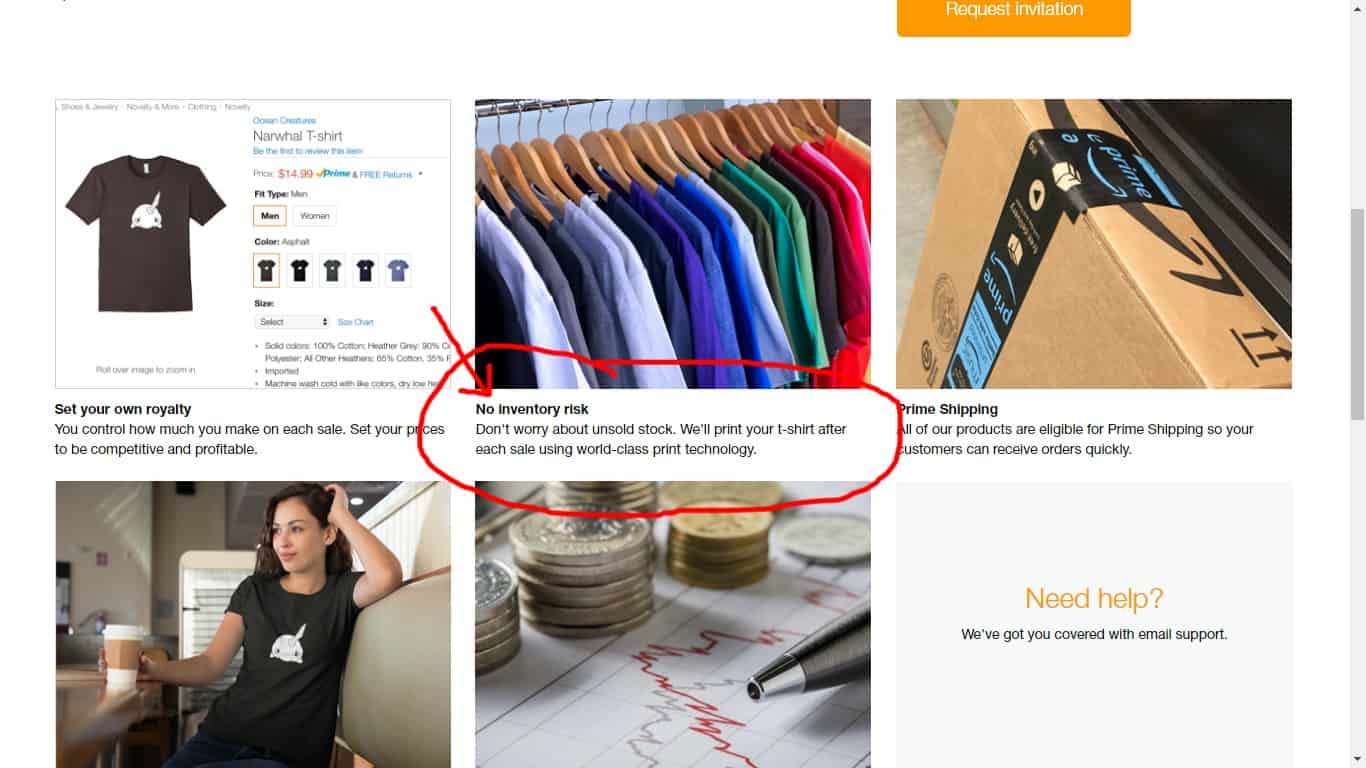 What's so special about T-shirts?
Let's begin by explaining what is the thing that separates the T-shirt industry from others. First of all, it's already a strong branch with some well established major players. While this might seem counterintuitive, sometimes, the best thing is to dive head forward and dig your way through.
Sure, there are plenty of industries out there where the competition is far inferior, but the last thing you would want is to be trapped in the area where you get no income and all of your assets are essentially trapped.
Furthermore, because this industry is so powerful, there is more than one way of getting to the top, and it's up to your personal preference whether you'll opt out for the sports equipment, something more casual or urban street wear.
The first vital step and the great dilemma
Even if your products are the best on the market, chances are you'll get nowhere fast without creating a strong brand name in the process. Once again, you might find yourself at a cross-section here.
As a beginner, you're bound to make a ton of rookie mistakes here and there. It doesn't matter if you read all the material there is one subject, learning on the job still remains the only surefire way to reach your goals.
That's the reason why some individuals choose to make two separate brands, where one would serve mainly for testing phases, and the other would be the primary source of income.
In my experience, this rarely works out, as you'll just end up spinning your wheels in one place, with no time or energy to fully commit to one specific goal. If you have one step out the door from the start, you better not waste your time at all.
Be confident in yourself and in your decisions, and work hard on establishing your brand from the start, without taking the unnecessary shortcuts.
How Merch by Amazon changed the game
When Merch by Amazon program launched, it initially wasn't much of success due to the simple fact that the word hasn't got around that quickly, but once the Internet picked up on this terrific deal, it simply exploded!
The basics behind it were really simple. All that users had to do is create an account, upload a certain image they designed, select shirt colors and designs, and they'll be halfway there.
Upon completion of these simple steps, all that remained was to add the brand name, product description, and several bullet points, and that's it, money would start pouring in very shortly. With Amazon doing all the heavy lifting,
including printing, selling and shipping, it was an opportunity that comes once in a lifetime. That's especially true considering the millions of users that this website has on a daily basis.
Naturally, people began to flood the servers, and Amazon had to take drastic action, so they created a special invitational system, where one would have to wait up to a year before they could get down to business.
If you jumped on the bandwagon from the start, you had a golden opportunity to succeed, but if not, it's never too late to send that invite and hope for the best. Better late than never.
Why Merch by Amazon?
I have used Printful, Print Aura, and Merch by Amazon. I've been selling shirts online for a few years now, starting with TeeSpring. I would sell anything and everything that I could think of.
About a year ago, I decided to really dive into a niche that I discovered. I started with Printful because of the quality. Keep in mind that at the time I also had shirts sitting on Merch and selling frequently.
I got lots of sales and Printful was always on top of things. I then decided to do a test and throw the same shirts up on Merch. What happened really blew me away. Merch sales were triple what I was doing through Printful.
Even when dumping tons of money into marketing for the Printful side, Merch was killing it without any advertising. It is simply the power of Amazon. Customers kept coming back. I then realized that the majority are looking for a shirt, and that's it.
Pick your chin up, Amazon is still the way to go
Just because you missed out on the initial Merch by Amazon launch, it doesn't mean that you'll be fighting a lost cause. If anything, this should provide you with additional motivation to grind even harder, because there is light at the end of the tunnel.
Plenty of opportunities opened up once again after the Shopify integration with Amazon, and T-shirt business became the bomb once again.
There's another narrative which separates this offer from others as well, and it's a fact that you'll have to work extra hard to succeed this way.
Despite the workload being a bit more overwhelming, take into consideration that not a lot of individuals are prepared to put in the time and effort needed.
Did you ever desire an opportunity to separate yourself from the crowd? This might be your best chance.
By following the steps you'll find below on how to start a T-shirt business on Amazon – Merch by Amazon, you'll cover all the main focal points, and the rest is up to you. Good luck!
Without further ado, here is the Step-by-Step Guide on
How to Start a T-Shirt Business on Amazon – Merch by Amazon
These steps you can use as a checklist.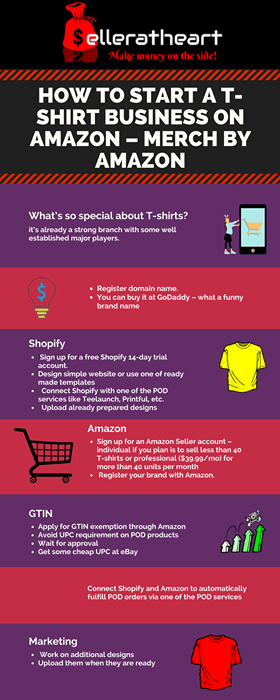 Register domain name. You can buy it at GoDaddy – what a funny brand name 🙂
Sign up for a free Shopify 14-day trial account. Design a simple website or use one of the ready-made templates
Upload already prepared designs
Sign up for an Amazon Seller account – individual if you plan is to sell less than 40 T-shirts or professional ($39.99/mo) for more than 40 units per month
Register your brand on Amazon.
Apply for GTIN exemption through Amazon to avoid UPC requirement on POD products and wait for approval or get some cheap UPC at eBay
Connect Shopify and Amazon to automatically fulfill POD orders via one of the POD services
Marketing
Work on additional designs and upload them when they are ready
NOTE: Your products are Prime eligible only if you choose Amazon POD service
Let's start…
Step #1 Learn the basic rules of Merch by Amazon
You'd be surprised to find out just how many people stumble on this first, somewhat even trivial obstacle. On first look, Amazon Copywrite and Trademark rules might seem terribly complicated, but a complete understanding of these rules is absolutely essential, so take your time and work through these kinks.
Trust me, it'll all pay off eventually. Bestseller rank – Every product on Amazon falls under a specific category, and salesmen get a specific grade based on the number of items they sold compared to the competition.
Every product has a special description section where you can see the BSR of the salesman behind it. To get into the top 100,000 clubs in the T-shirt business, you'll need to sell about 1-2 items on a daily basis.
If your goal is to end up much closer to the top, you'll be looking at 50+ units sold per day. Although that number may seem unreachable at first, don't be greedy and take your time.
Eventually, you'll get there if all the stars line up.
Copyright and Trademark
We've all heard of these expressions, but do you really know what they are all about. While looking at other people's designs might be inspirational to some point, under no circumstances should you try to copy their work, as this is a sure way to eventually get banned.
Similarly, trademarks relate to basic expressions brands use to describe their products. It also translates to logos and signs as well. Websites such as USPTO and Trademarkia should give you a good direction on things you should avoid at all costs.
Step #2 Research, research, research
Creating a bulletproof strategy is an absolute must-have in this harsh business. Dedicating your time in only half the battle, you have to be smart with your decisions as well, but we'll do our best to draw your attention to major factors which might make or break your campaign.
validate ideas and try to find untapped niches or trends that aren't oversaturated with existing merch shirts
if you want to make a lot of money you need to make a lot of sales, and in order to make a lot of sales, you need to have a lot of designs. Volume is a key factor unless you are a wizard at predicting trends.
don't be afraid to experiment with pricing – the majority of my designs sell at $24.99. It does depend on the quality of your designs and the competition, but people will pay for quality.
Keyword search – The key to becoming a successful salesman is finding a topic people are passionate about, and turning it into profit. By typing in your desired niche followed by words "T-shirt" you'll end up with your desired results.
Don't get discouraged if you keep getting 20 pages of results either. In a way, this might actually work to your advantage. Let me explain. Try to open as many products as possible, and scroll down to their BSR.
If you discover that certain items are selling crazy good, the only thing there's left for you to do is come up with a design that's more appealing to the customers, or perhaps offer better prices until you make it big.
For me personally, the desired BSR is anywhere between 100k- 300k and then come up with your own designs within those niches which are much better. All of these sellers are usually selling one or two items on a daily basis, and that seems to be the right amount where you can make a decent profit, without having to work yourself into the ground.
By creating an Excel sheet with the shirts that follow the basic same ideas, you will end up having a solid database upon which you can improve.
Going through these ideas with your designer, you'll realize whether it pays off to follow a certain design, and whether you actually have something to add to the original. Take into account that you have to follow the basic copywriter rules and regulations as well.
While this job might sound tedious, it can actually be very exciting when you get down to business. Another important thing is not to flood your pages with tons of design from the start. Work your way in slowly, and see what's working and what's not. In time, understanding these patterns will become second nature.
Brand research – When you stumble upon a brand with great selling results, feel free to explore their products. Coming up with different niches from the top of your head can be challenging as time goes on, so don't be afraid to look at other brands for guidance.
If brand research gives you a useful idea, go back one step and perform a keyword search before you return to your reliable spreadsheet again. It's a never ending cycle, but one that's absolutely essential.
Niche research Simple: Design what interests are. Let's say you love elephants. So you should go to Merch Informer and scope out the elephant's shirts, how they're selling, and decide if you can trump the other designs with your own original concept. It's that simple – a piece of cake.
How to keep up to date with trending niches? Start watching the news and participate in social media. There's really no other way. If you just read Reddit's and Imgur's front page every day, that would be enough.
The trick is to be able to quickly see what kind of design might fit a current issue or trend. What are the worst and oversaturated niches? Anything dog or cat related is supersaturated niche.
Is there a way to speed up this process?
Sure, there are several Merch tools out there guaranteeing top results, and some of them are actually very good. Merch informer is the ultimate merch research toll – absolutely must have.
Merch informer is created for Merch by Amazon sellers to speed up and simplify the T-shirt research process. Merch Informer lets you pull up the top-selling shirts for any keyword or any brand and in addition Merch informer utilize Product Photo and Name, Merchant, ASIN, Price, Key Features, description, and best sales rank.
If your brand starts getting off the ground in a hurry, you might reach out for one of these solutions due to sheer lack of time, but in the beginning phases, we recommend taking this slowly and working manually.
Trust me, chances are you'll want to keep your costs as low as possible until you see some results starting to show. It's your decision either way, but make sure not to get over your head from the start, as costs can really mount up quickly.
Step #3 Work on that design!
We finally reached the point you've all been waiting for. When it comes to design, there are two roads one may follow: try to perform it by yourself, or outsource the work from the start.
Because the market is so competitive, you might want to consider the second option, especially if you're not an artist. If you're ready to work on your craft, there are several awesome Youtube videos which will introduce you to the basics. Naturally, you'll have to learn how to use the basic tools such as Photoshop, Illustrator or GIMP as well.
Important tip – when creating images, go for the highest resolution possible, as you wouldn't want to end up with blurry T-shirts no one wants to buy.
Outsourcing – There are plenty of terrific freelance websites out there, and I personally prefer Upwork. Try to write a clear and concise job post, describing your needs and timeline under which the work is supposed to be completed.
Don't be afraid to mention that you're willing to leave plenty of positive reviews if the work gets done correctly. This will also allow you to offer rates that work in your favor. Select multiple freelancer designers at first, until you find out which ones are the most reliable, and up the workload gradually.
Tip: Don't put some ugly crap up and expect anyone to want to part with their hard earned dollars.
People equate to trust and quality with appearances, now more than ever, and expect a lot from who they give their money too.
(Think: would you rather eat at the Roach Coach or the hipster vinyl-wrapped fancy food truck?)
You can pay $5 through Fiverr, but it'll be garbage you've seen before.
You can pay through 99 Designs and it might a bit better, or you can budget a few hundred to a couple thousand for a real designer/illustrator to build something awesome for you.
Brand matters. I do not publish a shirt unless I know my customer will see it and think "oh that's pretty cool" or "wow that's neat!" or "Haha that is hilarious!" I don't publish anything I wouldn't buy if I were into the niche myself.
Where did you find your designer? Upwork. I worked with about 15 different designers from Fiverr and let me tell you, about 60~70% of them tried to copy other designers art. I paid 5$ per design so I guess you get what you pay for.
Step #4 Set up Shopify
As we previously mentioned, having a Shopify account is the line that connects all the dots. Shopify offers free trial accounts as well.
Upon the basic completion, you'll be able to select a service that takes the orders you receive, accesses the desired design, prints the T-shirts and sends them out.
What's best about this service is that it's fully automated, so you wouldn't have to move a finger. Some of these services are actually surprisingly affordable, and in my case, I opted out for Teelaunch.
You should be able to use any POD service like Printful (BTW Printful is the alpha dog in the POD space) but from looking around Teelaunch allows for the best ROI.
After inputting your basic data, you'll have to add a credit card as well, which will be charged when you receive a new order.
This is the exact card that's connected to your Amazon account, where funds are being transferred every 14 days. It goes without saying that all that remains on the card is your final profit.
In case you might be wondering, this is possible for people who live outside of the United States as well. They simply need to choose the free USA address method and refund the customers who aren't satisfied with their products, while letting them keep it.
This solution might not be ideal, but there's no going around it without suffering even more costs.
Connecting Shopify and Amazon
Log into Shopify and click on the option "add a sales channel". You would need to have an Amazon sellers account, which will set you back $39.99 per month. This account brings you many benefits, including:
Ability to customize shipping costs
Access to useful feeds and reports
A chance to offer gifts and promotions
Upon agreeing to basic terms of service, the two of your accounts will be connected. Once this is complete, head back over to Amazon, click on the "Sell on Amazon" option and select the items from your Shopify store you want to sell.
Try to put clear and concise descriptions of your products by using bullet points and place them in the appropriate category. There are two additional steps you need to pass before your store can go live. First one includes SKU, which is nothing more than a string of 10 digits you can create by using online generators.
It's completely free of charge. The other one is UPC, which can be purchased online. It's important to specify that you're planning to buy 12 digit UPCs, and you'll most likely find them on eBay.
These things are actually fairly cheap, where about a 1000 UPCs will only set you back a couple of bucks. Each shirt requires its own SKU and UPC, but this step shouldn't take too much of your time. In case you're confused by this move, there are plenty of articles written on this specific topic in detail, so there's no need to worry you'll screw it up. What are the profit margins?
We know, your plan was to strictly sell T-shirts, but that could be a mistake. In case you didn't know, Amazon limits new users to 100 variations per week. Let's say you add a newly designed shirt today.
You might think that's only one variation, but you'd be very wrong. Each size and color represent a different variation, so you might end up reaching your limit in just a few attempts. Is there a solution to this problem?
Luckily, Shopify doesn't only constrict you to one category, which means you can push products that don't have as many variations, such as dog bowls, phone cases, mouse pads, and even shower curtains.
Don't be afraid to experiment every once in a while! Similarly, you can also try to experiment with other platforms besides Amazon, including eBay, Wallmart and much more. Ultimately, the sky is the limit!
Step #7 Marketing
In business, there are no effective shortcuts guaranteed to work every time, but some can get you there quicker than others. Marketing is definitely an important tool you should consider.
There are plenty of ways to do so, and the most effective ones are using adverts on Amazon, Instagram, Facebook and other social media platforms.
Investing some money in photo shoots with gorgeous girls who have tons of followers can also boost your business in a hurry. While this can cost quite a bit of money, a well-designed marketing scheme can put you over the top in no time.
Would you have the guts to pull this off?
Here's a tip to get your first few sales (actually you can use this anytime…)
Follow Facebook groups that are in your "niche". When you see a post that is relative to your designs on Amazon that is getting traction (comments, likes, shares) post a link to your shirt.
You can go even further…
If you see a viral post that is getting tons of action create a T-shirt that is highly relevant and then post the link in the comments section. You can break into things where there are thousands of sellers.
You need to be aggressive. I have done this twice, dominated the keywords and title, and overtook some of the top sellers with my product. I use synonyms and legitimately think for a minute or so… "what else would I search if I wanted this shirt?"
In terms of paid advertising – sponsored IG posts (influencers') has been good for me. I'm starting to see some success with Facebook ads, but I'm still messing around with FB ads, spend quite a bit but haven't found out the right format/target/niche.
The most effective free marketing for me is Imgur, Reddit and believe it or not Funnyjunk. I've got to the front page with designs a few times and that always brings in a huge amount of sales. But it is of course short-lived.
Also, I had a bit of success with paid Reddit posts. For me what worked was to target super niched subreddits with less tahn10K subscribers. The subreddit has to be big enough to be targetable on the ad dashboard but small enough to have a hardcore fanbase.
Be careful with Reddit and Imgur.
Reddit, Imgur users are not a fan of self-promotion and will downvote the hell out of you. When starting your best approach is to upload just the design (not on a t-shirt) and maybe mention how you made this design for a T-shirt.
People who are interested will ask if you're selling it somewhere and then that's when you should drop the link. If your shirt's not selling at all, it can't hurt and might jump-start sales on it but If your shirt is 5 or 10 a day, then don't do it.
You will get a one-time boost of a few dozen sales (depending heavily on the shirt) for hitting the front page of either, but since these sites have a disproportionate number of viewers that dabble in POD t-shirts, this will be at the cost of increased competition on Merch and tons of direct rip-offs on other sites.
Influencers
They can make a killing if they have proper followers…
One of the best ways to promote your T-shirts is through an Instagram Influencer or someone who has a few hundred thousand or million followers.
For a few hundred bucks, you get your ad in front of hundreds of thousands of people. Make sure having them wear T-shirt and make sure to work with an Instagram account that posts in your niche.
Mockups can work too, but you need to be creative in how you present them. A flat T-shirt mockup isn't going to do much. Here is an email template when contacting Instagram influencers
Dear XY, My name is XY, I'm the founder of XY I'm writing because [other Instagram influencer] (XY) have told me that you will be interested in our T-shirt. The reason why I contacting you is that we are currently looking to build a real relationship with people. So what we do is send free samples of our T-shirt and get your feedback on it and overall feeling with experience. We are then going to promote the T-shirt to make it the best T-shirt in the [country name] and we need your help! Would you be interested in cooperating with us so we can bring the best T-shirt to the market? Which is currently flooded with overpriced [here you can give an example of dominating competitors who are selling an overpriced T-shirt with poor design]. If yes, here are some more information about the T-shirt: [here you tell a story about your design, niche etc]   We are pioneers of this trend in the US and want to build a relationship with people who are truly interested in good designs. Yours truly, [name] [position]
How much Instagram influencers charge to post your content?
Well, if an account with 5 million followers is offering you an ad for $50, it's too good to be true. An account with 2 million followers cost about $400 and you can expect about 4,000 unique visits to your site which will turn into about $800 worth of sales. I usually get a 2x return on our investment with these type of marketing.
Useful tools you can and should use:
I'm an International Seller, Can I Sell?
Yes, you can. If you register to sell on Amazon.com from a country outside of the United States, you need to provide a bank account in a country supported by Amazon. Currently, Amazon supports bank accounts in the Eurozone, the United Kingdom, United States.
If your country isn't on the list then you need Payoneer account. Registration is simple and Payoneer allows you to withdraw your payments directly to your local bank account. Payoneer is working with Amazon for local currency disbursements, but only for countries that are not supported by Amazon eg. China, Turkey, Serbia, Vietnam etc.
Look at some success stories
Finally, every one of us gets stuck at some point, with seemingly no way out. That's where the motivation and self-belief come into play. Some individuals are naturally gifted with this great confidence from the inside, while others have to look at other people to give them a leg up.
Whatever the case may be with you, don't be afraid to have high dreams and expectations, because if you work hard, you'll also get there one day. We wish you great luck on your journey!
My last $0.02
Educate yourself before trying to build this business, it's important
Read, Take Notes, Re-read, Execute. Blogs will give you a massive head start if you actually apply the concepts learned
Do not get hung up on one shirt design. 1 shirt is not worth it in the long run
Replace design after 10-14 days of no sales
Avoid trademarks & trying to profit off of other people's ideas & hard work
Keyword optimization is important
Find ways of determining buyer demand apart from BSR, as that's what everyone is doing
Start thinking about scale early on
Once again: Do not infringe on intellectual property
Choose a variety of niches
Choose tees with at least some graphic element