If you want to become an Amazon seller, one of the toughest steps is how to find profitable products to sell on Amazon. Here are our steps for getting started!
Finding profitable products to sell on Amazon can be overwhelming. In fact, it is often the most difficult step of the process. Many new FBA (Fulfilled by Amazon) sellers get frustrated with scouring bestseller lists, hot selling items, analyzing product listings and competition because this process can be maddening and time-consuming. Some sellers aren't even able to proceed beyond this step.
So, are you wondering how to find profitable products to sell on Amazon and what would the perfect FBA product looks like?
What Does the Perfect FBA Product Look Like? 
If you've read previous articles on this topic, they have probably recommended the following guidelines to look for in a product.
relatively high value per size/weight
not fragile/breakable
not hazmat
Using these limited criteria, you might be thinking that a diamond ring is light, expensive, almost non-breakable….it must be a perfect product. Right? Wrong…who buys their engagement rings on Amazon? You probably also read this:
Product Requirement: Similar Products Have a 5,000 Best Seller Rank or Smaller in Main Category
This guideline is ridiculous. Products with best seller rank 5,000 in Sports & Outdoors will perform less than sellers than ranked 15,000 in the Home and Kitchen category. And this…
No Brand Names within Product Category
Well, this is an interesting opinion… Some experts say that you can't sell basketball balls, headphones, keyboards, bed sheets, car parts or any cell phone cases?
Once I find the time I'll read that expertise to see how they came to that conclusion, I'm curious though it has nothing to do with common sense.
Another situation is when one product dominates the market and they have built enough trust and authority to draw most customers to them. Competing against them is pure masochism.
Lightweight (Preferably under 2-3 pounds)
Okay, this is true, but…by picking a lightweight item, you can also limit yourself. There are fewer competitors on large items. That being said, all the above is true but not enough for a profitable product to sell.
Before we start with this Step-by-Step Guide for How to Find Profitable Products to Sell Tutorial, one more thing. If you plan just to slap your own sticker to a Meat Claw, Baking Mat, Garlic Press, Selfie stick or any other generic product you'll be warring with everyone else.  Everyone who learns someone's magic formula starts selling the same mediocre crap.
To succeed in selling on Amazon, you simply have to be better and somehow unique.
I've learned hard way from my mistake. My first product failed and I was about to quit, but luckily my 2nd product ended up being a massive hit. What did I learn from my failure?
Buying a product based on instinct instead of based on detailed research is by far the biggest mistake you can make. A profitable product is a result of preparation and detailed research. In this article, I share a tutorial for what to sell on Amazon.
What to Sell on Amazon
When you're choosing a product to sell on Amazon, there are multiple criteria I use to help determine what will be profitable. (Here is a spreadsheet I use to find out if a product will be profitable.)
Profitable products are:
First and most important, a product with good positive Return on investment (ROI)
The most common mistake that new seller makes is to calculate a profit margin without a ROI calculation. Let's say for example you comparing two products, a knife, and a spoon.
The knife had a profit margin of 30% while the spoon had a profit margin of 20%. But then you look at the ROI for each and ROI for knives is 53% compared with an ROI of 120% for spoons.
With just looking at the profit margin, clearly you would make a mistake and have gone for knives, but the ROI calculation reveals how much better is to invest in spoons.
A product that can be sold for $20 or more…why?
There are sellers who are successful selling products $10 and under in Amazon's Amazon "Small and Light" program. Competing with them can be difficult when FBA fees for you could average $4 and their fees are $1. These inexpensive products also may not have the best return on investment. Here is an example.
At first glance, this looks like a good product. It is small & light, and it sells well. It also has 2,364 reviews, a rating of 4.6 out of 5 stars, and 30 answered questions. However, take a look at Fulfillment by Amazon Revenue Calculator.
This product has a selling price is $2.42 and FBA the fees alone are $3.01! This means this product would lose money, even if you get the product for free with free shipping to the Amazon fulfillment center.
2-3 products with few on without reviews on the first page…why?
There is not too much competition and it is easy to compete with products with less than 20 reviews. It Is VERY difficult to get organic reviews, especially after Amazon Update on Customer Reviews in October 2016.
No product with 1000+ reviews on a top spot
In this circumstance, this one item sells and dominates the market.
There is a demand on Amazon
It is very hard to create demand on Amazon, instead, try to leverage the existing demand. You should be sure your top three product keywords get over 100,000 monthly searches.
Jungle Scout is a very cool tool that allows you to search Amazon buyer keywords by how much the Amazon search volume for those keywords is trending.
Choose Products That are Non-Seasonal
When you're looking to find profitable products to sell on Amazon, you'll want to as yourself if the product that you're considering be sold all year long? Stocking only seasonal products can limit your sales. For example, you don't want to have hundreds of Easter Bunnies in stock at Christmas time. As a new seller, you can't really afford to sell only three-month out of the year. You will have a bigger opportunity for sales with non-seasonal products that can be sold any time of year.
A good tool you can use to figure out the trends and demand for a particular product is Google Trends. For example, if you are interested in selling cutting boards, you can see that the interest and demand has increased over the years.
One cool thing you can do is check the "Forecast" box to see the projected trend is for the particular product. You can actually see whether a product is getting more popular over time.
You can purchase including shipping for less than 33% of the sales price
In order to make a profit, you need this margin to be successful. Otherwise, there is no chance to be profitable.
Not fragile/breakable items
Breakable and fragile items can be difficult to ship and broken items can generate refunds or returns. To save yourself a headache, focus on selling non-fragile items.
Initial, trial purchase can be less than 200 units
If you want to invest more, I would buy 4 or 5 different products rather than a lot of inventory of one product. You'll maximize your chances of success by having multiple possibilities for success.
No cheap Chinese electronic devices
Trust me, you will have more refunds than sales.
No branded products
Most trademarked brands will diligently protect their product lines and brands. For practical business, avoid reselling anything with a trademark to avoid potential legal issues and lawsuits.
If sourcing in China go for a simple product
If you keep the product simple, quality and functionality won't be an issue. This can help you avoid unpleasant surprises from your supplier.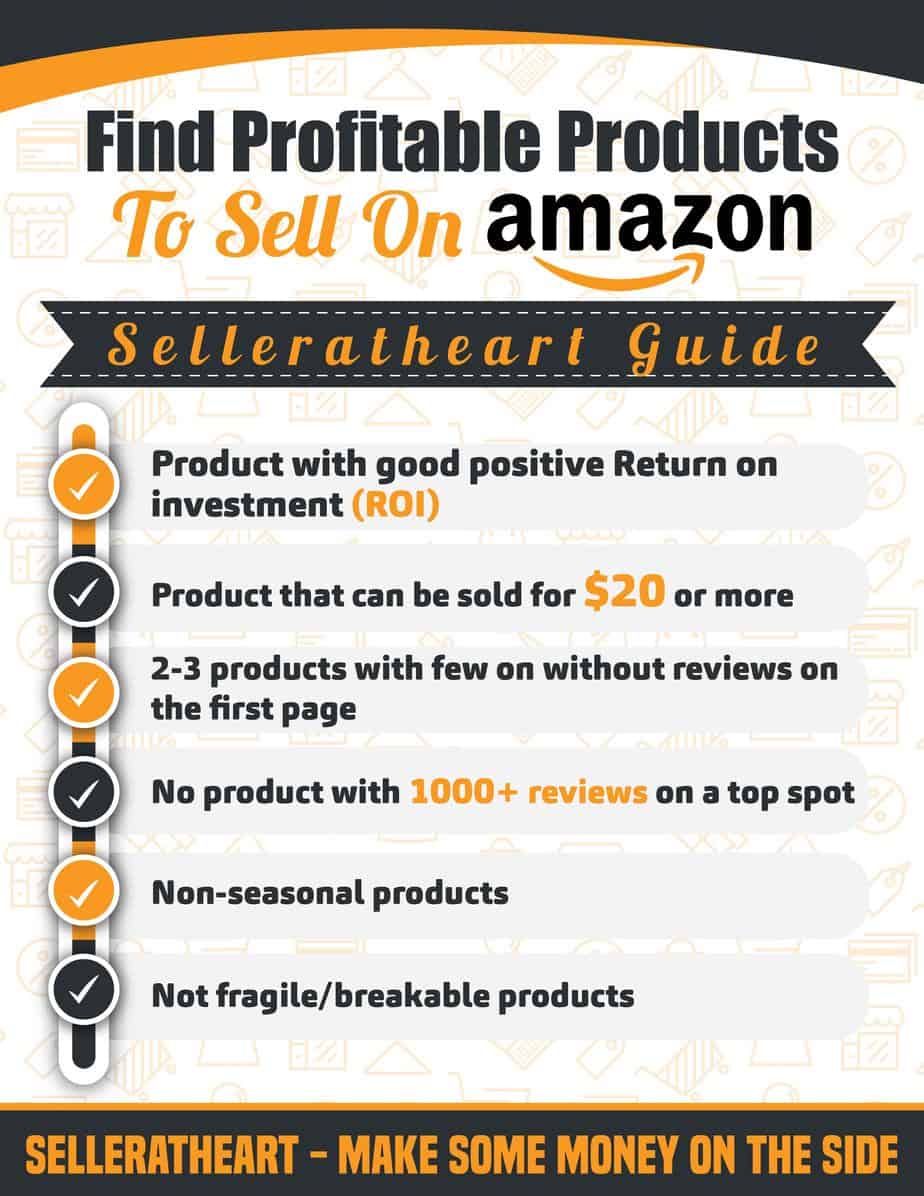 How to actually find profitable products to sell on Amazon?
When finding profitable products to sell on Amazon, here are a few proven methods to help you find the best products for you.
Simple, no headache method
This method consists of looking at the product on Amazon, finding a similar or better product on Alibaba, getting a quote, using the FBA revenue calculator to figure out total costs and margin, and then buying small test order to see if the product is successful. Then (if it is successful) order more. If it isn't, don't reorder and repeat the process with another product.
NOTE: This method can be easy, but it can also cause you to lose money. Do NOT do it.

Manual method #1
Go to Amazon and type in a popular search term like "Glass Measuring Cup" and see what the suggested results are before pressing enter. Take a look at those suggested items.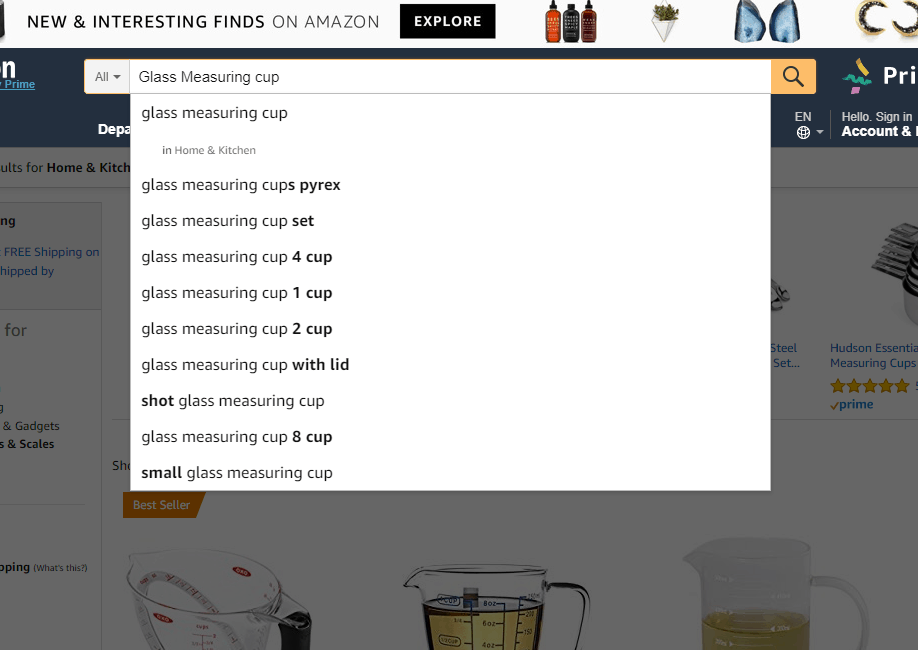 Browse until you find a product that complies with all the criteria. Go on Alibaba to source the product. Using this method, be ready for endless hours spent in front of the monitor.
Manual method #2
Spend some time and browse Amazon by category and subcategory. Take a look look at the top-ranked items. When looking at those lists, take a more in-depth look for products that have bad reviews. Click on those negative review and see what the complaints are.
Once you realize what the common complaints are for other products in this category, source a similar product that fixes those issues. For example, if your research tells you that flexible cutting boards ranked high, but the reviews state that users are unhappy with the really then mats, then look to source some heavier duty cutting boards. If you are researching tents and a highly ranked tent is reviewed that it is too big, look for a smaller, but comparable version to sell.
NOTE: Making a product that is better than others listed on Amazon is extremely difficult when capital is tight, molds for a factory are more than expensive.
Manual method #3
Spend some time and browse eBay and AliExpress listings to gather product ideas and compare those products with Amazon listings. Like with previous manual methods, this can also time-consuming. You can easily spend days without any progress.
Use a paid tool
Using the manual methods listed here can be effective, but can also be time consuming. However, did you know that there is a paid product tool that can make this process easier?
One of the best and most famous tools for researching the best products to sell on Amazon is Jungle scout. This tool does cost, but it can save you so many hours of work, that it is definitely worth the money. In a second, you will get thousands of potential products. This would take many, many hours if you were doing this manually.
So what filters do you set when you're using the Jungle Scout Web App?  Using Jungle Scout you can set filters for:
Price range
Number of reviews
Categories you want to see
Best-seller rank
Weight
Average rating
Fulfillment type
When doing searches, it is extremely important to use your own filters and not someone else's (like ones you've found online). It's important use your own filters and play with the tool. Change filters until you find something like shown below.
This shows huge sales and only a couple of reviews…Bingo! If you are interested in learning more, read a Jungle Scout review.
Hire a freelancer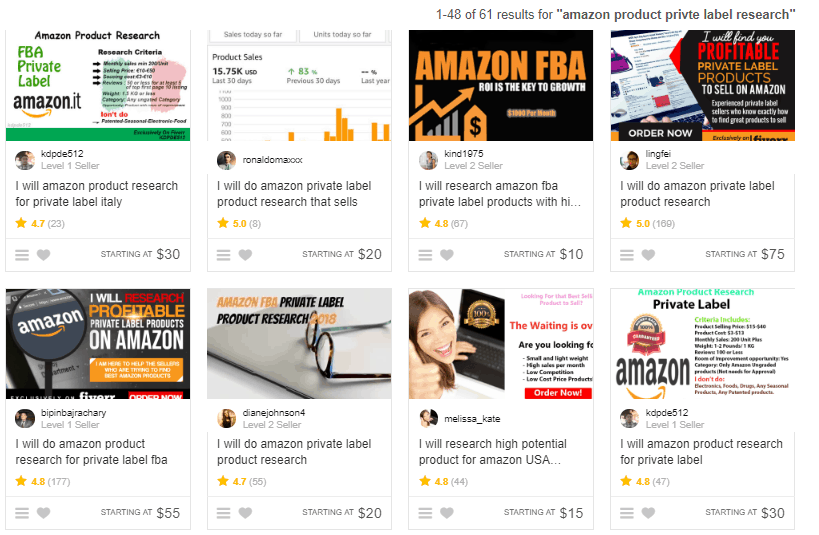 Still need ideas for products to sell on Amazon? Hire someone to help you do the research!
I use Fiverr often and bought many Fiverr gigs. While I personally have never bought product research on Fiverr, this is definitely an option. I suggest Fiverr if you still don't know where to start, you need some fresh ideas or simply you are just lazy to do the research on your own.
As you can see in the image above, there are many "amazon product research" related gigs and some of them are with over 150 reviews. so it's obvious that people buy those gigs a lot.
Fiverr can help you with Amazon keyword research and with photography as well. I personally hired a photographer from Fiverr for all my Amazon products.
Summary for Finding Profitable Products to Sell on Amazon
Like many potential business opportunities, getting started selling on Amazon can take some considerable research to be successful. While there are a few different methods you can pursue in order to achieve your goal, it is possible to pick  products that have great sales potential.
Once you have picked a product or products, then you can start with all the other steps to starting an Amazon FBA private label business.