Atom Finance is an investment research platform that is based in Brooklyn. It has a plethora of data, resources, and analyses for institutional and retail investors. This platform aims to be an alternative to Bloomberg.
Atom offers expensive information and research to users at a very affordable price. You can make two kinds of accounts: the basic one is free, and the premium costs $9.99/month. This article covers the features of both basic and premium accounts.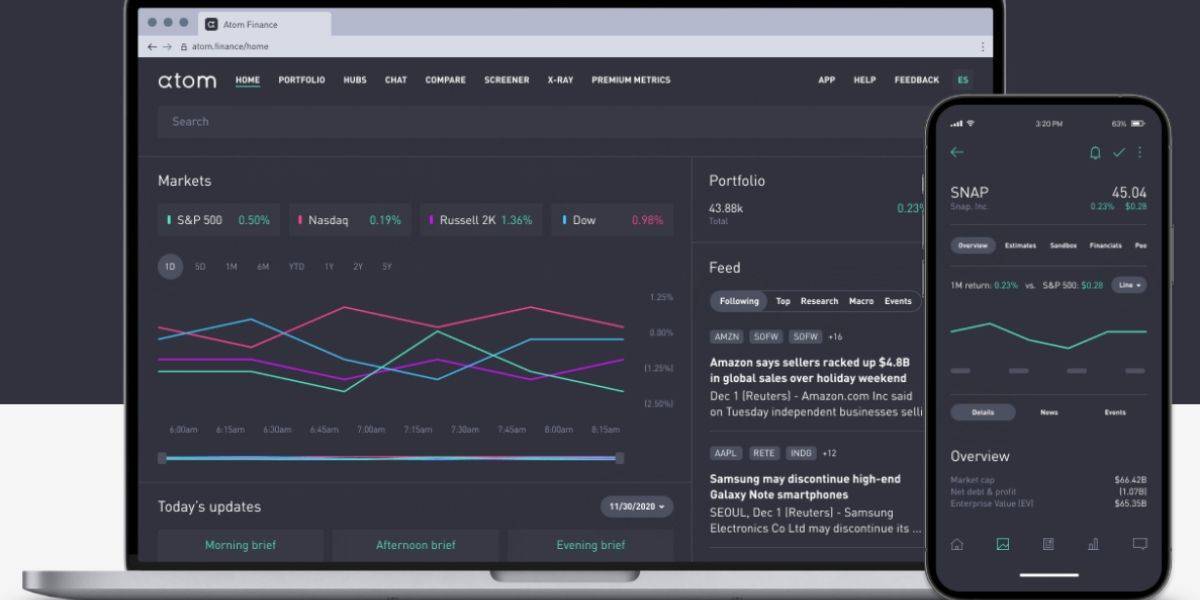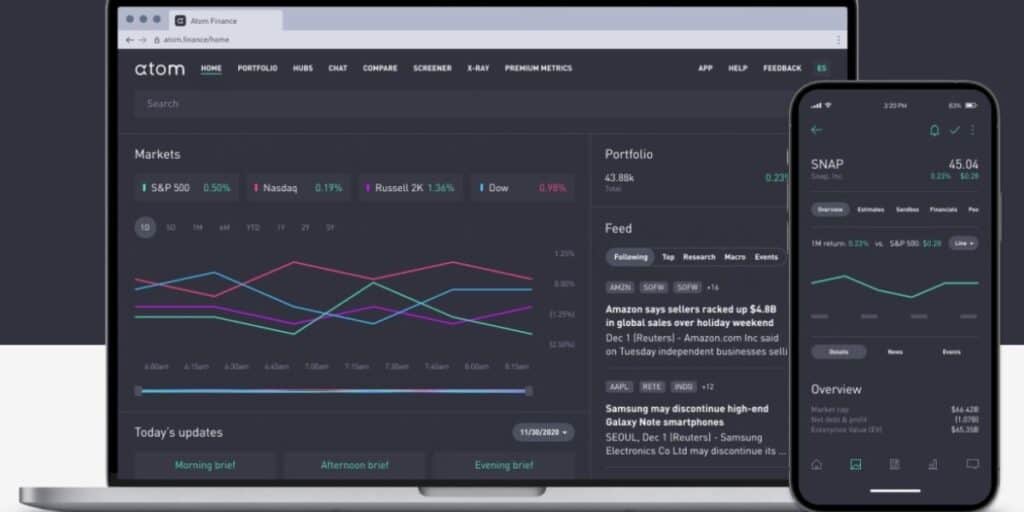 Atom Finance: The Basics
Atom Finance lets you track all of your investments in one place. You can also link your brokerage accounts. After doing this, you get all the exclusive price alerts, market briefings, and much more.
It also allows you to link your brokerage accounts to the platform and see returns, trades, holdings, and more. It also allows you to check real-time P&Ls and your portfolio statistics, which means that you can track the details of your favorite companies.
This feature allows all traders who see this platform to access all data about their portfolios in one spot.
The main goal of Atom Finance is to create an autonomous platform to give its users access to high-quality research and resources. This platform gives you thorough details about the company's financial state, valuation metrics, and consensus estimates.
There is also news, events, SEC filings, and transcripts helping the traders to make smart and well-informed choices. It also gives you detailed market and stock reports. If you have access to a premium account, you can access real-time price changes and commentary.
The basic idea of this platform is to help make finance models without having to use different software. It means that you get an immense benefit for those who don't understand the markets. The platform is also free for individual investors.
RECOMMENDED: Investing for Beginners
Top 4 Atom Finance Features
To improve user experience and keep things simple, Atom Finance has made itself the place with basic features that give you the best information at nil to low price. So let us delve into what the various features are.
Sandbox
Do you like financial models? If you do, you were the target audience when creating this feature. When using this feature, you can look at populate instant finance models with consensus projections.
The magnificence of this feature is that you can control the data without worrying about formulas. The need to export data has been completely removed. You can use Sandbox to analyze or predict the price according to varying situations.
The models change automatically according to changes in the market. Overall, Sandbox saves time and gives you control of your investments.
Company Comparison
This feature allows you to analyze the performance of two or more companies, including stock prices and price percentage movement. However, this feature lacks tools like TipRanks as the data in this platform is still limited.
Using visual methods of comparison isn't ideal for analyzing data quickly. In addition, if you have created a watchlist on Sandbox, it is not transferrable to this feature. Due to these limitations, the users can be discouraged from using this platform.
RECOMMENDED: The Best Index Funds to Invest In
News Feed
You can use this feature to see how your investments have been affected. The news will have information about companies and industries you follow that will appear on your feed automatically. You can also customize the feed according to your interests.
You will have access to a variety of news like Bloomberg and MarketWatch. There have been resources from the internal press and Reuters. Since news is not one of the main features, you can use additional resources like Yahoo Finance to verify.
Brokerage Integration
Using a third-party service like Plaid, Atom Finance allows you to connect with brokers that can only view your portfolio. Plaid amalgamates data from various sources and gives you access to customer data from financial institutions and brokerage firms.
You can activate this option by choosing the "link to broker" option. Login and Plaid will give you access to any information you wish to access. Thus, you can track your investments on a single interface.
How Can I Open an Account with Atom Finance?
You can either download the app from your respective app stores or sign up on the website. The signup is hassle-free and takes limited time. Just make sure you verify your email to get complete access to the platform.
After you log in for the first time, there are pop-up notifications with a detailed summary of the features available to you. There is also a tour of the site available.
Is Atom Finance Safe?
It is a free service available to any investor in need of it. There is no way for you to lose your money. Your data remains safe due to the trusted third-party service, Plaid. It works to make sure everything is safe and secure.
Atom Finance is very serious about the protection of data. They also inform you if your data has been shared with anyone outside the platform. Any data shared has restricted usage.
Pros and Cons
The pros and cons lists are very simple to understand and hopefully helps you decide if this is the resource. The pros are:
Free and simple usage
Has real-time data
Has finance models to help you.
Hassle-free signup
The cons are:
Limited news and data on companies.
Customer service is not 100% reliable
The Bottom Line
If you want to invest in the market, you will need to have access to the most up-to-date information regardless of the volume of the share you wish to purchase. Unfortunately, having just one platform to get your information is insufficient.
You can get information integrated from multiple places freely on one platform, making it ideal for professional investor research. This app would be an ideal investment to get access to exceptional features while waiting on Atom+.