Amazon is one of the most dominant companies on earth, as well as one of the most profitable ones. To put things into perspective, here's how much sales revenue happens on Amazon in several time frames:
1 second: $4,722
1 minute: $283,000
1 hour: $17 million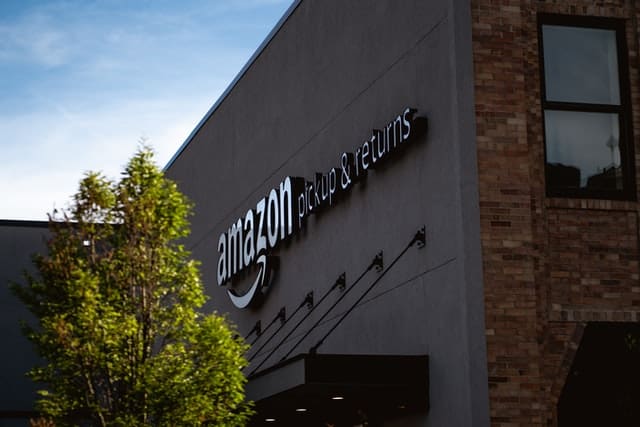 Amazon is basically an enormous online ecosystem that consists of millions and millions of shoppers intertwined in a complex system which is inhabited by numerous other participants that all make money in the process. This is why there are so many ways for ordinary everyday people to get involved on Amazon and create a source of income for themselves, apart from being shoppers. We will go over 10 different ways that you can make money on Amazon. However, keep in mind that the longer time passes, more of these options become available. 
Merch by Amazon
Merch by Amazon is a very simple and innovative program. Basically, it's a t- shirt printing service. The way it works is that you sign up and get a Merch by Amazon account. Then, you can design t-shirts and sell them on the platform. The innovative part is that you don't have to make a single t-shirt! When someone buys your t-shirt,  Amazon will print your design on it and send it to the customer. You can upload as many designs to the platform as you would like. This is a great business model that requires no investment, other than your time and creativity. 
Amazon consulting 
If you have experience when it comes to selling on Amazon or any other aspect of running an Amazon business, you can make a pretty decent living from being a consultant. There are many areas where sellers and companies might need help and would be more than happy to pay to have those aspects of their business done right. This can be anything from accounting to inventory management, Pay per Click advertising or product sourcing. There are many agencies as well as individual consultants and freelancers that have made careers doing this. Since Amazon is not going away any time soon, it's a completely valid career choice. 
Selling products on Amazon
Naturally, selling physical products to Amazon shoppers is probably the first thing that comes to mind when thinking about making money on Amazon. There are multiple business model options for sellers.
Retail arbitrage is the most dynamic business model available for selling on Amazon. A retail arbitrage seller makes their money by actually using everyday retail stores as their "suppliers". What they do is go to clearance aisles or look for major discounts in brick and mortar stores. They buy products that they then resell on Amazon at a higher price. This is one of those Amazon business models that isn't for those that want to run their entire business from the comfort of their computer.
Private labels are probably the most common way that 3rd party sellers make their earnings on Amazon. The concept behind it is very straightforward. Sellers do some market research in order to find out what is selling on Amazon. They often use some sort of Amazon market intelligence software, like the AMZScout Pro Extension.
With this tool, you can find out what is selling well, and what the profit margins are. Then  you can find a supplier and make your own brand using the type of product that you have decided to sell based on your research. Many sellers have managed to build empires with their brands, and it's one of the most alluring business opportunities on Amazon, especially since you can use the Amazon FBA system to fulfill your orders. 
Amazon handmade
Amazon handmade is a program that was started by Amazon in order to offer handmade artisanal products for sale and at the same time support small and creative businesses. From the perspective of the seller the process is much like a private label business, except that you cannot sell factory made sourced products. There is a vetting process involved to ensure that you meet the qualifications in order to be enrolled in the program. You actually have to have a line of products that are made mostly by hand and that are original and unique. 
Amazon affiliate program
The Amazon affiliate program is a business model that is meant for people that have some sort of an online presence outside of Amazon. They make their money by bringing in traffic to Amazon. Affiliates can post links of specific products on their blog, website or social media page and get a small commission for every sale that comes from someone using that link.
There is also a vetting process involved to ensure that the content an affiliate posts is "Amazon shopper friendly" as well as legitimate. Naturally, the more of a following you have managed to acquire on your platform, the more likely you are to make money from the program. This is meant for people that have already had some success outside of Amazon and this gives them the ability to capitalize on it in an additional way. 
Publish books  
Amazon was originally started as an online bookstore. While Amazon has grown and spread into many other retail areas,  they are still very much a place where you can go and buy books online. If you are an author, you don't really have the luxury of not having your book available on Amazon. Also, you can sell printed books there, so learning how to sell books on Amazon is really worth your time.
Amazon Flex
Amazon flex is to delivery trucks what Uber is to taxis. This is a new program that allows people to set up their own small "delivery service" by delivering packages for Amazon. You can basically sign up for the program and only make deliveries when you have extra time and you want to earn some extra cash. You can be as committed as you would like, and apparently Amazon is really flexible when it comes to organizing those deliveries. Because there are many packages in need of being delivered, you can pretty much count on the fact that if you are willing to deliver some, there will be some for you to deliver. 
Amazon Mechanical Turk 
This might be an aspect of Amazon that you might not have heard of. This is basically a labor market where you can find people to handle tasks that cannot be fully automatized and require things to be done by an individual. Those are usually proofreading jobs, tasks like editing content, and doing research. This is meant to put people in need of such a temporary workforce in touch with people that are willing to be that workforce across the globe. 
Amazon Listing Optimization Copywriter
Having a properly optimized listing on Amazon can make or break your product. It is necessary to do proper keyword research and to identify all of the important keywords that the listing needs to be indexed on in order to have the best possible chance to grow and get sales. You also need to balance the presence of keywords with a coherent and attractive listing copy that will both inform potential customers about the product and get them interested in buying from you. Being able to write a profitable listing is a skill that people are willing to pay really good money for. If you are someone that is good at writing and understands the principles behind Amazon SEO, you can create a really lucrative career.
In conclusion, Amazon is a huge platform where massive waves of supply and demand crash into each other countless times at any given moment. This enormous economic monolith is ever expanding, both in terms of scale as well as scope. Amazon is becoming an everyday part of life for more and more people. Finding a way to financially benefit from this phenomenon is a wise decision.
Amazon keeps coming up with new programs as well as new ways to improve the programs that they already have in place. They are constantly making them more accessible and easier to use. Amazon is really good at finding ways to provide people with the opportunity to engage in a venture where the interests of that individual and Amazon can coincide. This is why it's a smart bet to align your own economic interests with Amazon. Amazon is really good at achieving their interests, which in turn means that you can achieve yours.