UPDATE: As of October 21, 2019 Emperor Investments has closed down its B2C operations.
Robo-advisors can be a great modern option for those who don't want to actively DIY-manage their portfolios, but don't want to pay steep fees to a firm or financial advisor either.
Typically, robo-advisors (e.g. Wealthfront and Betterment) invest in a collection of index funds or ETFs[efn_note]Mutual Funds and Exchange Traded Funds (ETF's) are sold by prospectus. Please consider the investment objectives, risks, charges, and expenses carefully before investing. The prospectus, which contains this and other information about the investment company, can be obtained from the Fund Company or your financial professional. Be sure to read the prospectus carefully before deciding whether to invest.[/efn_note]. But there's a newcomer on the scene doing things a little differently: Emperor Investments, which officially launched in July of 2018. They focus on creating pure equity portfolios comprised of individual stocks that are personalized to investor preferences and goals.
In partnership with Emperor Investments, I'll spend this review looking a little deeper into their service and methodology.
Emperor's Three-Part Equity Investing Methodology
Under a traditional financial advisory model, your advisor chooses stocks or funds to invest in on your behalf. Emperor Investments does something similar, but instead of one person calling the shots, they use a three-step process to choose stocks for investors.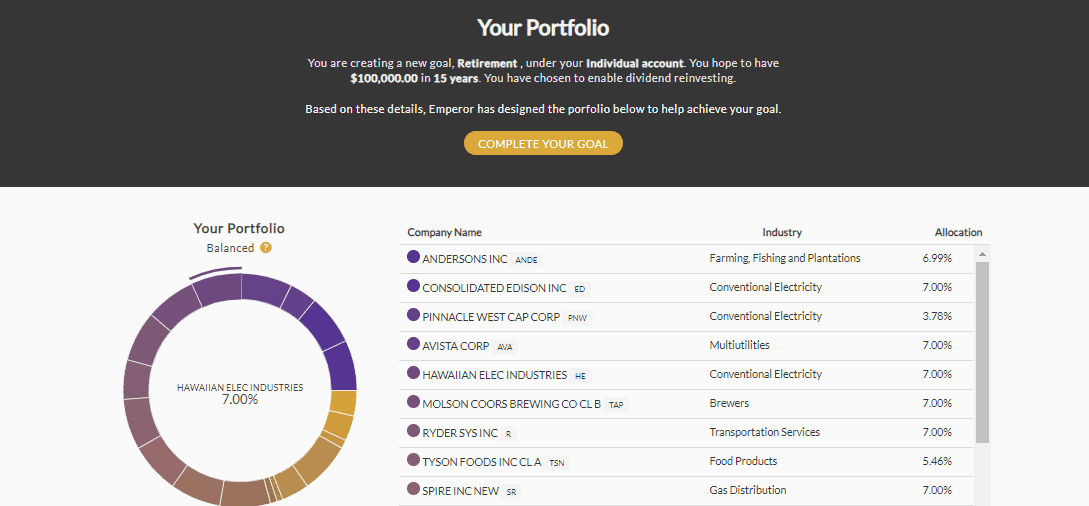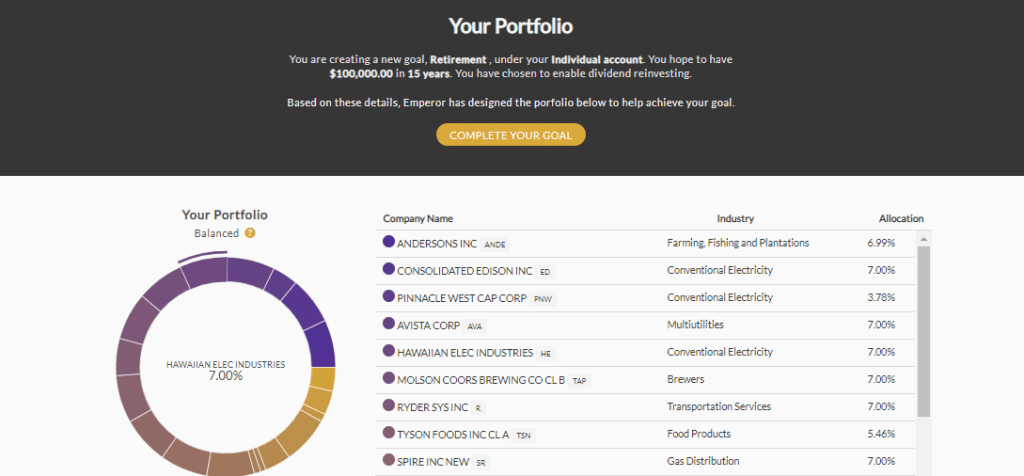 First—The Tech
Emperor's proprietary algorithm screens stocks based on a variety of factors. While they can't reveal all the criteria they use, one notable screening factor is that the company must have paid dividends for 15 consecutive years without decreasing the dividend amount. This is important because it points to these companies being historically stable performers. Plus, it means you'll likely be earning those dividends, which you can either automatically reinvest or withdraw for passive income. The algorithm is run every quarter to keep results current.
Second—The Team
Once stocks are narrowed down by the algorithm, the human factor comes in. Emperor's analysts dig into every stock that passes the algorithm screening. They look at things like the quality of the company's management team, the value proposition they offer for their product or service, and the competition they face in the market. Companies that pass this second screening are added to Emperor's "Dream Team" pool of stocks to choose for investors.
Third—You
The final step is portfolio personalization, and I think it gets interesting here. Instead of customizing your investments in one portfolio built on one set of questions, Emperor lets you create unique "goals" for your investments. For instance, one goal might be retirement, and you might have a 25-year time horizon and a high risk tolerance for that portfolio. But you might also plan to buy a home in ten years, in which case you probably don't want to expose your downpayment to the same level of risk.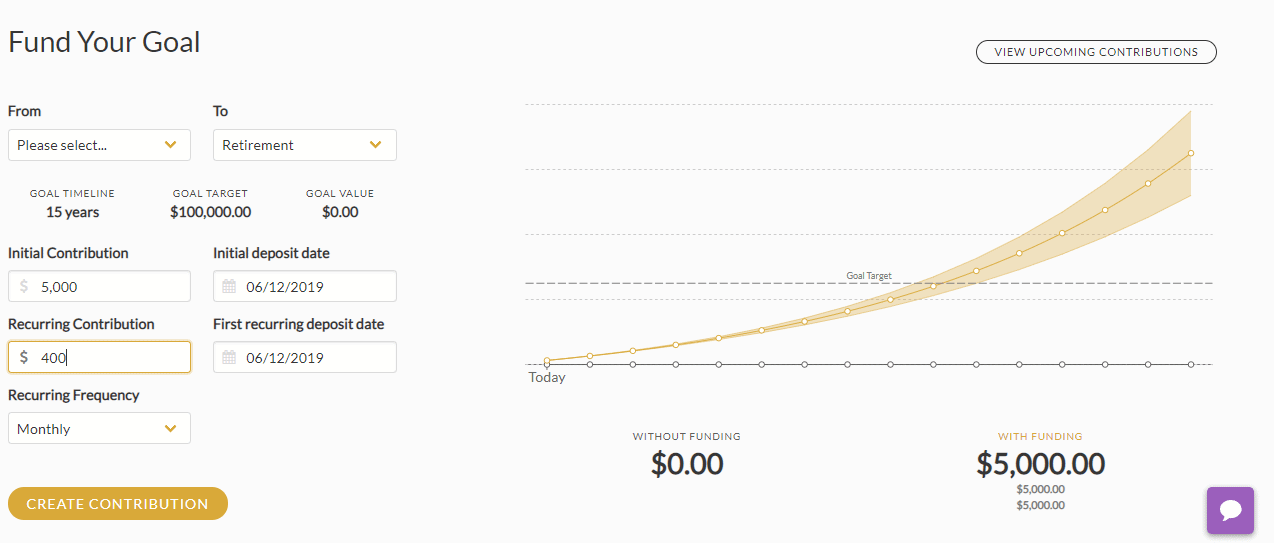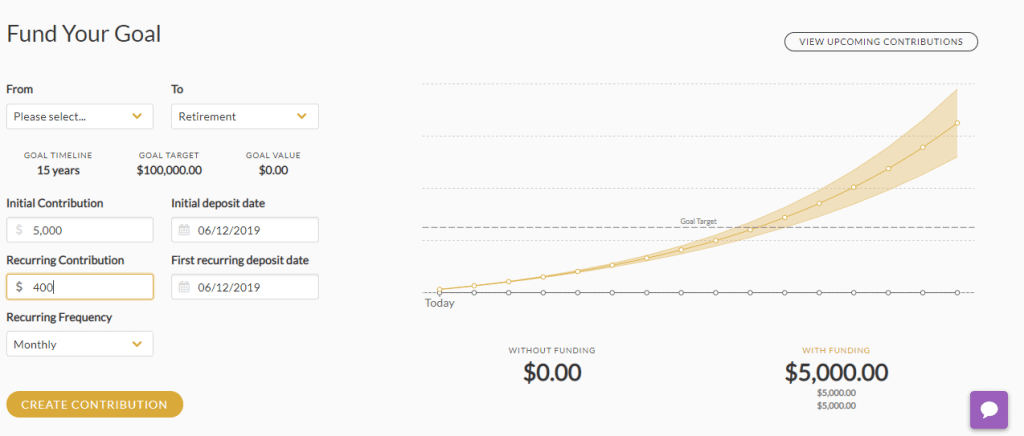 When you set up and fund these goal-based mini-portfolios, Emperor uses your provided information to recommend a collection of stocks and purchase them on your behalf. Once everything is set up, you'll be able to log in and see at a glance what stocks you own, how they're performing, and how far along you are toward achieving each goal.
Performance and Testing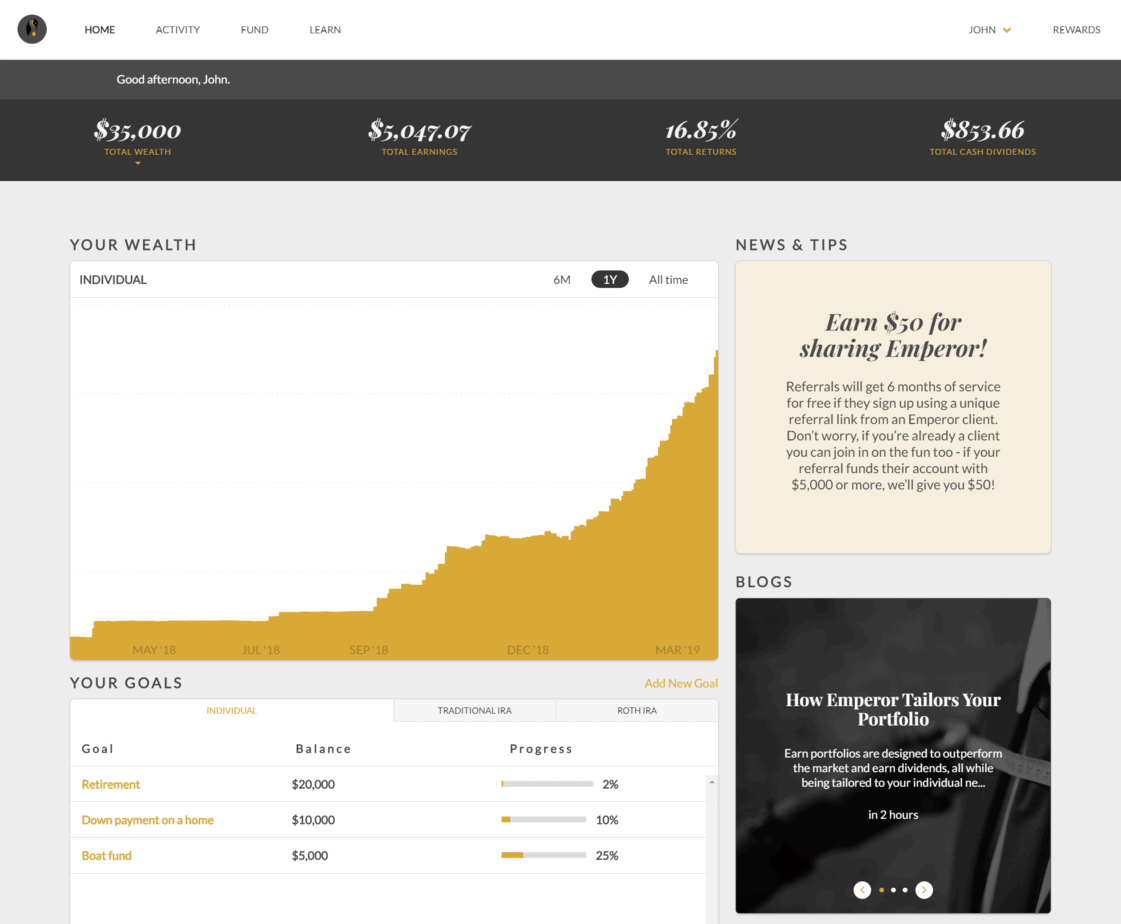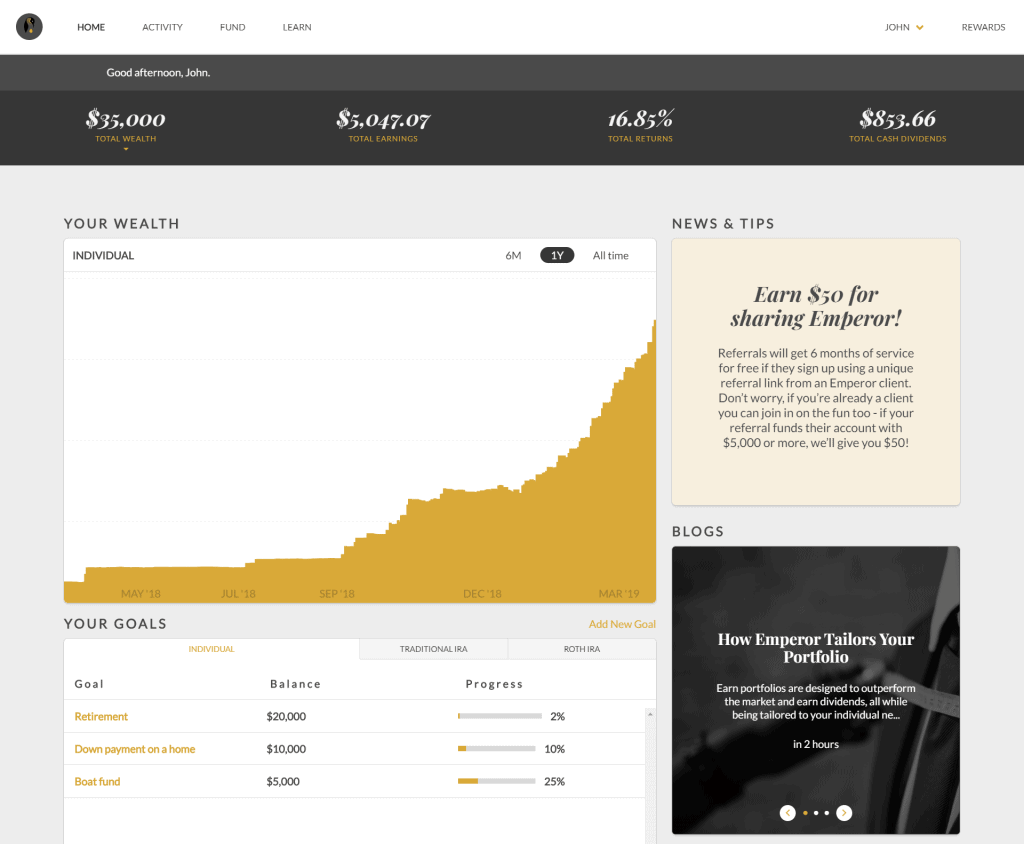 Since Emperor Investments only launched last year, their methodology doesn't have a long history of real-world performance yet. However, that doesn't mean it's untested. On their website, Emperor explains that their algorithm was tested via a paper-trading style simulation. The test period was March 2007–May 2018 (with dividends reinvested), and to ensure accuracy, the algorithm ran using only information that would have been available in real time during that period.
Of course, past performance does not guarantee future results, which leads me to this next part…
Can You Beat the Market With Emperor?
No one can guarantee that they will beat market performance, and I'd be very skeptical of anyone who tries to make that promise. It's impossible to predict an unpredictable market with 100% certainty. That said, you can make educated guesses based on data about stocks and companies, and this is what Emperor's methodology is designed to do. 
Earlier, I mentioned that most robo-advisors will invest you in a collection of index funds. Now, index funds are considered to be one of the safer investment options because they track the performance of the market and give you a wide amount of diversity. However, because they're designed to track the performance of the market, index funds aren't going to beat the market.
And in my opinion, that's what makes Emperor Investments an interesting idea. It's not a guarantee of beating the market, but it does give you the possibility in a way that index fund investing doesn't. The tradeoff is less diversity in your portfolio, which means if those individual stocks happen to go down, you're losing a higher percentage of value. The fact that Emperor thoroughly vets each stock before suggesting it to investors does help minimize this risk, but doesn't eliminate it. As a fan of index funds but also a fan of trying new things, I'm cautious but intrigued by this. 
Ultimately, I'd say Emperor Investments would be most appealing to investors who have a medium-to-high risk tolerance and want to try something new. If you want to experience individual stock ownership and feel personally invested in the performance of specific companies, doing it with Emperor is likely a safer bet than guessing what to buy on your own.
If this sounds like you, sign up for Emperor Investments here and get your first 6 months free. After that, a 0.6% annual fee will apply. The minimum investment is $500, so you can always try it out with that amount and add more if you like the platform.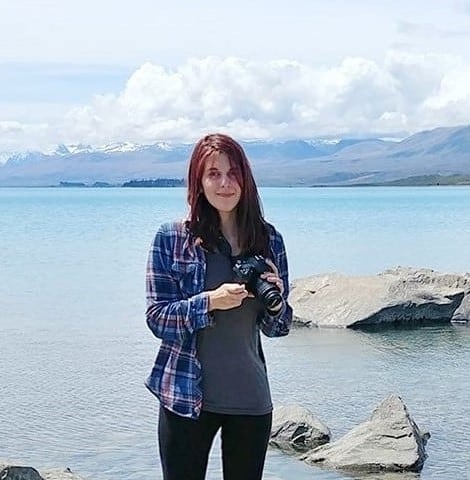 Kate is a writer and editor who runs her content and editorial businesses remotely while globetrotting as a digital nomad. So far, her laptop has accompanied her to New Zealand, Asia, and around the U.S. (mostly thanks to credit card points). Years of research and ghostwriting on personal finance led her to the FI community and co-founding DollarSanity. In addition to traveling and outdoor adventure, Kate is passionate about financial literacy, compound interest, and pristine grammar.