The process of getting life insurance can often feel lengthy, tedious, and even invasive. In addition to applications and phone calls, many companies require a thorough medical exam complete with blood samples, tests, interviews about your personal life, etc. They want to dig into your past and present to assess how much of a risk you might be in the future.
While this system makes sense in the view of an insurance company who wants to minimize their risk by thoroughly vetting candidates, it's not very user-friendly from the other end. The process might dissuade some from pursuing life insurance at all.
That's something a company called Bestow wants to change. Bestow is a relative newcomer to the life-insurance industry, and the founders are looking to provide a more modern and accessible service.
This Bestow insurance review will dig into their term life insurance options and help you decide if the service is right for you.
Disclosure: This post was made in paid partnership with Bestow. Neither Bestow nor North American Company for Life and Health Insurance were involved in the preparation of the information in this article. The opinions and ideas expressed in the article are those of the author(s) and are not promoted or endorsed by Bestow or North American. You should always seek professional advice before making a financial decision.
What Is Bestow?


In true modern form, Bestow is an online insurance agency (headquartered in Texas) designed to make life insurance easy and affordable with a consumer-first focus.
The thing that makes Bestow an appealing option is the simplicity. You can apply online and answer their lifestyle and health questions in ten minutes. Instead of requiring medical exams, underwriter visits, or phone calls, they use an algorithm that scans data vendors such as prescription history databases, motor vehicle reports, criminal history, and credit scores (they do a soft pull which doesn't affect your credit) to verify your identity and assess risk in a much more efficient way.
Since all of this happens instantly behind the scenes, it means you'll get immediate approval or denial. If approved, you'll be able to choose a plan and coverage amount, and could have life insurance that same day.
Bestow's Life Insurance Plan Options
Currently, Bestow offers three types of term life insurance policies. Term life insurance is a simple and affordable option that most people in the finance community prefer to whole life insurance.
Essentially, with term life insurance, you can choose to insure yourself during a period of time when your dependents are reliant on your income. When the term ends, you can seek a new plan or decide that life insurance is no longer necessary for your family's needs. For instance, your kids might be earning their own incomes, or you may have accumulated enough assets that you're satisfied by the inheritance you'll leave behind.
Through Bestow, you can apply for a two-year, 10-year, or 20-year term plan. The two-year plans are designed for those who want quick, temporary coverage as they're between jobs or evaluating long-term options. The 10- and 20-year terms allow you to lock in an affordable rate while you're young and healthy that will protect your family for the next decade or two.
One potential downside is that Bestow does not offer a 30-year term. Thus, if you're a 25-year-old looking for coverage, Bestow wouldn't take you past age 45 (and getting a new policy at 45 is usually more difficult). Consider your long-term financial and family goals to decide if 20 years is enough.
All of Bestow's policies are issued by North American Company for Life and Health Insurance. Since North American has been around for over a century and has multiple A+ financial ratings, this makes Bestow feel like a safe bet rather than an unknown newcomer. You don't have to worry about losing coverage if Bestow isn't around in 10 years.
The Bestow Application Process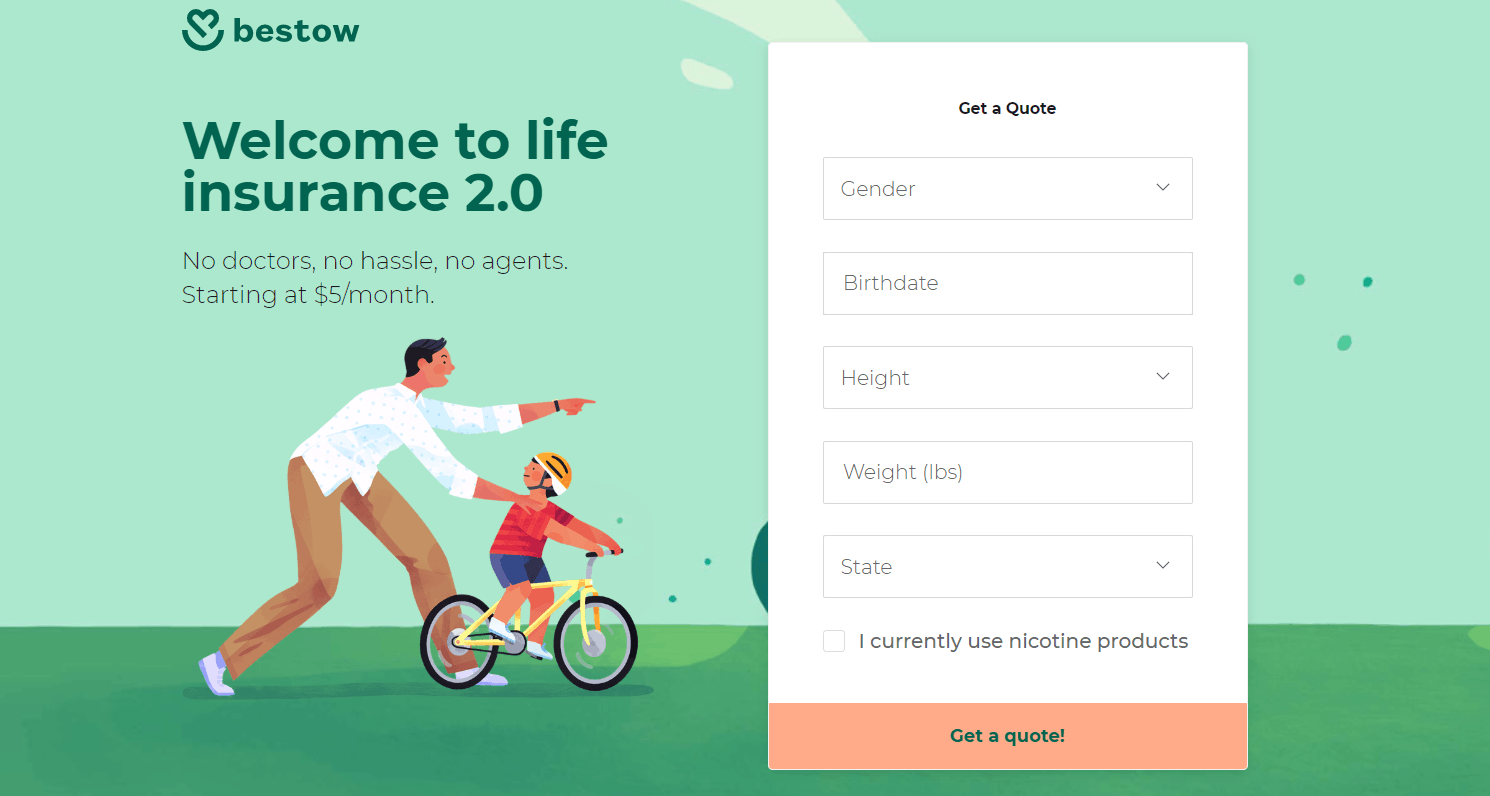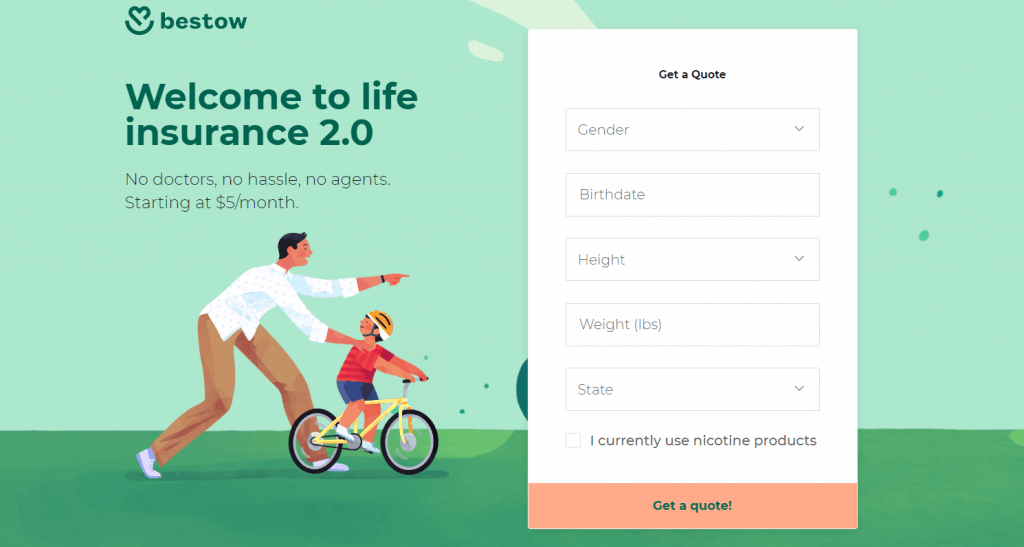 Your very first step is to get a quote here. On this page you'll provide very simple information like age, height, weight, gender, and state. If you qualify at this stage, you'll get an estimated premium amount that will adjust based on coverage term and amount. However, it's just an estimate at this point. If you like how the numbers are looking, you can start an application where you'll provide more details and get a final price upon approval.
When you get into the actual application, you can expect four steps.
First—Basic identity information
Here, you'll provide core details like your name, address, Social Security Number, phone number, email address, etc. Pretty standard for a financial application.
Second—More details about your life and health
In the Health and Lifestyle parts of the application, you'll answer a series of questions on topics like nicotine use, hobbies, medical history, travel, and more. Most of these are simple multiple-choice boxes. When you're done, you'll need to sign an authorization for the release of your health information, which allows Bestow's algorithm to get to work reviewing available information on your history. After this step, you'll be approved or denied within minutes.
Third—Policy choice & beneficiaries
If you're approved, you get to finalize your policy choices. Bestow can approve you for a coverage amount between $50,000 and $1 million, depending on the policy you choose. You can adjust coverage between the minimum and maximum amounts to see how your monthly premiums will change. Once you've settled on coverage, you'll designate beneficiaries and choose what percentage of the policy each would receive.
Fourth—Payment
Once you make your first payment, you officially have life insurance! Bestow only offers payment via credit card, Apple Pay, or Google Pay, which will be charged every scheduled payment day. If you change your mind after you pay, you're eligible for a full refund if you cancel within 30 days. After 30 days, you can still cancel anytime without extra fees and will remain covered for any period you've already paid for.
Is Bestow Right for Me?
While Bestow looks like a great option for those who are eligible, they can't approve everyone. To meet their basic qualifications, you must be:
A U.S. citizen and resident

Employed, full-time homemaker, or student

Generally healthy

Between the ages of 21-45 for 20-year term life

Between the ages of 21-54.5 for 2-year/10-year term life
Of course, young and healthy applicants can get good rates from a lot of companies, so you might decide it's worth shopping around. That means Bestow's main edge comes down to the convenience: not many life insurance providers can boast five-minute approvals. Anyone who hates paperwork will doubtless find this advantage compelling.
If part of your journey to financial independence is motivated by your family, it's important to make sure they can look forward to a bright future. Life insurance is one way to get that peace of mind. I think it's well worth looking into Bestow if you're looking for a simple, low-cost option. Get your free quote here.